A Picasso from Pennsylvania
Alfred C. Breuning of Pennsylvania had acquired Pablo Picasso's Buste d'Homme, a brush and ink sketch dated 2.8.67, from the Galerie Louise Leiris in Paris in 1969.

Acting for Breuning's estate it was consigned for sale at Sotheby's New York in May 2014 where it sold at for $677,000.

The work was completed in the year Picasso began his famous series of cavaliers and musketeers – believed to be the ailing artist's recreation of himself as a youthful and sexually potent figure.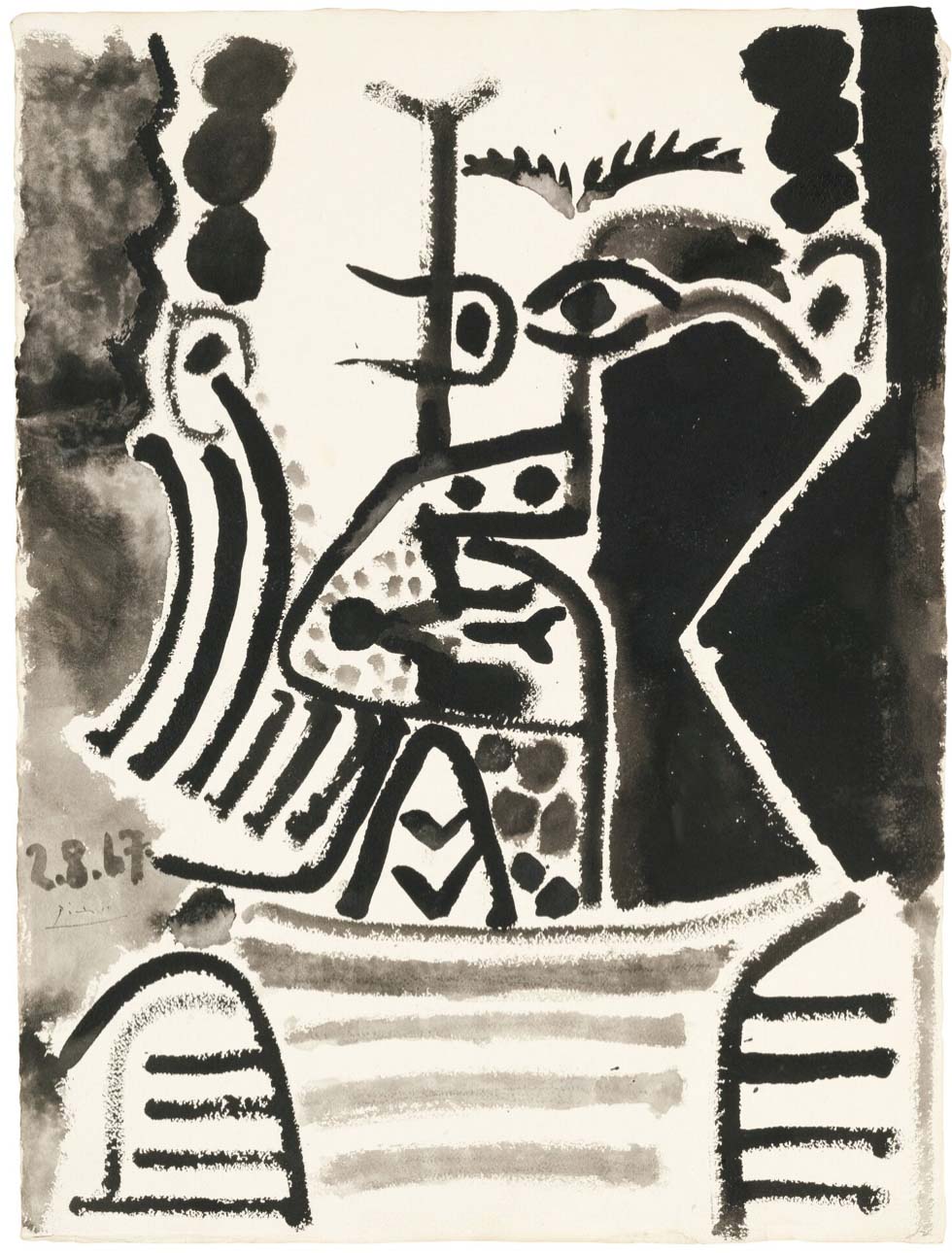 Pablo Picasso
Buste d'Homme
Brush and ink and ink wash on paper
29 1/2 by 22 1/8 in.
August 2, 1967.
Estimate: $500,000-$700,000
Sold: $677,000
PROVENANCE
Galerie Louise Leiris, Paris
Acquired from the above circa 1969
EXHIBITED
Paris, Galerie Louise Leiris, Dessins 1966-1967, 1968, no. 55
LITERATURE
Christian Zervos, Pablo Picasso, Oeuvres de 1967 et 1968, vol. XXVII, Paris, 1973, no. 95, illustrated pl. 29
The Picasso Project, ed., Picasso's Paintings, Watercolors, Drawings and Sculpture, The Sixties II, 1964-1967, San Francisco, 2002, no. 67-322, illustrated p. 377
CATALOGUE NOTE
Buste d'homme is an iconic image that exemplifies both the confrontational style of Picasso's 1960s art and the iconography of the masculine male that the artist championed in his later years. Executed in 1967, the present work was completed during the very year that Picasso began his series of cavaliers and musketeers. Such works, which are laced with references to masculine virility and sexuality, are believed to be the artist's recreation of himself, then ailing, as a youthful and sexually potent figure. Here, the misplaced facial features suggest an inner torment, yet the firm, deliberate strokes of ink and frankness of the subject indicate a vigor and masculinity that will come to characterize his series of musketeers and swashbucklers. The work thus references both deterioration and resilience, underscoring the psychological complexity of this transitional period.
Picasso's exploration of self-image in his art is summarized by Simonetta Fraquelli: "In their seventeenth-century garb, Picasso's musketeers appear in many guises, some holding swords and some wearing wigs or ornate shoes, others smoking. Some are young, others old, some participate while others are voyeurs. They represent many of the possible ages of the artist, ranging from a child genius to an impotent old man. Like Rembrandt, with whom he now became obsessed, Picasso liked to insert himself into his paintings, in one guise or another. The parallels between the two masters, the Dutchman and the Spaniard, are many: both enjoyed a long and fulfilling career; both felt isolated and misunderstood, if not derided, in their old age; and both obsessively recorded their own decline in their numerous self-portraits" (Simonetta Fraquelli, "Looking at the Past to Defy the Present: Picasso's Painting, 1946-1973," in Picasso, Challenging the Past, London, 2009, p. 146).
OUR SERVICES
Offering expert Advisory across sectors, our dedicated Advisory and Sales Agency teams combine strategic insight with transparent advice to guide our clients seamlessly through the market. We always welcome the opportunity to discuss our strategies and services in depth.