The Intersection of Art & Design
I remember visiting my grandparents' home on Central Park West. The home was a beautiful mosaic of antiquities, tribal art, period antique English and French furniture, modern paintings, oriental rugs and Tiffany lamps. Although today I visit homes of Billionaires and properties in excess of 25,000 square feet in gorgeous locations, I compare all homes to my grandparents' two-bedroom apartment in NYC.
A truly elegant home is one that incorporates artwork and objects that stand alone. Paintings chosen because they match the sofa or have a "contemporary feel" are no different from the wallpaper. In conversing with many of my clients who work with designers for their interiors, it has become very clear to me that there is a fundamental lack of understanding of the importance and the process of marrying art and design.
The best designers understand that the fine art needs to be as important as the custom couch and the color scheme of the walls. Many of the architects we work with see the art as an essential component of their architectural vision for the structure. A team approach to designing a home results in the most elegant and appealing homes. When the Art Advisor, Designer, Architect and client work in tandem, magic occurs.
There are certain assumptions about incorporating art into a design project that need to be dismissed. The first and most prevalent is that "real art" is too expensive. How many times have I heard a client say, "I can't afford real art." This is the biggest myth of all. Whether the budget is $100,000 or $1,000,000, there are artworks available. Low edition prints by important artists, photography and art work by emerging artists, who show in major galleries and museums, can all be obtained within a prescribed budget.
Many designers are concerned that it is too difficult to find real art that fits a space. In fact, some designers will work with a handful of working artists who are commissioned to create works to fit a space. Every project looks the same because every home has a version of the same art. In addition, none of the commissioned pieces have any asset value. Today, there are so many ways to frame artwork to fit a space. The size of the mat and the frame can alter the size of an art work dramatically.
In addition, artwork that is not purchased for decorative purposes has a much better chance of holding its value over time. Therefore, when it is time to downsize or to alter the design style, you are not getting pennies for the artwork you spent thousands on. I recently compared decorative art work to penny stocks. They rarely increase in value. However, an artist who is part of the cannon of art history, typically holds his/her value or increases.
The last myth I want to dispel is that it is too hard to find real artwork within a design time frame. Just as a professional designer develops contacts to access the most interesting and beautiful textiles and unique pieces of furniture, the expert art advisor has contacts throughout the dealer, private and auction world. At Pall Mall Art Advisors, we have experts on staff in all areas of fine art who have deep connections with dealers in that art collecting space. Take the time to find a designer who understands the importance of marrying art and design. The result will be a home that stands the test of time and is a truly elegant and inspirational space.

– Anita Heriot
---
BARBARA DERCOLE DESIGN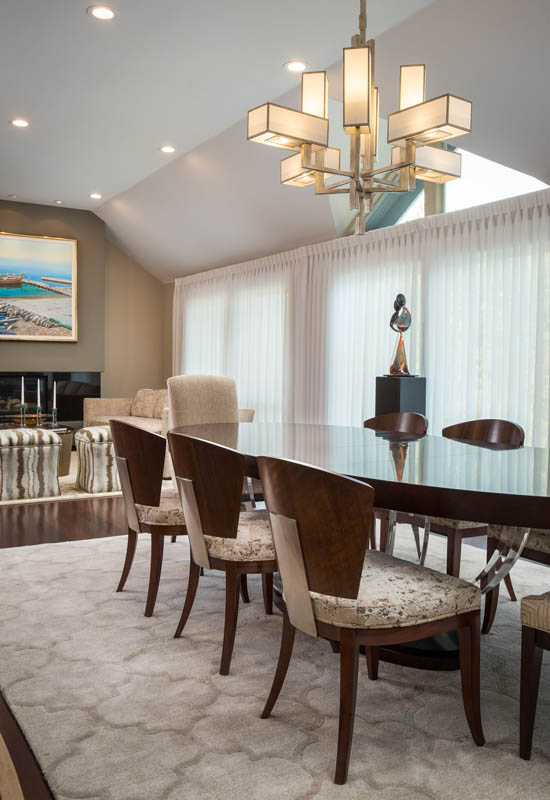 As an interior designer for many years, I have acquired the valuable knowledge of knowing the importance of art in Interior Design. Creating a beautiful space that is cohesive requires some strategic practices that can make all the difference in the final outcome of a space. The style of decor should always complement the art and selecting a palette with that piece in mind will always satisfy. I remember following up on a client who had acquired a collection of art that did not work with the decor or architecture of the home. Through thoughtful design discussions and some small alterations of color, scale and design, the house was given a soul and a direction that guided everyone who entered this story – a story of the art and design of the home which existed where it did not exist before.
Hiring a design professional to help you through this process can make the difference in a room that speaks to you with confidence versus yet another room with art hanging on the walls. Another way to create this confidence is by combining multiple works of art by the same artist or works of art of a similar style. This always creates a greater impact. Working with architects and lighting designers is also a great way to showcase your collection with detail being focused on placement and impact.
If art is important to you, either because of the investment or how it makes you and your family feel at the end of the day, hiring a design professional should be a key component in your design planning.
Barbara Dercole Design
20465 Saratoga Los Gatos Rd.
Saratoga, Calif. 95070
www.barbaradercoledesign.com