New Public Sculpture for Guangzhou, China
NEW PUBLIC SCULPTURE UNVEILED OF CHARLES DARWIN
ON THE WEST SQUARE OF THE TAIKOO HUI DEVELOPMENT, PART OF SWIRE PROPERTIES
On Thursday 27th June, Phillip King unveiled a new sculpture, named after the celebrated biologist Charles Darwin, at its permanent home in China.
The Fine Art Group advisory team worked closely with the commissioner Swire Properties, the artist, and Thomas Dane Gallery on this exceptional commission. We are delighted to be involved in such an important piece of public sculpture, the second work by the artist in China.
Phillip King said at the unveiling, "My feeling on coming here to witness the unveiling of my work, Darwin, 2019, is mostly one of humility at the honour of being perhaps one of the few British artists who will have a public work in this great historic city."
King, who like Darwin graduated from Christ's College Cambridge, based the sculpture on Darwin's impact, through science and history, on the world today and how he helped us see the world in a new way.
THE SCULPTURE'S MEANING
The composition consists of four interrelated elements. The man himself is found in the dynamically raised triangle, positioned on a tilting slope to represent the unknown world. The circle is placed on the corner of the slope symbolising the known world. These elements are separate from a fourth, a square gate through which both living and non-living entities are able to reach the "Great Unknown". King explains that he included an angled panel in the doorway as a reminder that the entrance is only partially open.
King goes on to explain that he was not consciously of this symbolism when he worked on the Darwin project. The elements "reflect how the eye connects to the brain through a king of developing filter of past memories and acquired conceptions, for example, the use of the triangle, the circle, and the square which go back to the beginning of my sculptural concerns in the early sixties."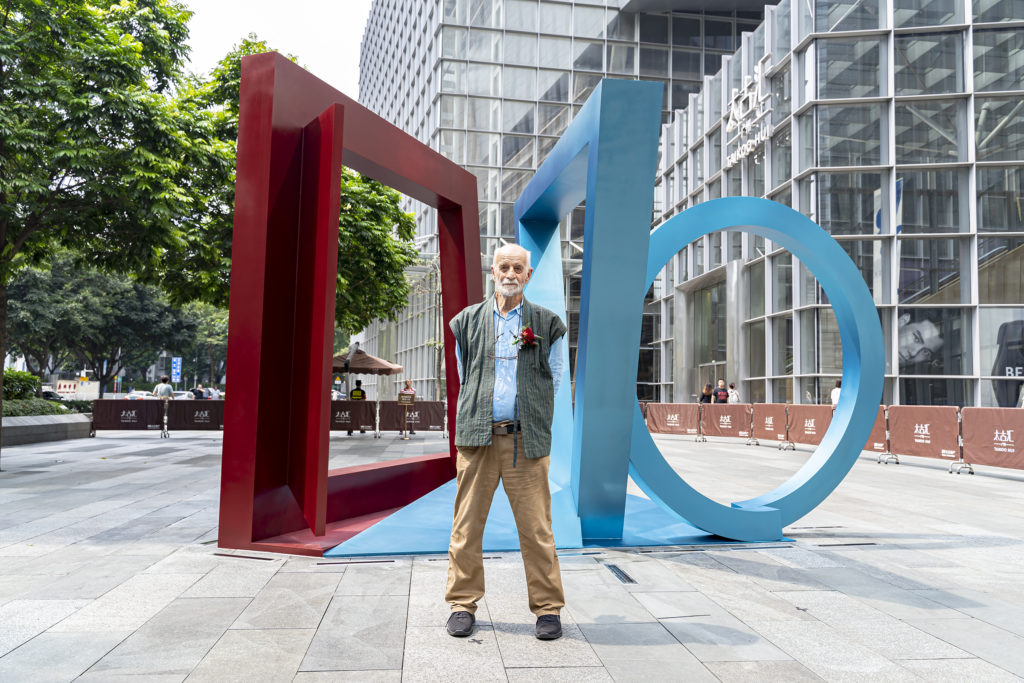 ABOUT THE ARTIST
Phillip King is a British sculptor, born in Tunis in 1934. He studied Modern Languages at Christ's College, Cambridge from 1954–57, and sculpture at Central Saint Martins College of Art and Design, London, from 1957–58; where he was a favourite pupil of Anthony Caro. Following his studies, King spent a year working as an assistant to Henry Moore and teaching at Central Saint Martins College of Art and Design, London. King lives and works in London.
SELECTED PUBLIC COLLECTIONS
Arts Council of Great Britain
British Council, London, UK
Calouste Gulbenkian Foundation, Lisbon, Portugal
City of Rotterdam, Netherlands
Contemporary Arts Society, London, UK
Cultural Centre, Adelaide, Australia
Government Art Collection, London, UK
Hakone Open Air Museum, Japan
Hiroshima Museum of Contemporary Art, Japan
Musée National d'Art Moderne, Centre Georges Pompidou, Paris, France
National Gallery of Victoria, Melbourne, Australia
National Museum of Art, Osaka, Japan
New Museum of Contemporary Art, Hiroshima, Japan
Prefectural Museum of Contemporary Art, Toyama, Japan
Rijksmuseum, Netherlands
Scottish National Gallery of Modern Art, Edinburgh, UK
Stuyvesant Foundation, New York, USA
Tate Gallery, London, UK
Tel Aviv Museum, Israel
Yale Centre for British Art, USA
RECENT SELECTED SOLO SHOWS
2018 Luhring Augustine Gallery, New York NY
2017 Thomas Dane Gallery, London, England and Galerie Lelong, Paris, France
2015 Kistefos Museet, Norway
2014 Thomas Dane Gallery, Ranelagh Gardens, and Duveen Galleries, Tate Britain, all London, England
2013 Consortium in Dijon, France
2012 Speerstra Foundation, Apples
2011 Flowers Cork Street, London
2008 Bernard Jacobson Gallery, London
2007 Bernard Jacobson Gallery, London
2006 Bernard Jacobson Gallery, London
2003 Jesus College, Cambridge
2002 Place Gallery, Cavagnole, Italy
2001 Bernard Jacobson Gallery, London and Garth Clark Gallery, New York
PROFESSORSHIP
St Martin's School of Art, London, England 1959-1980
Hochschule der Künste, Berlin, Germany 1979–1980
Professor Emeritus, Royal College of Art, London, England 1980-1990
Professor of Sculpture, Royal Academy Schools, London, England, 1990-1999
President of the Royal Academy, London, England 1999-2004
OUR SERVICES
Offering expert Advisory across sectors, our dedicated Advisory and Sales Agency teams combine strategic insight with transparent advice to guide our clients seamlessly through the market. We always welcome the opportunity to discuss our strategies and services in depth.