Record for Cartier Pagoda Pin Sold through Sotheby's
CARTIER'S TEMPLE BROOCHES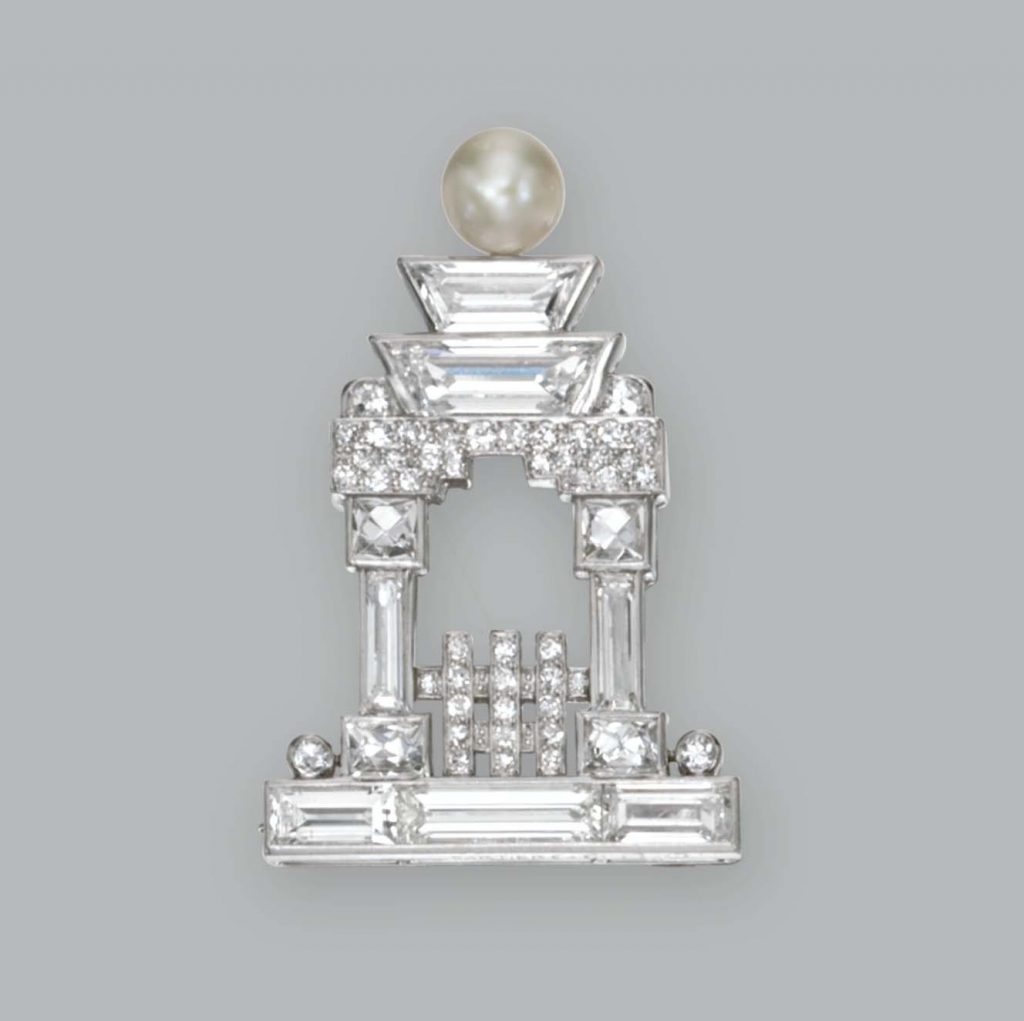 Cartier's temple brooches, first introduced at the famed Exposition Internationale des Arts Décoratifs et Industriels Modernes in 1925, rank among the firm's most iconic designs.

This platinum and diamond example was sold for the benefit of our client, the Carbaugh Family Charitable Lead Trust, established by Charlotte and Miller in the spirit of philanthropy they so admired in their mother.

"The giving and receiving of jewellery creates a special memory and is a blessing," explains Miller, "Our hope is that the Trust will also act as a blessing, reaching out to the needs of our communities and beyond."

Of architectural inspiration, the temple's dome set with a half moon-shaped diamond weighing approximately .75 carat is accented by trapezoidal- shaped diamonds weighing approximately 1.40 carats and baguette diamonds weighing approximately 2.10 carats. It is further decorated with smaller variously-cut diamonds weighing approximately .90 carat, and signed Cartier, Made in France, numbered 02577 and 7569, with French assay and partial maker's marks; circa 1930.

The diminutive size of Cartier's temple brooches —sweetly at odds with the structures they represent—accentuates their exquisite construction, rendered meticulously and exclusively in diamonds and platinum. The brooches take on a variety of configurations within the relatively strict codex of the temple form, from Japanese pagodas to neo-classical temples d'amour, to the occasional Taj Mahal. Each example invited the designer to challenge the gem-cutter who, in turn, entrusted the gem- setter to assemble these petits tours de force of jewellery making. The form also lent itself perfectly to the incorporation of one of Cartier's greatest innovations, the baguette cut, introduced in 1912. These small diamond rectangles created the columns and capitals that support the brooch's superstructure: rhomboid lintels leading to half- moon domes terminating in lozenge-shaped finials. By the 1930s, this battery of cutting styles became a cornerstone of contemporary jewellery design, making the temple brooch a miniature codex for the Art Deco period.

Sold at Sotheby's New York in December 2013, it made $100,000 – a record sum for a jewel of this type.
FURTHER READING
OUR SERVICES
Offering expert Advisory across sectors, our dedicated Advisory, Sales Agency, and Philanthropic Strategy teams combine strategic insight with transparent advice to guide our clients seamlessly through the market. We always welcome the opportunity to discuss our strategies and services in depth.