Art & Jewelry as Powerful Financial Tools
The Art of Leverage: Art & Jewelry as Powerful Financial Tools
TUESDAY, JUNE 29, 2021 – 10AM PST / 1PM EST
29 June 2021
The Art of Leverage: Art & Jewelry as Powerful Financial Tools
Watch on YouTube
Have you considered art-secured lending for your High-Net-Worth individual and Ultra High-Net-Worth clients?
Art and jewelry loans allow collectors to realize liquidity without having to make unfavorable sales to satisfy short-term cash-flow requirements, or simply extract valuable investment capital. Through this form of financing, collections can be expanded, and investment returns can be optimized.
Please join the Fine Art Group for an informative discussion on current lending opportunities with art and jewelry.
TOPICS DISCUSSED
What is Art Finance & what are the different types of Art Finance products?

What makes suitable collateral?

Key commercial terms & the execution process
Borrowing rationales & borrower characteristics

Key trends & predictions
---
About The Fine Art Group
Launched in 2000, The Fine Art Group is a global leader in art and finance with deep market connectivity and a unique position within the art ecosystem. With a proven track record, private collectors and member of the art trade can benefit from in-house legal and finance teams, backed up by a highly experienced group of art and logistics experts, ensuring every art finance transaction is completed efficiently and within deadline. Our wider understanding of the art market and experience of working with many of the world's most important collectors, advisors, dealers, and gallerists means we are in a position to deliver client service and a capital solution which sets us apart.
Why Work With Us
20-year track record in the art market
Non-circumvent agreements provided to Art Advisors
Unrivalled speed of execution – loans typically funded within 3 – 4 weeks
In-house collateral appraisals in consultation with the Art Advisor ensure absolute confidentiality, far removed from auction houses and the wider market
Transparent client interactions – always working alongside the Art Advisor
Front to back execution process managed in-house with white-glove client service
Highly competitive interest rates
No borrower financial disclosure or credit underwriting
Up to 50% Loan to Value
---
THE FINE ART GROUP ACQUIRES PALL MALL ART ADVISORS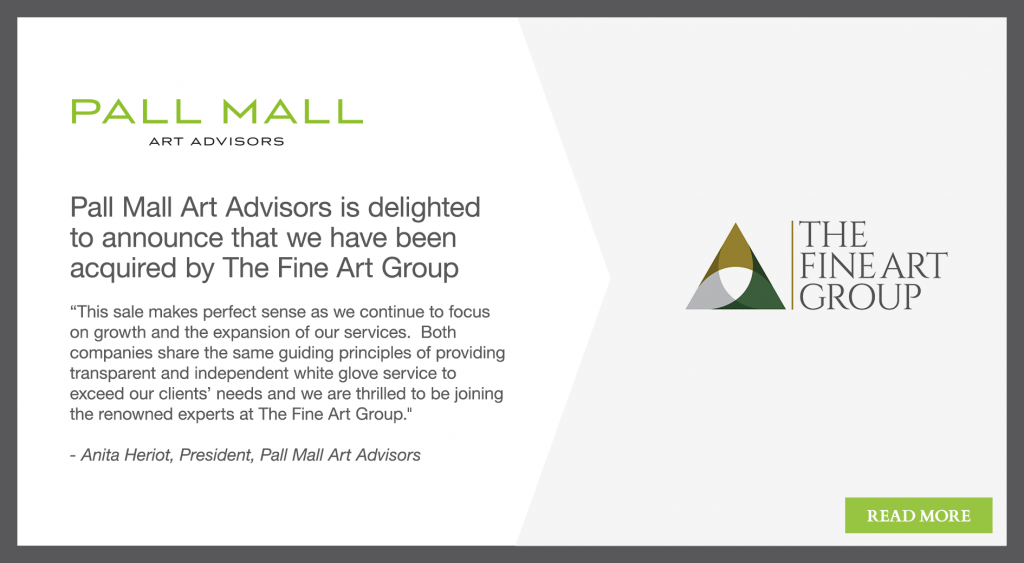 FURTHER READING