El Jardín offered at Sotheby's Latin America: Modern Art Sale
A rediscovered masterpiece of Cuban modernism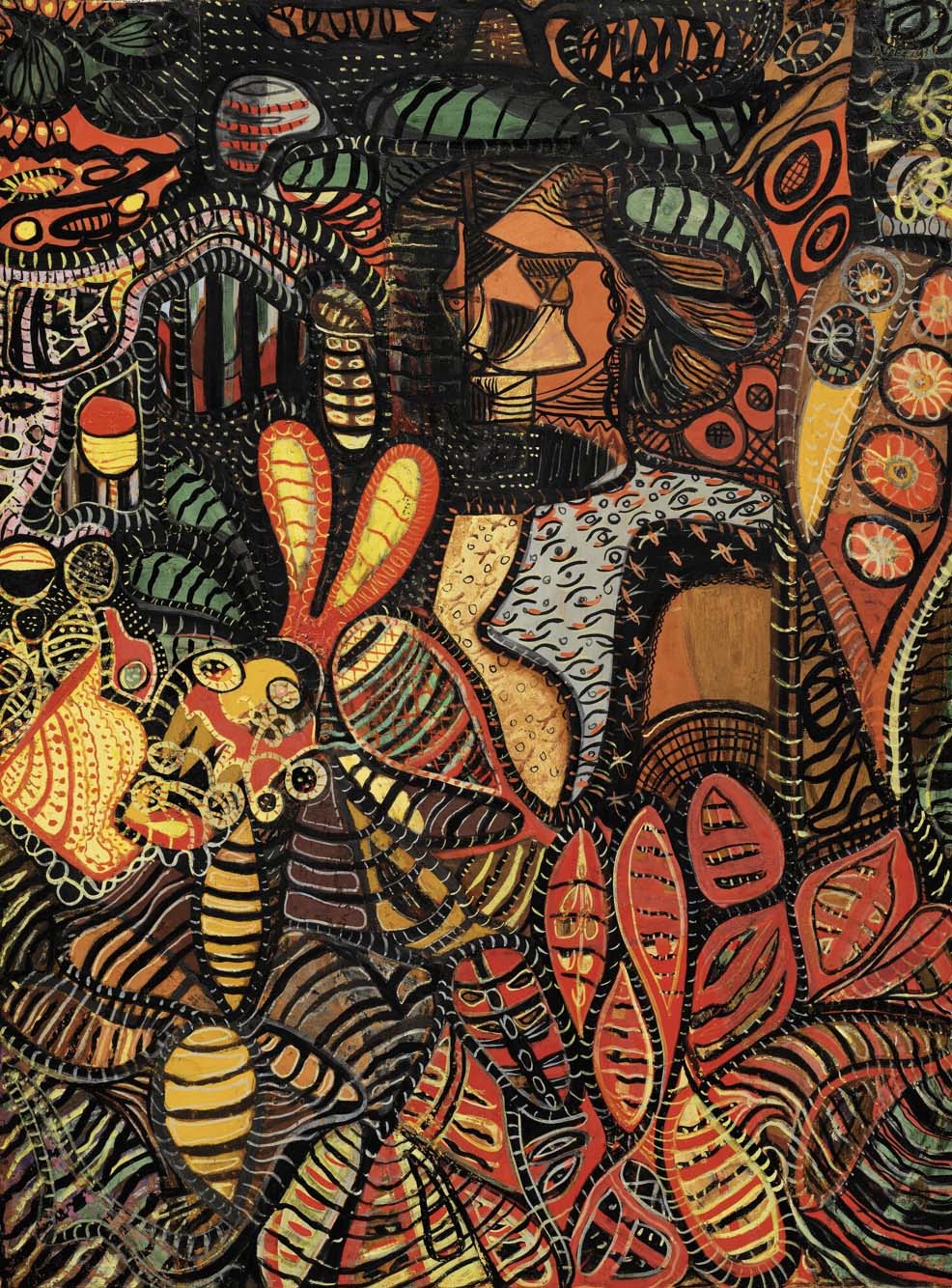 Amelia Peláez (1896-1968)
El Jardín
Gouache on paper
51 1/5 × 37 4/5 in.
Estimate: $400,000-$600,000
Sold: $375,000
FROM THE CATALOGUE
Amelia Peláez is the most extraordinary example of how vigorous artists should approximate modern art currents in Paris.
– David Alfaro Siqueiros, July 1943

A rediscovered masterpiece of Cuban modernism, El Jardín (1943) radiates with Baroque intensity. Painted in Havana in the early 1940s, a time of relative political and economic prosperity, the work is an outstanding achievement of Latin American modern painting. Depicted in the artist's signature style, El Jardín resonates through a rhythm of curvilinear outlines and pulsating arabesques set against a structured space of impassable zig-zag patterns. No other work by the artist presents a richer mosaic of tropical color and exotic vegetation.

A key figure of the Cuban avant-garde—and the only woman included in the seminal exhibition Modern Cuban Painters at the Museum of Modern Art in New York in 1944—Peláez constructed her own brand of Cubism: a formal vocabulary of elaborate ornate elements derived from nineteenth century Cuban architectural decoration and furniture design. As was often the case with women artists working in the late nineteenth and early twentieth centuries, Peláez found rich inspiration in her immediate environment: the intimate realm of her family home and garden were not only easily accessible but also suitable habitats conforming to the proper role of women in a predominantly conservative society. It was there, in the privacy of her luscious garden, that the artist found herself surrounded by colorful "…red ixoras; queen's wreath with violet, purple, and blue flowers; crape myrtles and aralia; or the hibiscus which offers itself in red, cream, yellow, salmon, solferino and hybrid… there were also geraniums, begonias, frangipani, jasmine, orchids; lots of ferns, elephant ears and areca palms." (1)

Along with her Cuban counterparts Mario Carreño, Mariano Rodríguez, and René Portocarrero, Peláez understood the symbolic power of colonial architecture as a referential sign, one that could adequately testify to the cultural autonomy of its people, or their cubanidad. While most of her work from this seminal period retains certain architectural references, El Jardín appears to be an exception: by purposely distracting our attention with an all-over composition, the viewer is prevented from isolating a single element. Instead, all reference to reality is replaced by elaborate and fantastical patterns that deviate from floral to organic form.

Eventually the eye finds refuge in the indiscernible figure of a woman located in the upper half of the composition. Abstractly depicted in a mask-like face, she is practically concealed by the overwhelming vegetation that surrounds her, as if nature itself were purposely obscuring her presence and purpose. An intensely powerful composition, the work oscillates between excess and restraint, liberation and control. El Jardín is a triumph of painting built on visual contradictions resolved by the artist's mastery of color and paint.
OUR SERVICES
Offering expert Advisory across sectors, our dedicated Advisory and Sales Agency teams combine strategic insight with transparent advice to guide our clients seamlessly through the market. We always welcome the opportunity to discuss our strategies and services in depth.
---
(1) Fernando G. Campoamor, "La obra viva de Amelia Peláez," Bohemia, n.d, pp. 47-52.