Inaugural Invitation to "If So, What?"
FINALLY, A NEW KIND OF ART FAIR
As art advisors we need to make the rounds. Art Basel, Art Frieze, Tefaf, the Armory Show. Each art fair follows the basic formula, a large space with dealers displaying their works in their booths. Little red dots under works sold in advance to top collectors… champagne flowing at the VIP opening.
I live in Silicon Valley. As wealth and innovation are the bed rock of Silicon Valley, art has taken a back seat. It's not surprising. It's hard to believe that a traditional art fair model would be appealing to young, innovative and wealthy entrepreneurs and royalty of the tech world.
There is no doubt that is exactly what Linda Helen Gieseke and Sho-Joung Kim-Wechsler must have been thinking when they realized that there was an artistic vacuum in Silicon Valley. Kim-Weschler knows the tech world after stints at Artsy and 1st dibs. Hence this fair needed be more than champagne and art, it needed to be a full artistic experience integrating visual art, performance, technology and innovation.
What is even more important is that If So What is positioning itself as a thought leader, bringing tech founders and CEO's with art professionals in a series of panels.
The Fine Art Group is proud to be part of the forefront of a new generation of art fairs that are uniquely positioned to appeal to the young, the innovative and those seeking knowledge.
All The Fine Art Group's Clients receive 10% Discount to this Inaugural Event – see details below. A portion of the proceeds support Art in Action – Empowering children through affordable art education – artinaction.org.
WHERE ART AND DESIGN MEET SILICON VALLEY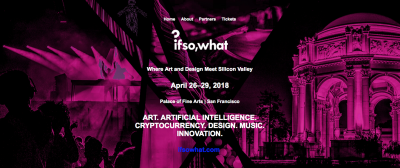 Join us to experience art, design, music, and innovation in a unique, immersive environment, to connect to the transformative power of art and design. Discover new galleries and compelling works from international artists, experience immersive multimedia installations, and join in a dialogue with our visionary panelists who will speak about the interconnection between art and society. Enjoy live music performances and relax on our piazza, connecting with friends both old and new.
BE PART OF THE MOVEMENT
April 26-29, 2018
Palace of Fine Arts
3301 Lyon Street
San Francisco, CA 94123
Sign up for a 10% discount here
ENTER CODE: PALLMALL.ISW
Get your Ticket now!
EXCLUSIVE VIP PREVIEW

April 26, 2018
3-9pm
Palace of Fine Arts
3301 Lyon Street
San Francisco, CA 94123

VIP BENEFICIARY – ART IN ACTION
Empowering children through affordable art education
artinaction.org
DISCOVER
Discover traditional and cutting-edge art and design galleries and artworks from all over the world. Leading galleries and curators from Europe, Asia, and the US will present works ranging from the most innovative global design to the latest trends in contemporary art.
LEARN AND ENGAGE
Learn about the latest advances in AI, what the future of cryptocurrency looks like and how art and technology are interfacing in unprecedented ways. Listen and discuss with current and former Executives from Apple, Google, Facebook, Artnet, GoDaddy, as well as leaders from Academia such as Stanford or Institutions as BAMPFA and Nevada Museum of Art. This program will be round-up by forward-looking crypto discussions of pioneering crypto artists and art blockchain technologies.
LISTEN
Enjoy music performances and relax on our Piazza while connecting with friends, both old and new. If So, What? will present contemporary music performances produced by San Jose Jazz, a Silicon Valley-based non-profit organization celebrating jazz as a dynamic, evolving art form.
More surprise music bands announced shortly, but here a flavor: