A Lost Johan Zoffany Portrait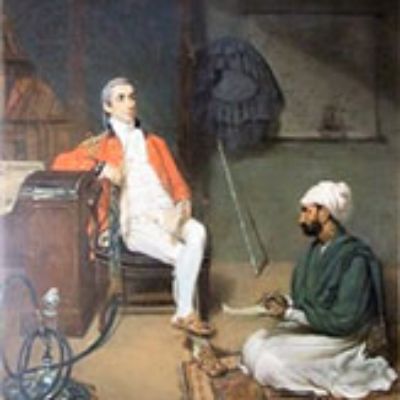 A recent valuation at the Hall of the Worshipful Company of Innholders in London by Pall Mall Art Advisors, and where I was part of the valuation team, resulted in an unexpected and exciting discovery.
I was astonished to find a beautifully painted small portrait of an 18th Century red-coated officer, Captain Jonathan Scott, seated with an Indian scribe at his feet in an Indian interior. I was struck by the quality of some of the details, the pointed Indian slippers, the hookah, rug and the delicacy of the treatment of the faces.
FROM THE BEGINNING
One of my areas of particular interest is the art produced during the time of the Raj and I recognized that this portrait was by Johan Zoffany (1733-1810), a German artist who found favour at the court of George III and became an early member of the Royal Academy. In 1783, he travelled to Calcutta in search of riches to subsidise the extravagant lifestyle he had adopted after his London success. He spent six years in India and collected oriental armour, hookahs, costumes and weapons while he was there.
The Scott portrait was painted in Lucknow, during Zoffany's two and a half years residence there. However, it appeared to be unknown to the academic establishment. It had not been included in the 2012 Royal Academy exhibition of Zoffany's work, or in the extensive monograph by Mary Webster published in 2011. (Johan Zoffany 1733-1810, Yale, 2011).
Inquiries at the Livery Company revealed that they were aware of the authorship of the portrait. It had been donated in 1987 by the widow of a past Master who had been a direct descendant of the sitter. The portrait was examined by the organizers of the Zoffany exhibition. Two of them knew of the painting, from an old black and white photograph, but had believed it to be lost. They were intrigued by the sketchy quality of some of the background of the portrait, and suggested that Zoffany might have been in a hurry to complete it as Hastings left Lucknow, presumably with Scott, in August 1784, the year in which the portrait was thought to have been painted.
WHO IS JONATHAN SCOTT?
Jonathan Scott was born in Shrewsbury in March 1753. After his education at Repton and Shrewsbury, he sailed for India in March 1769. Upon his arrival in Calcutta he studied the language and history of India and by 1780 had become a Captain in the East India Company. Patronage was a crucial factor in the advancement of the officers of the Company and Scott was fortunate, when in 1783, Warren Hastings, the Governor General of India, appointed him to his staff as his Persian Secretary and Interpreter, responsible for communications with the native powers judged too diplomatically sensitive to be trusted to an Indian secretary. Hastings also valued Scott's investigations into Mughal Indian history. Shortly after Scott's appointment he and Hastings were involved in the foundation of the Asiatic Society of Bengal. They travelled to Oudh where Hastings hoped to settle many of the outstanding problems.
By 1785 the criticism of Hastings' Governor Generalship by his enemies in the Council of the East India Company in England had grown to such an extent that his position was untenable, despite bringing much order to a chaotic and corrupt system during his eleven years at the helm. He sailed for home in February 1785, accompanied by Scott and a few others. In February 1788 Hastings was impeached by the High Court of Parliament for crimes and misdemeanours during his time in India. The trial lasted on and off for seven years, until in 1795 Hastings was acquitted on all the charges.
Meanwhile, Scott had settled in Shrewsbury, where he remained for the rest of his life. In 1786, he married his first cousin Anne Austin, daughter of the Reverend Daniel Austin and Anne Sandford of the Isle of Rossall. Their daughter Anna Dorothea was born in 1793. In 1802 Scott was appointed Professor of Oriental Languages at the Royal Military College, Marlow and subsequently at the East India College, Hailebury. Oxford University conferred on him an Honorary DCL in 1805, in recognition of his services to Oriental Literature, and Cambridge followed suit with an honorary LLD in 1808.
He died in 1829 at the age of seventy-five and was buried in the family vault in St Chad's Church, Shrewsbury. Scott had six books published between 1786 and 1811 including translations from Persian. His best known work is a six volume translation of the Arabian Nights, published in 1811. This constituted the first literary translation of the Arabian Nights, providing a critical introduction and copious annotation of the Muslim religion and customs.
Zoffany had had high expectations from the Nawab of Oudh, but they were not realized. By the time of his arrival in 1784, the Nawab, who had moved the capital of the province of Oudh from Faizabad to Lucknow, had hugely over-extended his resources in the creation of a magnificent palace and in the maintenance of an extravagant court life. Zoffany never received any money from him. However there were plenty of European patrons who commissioned work from him, notably Antoine Polier, the engineer to the Nawab and another Frenchman, Claude Martin. 'Colonel Mordaunt's Cock Match', commissioned by Warren Hasting's from Zoffany, and one of the masterpieces of Anglo-Indian painting, took place in one of Martin's properties. Zoffany also painted a number of landscapes at this time as well as views of Martin's properties and paintings of natives. His enchantment with India resulted in a body of work based on his observations of the landscape of Bengal and Oudh and of the exotic manners and customs he found there.
Karen Taylor is a specialist paintings consultant. She has a particular interest in Oriental, Indian and Far Eastern Art. Grateful acknowledgement is given to Anne Powell, a descendant of Jonathan Scott, who is currently engaged in writing a book based on his letters.
RELATED CONTENT
OUR SERVICES
Offering expert Advisory across sectors, our dedicated Advisory and Sales Agency teams combine strategic insight with transparent advice to guide our clients seamlessly through the market. We always welcome the opportunity to discuss our strategies and services in depth.