May New York 2021 Auction Round Up
A welcome return to the regular auction schedule saw Christie's and Sotheby's execute five major evening sales across three nights totalling $1.29 billion, with Phillips opting instead to hold their New York sales in June at their new headquarters. Despite Christie's merging their Post-War & Contemporary and Impressionist departments, previously holding just one evening sale, the auction house held two 21st and 20th Century evening sales, proving that the sale categories continue to be malleable depending on the material the houses bring in. Despite heavy investment in their live streaming technologies from both sides, Sotheby's format still triumphs in terms of streamlining global bids from multiple desks. Most refreshing, however, was room bidding on several lots during the Sotheby's sale, fielded by auxiliary auctioneer Quig Bruning. Diego Rivera's Retrato de Columba Dominguez de Fernandez (1950) even sold to a woman in the room for $7.4 million (premium) and marking a promising step forward for the next round of sales.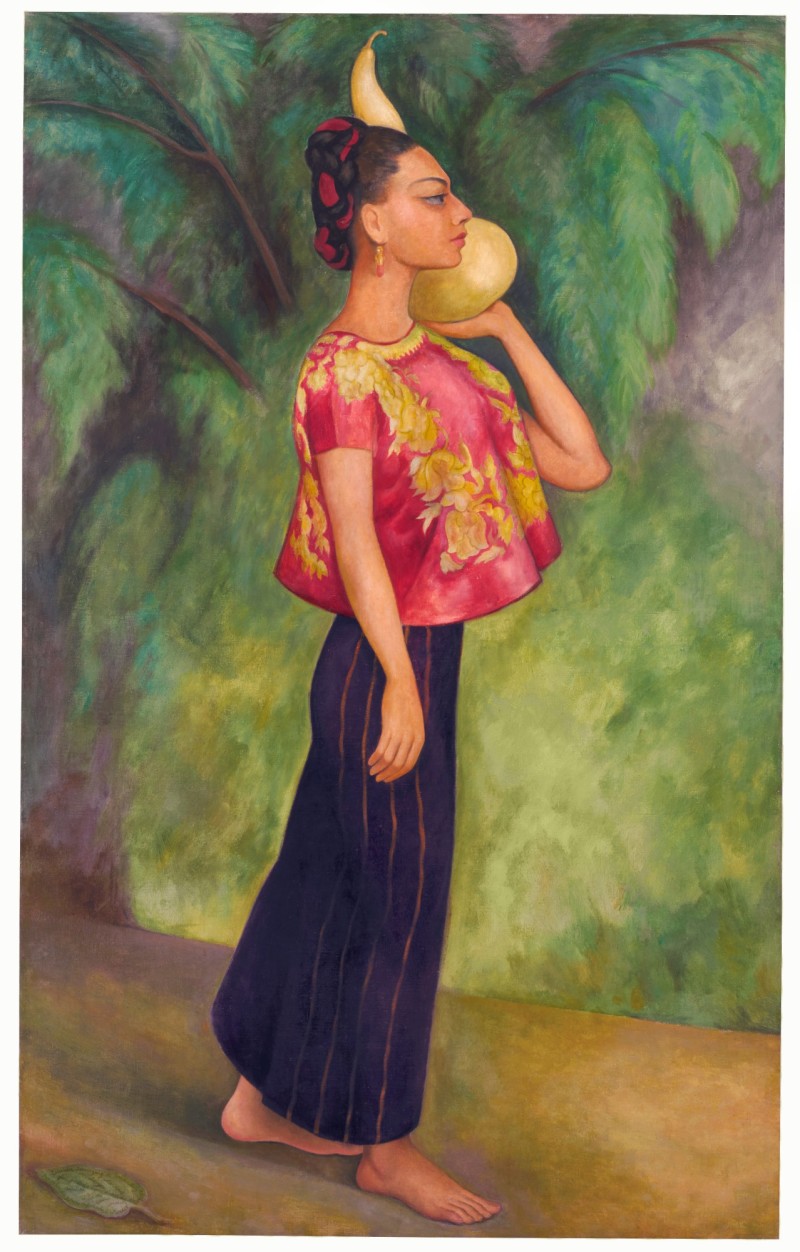 Despite Christie's achieving an overall higher turnover with $691.6 million (premium) versus $597 million (premium) for Sotheby's, in terms of material it felt as if Sotheby's had the lead for the week. This was largely due to the stand alone Marion Collection sale which achieved $157.2 million (premium). Despite totalling towards the lower end of the presale estimate due to four unsold works, the sale saw new auction records achieved for Kenneth Noland, Larry Rivers and Richard Diebenkorn and impressive bidding on the major Warhol, Elvis 2 Times (1963), whose market has been somewhat subdued in recent years. Estimated at $20 – 30 million, the double portrait sold for $32 million hammer ($37 million premium). Christie's also had comparatively healthy Warhol results in their 20th Century sale later in the week, with both lots reaching around their high estimates.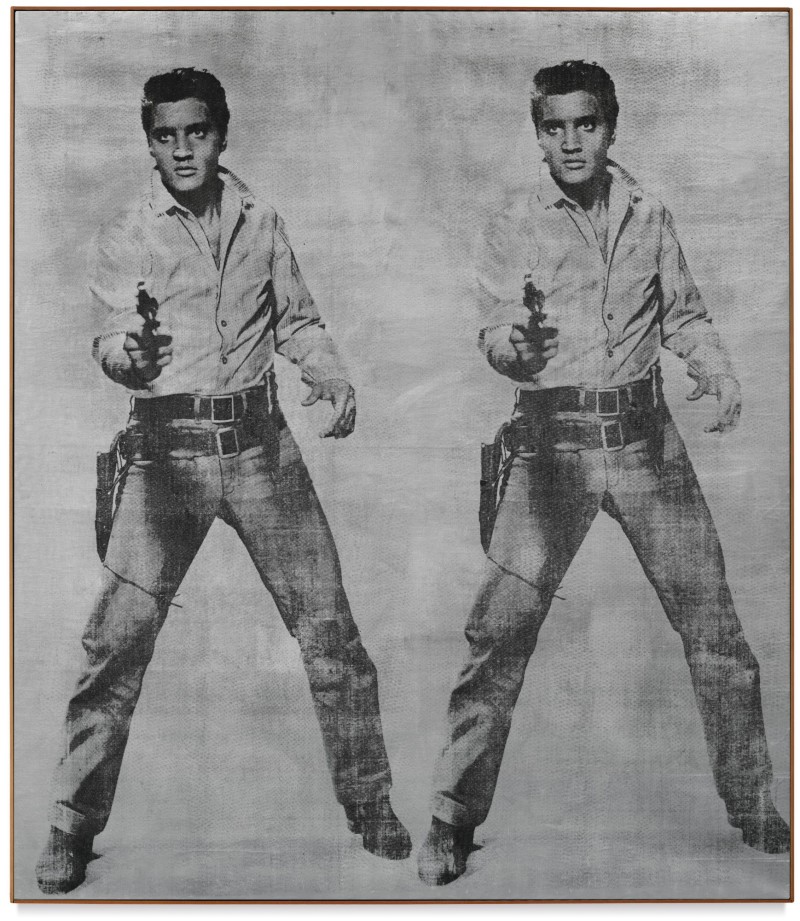 On the completely opposite end of the art historical timeline, following the recent headline grabbing Beeple price, Christie's unsurprisingly opted to include an NFT artwork in their 21st Century evening sale which no doubt boosted their bottom line as 9 Cryptopunks sold for $16.9 million (premium), estimated at $7 – 9 million. A few weeks before Phillips and Sotheby's had both followed suit, holding their own standalone NFT auctions selling for several million dollars. While their value is currently the subject of much speculation, with the new evening sale status NFTs seem to be gathering staying power, at least for the short term.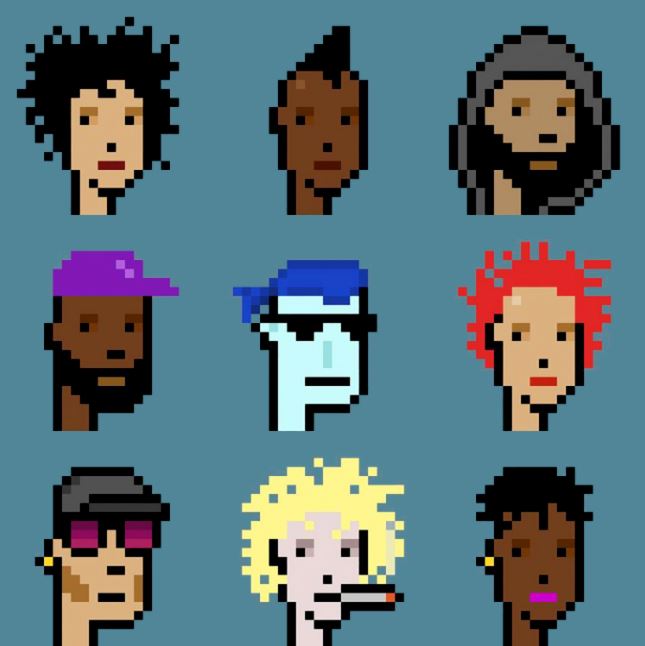 In the spirit of technological shifts, the consignor and Sotheby's opted to allow their Banksy Flower Thrower painting to be paid for in cryptocurrency which undoubtedly boosted the extraordinary result hammering at $11 million ($12.9 million with premium) to a west coast collector, against an estimate of $3-5 million. Notably Sotheby's required their buyer's premium to be paid in US dollars.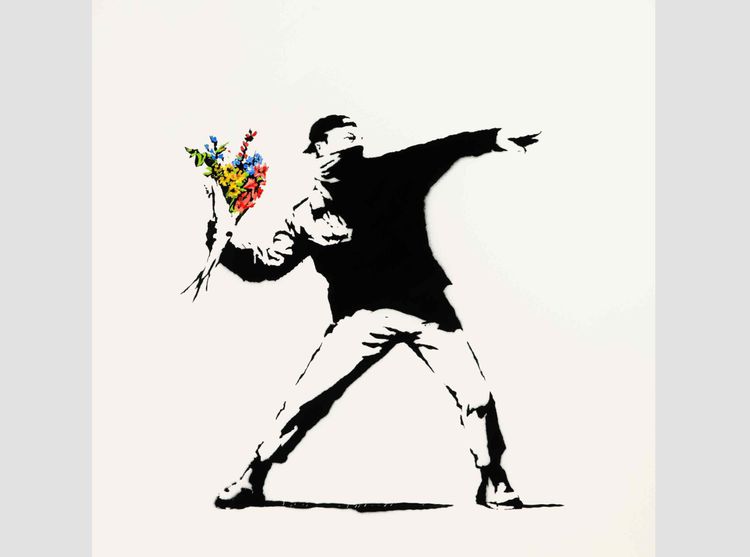 Strength of the Asian market continued and in terms of bidding roughly a third of lots across all the sales saw bidding from Asia. Christie's reported that the Asia-Pacific area represented 25% of buyers from their 21st Evening sale and 20% in their 20th Century evening sale. Key lots by George Condo, Leonor Fini, Picasso's Femme assise en costume vert and a Monet still life, among others, were all sold to phone bidders from Sotheby's and Christie's Hong Kong desks.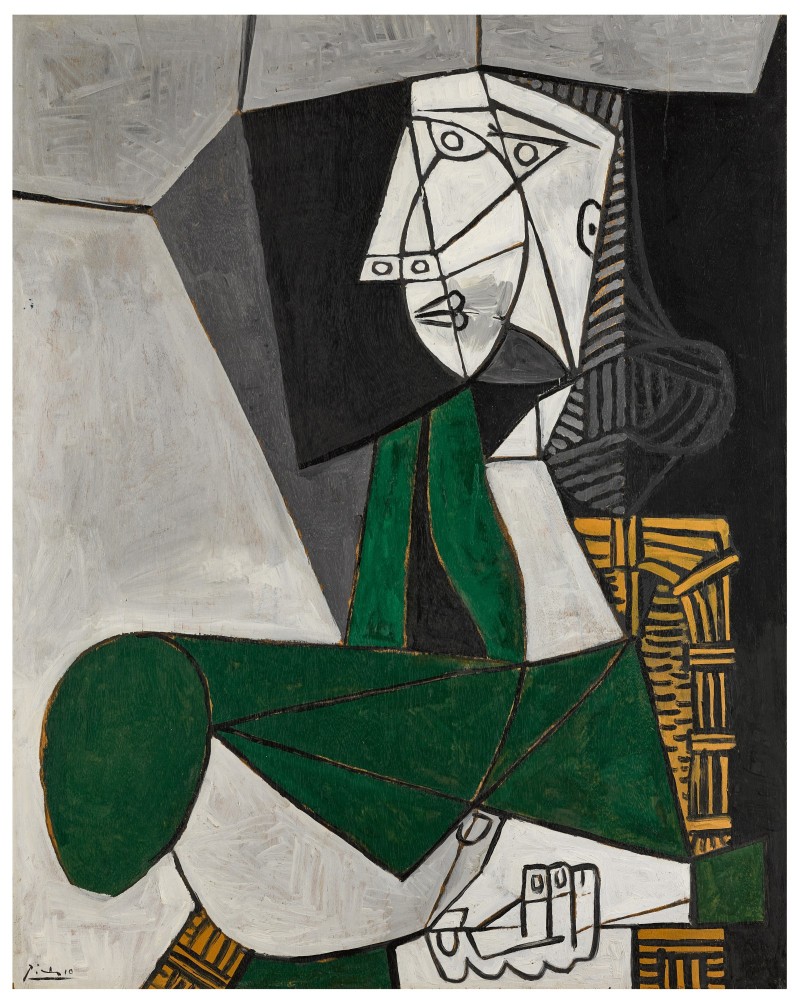 The major turnover generator of the week for both houses was Jean-Michel Basquiat. Christie's lot, In this Case (1983) sold by Valentino co-founder Giancarlo Giammetti, went beyond its unpublished pre-sale estimate of around $50 million to a New York phone bidder for $81 million hammer ($93.1m with premium). Sotheby's likely expected their top lot Versus Medici (1982) to do better but it sold to Lisa Dennison's client Steve Wynn for $44 million hammer ($50.8 million with premium).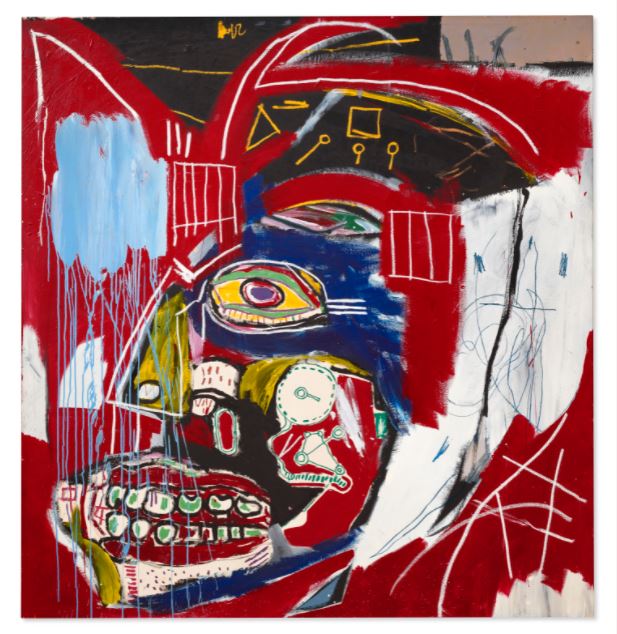 The result for Picasso's Femme assise près d'une fenêtre (Marie-Thérèse) (1932) also showed the continued strength in long term value for the artist. Previously selling for $44.8 million in 2013, this time it went to Vanesso Fusco's client on the phone for $90 million hammer ($103.4 million premium), the only lot of the week to sell in excess of $100 million including fees.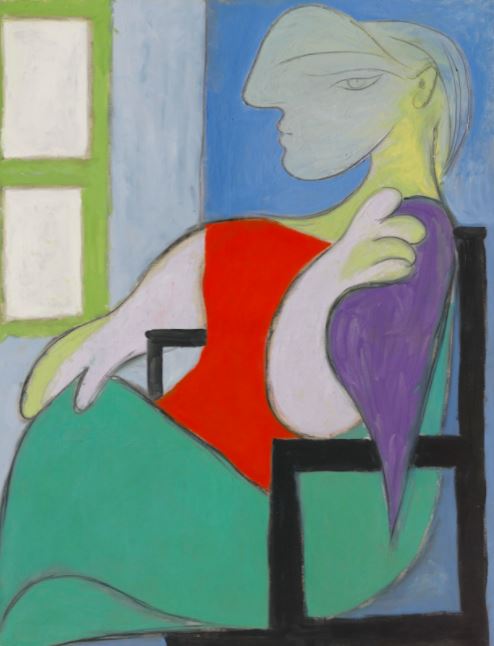 Despite some healthy bidding for Basquiat, Picasso and the major Monet waterlilies at Sotheby's, these solid results were for deservedly A-grade material. Whereas works by other auction stalwarts including Gerhard Richter, Christopher Wool and Cy Twombly, among others, primarily sold on one or two bids. This is both a reflection of the continued selectiveness of the market as well as a shift in taste to the new generation of art stars, albeit at lower price points, where lots saw the most competitive bidding. Five artists under the age of forty-five set new auction records, notably Nina Chanel Abney ($990,000 premium), Lynette Yiadom-Boakye ($1.95 million premium) and Salman Toor ($867,000 premium) to name a few. Another noteworthy price from the week included a spectacular and deserved new auction record for Robert Colescott's George Washington Carver Crossing the Delaware: Page from an American History Textbook (1975), selling for $15.3 million (premium) above the $12 million high estimate. The result was over sixteen times higher than the previous record of $912,500. The work sold to the Lucas Museum of Narrative Art in Los Angeles.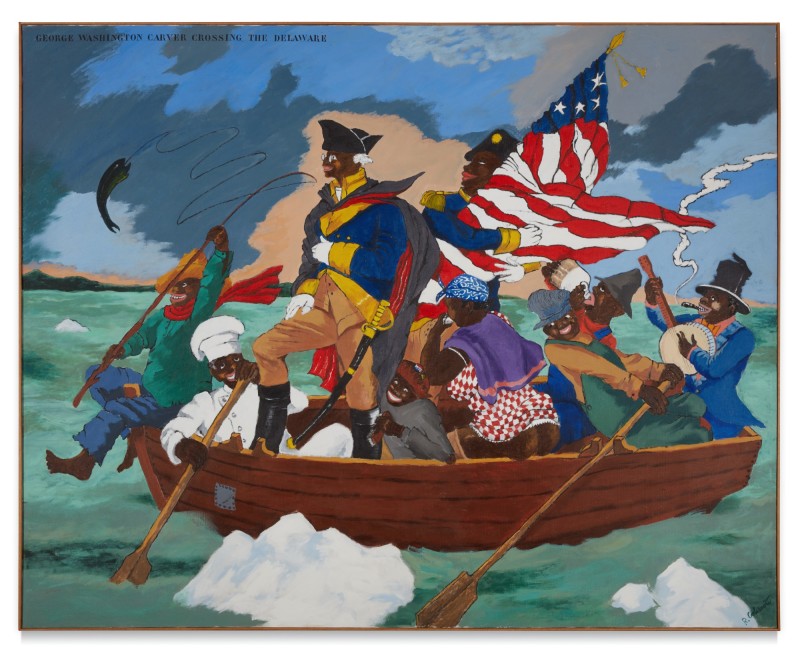 Overall, the results proved a healthy, recuperative global art market, following the past twelve turbulent months. Phillip's delay to June may have assisted in slightly curbing supply but the successive slew of auction records and excellent sell through rates speak for themselves. The auction houses continue to show excellent adaptability to help ensure this, whether it be last minute lowering of reserves, withdrawals or the securing of guarantees. With 78% of works guaranteed by value in both Christie's evening sales and 48% and 57% respectively in Sotheby's Contemporary and Impressionist & Modern sales, these remain essential tools for the sustained stability of the auction market.
---
Image 1: Image courtesy Sotheby's; Image 2: Image courtesy Sotheby's; Image 3: Image courtesy Christie's; Image 4: Image courtesy Sotheby's; Image 5: Image courtesy Sotheby's; Image 6: Image courtesy Christie's; Image 7: Image courtesy Christie's; Image 8: Image courtesy Sotheby's
FURTHER READING