Preparing for the California Fires
As a new wildfire closed part of Interstate 405 early Wednesday near Los Angeles' Bel Air area, flames sweeping toward the Getty Center arts complex — one of a number of recent fires that have burned more than 83,000 acres, countless buildings and pushed thousands of people to evacuate their homes — the call for preparedness has never been more urgent.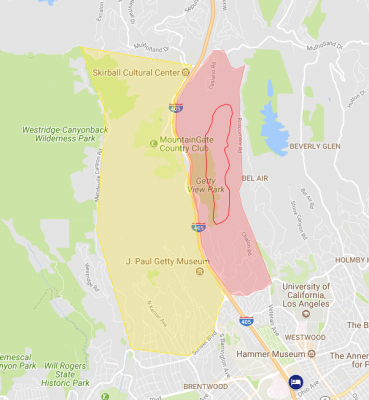 Southern California Fire Evacuation Zones
The map outlines those communities in yellow which should be preparing to evacuate should the fire cross the freeway. The boundaries for the mandatory evacuation zone are Sunset Boulevard to the south, Roscomare Road to the west, and Mulholland to the north.
THE FINE ART GROUP'S PLAN OF ACTION
Every home should have a complete and detailed inventory of their contents. You will need this information should the fire hit your home.
It is wise to have an evacuation plan. The Fine Art Group can arrange for a packer/shipper to transport the art to a certified art storage facility should the evacuation be necessary.
Make sure you have the correct insurance on your contents. If you have a blanket coverage, ensure the number is large enough. If you have pieces valued over your blanket per item limit, make sure you have scheduled and updated values. Our advisors are happy to connect you with excellent brokers who can provide you a full insurance review gratis.