Client's Paraiba Tourmaline Breaks $1 Million
second highest amount secured for a Paraiba at auction
The Fine Art Group was pleased to assist a client in selling their exceptional Paraiba Tourmaline and Diamond Pendant-Necklace. The result was the second highest amount secured for a Paraiba at auction and shows the strength of the market for outstanding specimen stones of rarity.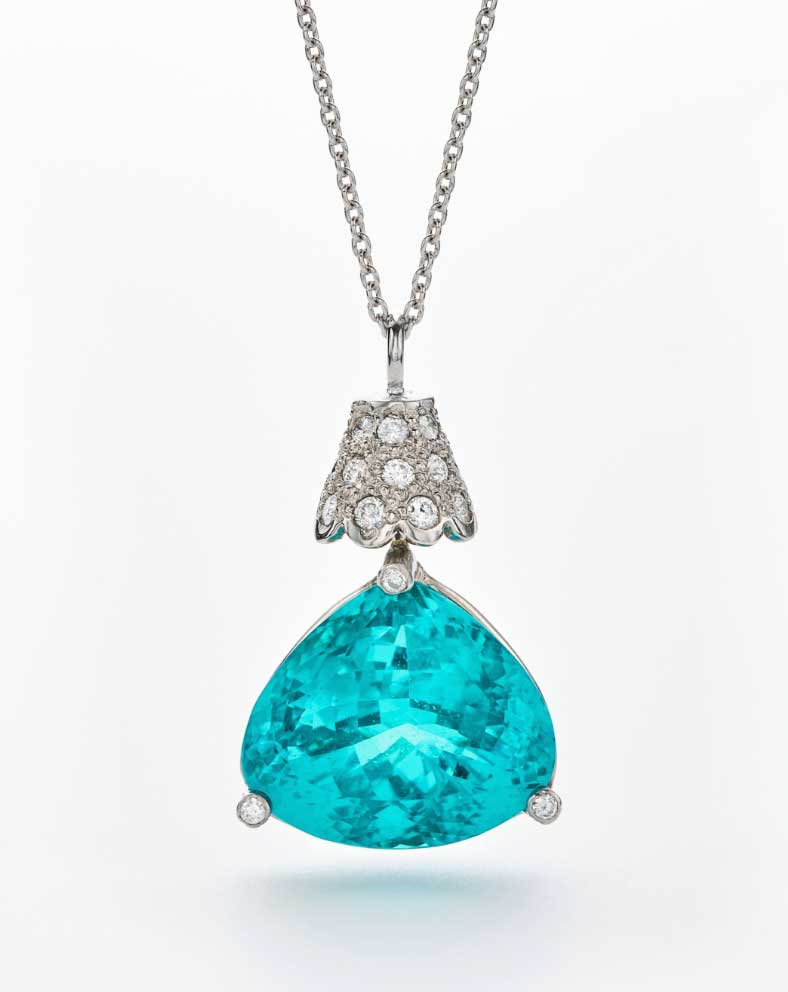 An Exceptional Paraiba Tourmaline and Diamond Pendant
Estimate: $500,000-$700,000
Realized: $1,197,000
CATALOGUE NOTE
Tourmaline, the most diverse of all gems, has an astonishing range of colors, but none more celebrated than the "electric" Paraiba variety. This type of elbaite is colored by a complex chemical interplay notably involving traces of copper. In rare cases, typically through gentle heating, vivid "neon" green-blues and blues are produced. Many who experience these exotic hues for the first time find it difficult to believe such shocking, vibrant colors are possible in a natural stone.
Discovered in the late 1980s in São José da Batalha in the Brazilian state of Paraíba, this novelty gem was introduced at the 1990 Tucson gem and mineral show. The initial surprise over the unprecedented colors quickly turned into soaring demand and historic values for tourmaline over a short four-day period, cementing a trend that has kept a furious pace ever since. Subsequent exploration yielded small additional Brazilian deposits in the Rio Grande do Norte as well as two African finds, in Nigeria (2001) and later in Mozambique (2005). These mines produced prized Paraiba examples, but it is undeniable that the scarce few exceptional gems mined from the now exhausted original Brazilian sources remain most coveted by connoisseurs.
The present lot is an example of exceptional size and color sourced from the Brazilian finds. Weighing over 10 carats, its vivid saturation and open tone combines a pleasing hint of green to the dominant blue hue. Unlike the vast majority of Brazilian Paraiba which have transparency issues, this stone adds to its distinction with an extraordinary clarity. It is a true gem worthy of the finest collections.
RELATED CONTENT
OUR SERVICES
Offering expert Advisory across sectors, our dedicated Advisory and Sales Agency teams combine strategic insight with transparent advice to guide our clients seamlessly through the market. We always welcome the opportunity to discuss our strategies and services in depth.