The Walid Juffali Collection
ART COLLECTED WITH PASSION
The late Walid Juffali collected art with passion. As his daughter Dina emphasises, "He bought with his heart, always collecting things that he loved, things that he was attracted to… the value of art is how it feels. It's so personal – that's what makes it interesting, it's very emotional."
The upcoming sale of Walid Juffali's collection on 26th March through Bonhams at Bishopsgate House shows the magnitude of the collector's passion for art. The collection spans centuries counting a vast Chihuly chandelier, and works by masters such as Andy Warhol, Picasso, Joan Miro, Marc Chagall, Henri Lebasque and Leonard Foujita. There are also collections of porcelain, silver, English and French furniture, books, fine wines and objets d'art.
WALID'S LIFE OF SERVICE
Philanthropy played an important role in Walid's life. His mother Suad al-Husseini is a renowned philanthropist in the Middle East, and his family have decided to donate a proportion of the sale proceeds to Macmillan Cancer Support and Cancer Research in his memory.
"The Fine Art Group is delighted to be working with the Juffali family on the sale of this unique and incredibly personal collection. The many works available in the sale illustrate a true richness of taste, from the refined period furniture to the daring glass works of Dale Chihuly. From the monumental sculptures of Fernando Botero to the intricate antique clocks and silverware, the collection demonstrates the interests of a person with deep aesthetic sensibilities. It is rare that such a special and diverse collection comes to sale and it has been an honour to be so deeply involved in the proceedings."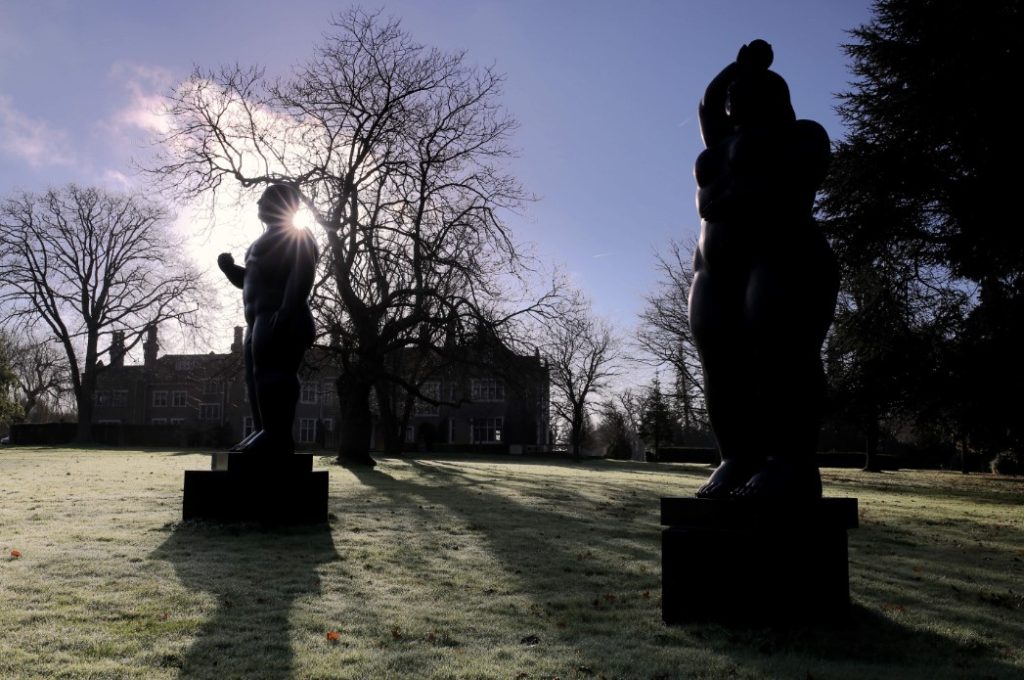 Throughout Bishopsgate house, works by Warhol and Picasso, Miró and Chagall indicate Walid's passion for modern art. "The contemporary movement wasn't so much what was valued by Middle Eastern society at the time," Dina explains. "You had your Picassos, to them that was Contemporary. But life is a treasure hunt – you have to go out and find what you're meant to have, and Miró spoke to my father on a very bold level – they're quite abstract but it gives you a lot of emotion, it has something to it. It's not like a Calder, which is very bold and straightforward; Miro has layers and nuance."
SCULPTURES
One of the most striking lots is Fernando Botero's Adam and Eve two monumental bronze statues on the huge stretch of lawn overlooking Windsor Great Park. "My father first saw Botero's work in Monaco," says Dina, "and he always felt it should be seen out of doors. I mean, everyone loves Botero… and he just thought, that's a piece and a half!"
The sale will include two sculptures by Dale Chihuly commissioned by Walid for Bishopsgate House; a magnificent chandelier placed above the blue-tiled pool and Float Boat, a sailing fantasia rendered in glass on the grounds. "My father met Chihuly before he was a big name. I remember Dale coming over to have a look at the space – I'll never forget his paint-splattered boots – and he thought 'Why not, let's do it'. This was before the V&A got its installation." Dina explains how her father bonded with Chihuly, "They were both quite creative characters, so they meshed really well – and it became effortless for Dale to create the most perfect, organic pieces."
The Chihuly sculptures are a great example of how personal Walid's collecting process was, and how much he was led by his heart.
26 March 2018
Bishopsgate House, Englefield Green, Egham TW20 0XT
Previews at Bishopsgate House Friday 23 – Sunday 25 March
View the online catalogue here.
OUR SERVICES
Offering expert Advisory across sectors, our dedicated Advisory and Sales Agency teams combine strategic insight with transparent advice to guide our clients seamlessly through the market. We always welcome the opportunity to discuss our strategies and services in depth.