Venice Biennale 2019: Top National Pavilions
GHANAIAN PAVILION
GHANA FREEDOM: El Anatsui, Ibrahim Mahama, Felicia Abbas, Lynette Yiadom-Boakye, John Akomfrah, Selasi Awusi Sosu
VENUE: Arsenale
Ghana's first national pavilion is one of the most celebrated in the whole Biennale. The pavilion is designed by David Adjaye as a labyrinth of cellular spaces built in ochre Ghanaian soil, still smelling of the earth, in which dialogues between different generations, media, diaspora and Ghana-based artists coalesce. The title of the pavilion is a reference to the song composed by E.T. Mensa on the eve of the country's independence in 1957; Ghana became the first sub-Saharan country to free itself from colonial rule.
Curated by Nan Oforiatta Ayim the space includes largescale installations by El Anatsui and Ibrahim Mahama; portraits by Ghana's first known female photographer Felicia Abbas stand opposite the painter Lynette Yiadom-Boakye; the heavyweight filmmaker John Akomfrah shows a newly commissioned three-channel film installation; and a film-sculpture from Selasi Awusi Sosu.
INDIAN PAVILION
Our Time for a Future Caring: Nandalal Bose, MF Husain, Atul Dodiya, Jitish Kallat, Ashim Purkayastha, Shakuntala Kulkarni, Rummana Hussain and GR Iranna
VENUE: Arsenale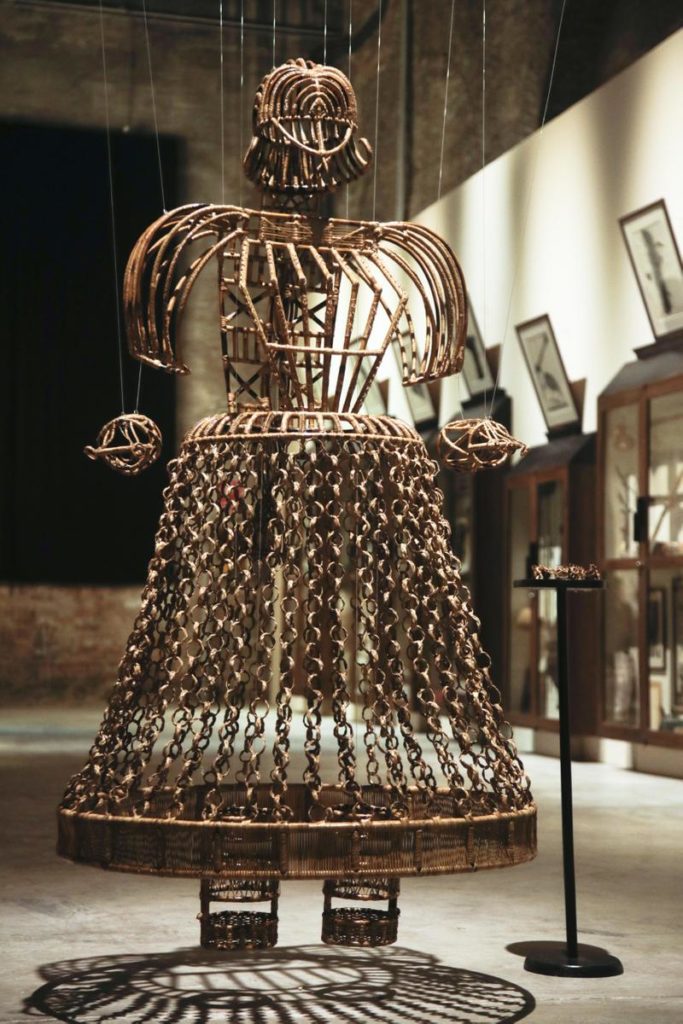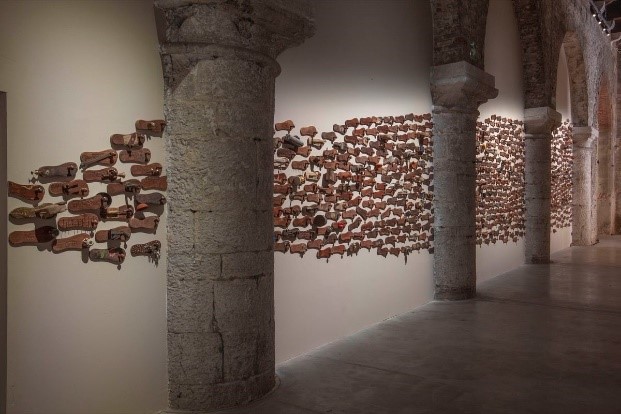 Returning after an eight year hiatus, India's compelling group presentation addresses Gandhi's legacy, beginning with Nandalal Bose's posters for the 1938 Haripura Congress. In Broken Branches (2002), Atul Dodiya has recreated the old wooden cabinets found in the Gandhi museum in Porbandar, filling them with prosthetics, books, tools and weaving in personal items, while GR Iranna has covered one of the walls with hundreds of wooden padukas for his work Naavu (We Together) (2012), which refers to Gandhi's choice of wood slippers—he rejected leather—and the power of collective marching. Jitish Kallat's Covering Letter, projecting a plea for peace sent by Gandhi to Hitler on a curtain of descending mist through which audiences walk, simultaneously inhabiting and dissipating the text, is another key highlight. The pavilion theme marks the 150th anniversary of the birth of the Indian independence leader.
LITHUANIAN PAVILION
Sun & Sea (Marina): Rugilė Barzdž iukaitė, Vaiva Grainytė and Lina Lapelytė
Venue: Marina Militare, Calle de la Celestia, Castello
From 10am to 6pm every Saturday until the end of October, the Lithuanian pavilion is offering the spectacle of a beach of holidaymakers singing an "opera-performance" in a building that still belongs to the Arsenale's military zone. The project is the work of theater director Rugilė Barzdžiukaitė, playwright Vaiva Grainytė, and composer Lina Lapelytė. It first debuted at Vilnius's National Gallery of Arts in 2017 in Lithuanian and was adapted into English for the biennale, the pavilion is the 2019 recipient of the Golden Lion for Best National Participation.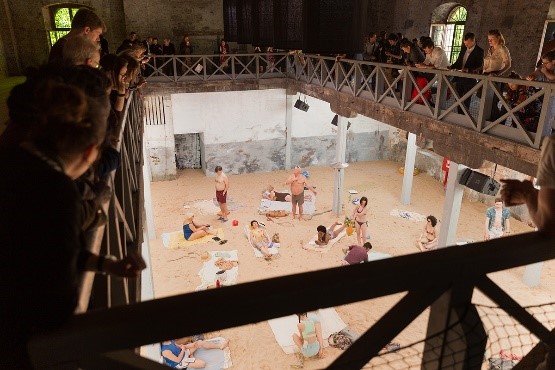 Audience members become voyeurs, gazing down from balconies at the sandy stage set, where performers dressed in bathing suits and surrounded by seaside paraphernalia (lunch boxes, Sudoku, colouring books), casually sprawl on their towels and sun loungers. Their stream-of-consciousness libretto, alternating between solo songs and group choruses, is poetic, strange and often comic. But this microcosm of humanity comes with a barbed ecological message for the age of climate emergency.
PORTUGUESE PAVILLION
Leonor Antunes: a seam, a surface, a hinge or a knot
Venue: Palazzo Giustinian Lolin, San Marco, 2893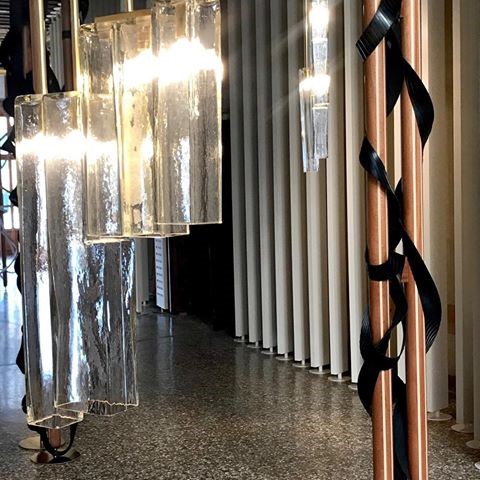 Leonor Antunes' work in Palazzo Giustinian addresses the language and histories of Venetian Modernism. The artist begins with a black cork floor on the androne, the lowest level of the Grand Canal palazzo, dotted with brass squares. It is inspired by a Carlo Scarpa mosaic and lit by dramatically shaped lights designed by Egle Trinacanato, the first woman to graduate from Venice's architecture school. Upstairs are partitions reaching up to the ceilings, echoing the rhythms of their wooden beams. Punctuating the space are tubular structures supporting tangled leather cords and woven screens and cooly minimal lights made in Murano glass. The evocation of history and sensitive response to the surrounding language of the palazzo and its furniture, makes for a poetic and evocative presentation of sculptures.
US PAVILION
Liberty/Libertà, Martin Puryear
Venue: Giardini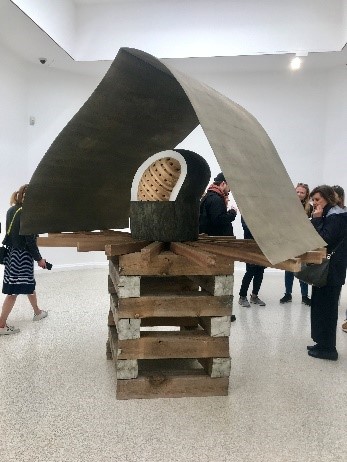 Martin Puryear's pavilion entitled Liberty consists of eight sculptures that aim to present liberty as a universal, rather than an American, right. A significant work which presents a white column speared by a shackled iron stake is dedicated to Sally Hemings, Thomas Jefferson's African-American slave and "concubine" who worked on his Virginia plantation. Other sculptures include a pair of wagons on a tilted plinth, evoking the precarious journeys of the American pioneers, as well as the present-day migrants maligned by the current US President.
FRENCH PAVILION
Deep See Blue Surrounding You: Laure Prouvost
Venue: Giardini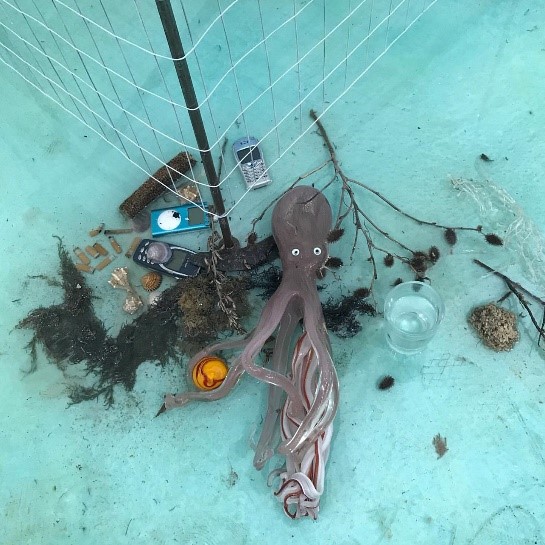 Visitors to Prouvost's pavilion enter by the back door and are met with a rubble-filled basement, allegedly the start of the artists' plans to dig a hole between the French and British pavilions. They then journey through a surreal sculptural seascape of marine creatures in Murano glass, cigarette butts and defunct mobile phones before plunging into darkness—the screening space is modelled on the belly of an octopus. The slipstream of watery images continues in the film as Prouvost's characters make their way from the suburbs of Paris to Venice and the pavilion itself.
BRITISH PAVILION
Cathy Wilkes
Venue: Giardini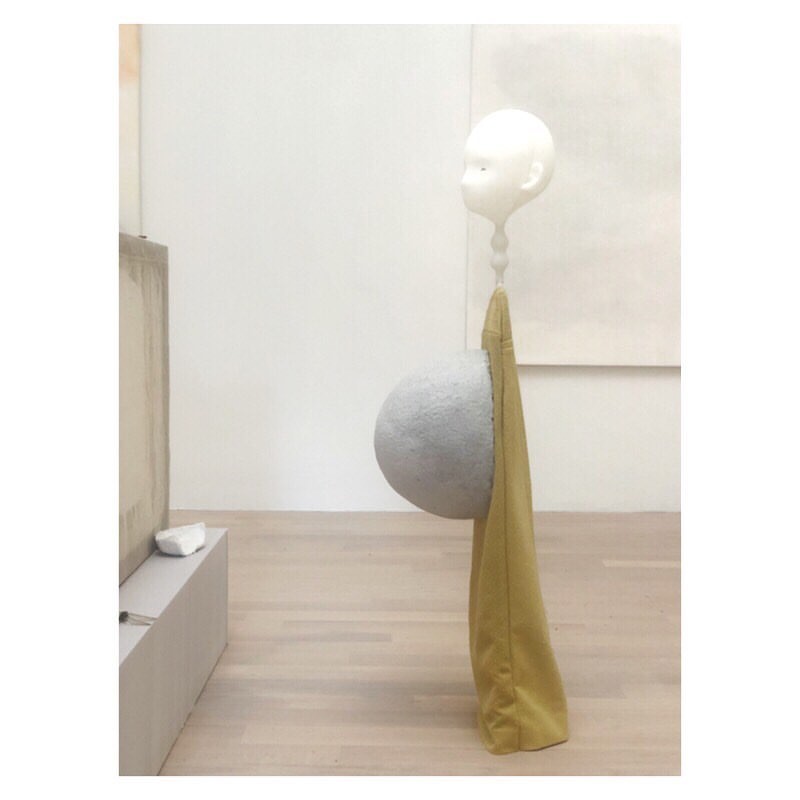 Cathy Wilkes's sparse domestic installation of mannequins, lace scraps, diminutive vases of flowers, washing-up bowls and fragments of plastic limbs, is a meditation on austerity Britain, growing ever smaller in global significance. Tiny figures, with white discs for heads and distended grey bellies, reflect children of poverty and hunger. A mother of sorts is evoked in the stark white arms that rise out of a basin, as if petrified in the constant act of washing up, and in the headless figure in a green 30s dress that stands upon feet of clay. Wilkes presents a strong sense of dignity, restraint and coherence not to shock or amuse but inspire contemplation and reflection.