This Week in Art: The Armory Show
THE ARMORY SHOW
To start off, this week marks the start of New York City's premiere 20 & 21st century art show, The Armory Show.

The Armory Show takes places from Thursday, March 8 through Sunday, March 11 at the Piers 92 and 94 in Chelsea.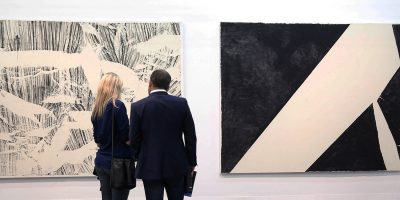 The show exhibits over 100 galleries from all around the World, creating a charming atmosphere in which visitors are invited to discover thousands of artworks spanning movements, mediums and cultures.
In conjunction to The Armory Show, The Museum of Modern Art has on exhibition the art of Tania Bruguera: Untitled Havana, 2000, Thinking Machines: Art and Design in the Computer Age, 1959- 1989, and Tarsila do Amaral: Inventing Modern Art in Brazil in addition to much more.
On view at the Guggenheim Museum, are the shows Dahn Vo: Take My Breath Away, the art of Joseph Albers in Mexico, with a special screening of Jean- Pierre and Luc Dardenne's filmRosetta (1999) in combination with the Dahn Vo art on Saturday, March 10 at 2:30 pm and 5pm.
Additionally on Saturday, March 10 at 7 pm, The Metropolitan Museum of Art will be presenting a performance by Sussan Deyhim. Through a multimedia concert, Sussan Deyhim will be payingtribute to the late Forough Farrokhzad, the irrepressible feminist poet and filmmaker. Sussan Deyhim combines visual projections, archival footage—including Farrokhzad's 1965 interview with Bernardo Bertolucci—and an original score, cowritten with Golden Globe–winning composer Richard Horowitz, in this gripping homage. Sussan Deyhim's vocals can be heard in films such asThe Kite Runner and Argo.
From March 8 to 11, at the Skylight Clarkson Sq, The New Art Dealers Alliance (NADA) will be exhibitingover 50 galleries from all over the world, with some renowned cultural programming. The New Art Dealers Alliance (NADA), the definitive non-profit arts organization dedicated to the cultivation, support, and advancement of new voices in contemporary art.
Hope you are able to catch some of the superb art and programs around New York City this week!