Market Update: How the Art Market Joined the Digital Age
The market has changed faster than ever before and two recent art market reports have added considerable detail to this picture. According to Artnet's autumn 2020 Intelligence Report, fine art auction sales fell 60% from 1 January to 10 July 2020. The Art Basel & UBS Report – The Impact of COVID-19 on the Gallery Sector – records a comparable slimming of sales for surveyed galleries, with sales declining an average of 36% when compared year on year. How, then, has the market innovated in response?
Covid has clearly accelerated digitisation of the art market. Christie's, Sotheby's and Phillips held 131 online sales in the year to 10 July 2020, more than twice as many for the equivalent period in 2019. The move to seemingly continuous online sales has further driven down the average price for a work of art sold at auction by 41.3% (to 25,926 USD) compared with the same time last year, according to Artnet's report.
Within the gallery sector, the ongoing digital migration has increased online purchases from 10% in 2019 to 37% in the first half of 2020. The Art Basel & UBS Report highlights further changes. Sales at art fairs have dropped from 46% in 2019 to 16% for the first half of 2020 as entire swathes of the calendar have been postponed or cancelled. Notably, commercial strategies have also shifted. Last year galleries listed their top priorities as art fair exhibitions and widening the geographical reach of their client base. Naturally the outlook for dealers is far more defensive in 2020, with cost cutting, development of online channels and maintaining existing client relationships now the order of the day.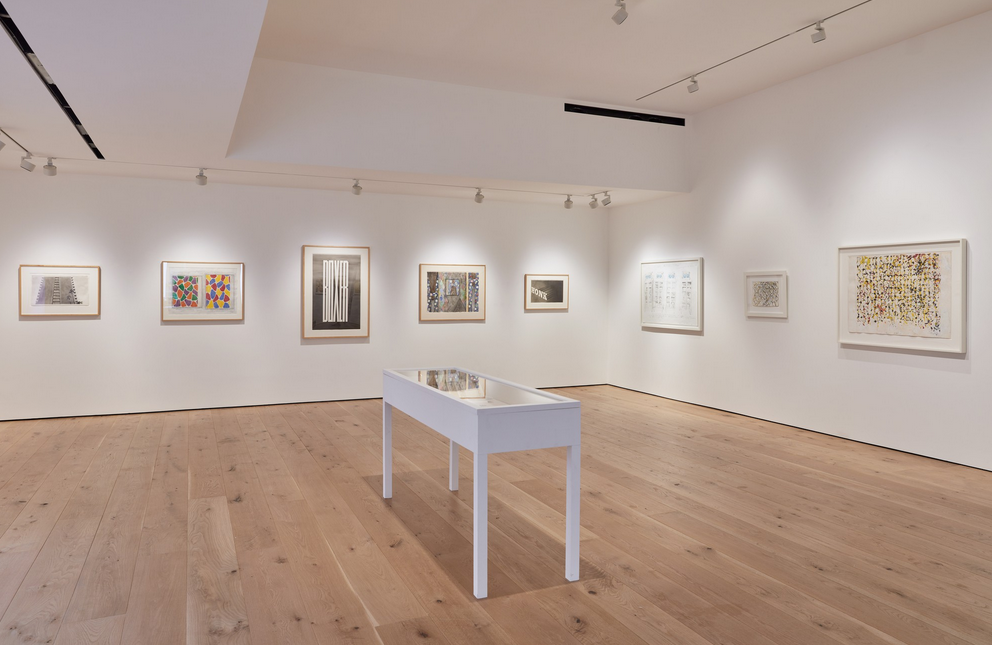 Over the past decade the distinctions between dealers, auction houses, museums and art fairs have become increasingly blurred. Top tier galleries have long mimicked the reverential aura of museums; museums frequently use auctions to raise funds; auction houses now 'curate' sales and selling exhibitions; while numerous fairs contain thematic sections, some with entirely non-commercial 'public' presentations.
Recent developments continue this trend. Even before covid, Acquavella, Gagosian and Pace collaborated to win the revered Marron estate, intentionally challenging the received wisdom that such a significant assortment of high value works was automatically the preserve of the auction houses. In a recent profile of Pace Gallery for the Wall Street Journal (Michael Shnayerson, 9 September 2020), it was revealed that this initial collaboration has given rise to a longer term partnership – called AGP – that will compete for similarly important collections and estates in the future. Such collusion among fierce rivals is one of the more notable evolutions in response to the auction houses' perceived encroachment on gallery turf.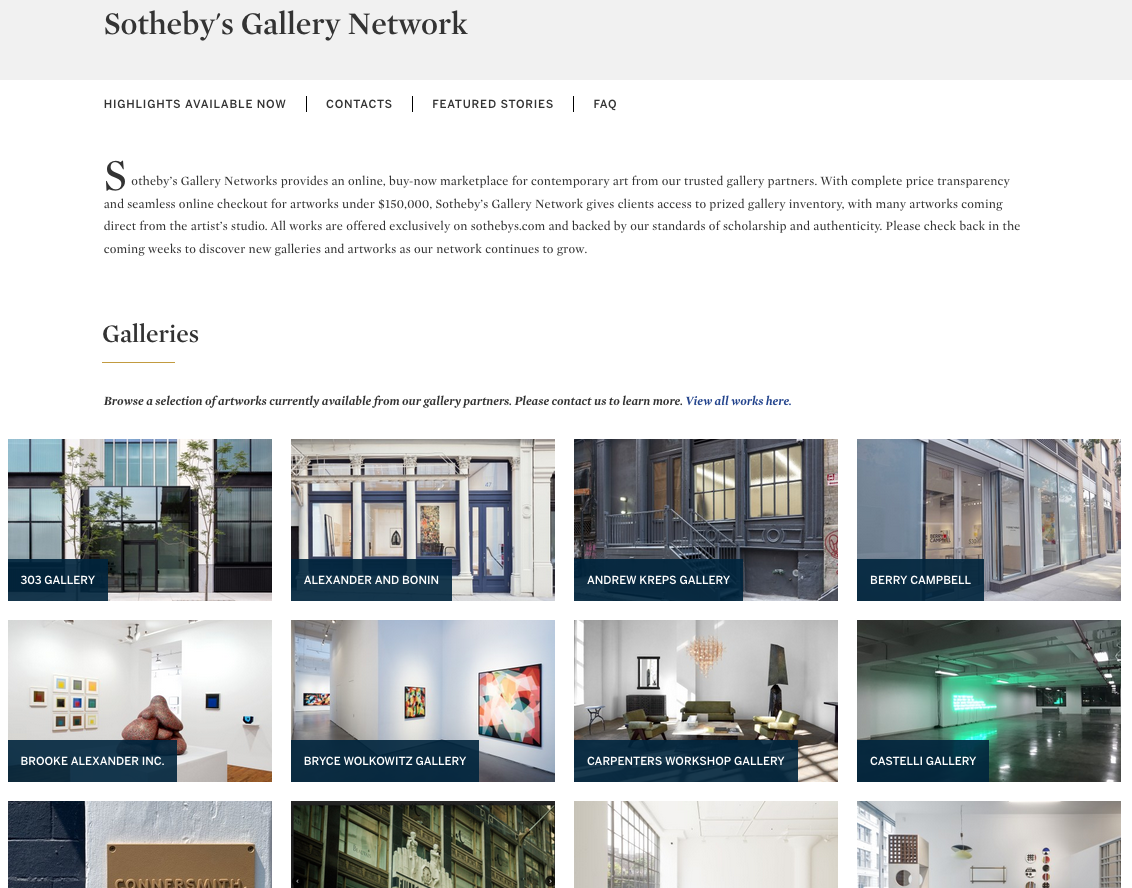 Despite competition for consignments, galleries and auction houses are also collaborating in new ways. Sotheby's Gallery Network – an online, buy-now market place for works under 150,000 USD – hosts virtual storefronts for 34 dealers including 303 Gallery, Andrew Kreps, Fergus McCaffrey, Lévy Gorvy and Peres Projects, among others. Such partnerships would have been unimaginable not long ago. While quality of works is mixed – most dealers don't want prime stock available to anybody at the click of the button – it demonstrates the softening of traditional enmities in a moment of crisis. For the time being, at least.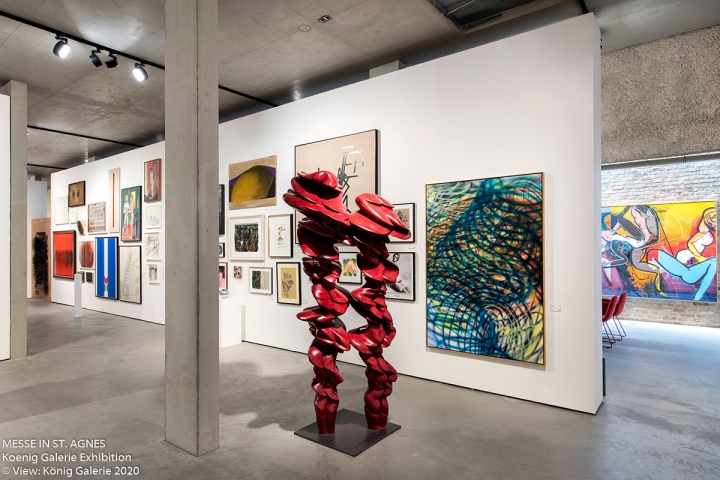 In Berlin, König Galerie is hosting Messe in St. Agnes #2 from 12 to 20 September. A ticketed selling exhibition – hung salon style – with primary and secondary market consignments, the enterprise was an unusual but apparently effective way of generating revenue in the ultra-contemporary Berlin gallery scene which has historically demurred from such outright mercantile endeavours. Lingering somewhere in the murky interstitial space between art fair, auction hang and selling exhibition, the project seems an intelligent way of maintaining close contact with gallery clients looking to offload works or trimming collections as a consequence of long periods of confinement at home.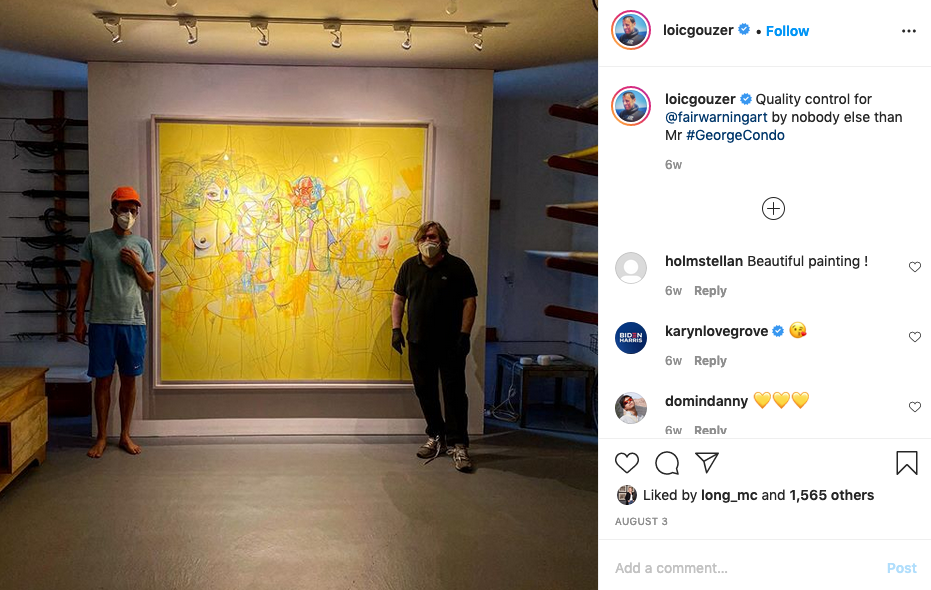 One of the most successful new ventures to join the fray is a new concept remarkable for its simplicity. Former Christie's 'rainmaker' Loic Gouzer has developed an invitation only auction app, Fair Warning, which offers a single work at auction on an almost weekly basis. Auction participants are closely vetted and results have so far been impressive. Pieces by Steven Shearer, David Hammons, Steven Parrino, George Condo and others have all been offered, with the highest price to date achieved for an Untitled 1982 Basquiat work on paper, which sold for 10,810,000 USD premium. Not bad for a sale orchestrated from a garage on Long Island, albeit the Hamptons end.
While historically resistant to the technological 'disruption' so common in other industries, the art market has found the inclination this year to be a little more experimental. Most market commentators are united in welcoming the silver lining of greater price transparency from the migration online. In this alone, 2020 may have delivered a meaningful transformation for the industry.
---
Image 1: Image courtsey Gagosian; Image 2: Image courtesy Sotheby's Gallery Network; Image 3: Image courtesy König Galerie; Image 4: Image courtesy @loicgouzer
Further Reading