The Scoop: A Bi-Weekly NFT & Digital Art Newsletter 3
THE SCOOP #3 – JUNE 6TH, 2022
Welcome to the third edition of The Scoop! Read more for the latest news in crypto regulation, notable art sales, and NFTs and taxes.
CRYPTO MARKETS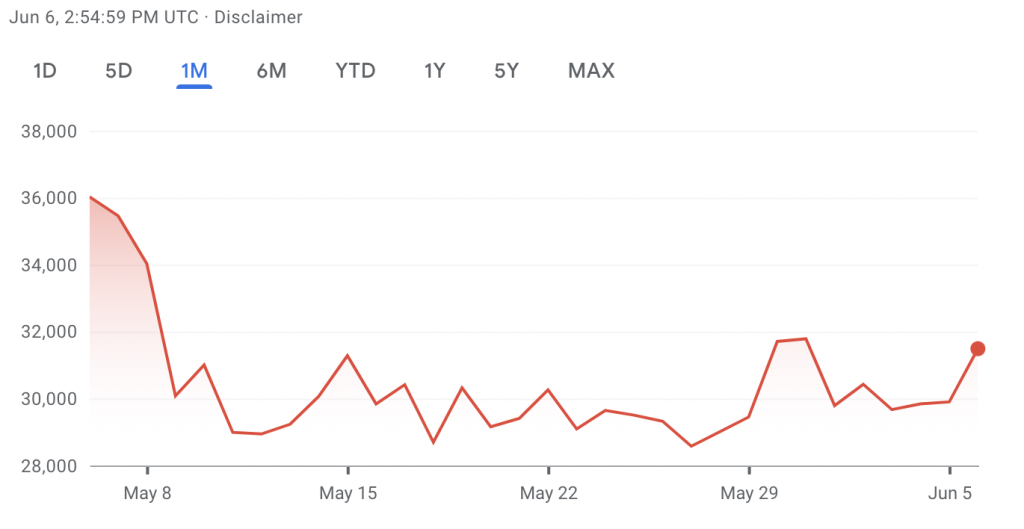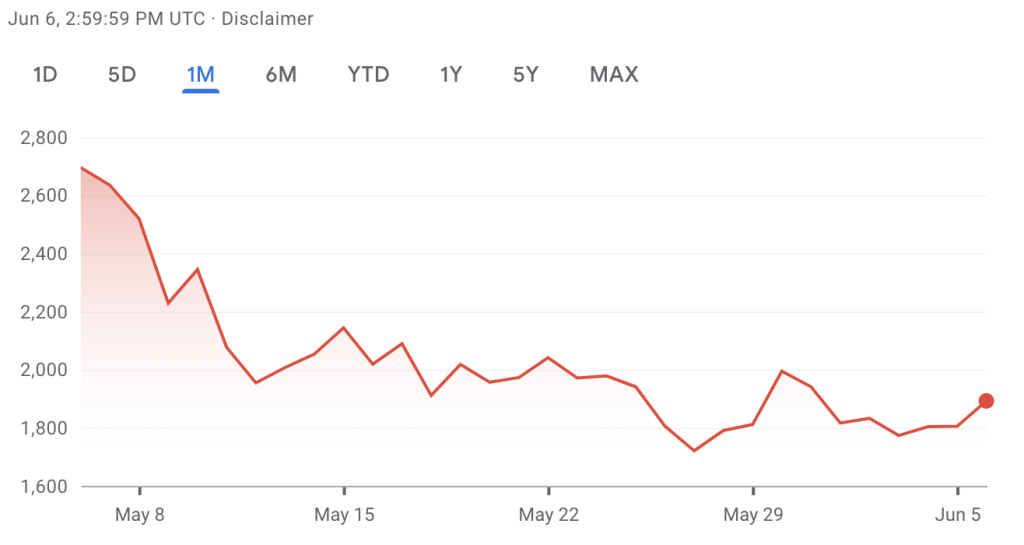 CRYPTO COMMENTARY
Traditional equity markets and crypto have been largely in sync during the recent weeks reacting to a mixed bag of economy statistics and Fed notes indicating consensus for 50 bp rate hikes in June and July. While day-to-day volatility continues, Bitcoin has stabilized around the $30,000 mark in recent days.
Crypto and fintech companies remain under pressure with the Gemini exchange announcing a 10% staff cut, citing a contraction phase in the industry, or "crypto winter," further compounded by macroeconomic and geopolitical turmoil. This announcement follows upon an earlier earnings miss by competitor Coinbase whose revenues fell by 27% year-on-year. The collapse of terraUSD "stablecoin" (valued at some point at $60 billion) last month is still reverberating through the market. At the same time, Binance, yet another crypto exchange, announced its venture arm raised $500 million for a fund dedicated to investing in Web3 start-ups. This is on top of the new $4.5 billion fund launched by company Andreessen Horowitz for investments in crypto and blockchain companies. The venture capital firm is hoping to capitalize on opportunities during the bear market.
REGULATORY UPDATE
Regulation is clearly a hot topic in the crypto space and we've been keeping our eye on several lawsuits filed in the US which may result in a precedent on how cryptocurrencies are classified. Crypto issuers and trading platforms claim tokens are in essence commodities, such as gold, which have no federal regulator. While the SEC has been slow to provide any specific guidance, its enforcement actions have made it clear that many crypto tokens should be listed as securities and exchanges should be registered. To determine whether an asset is a security, regulators and courts apply a four-part test developed in a 1946 Supreme Court ruling over orange groves. Known as The Howey Test, it entails an investment of money in a common enterprise with an expectation of profits derived from the efforts of others. The Howey Test standard will no doubt be challenged in the class action suit filed against Coinbase claiming that 79 of the tokens listed on the platform are unregistered securities. While Coinbase filed a motion to dismiss the case, the recent rout in the cryptocurrency markets will likely not be helpful in their efforts, and we expect the litigation in this space to intensify.
As a further sign that government is stepping up its enforcement efforts in the crypto arena, the Department of Justice has charged a former manager at OpenSea with NFT insider trading. More on this here.
WHAT'S THE BUZZ?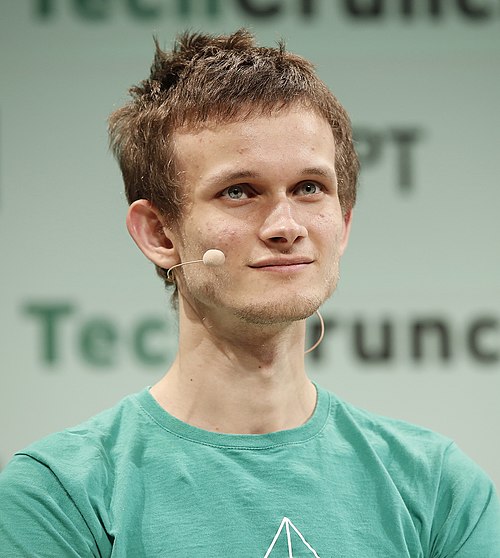 Vitalik Buterin, the creator of the Ethereum network, recently coauthored a white paper that laid out the ground work for possibly the next big thing in Web3: soul bound tokens (SBTs).
SOUL BOUND TOKENS (SBTs)
As opposed to NFTs which can be bought, sold, and transferred, SBTs are with you forever and cannot be transacted upon.
They will not replace NFTs, but they will add another use case to the technology already in place.
A practical example of this concept would be a university granting a diploma to an individual in the form of SBT, residing within a digital incorruptible "resumé wallet" (an on-chain resume is proof of a person's participation and experience in the crypto community).
For artists, it's another lever to pull in the world of customization. SBTs open the door for artists to control who owns their art (e.g. a client or an institution commissioning a piece would not be able to deaccession the work without the artist's express approval).
NFT BLUE-CHIP COLLECTIONS
The below are considered collections to watch based on overall volume and liquidity over the last 30 days. Click the links to see full lists on OpenSea.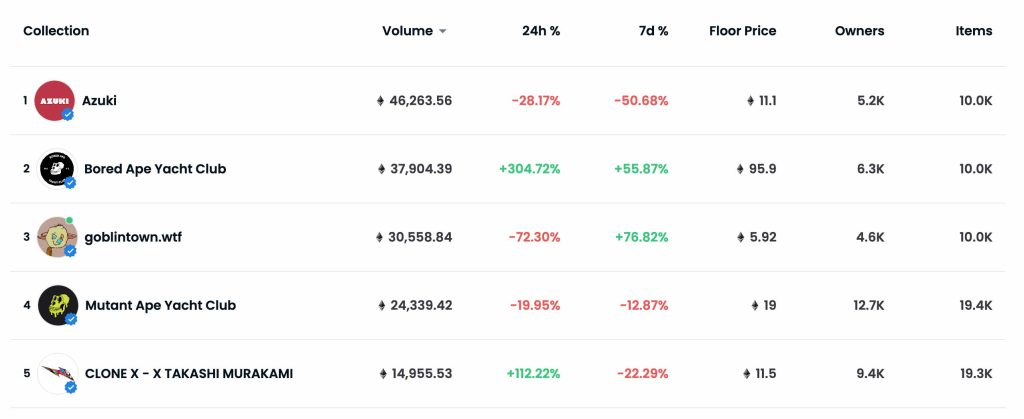 NFT COMMENTARY
Looking at the top collections we can see the floor prices have dipped for many of the high performers as the crypto and traditional market pullback has finally leaked into the NFT space. These collections initially had some staying power but ultimately could not avoid the gravity of events going on around them. While prices have dipped, the number of daily transactions on OpenSea over the last 30 days has slowly risen showing there is still an appetite from buyers which is positive.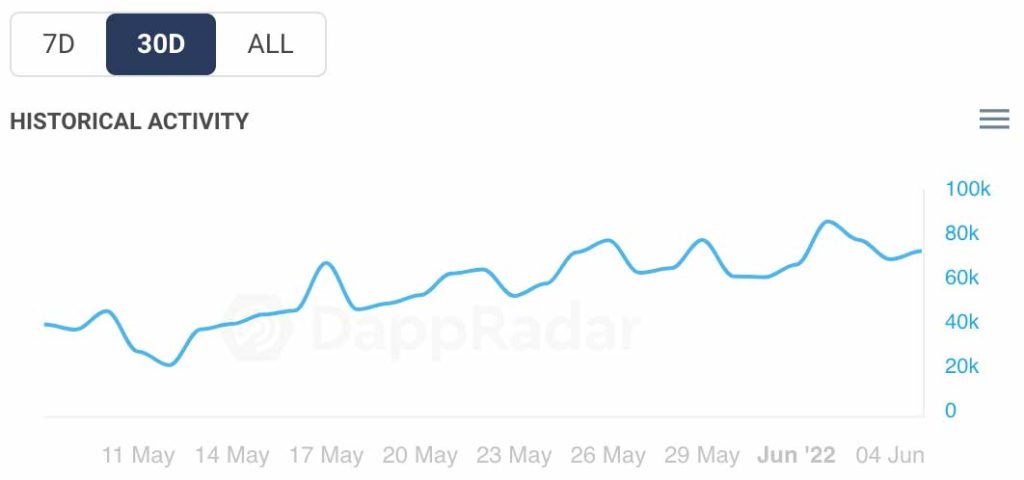 Most recently, a CLONE X – X TAKASHI MURAKAMI by RTFKT NFT was set to be auctioned by Christie's Hong Kong but with a lack of interested bidders, it went unsold. Seeing a piece get such a cold reception on this big of a stage is uncomfortable, especially when it was the only NFT in the sale. This avatar type PFP (picture for profile) is a rare piece in a collection of 9300 unique characters. While PFP collections have been some of the highest performers in the NFT space, only time will tell how they age compared to 1/1 art.
A high profile purchase by Jim Carrey has many talking. Carrey recently purchased his first NFT and took to Twitter to show it off. The piece Devotion by Ryan Koopmans is a video clip showcasing a Soviet era building being reclaimed by nature, with Carrey noting "this one stops me" in his tweet. The purchase price was 20.0 Eth. ($40,000).
Tax Talk
In our recent meetings with clients, we've been getting many questions on how NFT transactions are taxed. Obviously, tax treatment may vary from one jurisdiction to another. Moreover, there is not absolute clarity in this area and every investor should seek professional advice when reporting on related transactions. In the US, the IRS issued guidance on treatment of cryptocurrencies early on and confirmed they should be treated as property. As such, for most investors, any gain or loss on a sale involving cryptocurrency would be treated similarly to other capital assets such as stocks or bonds. However, no formal guidance was provided specifically for NFTs.

If the IRS determines that a particular NFT is "a work of art" and such "a collectible", any related gain or loss from a sale, among other things, would be subject to a higher maximum capital tax rate than the one set for cryptocurrencies or other financial investments. Since many of the investors use their crypto holdings to purchase NFTs, the tax analysis becomes even more complicated as a purchase of an NFT for cryptocurrency triggers capital gain or loss on the underlying crypto holding. As NFTs come in all shapes and sizes, the debate as to what taxation applies to what kind of NFT will continue until the IRS issues specific guidelines for NFT transactions. We believe clarity on the tax front is critical in attracting new investors to this space and we will certainly be watching any developments very closely and reporting on them when appropriate.

More on this topic from these sources:
NFT ARTIST SPOTLIGHT
Chris Le
Chris Le is the lead designer behind Nike's NFT Collection and co-founder of RTFKT, a digital assets creative firm. He has been designing digital assets in the gaming spectrum for quite some time through several different ecosystems, building and selling businesses along the way. More recently, his company RTFKT is behind Nike's launch of CryptoKicks and a collection with Takashi Murakami called Clone X which is currently in the top 5 collections on OpenSea (despite the Christie's auction not going well).

We recently had the pleasure of interviewing Chris for the Morgan Stanley Esports Conference about what he sees in the future for this space. His grand vision is that 10-15 years from now augmented reality will be a regular part of life, allowing us to interact with both the real and digital worlds seamlessly. There will be more than one metaverse, different ecosystems in the digital cloud, some working with others and some remaining standalone. These virtual worlds will open a new opportunity for businesses and creators alike to build whatever they can dream up within a new digital economy.

Le's collaboration with Nike started with shoes, but he mentioned that was just the start, and that Le and Nike are developing a metaverse world for people to wear their digital shoes in on their avatars. According to Chris, the Web3 infrastructure for the future is being built now, and we can't wait to see how his predictions play out.
NFT & CRYPTO NEWS
READ PAST ISSUES OF THE SCOOP
Disclaimer
Information in this report is compiled from a number of sources; The Fine Art Group does not make any representation or warranty, express or implied, as to its accuracy or completeness. The Fine Art Group shall not be liable for any errors or inaccuracies in this report or for any actions taken in reliance on information or opinion contained in this report. The Fine Art Group are under no obligation to update or keep current the information provided herein. Information in this report is provided solely for information and marketing purposes and is not to be construed as investment advice or a personal recommendation, nor as legal, tax, regulatory, accounting or any other specialist technical advice. Capital is at risk when buying or selling the types of assets discussed in the report, and any decision to do so is solely at the risk of the buyer or seller. Prior performance is not indicative of future results. Neither The Fine Art Group nor any of its directors, officers, employees, or agents accepts any liability for any loss or damage arising out of the use of all or any part of this document or reliance upon any information contained herein.
The report contains hyperlinks or references to third-party advertising and websites other than The Fine Art Group website. Any such hyperlinks or references are provided for your convenience only. We have no control over third-party advertising or websites and accept no legal responsibility for any content, material or information contained in them. The display of any hyperlink and reference to any third-party advertising or website does not mean that we endorse that third-party's website, products, or services. Your use of a third-party site may be governed by the terms and conditions of that third-party site and is at your own risk.