The Scoop: A Bi-Weekly NFT & Digital Art Newsletter 2
THE SCOOP #2 – May 20th, 2022
Welcome to the second edition of The Scoop! Read more for our take on the latest market fluctuations, recent NFT drops and auction results, and upcoming Web3 industry events in NYC.
CRYPTO MARKET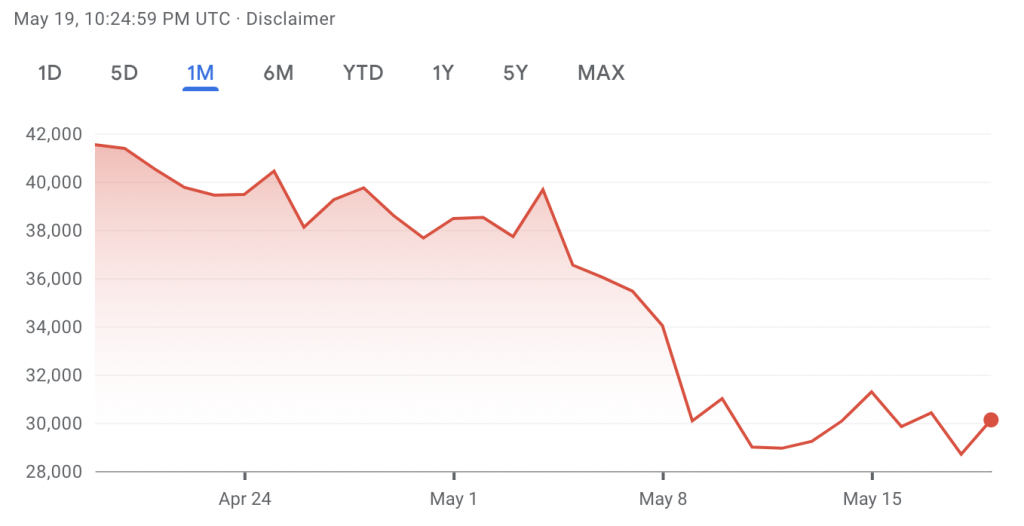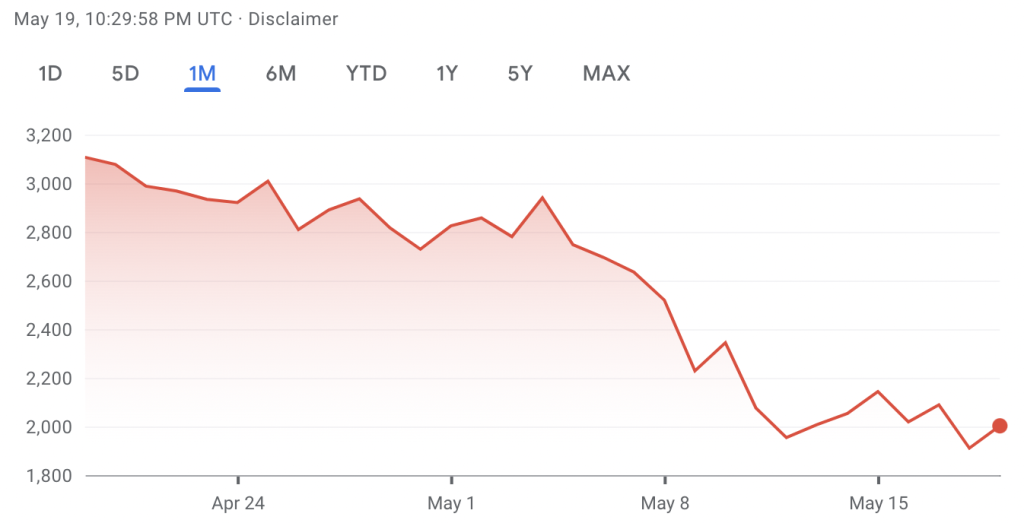 CRYPTO COMMENTARY
We have seen a large flight from risk over the past week with markets down across the board from US equities to crypto and NFTs. The rise in interest rates is one of the core causes, with the Federal Reserve walking a fine line between getting inflation under control and tipping the economy into a recession. Continued volatility can be expected as markets digest the changes in the economic landscape, and it may not snap back quickly.
For those that are new to the crypto markets, wild swings in value are par for the course. Investors in this market should get comfortable with this level of volatility. Case in point – Bitcoin: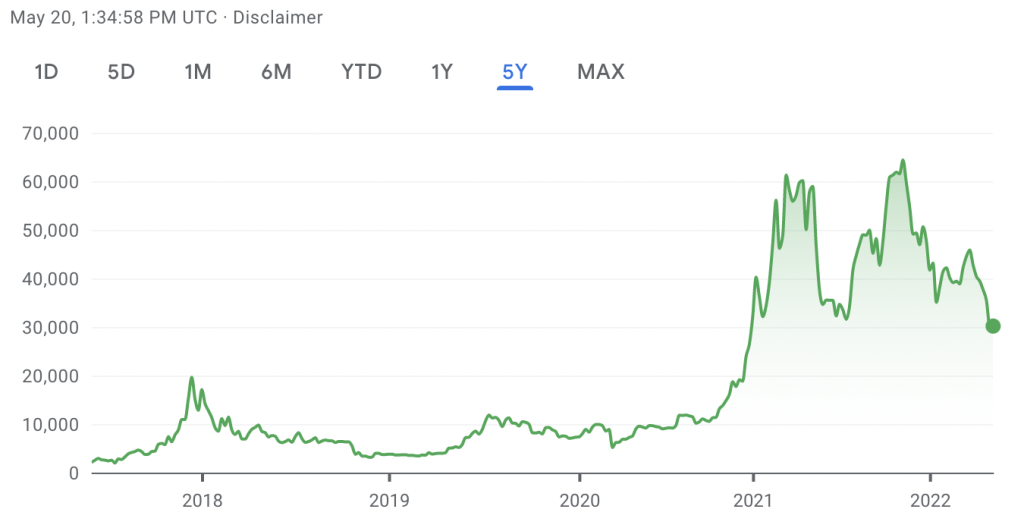 Looking at the Bitcoin's roller coaster ride since its inception, one can see the magnitude of the swings has only grown. While its performance exhibits some correlation to traditional financial markets, Bitcoin's price is primarily linked to its mining algorithm and so called "halving events". (A Bitcoin halving event occurs when the reward for mining bitcoins is cut in half. This reduces the amount of Bitcoin in circulation, leads to an increase in demand and thus higher pricing.) The halving in July 2016 has produced Bitcoin's first notable spike which combined with increased awareness in the financial sector propelled Bitcoin from pre-halving price of $647 to just below $20,000 in less than 6 months. And while the pricing has gradually come down over the next year Bitcoin settled at over 5x the pre-halving pricing. We saw a similar pattern during the most recent halving in May 2020 when on the day of the halving Bitcoin closed 634% higher and reached $60,000 for the first time. The next halving is expected sometime in the early 2024. In the meantime, we will be watching how crypto prices evolve with major catalysts being crypto regulation in the US and the geopolitical uncertainty surrounding Ukraine.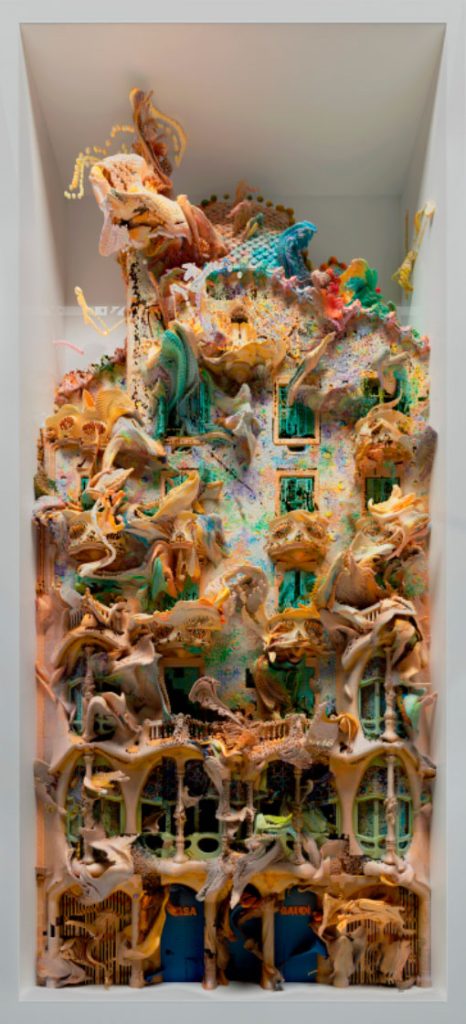 WHAT'S THE BUZZ?
We've seen a lot of big drops pushing blockchains to their limits recently. High demand in a small amount of time often results in what is called a gas war, our buzz word for this issue.
GAS WAR
Every time you make a transaction on a blockchain network, there will be a network fee which is commonly referred to as 'gas'.
Under normal circumstances gas fees can range from $10-$200 on the Ethereum network.
In instances of extreme demand where transaction speeds matter, fees can amount to thousands of dollars.
The gas war comes when many users increase their gas fee to pay for priority in the transactions queue and beat others to the sale.
Ultimately, those who do not increase their gas will end up paying a gas fee and while receiving the token they were attempting to purchase.
Planning purchases for when network activity is low can save a significant amount of money in fees.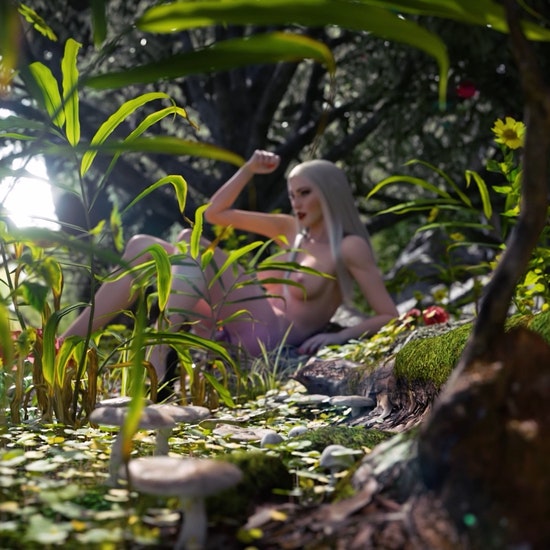 UPCOMING EVENTS
The Fine Art Group will have team members head to New York city this June from the 20th to the 25th. They will be attending events NFT NYC, an annual industry event, and ETH NY, a hackathon featuring highly talented developers, and speaking to some of the best in the business. If you would like to connect, please reach out to our Digital Assets Specialist, Greg Adams.
NFT BLUE-CHIP COLLECTIONS

NFT COMMENTARY
From a large sale at Christie's to Madonna and Beeple's collaboration, it has been an exciting couple weeks for digital assets. Refik Anadol's Living Architecture: Casa Batlló sold for $1.38 million in Christie's 21 Century Evening Sale. It was the only digital offering in the sale alongside pieces from Monet, Picasso, Warhol, and Basquiat. This hallmark sale among elite names brings this new medium further into the spotlight. However, demand was limited, and there had been hope for a larger sale price.
We are still absorbing the complex new work from Madonna and Beeple, Mother of Creation. Their launch on SuperRare was well received with all pieces receiving sizeable bids. Ever since Beeple changed the art world with his $69 million sale of Everydays: The First 5000 Days, collectors have been looking for his next big thing. With the proceeds going to charity, this certainly had a lot of eyes on it, even if it was somewhat uncomfortable to view.
With the recent broader market pullback there are two layers of movement: the underlying Ethereum is lower presently and on top of that we're seeing a lull in floor prices across many PFP (profile pic) markets. What is interesting is we're seeing some resilience and even upward movement in the Art Blocks Curated collection and photography space. Editions of 1/1 art is showing itself as possibly a resilient investment during downturns.
For example, in the Moonbirds NFT collection, the average price was down around 20% over the past two weeks with many transactions and volatility.

In comparison we have Chromie Squiggles, a collection curated by Art Blocks. We saw an initial spike in transactions and value from those exiting riskier positions, but after that there was very little movement. Holders seemed unwilling to sell and ultimately were rewarded for their patience, with a 32% increase in average price.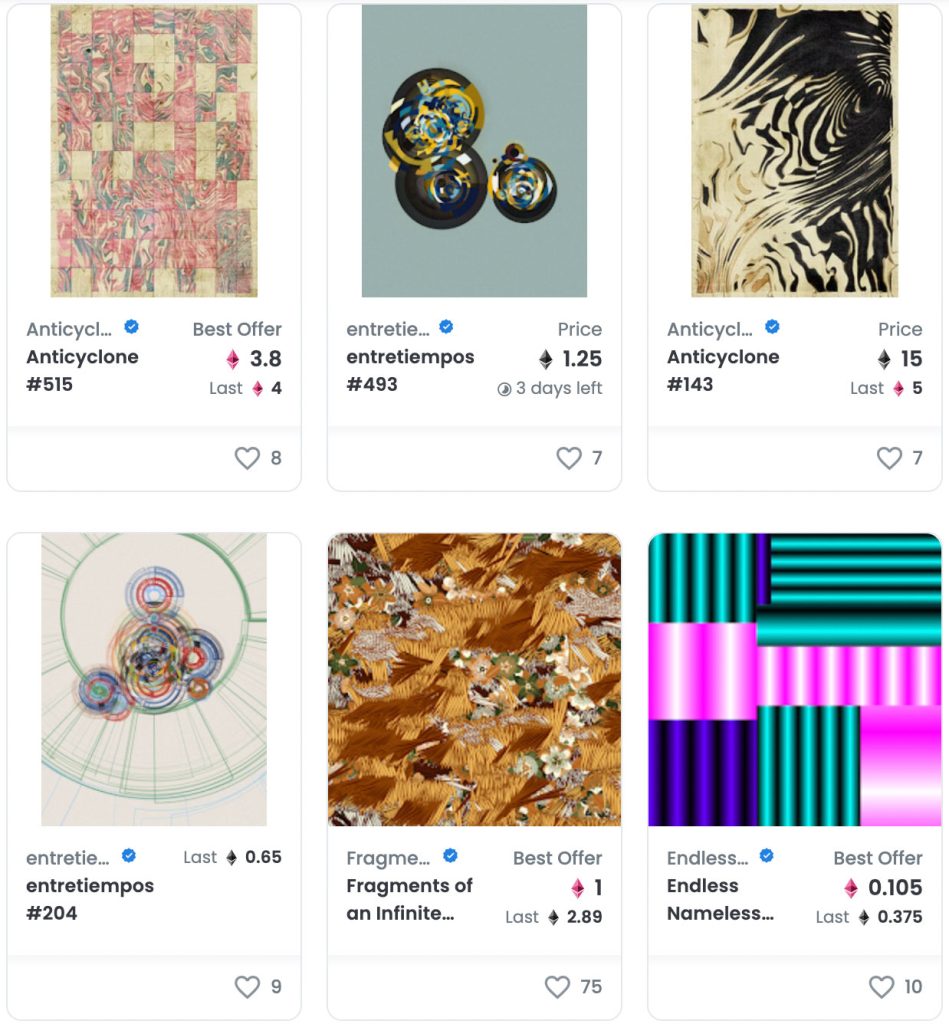 FRESH & UPCOMING DROPS
While there isn't much to note with many projects on hold, one that stands out: Following up on its successful Damien Hirst NFT projects, Heni are launching a new edition series by graffiti artist MadC entitled Color Rhythms. The series will feature 1,000 unique NFTs which were created by generative algorithm, but were hand selected by the artist. Another innovative element is the use of machine learning in naming of the individual NFTs – the name of each work is linked by AI to a movie character or another pop culture reference. Moreover, each image is stored on a decentralized storage system, IPFS. This project uses Palm blockchain instead of Ethereum, the main cause being less energy consumption. The application for the series closes on May 24 and each NFT is priced at $1,000.
NFT ARTIST SPOTLIGHT
Cath Simard
If you want adventure, look no further than Cath Simard. From Patagonia to Iceland, she has traveled the globe capturing enthralling landscapes. Simard made her biggest splash in September of 2021 with her #FreeHawaii photo project. She took a picture on the island of Oahu that went viral when she originally shared it online. While the recognition of her photography was valuable, the work also became the most stolen photograph she had ever taken. Instead of chasing down thieves for copyright infringement, Simaud chose to hold a unique and disruptive sale in the NFT space. She sold the photo as an edition of 1/1 NFT for around $300,000 and also notably released the rights to the image and a high-resolution file of it to the public, making it so anyone could use the photograph without paying a licensing fee.
Most recently, Simaud sold her piece Continuum through Sotheby's in April 2022 for approximately $60,000. She continues her travels in Peru while creating new photographic works.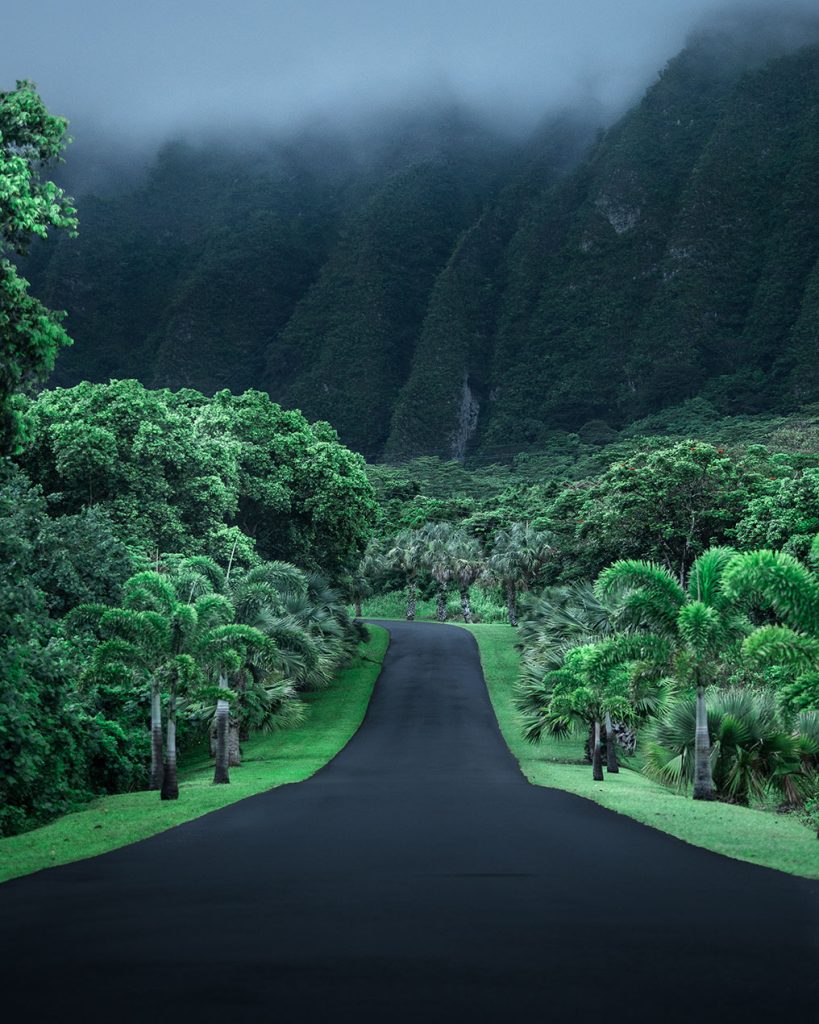 NFT & CRYPTO NEWS
READ PAST ISSUES OF THE SCOOP
Disclaimer
Information in this report is compiled from a number of sources; The Fine Art Group does not make any representation or warranty, express or implied, as to its accuracy or completeness. The Fine Art Group shall not be liable for any errors or inaccuracies in this report or for any actions taken in reliance on information or opinion contained in this report. The Fine Art Group are under no obligation to update or keep current the information provided herein. Information in this report is provided solely for information and marketing purposes and is not to be construed as investment advice or a personal recommendation, nor as legal, tax, regulatory, accounting or any other specialist technical advice. Capital is at risk when buying or selling the types of assets discussed in the report, and any decision to do so is solely at the risk of the buyer or seller. Prior performance is not indicative of future results. Neither The Fine Art Group nor any of its directors, officers, employees, or agents accepts any liability for any loss or damage arising out of the use of all or any part of this document or reliance upon any information contained herein.
The report contains hyperlinks or references to third-party advertising and websites other than The Fine Art Group website. Any such hyperlinks or references are provided for your convenience only. We have no control over third-party advertising or websites and accept no legal responsibility for any content, material or information contained in them. The display of any hyperlink and reference to any third-party advertising or website does not mean that we endorse that third-party's website, products or services. Your use of a third-party site may be governed by the terms and conditions of that third-party site and is at your own risk.