The Scoop: A Bi-Weekly NFT & Digital Art Newsletter 12
The Scoop #12 – December 21st, 2022
In this edition of The Scoop, we touch on the continuing FTX postmortem and how the current NFT market is weathering crypto winter.
CRYPTO MARKET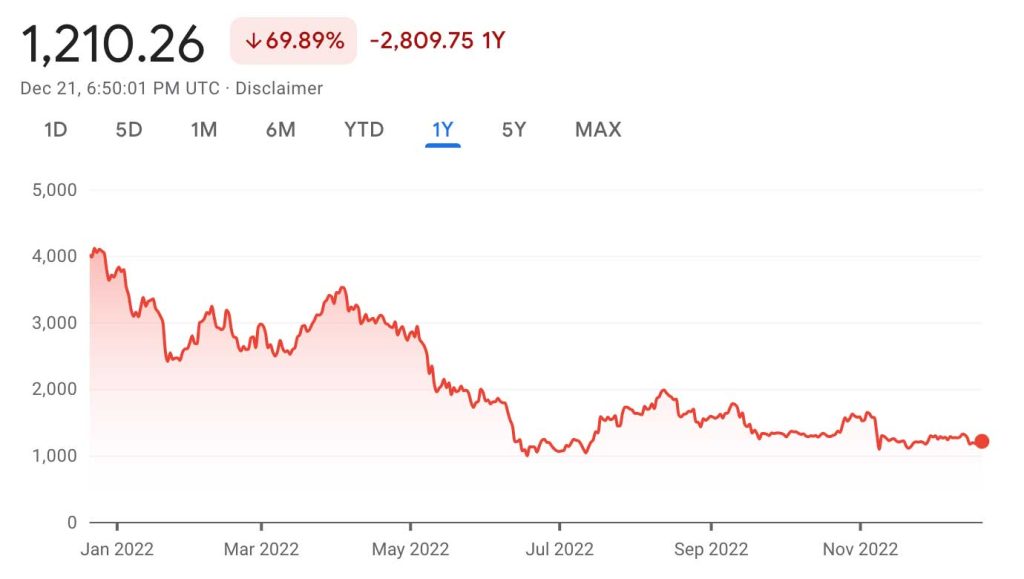 CRYPTO COMMENTARY
With the postmortem under way on the FTX meltdown, we're seeing just how inept both Sam Bankman-Fried and Caroline Ellison really were. John Ray, the new CEO, had this to say about the previous management when testifying to Congress: "From compromised systems integrity and faulty regulatory oversight abroad, to the concentration of control in the hands of a very small group of inexperienced, unsophisticated and potentially compromised individuals, this situation is unprecedented." He described the $8 billion in missing customer funds as old-fashioned embezzlement, adding, "never in my career have I seen such a complete failure of corporate controls and such a complete absence of trustworthy financial information as occurred here." U.S. prosecutors have charged Sam Bankman-Fried with wire fraud and money laundering among other things, and he is currently awaiting extradition to the U.S. from the Bahamas. There are rumors that his second in command, Caroline Ellison, is cooperating with law enforcement to expose the depth and details of this fraudulent scheme.
It's important to remember that FTX was a piece of infrastructure, like a stock exchange or bank, and not representative of the blockchains and cryptocurrencies that were sold on it. Bitcoin and Ethereum remain technologically sound and continue to run without issue. Just like we've seen in the past with traditional finance, bad actors can cause detrimental damage to any market they are part of, and this is a serious setback to the entire crypto space. There are some pundits who are using the FTX saga to cast doubt on blockchain, but that's like being mad at the U.S. dollar when Bernie Madoff got exposed which doesn't make sense. Bankman-Fried is likely headed to jail, but crypto isn't going anywhere.
WHAT'S THE BUZZ
One thing that has become clear is that securing your crypto will be very important moving forward. Private keys are the only way to guarantee ownership.
PRIVATE KEYS
A private key is a secure code that enables holders to make cryptocurrency transactions and prove ownership of their holdings.
Bitcoin keys specifically feature a 256-bit string displayed as a combination of letters and numbers.
The best way to self-custody crypto is to keep it in cold storage, disconnected from the network on a Ledger/Ballet device.
If you lose or forget your private keys, there is no way to recreate or reset them.
"Not your keys, not your crypto"
NFT BLUE-CHIP COLLECTIONS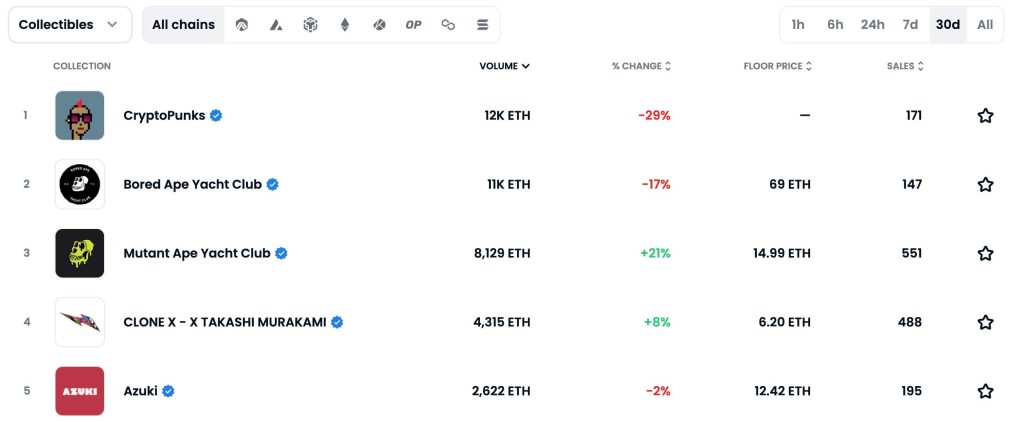 NFT COMMENTARY
The NFT market is still crawling along as the bear market continues. We're seeing the top collections maintain their floor prices which is an encouraging sign, but their underlying value is still fluctuating with the price of Ethereum. The one thing that has dramatically slowed down since the bull market is volume. Overall, we're seeing fewer transactions and less money changing hands and that has been the status quo since early summer.
The most recent sale from Christie's took place during Art Basel in Miami with a collection titled Next Wave: The Miami Edit. It was a well-rounded offering with pieces from different genres across a wide range of price points. The auction finished with a 93% sell through rate after selling 14 of 15 pieces; however, the majority did not meet their lower price expectations. It seems as though even high-profile shows are not immune to the cold of crypto winter.
In a more promising sign, Instagram has officially launched its NFT offering to select artists who have started minting and selling pieces directly on the social media platform. The first few pieces that have been offered have sold out in minutes with artists and creators being the main beneficiary of that income, unlocking a new way to monetize their work. With the numbers of users Instagram (and Meta) have, this is a large play for wider adoption. If this business model works we could see more people that haven't had exposure to NFTs yet start to get involved. One of the main things driving the sales is affordability; the pieces that have been offered so far have been around $100 which is certainly less than most marketplaces. Onboarding new participants seems to be priority No. 1 at this point.
NFT ARTIST SPOTLIGHT
Gary Vaynerchuk
While Gary Vaynerchuk isn't the best artist, just look at his VeeFriends collection and you'll find that he is one of the loudest voices in the space supporting the technology behind NFTs. When he first launched VeeFriends, many were less than enthused about the art. However, Gary wasn't in it for the art; he was in it for the utility.
Gary was one of the first to add real world value to digital assets by linking attendance to his annual business conference to the ownership of his NFT collection. The conference, which usually costs several thousand dollars to attend, was free for the first three years to anyone that held one of his NFTs. When it came time for the conference last year, Gary's team airdropped a separate token that represented a ticket to all his holders. They then had the decision to either attend, or sell that token to someone who wanted to go.
To take it a step further, after releasing VeeFriends Series 2 he launched a card game to match the NFTs. Think trading cards, Pokemon for example, with each character having a different skill set. Again, he was building a real-life experience for those who held his digital assets. His larger ambition is to create a whole brand around the VeeFriends IP including merch, cartoons and a large trading card ecosystem which will bring everything back to the NFTs he originally created. The two things that are valuable in NFTs are history and utility, and he is a master of utility.
NFT & CRYPTO NEWS
READ PAST ISSUES OF THE SCOOP
Disclaimer
Information in this report is compiled from a number of sources; The Fine Art Group does not make any representation or warranty, express or implied, as to its accuracy or completeness. The Fine Art Group shall not be liable for any errors or inaccuracies in this report or for any actions taken in reliance on information or opinion contained in this report. The Fine Art Group are under no obligation to update or keep current the information provided herein. Information in this report is provided solely for information and marketing purposes and is not to be construed as investment advice or a personal recommendation, nor as legal, tax, regulatory, accounting or any other specialist technical advice. Capital is at risk when buying or selling the types of assets discussed in the report, and any decision to do so is solely at the risk of the buyer or seller. Prior performance is not indicative of future results. Neither The Fine Art Group nor any of its directors, officers, employees, or agents accepts any liability for any loss or damage arising out of the use of all or any part of this document or reliance upon any information contained herein.
The report contains hyperlinks or references to third-party advertising and websites other than The Fine Art Group website. Any such hyperlinks or references are provided for your convenience only. We have no control over third-party advertising or websites and accept no legal responsibility for any content, material or information contained in them. The display of any hyperlink and reference to any third-party advertising or website does not mean that we endorse that third-party's website, products, or services. Your use of a third-party site may be governed by the terms and conditions of that third-party site and is at your own risk.