The Scoop: A Bi-Weekly NFT & Digital Art Newsletter 4
THE SCOOP #4 – JUNE 21ST, 2022
In our 4th edition of The Scoop, we go over the latest crypto and NFT market news and must-attend NFT events this week in New York City.
CRYPTO MARKETS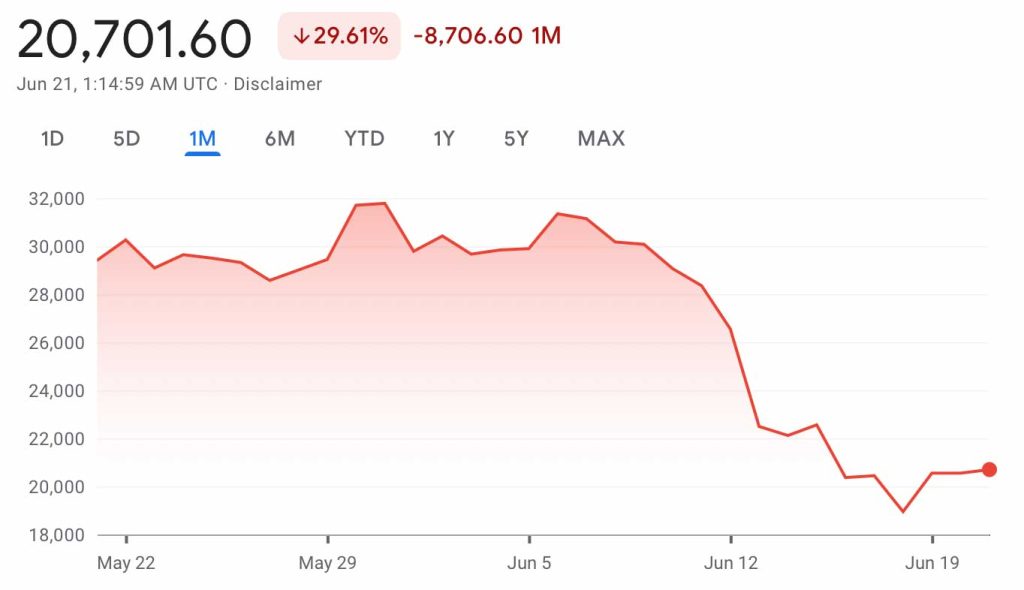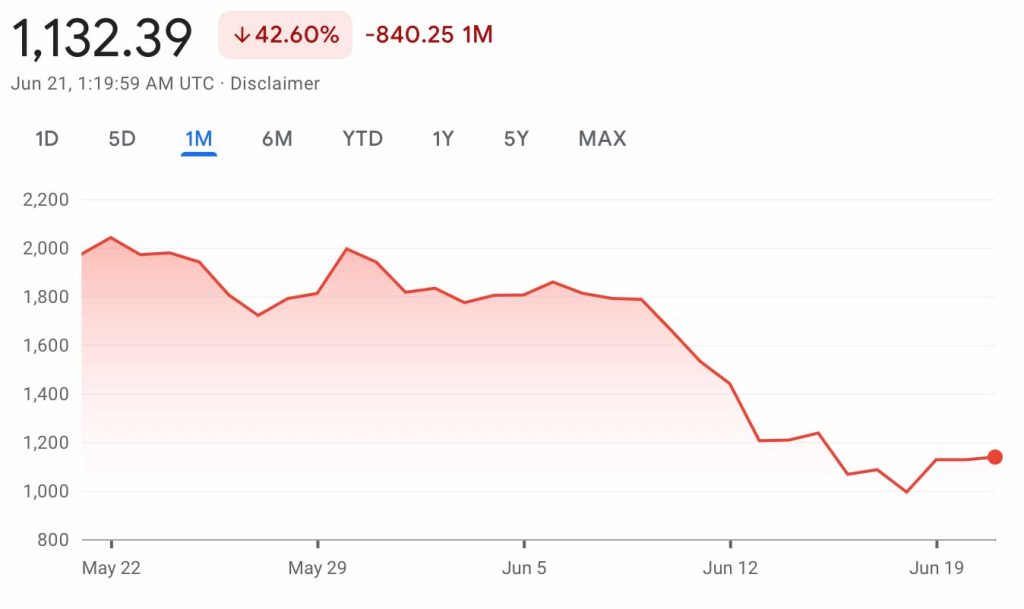 CRYPTO COMMENTARY
There is red in the charts once again, and it's hard to tell if the pain is over. Investors continue to be worried about the Fed's ability to tame inflation without slipping into recession or to achieve a so-called soft landing. While markets initially reacted positively following the Fed's 75 bp rate increase, the upward movement was quickly reversed, and all major indices fell further. Volatility, as measured by the VIX index, has been persistently above 30, which is more than double the level a year ago, with investors indicating the volatility is here to stay. What is evident is Bitcoin and major stock indices have decoupled after several months of moving in step with each other. With Bitcoin breaking below the key support level of $20,000 on Friday, which was widely speculated to be a bottom, the door is open for an even larger drop. As of the end of last week, the total crypto market cap stood at around $910 billion, down from its high of $3 trillion in November last year.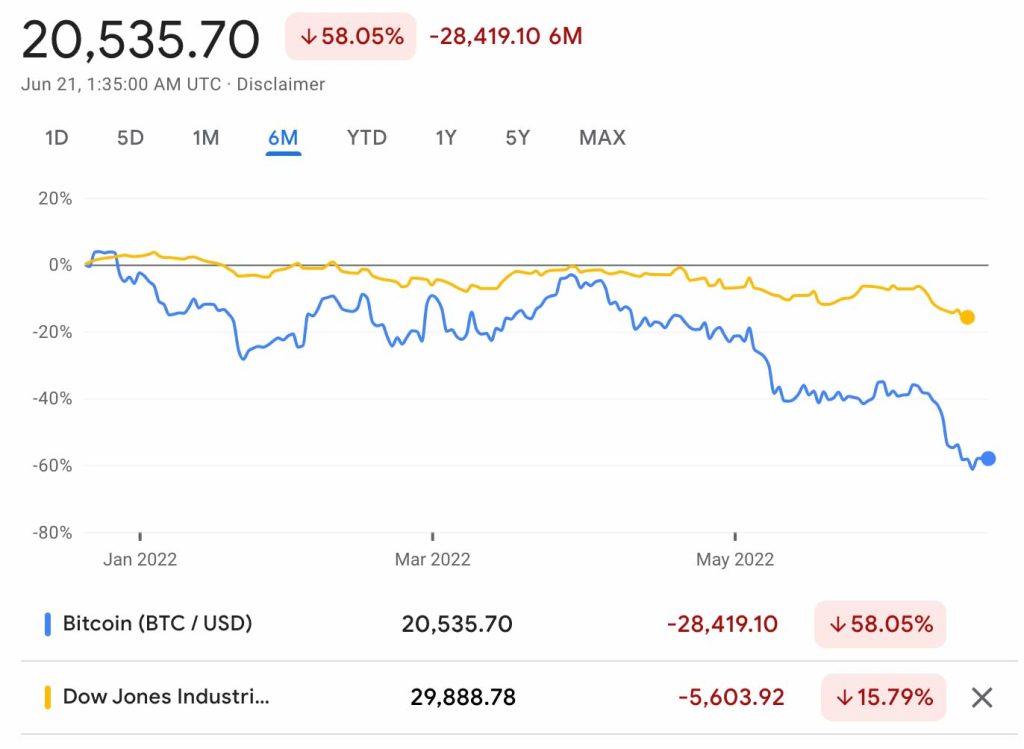 There has been further carnage in the crypto exchange and lending industries: Celsius, one of the largest lenders in the crypto space, has frozen transactions amid the tumble. It remains to be seen how they are going to navigate this situation. There are rumors Celsius may be insolvent and unable to repay their users, with liquidity issues stemming from staked Ethereum, a derivative of Ethereum that is significantly more sensitive to large selloffs than its base blockchain. 3AC, short for Three Arrows Capital, has also become entangled in this downward spiral. The Dubai based crypto fund has seen liquidations by its lenders of about $400 million after sustaining large losses from the Terra Luna crash. Both firms are hanging in the balance with their moves being closely watched. Their failure could create another ripple in the crypto markets very quickly. Coinbase also announced it was laying off 18% of their workforce, with the CEO stating it was in preparation for a recession and "crypto winter."
Bitcoin woes have hit outside the crypto world, causing losses for companies in unrelated industries that had invested excess cash in crypto. While Tesla may have reportedly lost about $500 million in its Bitcoin holdings, the loss is manageable for company of its size. The story is more complicated for MicroStrategy, a tech company providing business intelligence, mobile software, and cloud-based services to its clients. Microstrategy has Bitcoin holdings double that of Tesla and purchased much of its holdings on a leveraged basis. Its unrealized losses are more than $1 billion. While facing a potential margin call, Microstrategy's CEO Michael Saylor is holding strong while predicting a bumpy road ahead. Taylor is tagging his tweets with the infamous #HODL. In the crypto space, this is a typo of the word "hold" that years ago had been adapted as an acronym for "Hold On for Dear Life." For the current landscape, there is nothing more fitting.

WHAT'S THE BUZZ?
Staking, and everything you need to know about it.
STAKING
Staking is the way many cryptocurrencies verify their transactions.
For an investor, staking is a way to use crypto holdings to earn additional rewards, akin to passive income on other financial assets such as interest or dividends.
Dependent on the cryptocurrency, the validation processes are called proof-of-work or proof-of-stake.
Each of these validation processes help the network achieve consensus, so that all transactions align.
Tokens that are staked are locked and cannot be traded.
NFT BLUE-CHIP COLLECTIONS


NFT COMMENTARY
The NFT markets have not been immune to economic turmoil. Many collections have seen their values tumble over the past months. Performance for some of the top collections is summarized below. Obviously, some of these losses are steep, especially with the downturn in Ethereum factored in (down 67% since April 3, 2022).
NFTs seem to thrive on stable blockchain prices, which is not the current landscape. Instead, they are behaving similarly to leveraged assets which are more volatile in nature. This means that when Ethereum goes down the dip is greatly magnified in NFT prices. We've seen volume rise in the blue-chip collections like Bored Ape (shown below), which is evidence of the market consolidating behind the safest bets.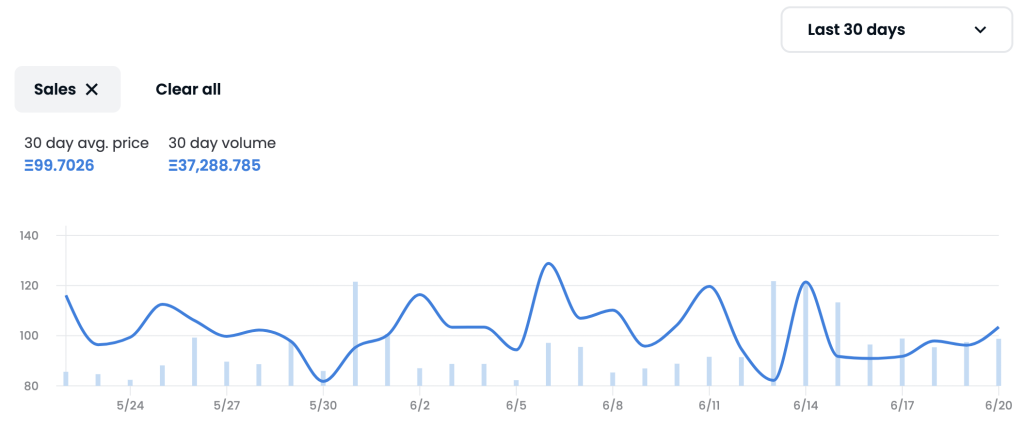 Perhaps one of the biggest recent surprises is the rise of free mint NFTs. Free mint NFTs are when there is no cost for the creation of the NFT, but the NFT purchaser must pay gas fees for the blockchain network. Goblintown, a free mint NFT collection, sits at the top of the chart currently and nobody can seem to pinpoint how they've gone from zero cost to a 3 Eth floor price, with a peak of over 7 Eth in a bear market with little more than cultural zeitgeist. The pullback in all other assets seems to have pushed the free mint and the community rallied behind it. The art is nothing to show off and there isn't any utility. While it has created value for many of those that got in for the cost of gas at the beginning, it is hard to have confidence in a project that doesn't seem to offer much. We're either seeing a paradigm shift or a flash in the pan. It will be interesting to watch this project unfold.
NFT NYC
There is a plethora of events next week from the NFT NYC conference to Apefest and Christie's Cartography of the Mind. We're excited to take part in the largest NFT gathering yet! With pop-ups happening around the city, trying to hit every event seems impossible, but here are a few of the speakers and must attend events we're excited about.
June 20th
Time Pieces NFT – An NFT collection by Time Magazine is hosting multiple events
NFTSea: A gallery of curated works from the Time Magazine collection on display and open to the public from 1 – 10PM at iPic Fulton, 11 Fulton Street – One day showing
Rug Radio/FOTO Gallery Event: A photography focused gallery curated by the Rug Radio Team open to the public from 10AM – 7PM at Superchief Gallery – One day showing
June 21st
NFT NYC Conference – Radio City Music Hall – Hosted by Coinbase (registration required)
How Best to take NFTs to the Public: Ivan Soto-Wright, MoonPay
Next-Gen NFTs: Jehan Chu, Kenetic Capital
NFT Ticketing: Brendan Lynch, Ticketmaster
The State of NFTs: David Pakman, Coinfund
The Future of Gaming with NFTs: Ryan Watt, Polygon Studios
NFT Art for Good: Artist Spotlight with MAPS and Christie's – Refik Anadol, Sarah Meyohas, Noah Davis, Michah Howard-Dowbak, Ryan Zurrer, and Maciej Kuciara
Christie's New York
Cartography of the Mind: The reception for a curated NFT sale to benefit MAPS – Open to the public with an RSVP, 4-7PM at Christie's – Auction from the the 21st – 28th
June 22nd
Comp Stomp Studios
Feeling Blue Gallery: Curated by the renowned NFT artist Cath Simard – Open to the public from 8AM – 3PM at 70 Hester Street
NYC Photo Walk
Hosted by Photer: A walk hosted by some of the best photographers in the business to network over a casual photo stroll – Open to the public starting at 1PM at New York City Hall
June 23rd
NFT NYC Conference – Edison Ballroom (registration required)
NFT Education for the Mainstream – Sheena Brooks, Kim Merke, Theo Sastre-Garau, David Allan, and Jeremy Fall
The Technology of Emotion: NFT Experiences are the Future – Arthur Carmazzi
Hospitality and NFTs – FlyFish Club with Conor Hanlon, Josh Capon, Andrew Wang, and David Rodolitz
Securing Your Digital Self – Sebastien Badault
NFT ARTIST SPOTLIGHT
Takashi Murakami
As a storied artist with a signature style that has spanned the fine and commercial art space and blurred the lines between low and high art, Murakami hardly needs an introduction. He has been on the traditional art scene since the early 90's and taken part in many high-profile collaborations. As one of the few established fine artists playing in the NFT space, Murakami appears comfortable moving between the physical and digital art worlds, but this evolution hasn't come without some painful lessons. After releasing his first collection Murakami.Flowers in April 2021, Murakami almost immediately suspended the sale, citing his lack of understanding the NFT market. There were whispers that his NFT sale was a result of his studios near bankruptcy at the onset of the pandemic.
After his initial rough start in the NFT space, in November of 2021 Murakami announced he was partnering with Nike's RTFKT Studios to create their CloneX Avatars. These avatars are widely seen as a key part of the Metaverse that Nike is building.
Since entering the NFT space, Murakami has stated, "I was reborn." He is at the center of the Nike ecosystem, and his financial woes should be in the past. In early May, Murakami relaunched Murakami.Flowers as a part of a new exhibition at Gagosian titled An Arrow through History. This new body of work translates the computer generated NFT art for both Murakami.Flowers and CloneX Avatars into handpainted paintings and sculptures. Talk about coming full circle! The show runs through June 25th at both Gagosian Madison Ave spaces.

NFT & CRYPTO NEWS
READ PAST ISSUES OF THE SCOOP
Disclaimer
Information in this report is compiled from a number of sources; The Fine Art Group does not make any representation or warranty, express or implied, as to its accuracy or completeness. The Fine Art Group shall not be liable for any errors or inaccuracies in this report or for any actions taken in reliance on information or opinion contained in this report. The Fine Art Group are under no obligation to update or keep current the information provided herein. Information in this report is provided solely for information and marketing purposes and is not to be construed as investment advice or a personal recommendation, nor as legal, tax, regulatory, accounting or any other specialist technical advice. Capital is at risk when buying or selling the types of assets discussed in the report, and any decision to do so is solely at the risk of the buyer or seller. Prior performance is not indicative of future results. Neither The Fine Art Group nor any of its directors, officers, employees, or agents accepts any liability for any loss or damage arising out of the use of all or any part of this document or reliance upon any information contained herein.
The report contains hyperlinks or references to third-party advertising and websites other than The Fine Art Group website. Any such hyperlinks or references are provided for your convenience only. We have no control over third-party advertising or websites and accept no legal responsibility for any content, material or information contained in them. The display of any hyperlink and reference to any third-party advertising or website does not mean that we endorse that third-party's website, products, or services. Your use of a third-party site may be governed by the terms and conditions of that third-party site and is at your own risk.