The Scoop: A Bi-Weekly NFT & Digital Art Newsletter 5
THE SCOOP #5 – JULY 8, 2022
In the 5th edition of The Scoop, we share the latest on the crypto market meltdown, a recap of NFT NYC, and share an eye for architecture in our latest Artist Spotlight.
CRYPTO MARKETS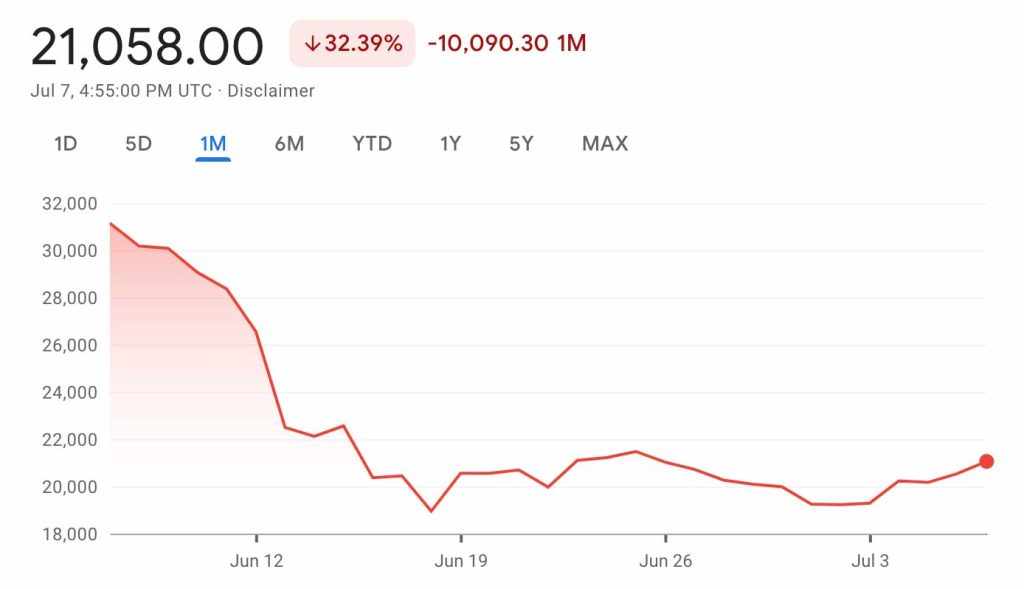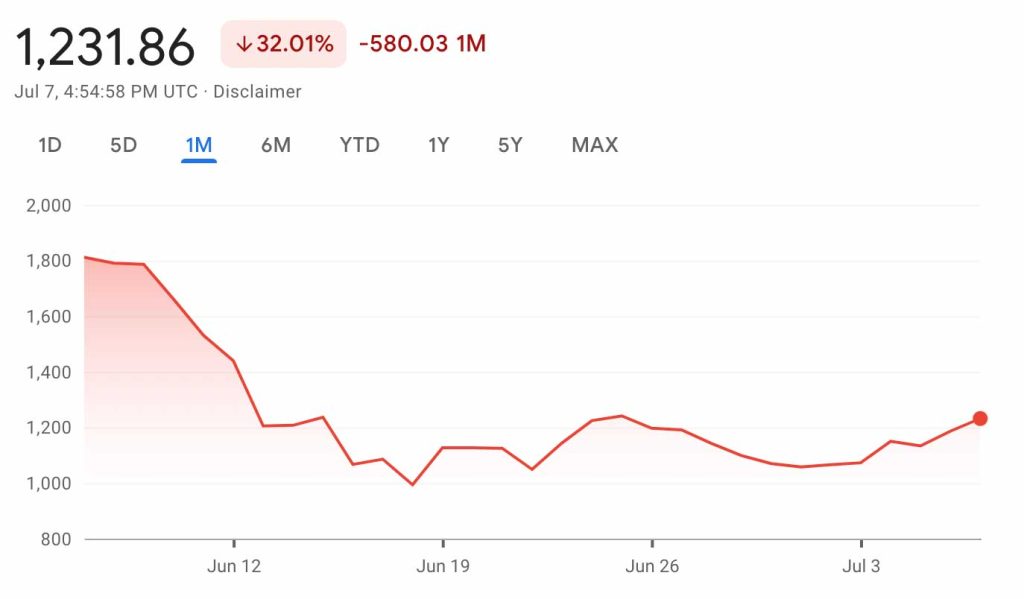 CRYPTO COMMENTARY
After the recent drop across the broader markets, we have seen the most significant cryptocurrencies level out, with Bitcoin still hanging around its $20,000 support line. The buy-and-sell pressure is in equilibrium, and it appears the market is waiting for a new catalyst before making any moves. What is interesting is looking at miner outflows; a sudden spike in sales from Bitcoin miners to exchanges and OTC markets indicates that miners are bearish. In the last four months, we saw value fall shortly after each time we saw a spike in sales volume. With two recent spikes this month, many technical onlookers are waiting for another drop.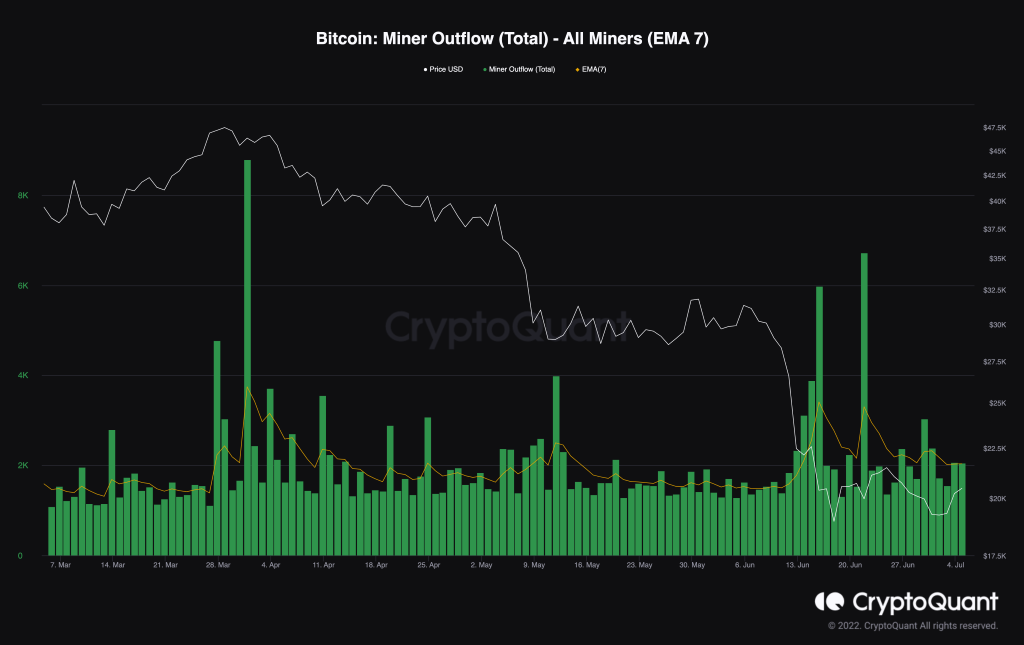 The fallout from the Terra Luna implosion is still lingering. It has been three weeks since Celsius halted withdrawals on its platform, and investors are still stuck. It was in acquisition talks with FTX; however, FTX passed on the deal due to a "$2 billion hole" in the Celsius balance sheet. Celsius has managed to repay some of its debts, while others are still outstanding. More recently, a sign that the contagion may still be spreading, another crypto lender, Vauld, announced it had also halted withdrawals. Rival Nexo had approached Vauld about a possible acquisition, but nothing has materialized yet.
While this isn't as big as the Terra Luna hole, many insiders expect there to be ripples from this event. Last Friday, crypto hedge fund 3AC (Three Arrows Capital) formally filed for bankruptcy in New York after being forced to liquidate by a court in the British Virgin Islands. By filing for Chapter 15, they can shield their assets from repossession in the U.S.
The Biden administration is working on a stablecoin regulatory package that could be law as soon as Q4. Stablecoins (USDC, Terra) are coins pegged to currencies like the US dollar. The US regulatory package will define how the burgeoning $70 billion markets will operate and how they will be used. In the EU, regulators are looking to make reserves mandatory for these stablecoins, similar to the banking system. The pressure is on regulators to create guardrails for this new industry after the Terra Luna bust harmed many.
WHAT'S THE BUZZ?
Say you love an artist, and you're not picky. You just want a piece from their newest drop. How much is it going to cost?
FLOOR PRICE
The Floor Price is the cost of the lowest-priced piece you can purchase in any given collection.
In PFP projects, the floor usually consists of NFTs with shared traits. NFTs with rare characteristics fetch a higher price.
For utility collections, where the tokens are generally identical, there are usually more pieces at the same price point, creating a "thick floor."
Opportunities arise when high-volume collections have a "thin floor", meaning there are few pieces at the bottom with a swift rise in price once the lowest have been purchased.
NFT BLUE-CHIP COLLECTIONS


NFT COMMENTARY

The NFT market has been moving sideways for the most part to match the lull in crypto markets. The volume and the overall number of transactions have fallen since NFT NYC. Prices haven't dipped further, but with such light trading the values don't have as much support as they usually do. It's like everyone went to the conference and followed it up with summer vacation, which very well could be the case.
While we aren't in a crypto winter (yet), it could be said that many in the NFT space are frozen. Similar to the crypto markets, it feels like NFT holders and creators are in a holding pattern. Sometimes no action is the best, but we are still seeing consolidation from riskier projects to safer bets. It also underscores a more significant shift in strategy. Yes, flips are still possible, but they are more dangerous and scarce. People are starting to research before investing in projects because there isn't as much easy money floating around, and everyone has been 'rugged' at least once by this point. The collector space is getting smarter and piling into either historically significant collections like CryptoPunks or seeking utility with VeeFriends or LinksDAO. Art and community still sell projects, but this could be the beginning of a long-term trend where collectors expect more from their NFTs than just .jpegs.
NFT NYC
With 15,000 registered attendees, this year's conference was the largest yet. Even in a bear market, there was a quiet optimism throughout the week, with many in the space saying it was the perfect time to build. Around 1,500 speakers from the fashion, art, sports, and finance worlds were eager to share their insights. There was something to learn from everyone. The event planners blended these topics efficiently, making jumping from one speaker to another easy. The conference went off without a hitch, other than mile-long registration lines, but the most exciting get-togethers were happening after hours.
In the PFP world, several large exclusive parties with Doodles, Azuki, and Nifty Portal offered IRL (In Real Life) experiences to their NFT holders. Fewocious offered a paint party for his followers that did not disappoint, but the headliner outside the conference was ApeFest. Several nights at Pier 17 ended with rappers Eminem and Snoop Dogg introducing a new song incorporating their Bored Ape avatars. Yuga Labs (creators of BAYC) showed again that they are cultivating the best community with premier experiences in the PFP spectrum.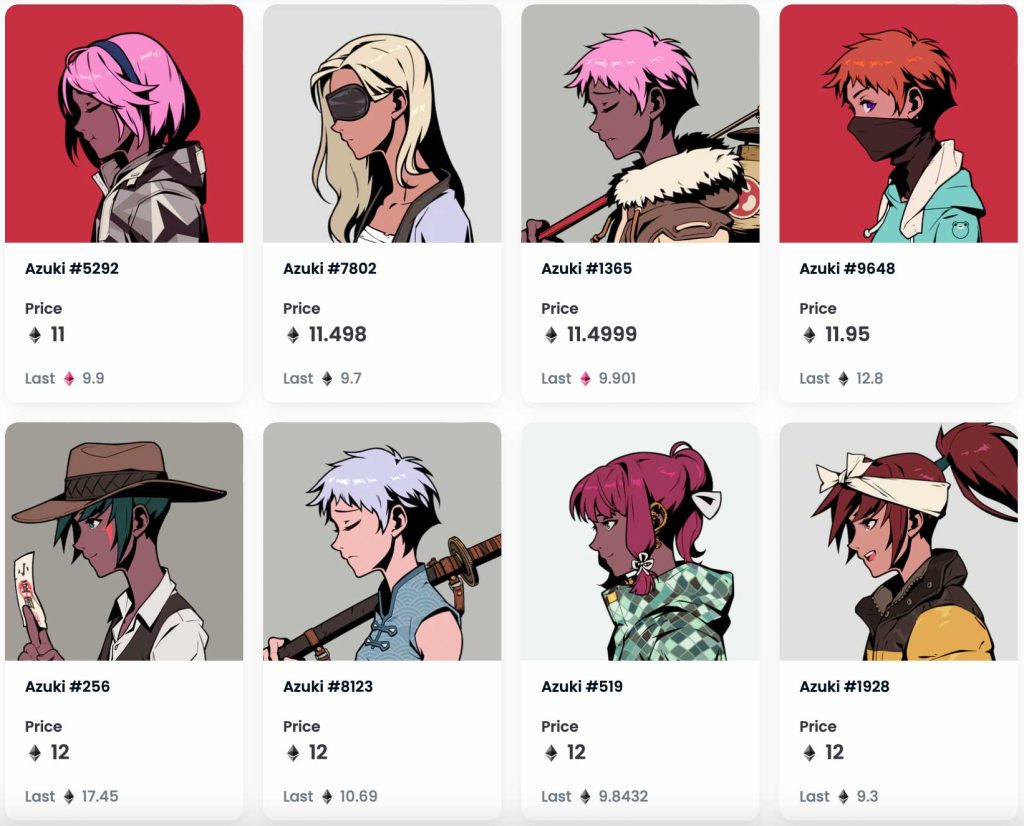 There were plenty of galleries to cruise through showcasing fine art. Comp Stomp Studios, led by a group of photographers, set up shop to provide a relaxed gallery experience for the photography community. SuperRare had its pop-up gallery up and running with some of its platform's best work on display. Time magazine and its Time Pieces NFT collection took over a movie theatre and showcased both creators and their art through interactive artist panels and big-screen showings of curated works. It was the most creative event of the week. Christie's hosted a reception for its Cartography of the Mind charitable collection benefiting MAPS. It was one of the first high-profile philanthropic auctions with several pieces far outperforming expectations, mixed in with underperformers.
What was clear is that presentation is everything for NFTs. The more innovative, the better. Time Pieces set a new precedent we believe will be duplicated by others. Christie's put its professional touch on NFTs with its signature clean and contemporary gallery feel. Pace Verso took it a step further and kept its showing to a smaller area in its gallery, giving Jeff Koons' moon NFT project plenty of room in a high-end display. When Refik Anadol made his big-ticket Casa Batlló sale, the exhibit for that was a master class for the rest. Details like the Anadol piece reacting to where a viewer was standing made a difference. In contrast, many of the pop-up galleries felt rushed; the art was displayed but it seemed the details could have been executed with more care.
NFT ARTIST SPOTLIGHT
Chris Hytha
Hailing from Philadelphia and the Drexel School of Architecture, Chris Hytha has evolved over his career, experimenting with surreal concepts through Photoshop and documenting the architecture around him with his camera. A master in his craft, he is an expert in taking ordinary subjects and making them extraordinary. After selling photo prints for many years, he set out into the NFT world with a small run of 1/1 art. Encouraged by his initial release selling so well, he created his first collection, Rowhomes, which put him on the map on NFT marketplace platform OpenSea.

For Rowhomes, Hytha photographed dilapidated houses in Philadelphia and applied his eye for architecture to meticulously add details and eerie backdrops to produce his highly sought 100-piece collection. Each drop sold out within minutes, and we've seen strong secondary sales from its inception as well.
His newest collection, Highrises, is currently being released in phases, with the second leg dropping just recently. A key piece of his strategy for Highrises was utilizing the Rowhomes collection sales as a whitelist to give his early collectors first dibs on his latest work. The success of that plan showed in the spat of secondary sales of Rowhomes before the Highrises drop. It will be interesting to see where his experiments take him next.
NFT & CRYPTO NEWS
READ PAST ISSUES OF THE SCOOP
Disclaimer
Information in this report is compiled from a number of sources; The Fine Art Group does not make any representation or warranty, express or implied, as to its accuracy or completeness. The Fine Art Group shall not be liable for any errors or inaccuracies in this report or for any actions taken in reliance on information or opinion contained in this report. The Fine Art Group are under no obligation to update or keep current the information provided herein. Information in this report is provided solely for information and marketing purposes and is not to be construed as investment advice or a personal recommendation, nor as legal, tax, regulatory, accounting or any other specialist technical advice. Capital is at risk when buying or selling the types of assets discussed in the report, and any decision to do so is solely at the risk of the buyer or seller. Prior performance is not indicative of future results. Neither The Fine Art Group nor any of its directors, officers, employees, or agents accepts any liability for any loss or damage arising out of the use of all or any part of this document or reliance upon any information contained herein.
The report contains hyperlinks or references to third-party advertising and websites other than The Fine Art Group website. Any such hyperlinks or references are provided for your convenience only. We have no control over third-party advertising or websites and accept no legal responsibility for any content, material or information contained in them. The display of any hyperlink and reference to any third-party advertising or website does not mean that we endorse that third-party's website, products, or services. Your use of a third-party site may be governed by the terms and conditions of that third-party site and is at your own risk.