Selling your collection of art, jewelry, and other valuable assets can be a significant financial transaction. Therefore, it is crucial to understand the different options available to maximize your financial result.
It can also be an emotionally fraught process where the seller would benefit from the outside perspective of an art advisor looking out for the client's best interest. There are various factors, from finding the right sales venue to getting the best price for your pieces, to consider. With knowledge, careful planning, and expert advice, you can ensure that you get the best possible financial result from selling your prized collection.
Join us to watch Kerry-Lee Jeffery, Colleen Boyle, Anita Heriot, and Kate Waterhouse discuss ways to maximize return of investment when selling collections of art, jewelry, wine, and other valuable collectibles.
DATE
August 17th, 2023 – 1PM EST/ 10AM PST
LENGTH
RELATED CONTENT
OUR SALES AGENCY SERVICES
The Fine Art Group's dedicated Agency team can add significant value through seamless sales management, financial reporting and marketing optimization.
We take care of every detail of the sale process, from initial valuation all the way through to post-sale reporting and analysis, ensuring that the client communication and involvement is tailored throughout.

See our Sales Agency Case Studies to learn more about our services.
This spring signed jewels and stunning gemstones take focus at Sotheby's, Christie's, and Phillips. Such an abundance of property on the market can cause buyer whiplash. Please join Senior Specialist and Director of Jewelry and Watches for The Fine Art Group, Kate Waterhouse, while she presents her 'Top Picks' from the spring season for New York's Luxury Week and 'Lots to Watch.'
02 June 2023
NEW YORK LUXURY WEEK 2023 WEBINAR: TOP PICKS & LOTS TO WATCH
Watch on YouTube
DATE
Friday, June 2nd – 1PM EST
LENGTH
Newsfeed image credit: Luxury Week, May-June 2023 | New York. Courtesy of Sotheby's.
Watch Our Advisory Team's Latest Art Market Webinar
02 May 2023
May 2023 Auction Season: Our Team's Top Picks & Insights into the New York Art Market
Watch on YouTube
The Fine Art Group's Advisory Team is pleased to invite you to our latest State of the Art Market webinar. Our advisors share expert insight on navigating the New York May auctions, highlighting their top picks from the season.
WATCH OUR LATEST EDITION OF THE EDUCATED EYE: HOW TO BUY & SELL SMART
What makes one bag more expensive than another? How do you protect yourself from the counterfeit market? When is the best time of year to buy or sell luxury handbags? Whether you are starting a collection or selling one, our experts will offer insight into this niche market.
28 November 2022
The Educated Eye: Understanding the Hermès Luxury Handbag Market
What makes one bag more expensive than another? How do you protect yourself from the counterfeit market? When is the best time of year to buy or sell luxury handbags? Whether you are starting a collection or selling one, our experts will offer insight into this niche market.
Watch on YouTube
*Please note a small time jump in the recording at 36:41 due to a sound distortion we have trimmed from the recording.
UPCOMING SALES OF NOTE
Luxury Week, Handbags & Accessories, Sotheby's – 5 December 2022•12:00 EST, New York
Luxe Holiday, Sale 1105, Hindman Auctions – Dec 1, 2022 10:00AM CT
TOPICS DISCUSSED
Hermès history
The Hermès of today: additional products produced
What makes Hermès' luxury handbags high quality and worthy of investment
Venues for safely buying and selling
Official handbag materials, colors, and sizes
Ways advisors and specialists identify counterfeit bags
Official Hermès handbag design collections
Handbag investment values over time
Upcoming collections
FURTHER READING
OUR SERVICES
Offering expert Advisory across sectors, our dedicated Advisory and Sales Agency teams combine strategic insight with transparent advice to guide our clients seamlessly through the market. We always welcome the opportunity to discuss our strategies and services in depth.
---
Images courtesy of: The Real Real, 1stDibs, Hermès, Sotheby's, Christie's, Hindman, Heritage
LISTEN TO OUR LATEST 20-MINUTE WEBINAR
We invite you to listen to Tabitha Nicolas, Regional Appraisals Manager, speak with Rick Worm, Risk Mitigation Specialist with Hagerty Insurance, in a 20-minute virtual forum. They discuss what you can do to mitigate the financial risk of your passion assets when faced with disaster or damage.
Art, Cars & Collectibles: How to Mitigate Risk before a Disaster Hits
Watch on YouTube
DISASTER PLANNING & YOUR ALTERNATIVE INVESTMENTS
With the increased threat of natural disasters in recent years, mitigating the risk to a collection is at the forefront of many of our clients' minds in high-risk locations. Wildfires, hurricanes, and tornados aside, collectors should also be prepared for unexpected events like a pipe burst or electrical fire. With proper planning, collectors can mitigate risk and be armed with a roster of resources to lean on in the event of a disaster.
RISKS & EXPOSURE
CAT exposures: wildfire, earthquake, hurricane, snow, wind
General hazards: extension cords, flammables, hanging items, workshops, shared spaces, old pipes and wiring
PROACTIVE STEPS TO REDUCE RISK & LOSS
Documentation as proof: digital inventory management including documentation, visual inventory and condition assessment
Planning, prioritization and logistics
CASE STUDY
In 2021, a TFG client had an electrical house fire on the first floor of their home. In addition to the fire and smoke damage, their home suffered significant water damage due to the firefighters' efforts to control the fire. Although they had blanket and some scheduled insurance coverage, the family failed to have an updated appraisal for over ten years, and the scheduled assets were significantly underinsured. The family kept physical paper records on the collection, but they also were destroyed in the fire. Nothing had been backed up within a cloud-based system, and the burden of proof fell on the client. Without accurate retail replacement appraisals, they found themselves in a position where they lost valuable family heirlooms and an American art collection that had been curated for decades. In addition to the financial loss, they had to rebuild a home which put emotional stress on the family. This family came to The Fine Art Group after a disaster had already struck. However, steps could have been taken preemptively to mitigate the loss, including backing up information off-site, up-to-date appraisals, and proper inventory management.
TOP 3 TAKEAWAYS
YES, IT CAN HAPPEN TO YOU
And when it does, the burden of proof is on the owner!
HAVE A PLAN
Create an exit strategy and know your priorities. The Fine Art Group understands that every collection and collector is unique, each having distinct priorities and considerations for the needs of their art and tangible assets. Our team will work with you and/or your team to craft a bespoke collections plan that considers the highest risks.
The Fine Art Group offers complete evacuation planning services, which arm our clients with a roster of resources to lean on. Collectors must have a point person and have confidence that their collection will be in the right hands should a disaster occur.
KNOWLEDGE IS POWER
Current Replacement Values
The most significant issue collectors face after emergencies is inadequate insurance for their fine art and collectibles. The Fine Art Group has a team of over 50 specialists that can identify, catalog and value a collection to ensure accurate and up-to-date replacement value appraisals. Our team regularly provides complimentary schedule and appraisal reviews, updating clients on the adequacy of the appraised values of their assets. Depending on the type and value of the assets, a reappraisal is recommended every 3 to 5 years, or if the value has increased or decreased by 10-15%.
Know What You Own
After catastrophe, theft, or damage, the burden of proof is on the owner. They must be able to establish value and provide a complete inventory of what they own. This can be a challenging endeavor if the owner has not created an offensive strategy to mitigate disaster. Our experienced appraisal team has developed a Visual Inventory product designed to address this issue. Conducted by qualified appraisers, our visual inventory captures the entire range of assets that make up the contents and valuable collections in a home. This detailed visual record of the interior and exterior of the property significantly streamlines the insurance claim process in the event of a loss.
FURTHER READING
WATCH OUR LATEST EDITION OF THE EDUCATED EYE: HOW TO BUY & SELL SMART
In the upcoming fall auctions, there are three exceptional single owner sales that will be composed of a multitude of objects. These three sales are the Paul Allen sale at Christie's, the Ann & Gordon Getty sale at Christie's and the Hôtel Lambert sale at Sotheby's. In order to navigate these three exceptional sales, we hosted a webinar titled The Educated Eye: How to Navigate a Multi-Category Collection at Auction, using the Hôtel Lambert sale as a case study to explore how to make the most of these opportunities.
The Educated Eye: How to Navigate a Multi-Category Collection at Auction
Join us for a 30-minute in-depth discussion on how buyers can navigate multi-category single-owner sales to identify opportunities and hidden gems within the larger sale context. We will be using the upcoming Sotheby's Hôtel Lambert auction as an example. Our experts will cover various categories of fine decorative arts and furniture.
Watch on YouTube
SINGLE OWNER SALE HIGHLIGHTS
Hotel Lambert, Une Collection Princiere Volume I – V, 11th – 14th October, Paris & Online
The Ann and Gordon Getty Collection, 10th – 25th October, New York
Visionary – The Paul G. Allen Collection, 9th & 10th November, New York
Tips & Opportunities
EXPLORE NEW ASSET TYPES AND COLLECTING CATEGORIES
Both the Ann & Gordon Getty Collection and the Hôtel Lambert sales have a wide range of objects and an accompanying wide scope of prices. Objects at accessible price points create an opportunity to explore new asset classes and collecting categories. For example, if a collector has a particular interest in Chinoiserie, this is a great opportunity to delve deeper into a sub-category such as enamel ware or cloisonné.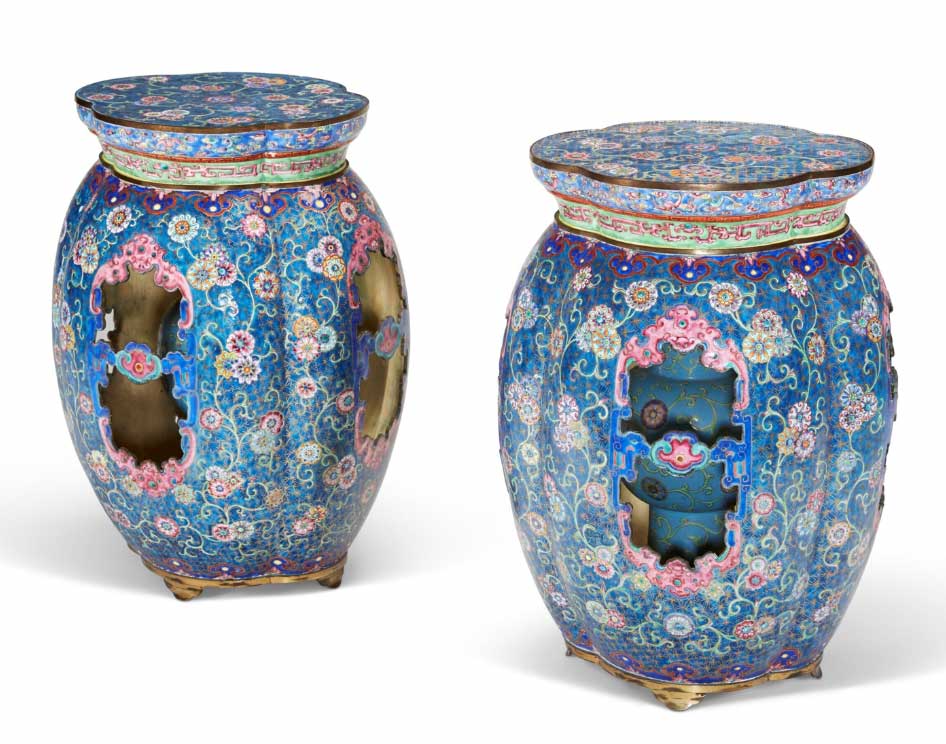 LOOK FOR PIECES THAT ARE FRESH TO THE MARKET
There are a number of pieces in these sales that have been in the market within the last 10 – 15 years. However, as these are single owner sales, there is an opportunity to come across pieces that have not been to market for a generation. For example, this George II Green and Gilt Japanned at Parcel-Gilt Bureau Cabinet last appeared on the market in 1980.
FOCUS ON PROVENANCE
Provenance alone is enough to interest collectors when buying a new piece. Within these sales, there are many objects that have a very rich and deep provenance that should not be missed. This enamel oval dish displaying the Judgement of Moses passed through the Hubert de Givenchy Collection as well as the Yves Saint Laurent and Pierre Berge Collection before ending up at the Hôtel Lambert.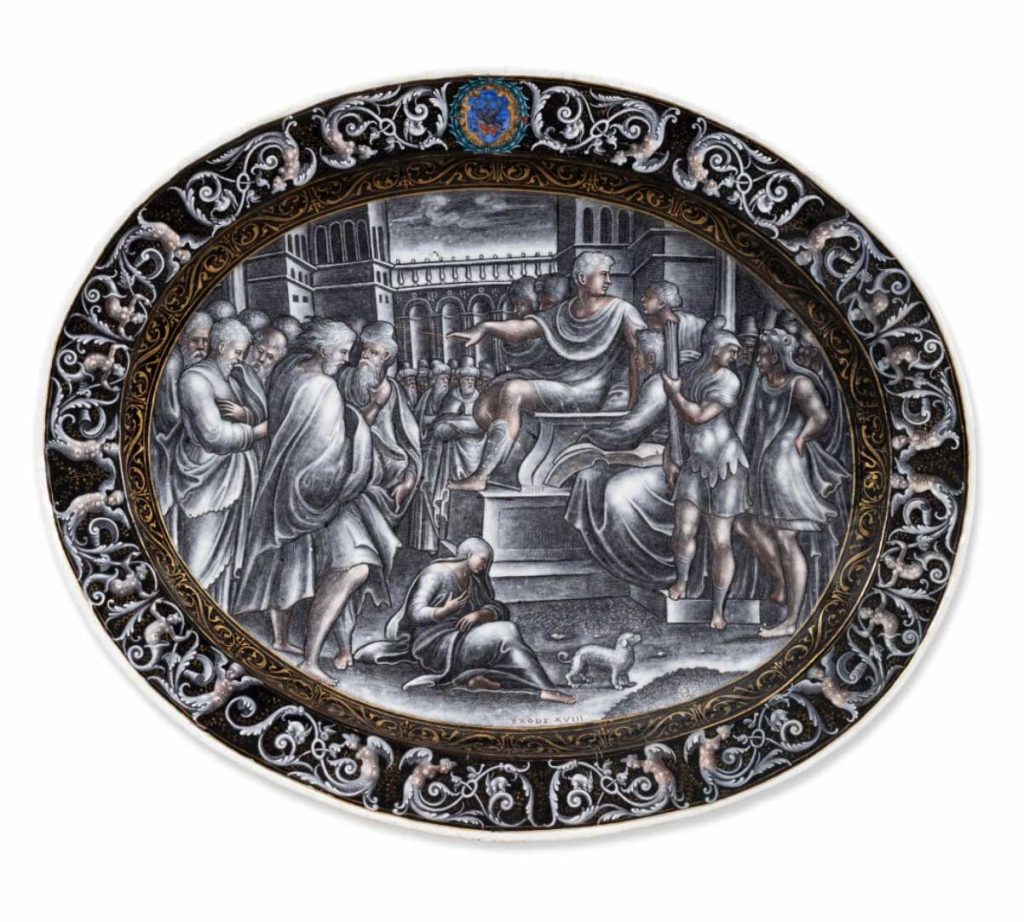 CHOOSE THE RARE, UNIQUE, AND UNUSUAL
Choosing rare and unusual pieces that are unlikely to come up again is a way to ensure you don't miss out! This gorgeous snuff box has the most unusual leopard print pattern adorning the top and bottom surfaces. Despite the unorthodox patterning, the leopard print fits right into the maximalist fashion of the 1700s.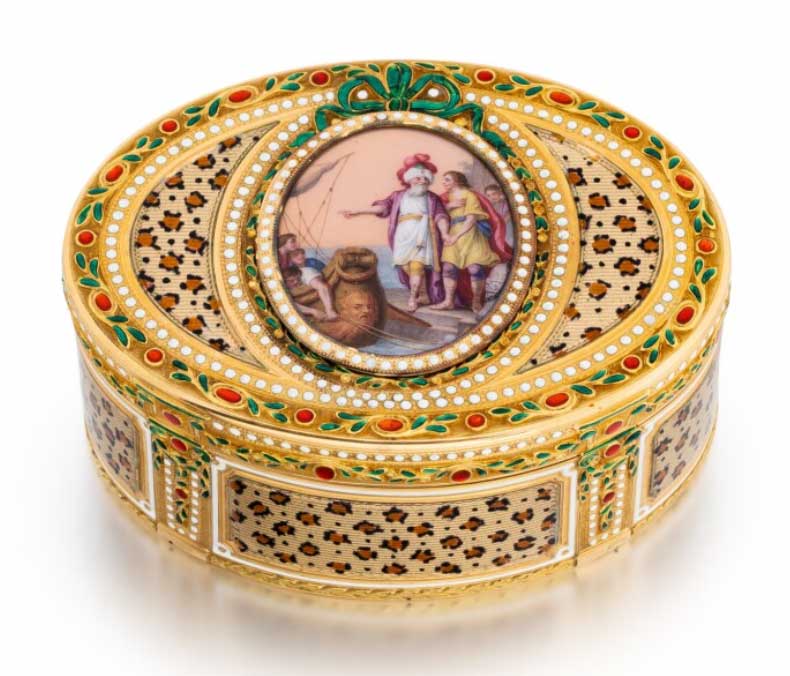 AVOID MULTIPLES AND MORE COMMONLY FOUND PIECES AS THEY TEND TO SELL ABOVE MARKET VALUE IN THESE TYPES OF SALES
FURTHER READING
OUR SERVICES
Offering expert Advisory across sectors, our dedicated Advisory and Sales Agency teams combine strategic insight with transparent advice to guide our clients seamlessly through the market. We always welcome the opportunity to discuss our strategies and services in depth.
Listen to Our Latest 20-Minute Webinar
We invite you to listen to the below webinar where Philip Hoffman, CEO, and Anita Heriot, President of the Americas, further discuss the economic advantages of diversifying into art or collectibles and where to take caution when considering an investment.
How to Utilize Your Collections as a Hedge Against Inflation
Our CEO & Founder Philip Hoffman speaks with President Anita Heriot in a 20-minute virtual forum. Watch to learn about the latest on inflation and how to leverage collections to maneuver through the current economic climate.
Watch on YouTube
ART & INFLATION IN 2022
In recent months, as inflation rates have surged and stock markets have slumped on both sides of the Atlantic, collecting art has increasingly become recognized as a solid investment strategy. Whilst not all artworks and collectibles are created equally, and therefore do not offer the same possible financial protection, the art market has historically shown resilience during market downturns and is largely uncorrelated to other major asset classes. The right art investment has proven to be an excellent store of wealth over all time periods, exceeding inflation.
CASE STUDY
The best – and only – case study of art investment as a hedge against inflation is that of the British Railway Pension Fund, which specifically and successfully bought art in the 1970s against a backdrop of inflation rates as high as 17%. The fund invested 3% of its holdings at the time (£40m) into 2,400 objects across a vast range of categories and achieved an annual compound interest of 13.1%, while the average stock market investment returned 10%.
ART IN THE POST-PANDEMIC MARKET
Apart from hedging against inflation, we see the benefit of art being uncorrelated to other asset classes in the speedy recovery of the market during moments of economic decline. In 2021 – as the world entered a post pandemic recession – auction sales totaled around $12.6B at the three major auction houses (Sotheby's, Christie's and Phillips) up 2.3% from 2018. Furthermore, collectors returned to the market with a renewed appetite for buying and 167 artworks achieved $10m+ each, twice as many as the previous year. The market so far in 2022 continues to go from strength to strength with the ArtPrice Contemporary Art Index reporting a 16.2% year to date increase compared to the S&P, which is down 14% over the same period.
TOP 5 TAKEAWAYS
AUDIT YOUR COLLECTION
It is crucial to understand the current fair market value of your collection before making any financial moves. Once you have this information, you can then develop a strategy.
BE PREPARED TO HOLD ART FOR 3 TO 5 YEARS
Art acquisitions typically should not be liquidated for several years. With annual revaluation, one can develop an intelligent sales strategy that corresponds to the market.
STICK WITH BLUE-CHIP ARTISTS
Now is not the time to risk investing in Young Contemporary artists with little track record. Stick to blue-chip artists with an established secondary market that has steadily increased in value. There may be some fantastic buying opportunities in the near future, with masterworks coming to market to bring their owners liquidity, with less competition from other buyers.
DIVERSIFY YOUR ART & COLLECTIBLES
Look to other opportunities in the collectibles market such as jewelry and watches of the highest quality possible.
DO YOUR HOMEWORK
Be sure to turn to a trusted advisor and research your options before committing to any important financial decisions.
FURTHER READING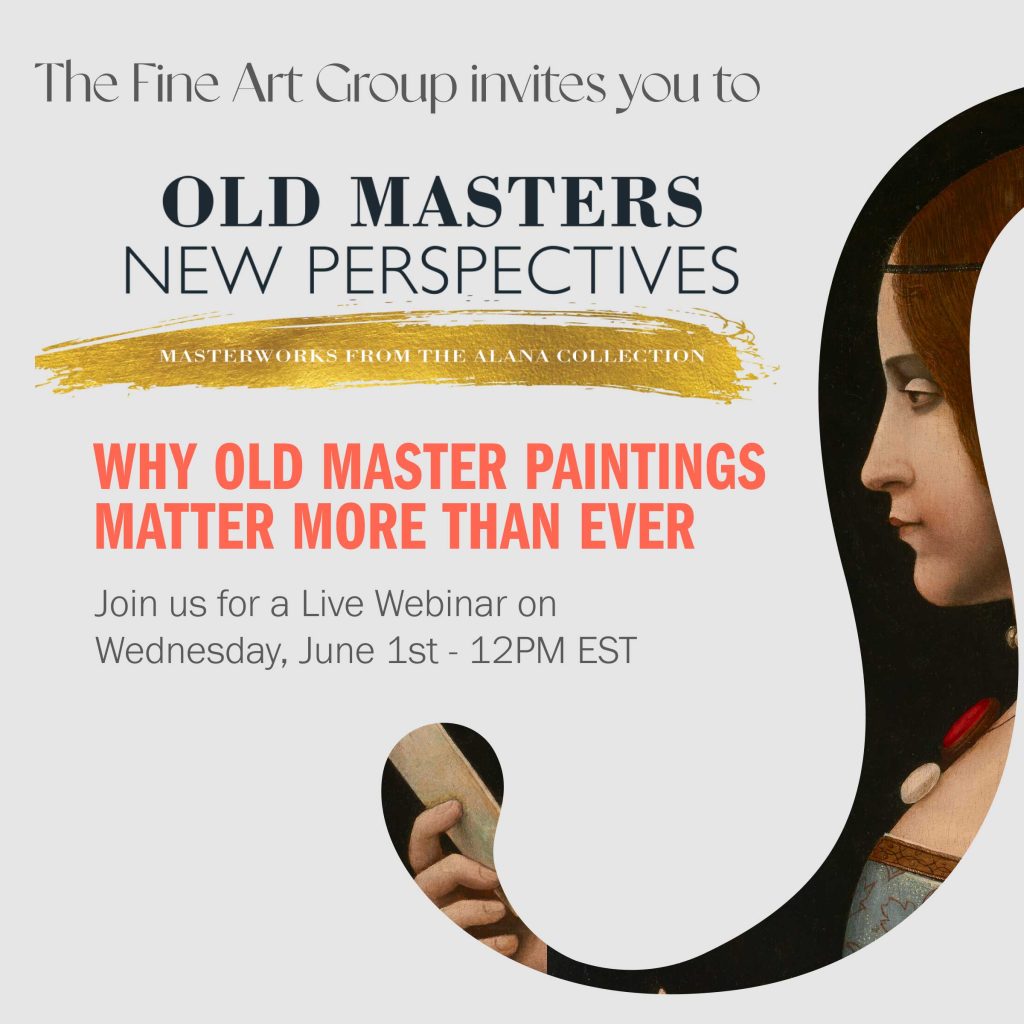 The Fine Art Group is honored to bring to market a curated selection from the extraordinary Alana Collection, to be sold at Christie's New York on June 9th.

Please join us for a panel discussion led by Christie's specialists Jonquil O'Reilly and Ana Maria Celis and moderated by The Fine Art Group President Anita Heriot. We will take you through the most important lots in the sale and how Old Master Paintings form the bedrock of working practices of every contemporary artist today.

Being one of the most important collections of Italian Old Master Paintings, Sculptures, and Antiquities, The Alana Collection sale will be a once in a lifetime opportunity to acquire museum-quality masterpieces from the Early Modern era. Highlights include extraordinary pieces by some of the most renowned artists of Art History such as Fra Angelico, Orazio Gentileschi, El Greco, Lorenzo Veneziano amongst others.
DATE
Wednesday, June 1st – 12PM EST
FORMAT
*Guests will receive a Webex calendar invite through their registered email
OTHER WAYS TO JOIN
https://fineartgroup.webex.com/fineartgroup/j.php?MTID=me55429aee33be65f0a70ff9e225af44f
Wednesday, June 1, 2022 12:00 pm | 1 hour | Eastern Time (US & Canada)
Meeting number: 2631 718 2962
Password: AzG3FiA5ix4
Join by video system
Dial 26317182962@fineartgroup.webex.com
You can also dial 173.243.2.68 and enter your meeting number.
Join by phone
+1-415-655-0001 US Toll
Access code: 2631 718 2962
FURTHER READING
STATE OF THE ART MARKET: INSIGHTS INTO THE SPRING 2022 AUCTION SEASON
Our Art Advisory Team gives an overview on the current state of the art market and comment on the Spring 2022 auctions.
State of the Art Market: Insights into the Spring 2022 Auction Season
Watch on YouTube
FURTHER READING
Art and collectibles are an alternative asset class that has garnered a lot of interest in recent years. Uncorrelated to the stock market, these investments are attractive to those looking to hedge against crashes and volatility. They're also more personal than stocks and easier to get passionate about—especially when they're posting record-breaking returns.
If you were unable to attend our latest roundtable event you may now watch the recording below.
TOPICS DISCUSSED
Using collections as a diversification tool
Providing liquidity & cash flow by leveraging collections
Identifying emerging artists and underrepresented artists
FURTHER READING
---
Header image credit: Kehinde Wiley, Prince Albert, Prince Consort of Queen Victoria, 2013, courtesy of the Hedy Fischer and Randy Shull art collection