Reintroducing The Scoop: The Next Generation Collector
Written by Colleen Boyle, Managing Director of Business Development & Philanthropic Strategy; Zhanna Ter-Zakaryan, Associate, Art Advisory; Kate Waterhouse, Director & Senior Jewelry Specialist; Greg Adams, Digital Assets Consultant
---
THE SCOOP #13 – March 9th, 2023
INTRODUCTION
THE NEXT GENERATION COLLECTOR
BY COLLEEN BOYLE
Welcome to the latest edition of The Scoop! We are now refocusing its content to include not only NFT and crypto topics but also issues and concerns related to the next generation of collectors as they face the responsibility of inheriting wealth and a fast-moving market of new and alternative investments. A portion of this wealth is in the form of tangible assets that reflect the interests and legacies of their families. This asset class of personal property, which includes art, jewelry, wine, vintage cars, watches, rare books, coins, and other niche collectibles, is referred to as passion assets. Have Next Generation collectors been educated about their potential inheritance of passion assets? Are they prepared? Will they want to build on inherited collections, forge their own path, divest, or donate? Are they fueled by a desire for change and positive impact while simultaneously preserving a family legacy?
What type of collecting entices the next generation? How and where are they buying? Are they investing in NFTs or other new media types? What are the issues related to, and the impact of, these types of investments? What are the current trends within the art world that affect, or are affected by, the Next Gens? The Scoop will address all these topics, including the art market, social impact, sustainability, and how the next generation can balance these issues with sound investment strategies.
THE MYSTERIOUS STORY OF THE NEW: EVER-CHANGING TRENDS
BY ZHANNA TER-ZAKARYAN
The art market has undoubtedly been feeling the influence of Next Gen collectors. According to Artnet News, the number of lots by young contemporary artists (those born after 1975) rose by approximately 250 percent between January 2013 and July 2022, while the total auction sales for young contemporary art skyrocketed by 700 percent in the same period. [1] Though these Next Gen collectors are not the only ones interested in emerging young contemporary art, they have nonetheless been pushing these numbers to new heights.
This group of collectors has been reshaping the art market, challenging previously accepted approaches to collecting art: from the rise of NFTs to an increased interest in art that is appealing on screen, the traditional format of the art market has been changing.
Recently, trends in the art market have fluctuated more than ever before. Paradigm shifts in the industry now occur faster, as art buyers, including Next Gen collectors, are swiftly moving onto the "next hot thing." The past years are testimony to these fluctuations.
By 2021, the young contemporary art market prided itself on being the fastest-growing sector within the secondary market. During that time, artworks created a year prior generated ten times more revenue than a decade earlier. For the first time, Sotheby's dedicated an independent evening sale to young contemporary art only. The Now Evening Auction focused on art executed in the last 20 years.
YOUNG CONTEMPORARY ART PRICES IN 2021
The following year experienced a slight slowdown in the previous craze over this latest type latest art, or "wet painting." The young contemporary market did not completely flatline, and new auction records were still being established for emerging artists. However, a sense of general caution was nonetheless noticeable. Macroeconomic fluctuations aside, there were multiple possible reasons for this:
Increased Demand but Not Enough Supply

When young contemporary artists become hot, the demand for their work surpasses the possible supply. While this factor can build artists' secondary market by pushing their numbers to new heights, it can subsequently cause their market to decline.

Controlling the Urge to Flip

Another reason is the notion of "flipping." Selling a recently purchased artwork for a quick profit is not new but has been quite prominent in recent years. To avoid an immediate resale of a work by a trending artist, representing galleries started creating more stringent resale rules for collectors. As a result, works by young contemporary artists purchased recently on the primary market (meaning directly from the galleries or artist studios) became scarce on the secondary market.
These factors were doubtless not the only ones at play in the market's slowdown last year. Against this cautious outlook, this year has already seen two major art fairs (Art SG in Singapore and Frieze Los Angeles) and experienced its first marquee evening sales in London.
FRIEZE LOS ANGELES 2023
Frieze Los Angeles brought together galleries, institutions, curators, and individual collectors in its new location at Santa Monica Airport. The fair has grown exponentially since last year, including a 30 percent increase in exhibitors.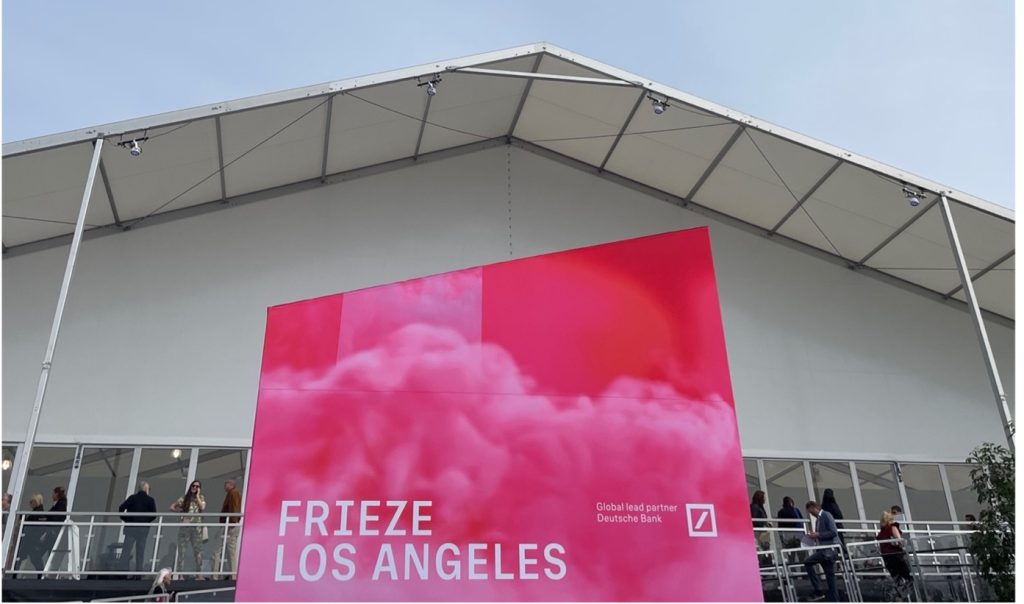 LONDON EVENING AUCTIONS 2023
The young contemporary art segment of the London evening auctions suggested a slightly positive change compared to the caution of 2022. With the debuts of a few new names in the secondary market, multiple auction records were set during the sales.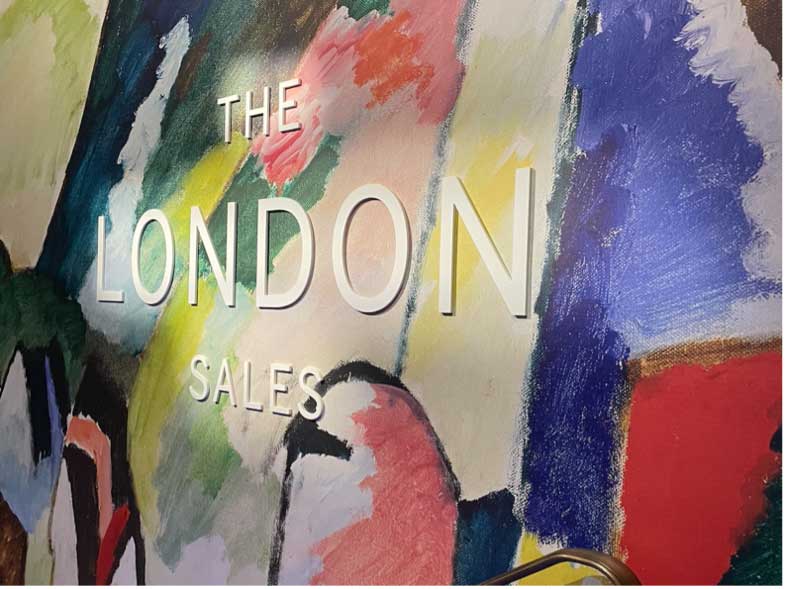 As the art market continues to wax and wane, 2023 has yet to show whether the current fluctuations mean the market will soon settle in line with other segments of the art world. This year will also continue to shed light on how sustainable the meteoric increase in the interest in young contemporary works is and how the Next Generation collectors affect it.
[1] Artnet News Pro, "The Artnet Intelligence Report, Fall 2022 Edition", October 27, 2022, esp. 51-2.
JEWELRY TRENDS: EVERYTHING OLD IS NEW AGAIN
BY KATE WATERHOUSE
As a young girl, I remember how my mother chose and wore her jewelry every day and for dinners and events. Playing "coat check girl" at their cocktail parties offered me a front-row seat to the best jewelry designs from the late 1980s and early 1990s. I fell in love with the clean, bold aesthetic of the period, even if I was too young to truly understand what I was looking at and why it appealed to me so strongly.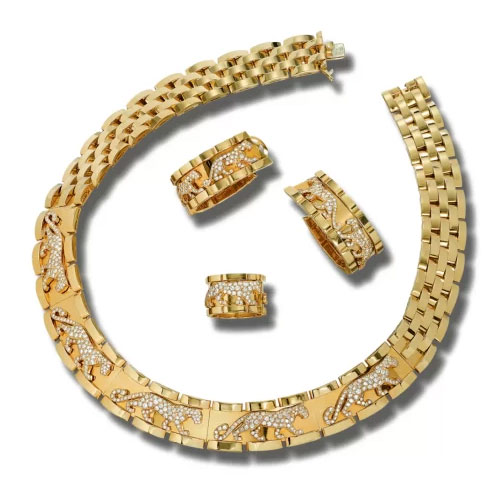 Since the first decade of the new millennium, we have seen consistent collector appreciation of signed jewelry by significant jewelry houses. With that has seemingly come a renewed appreciation for the designs made popular just a mere decade or two before 2000. Next Generation collectors may be inheriting these specific pieces at this time. They will have to decide whether retain them in the hope their value will continue to increase, sell them or expand their collection with more investment-worthy jewelry pieces.
An excellent example is Cartier's beautiful "stalking panthers" collection, which debuted in 1988/1989 and has been offered regularly over the years at auction. Described by auction houses as a collection anchor and a traditional classic, David Bennet and Daniela Mascetti said, "Ecological issues such as flora and fauna extinction prompted many jewelers to look into nature for a source of inspiration in the late 1980s, early 1990s. The panther motif, which became Cartier's living symbol with its aggressive sensuality and agility, perfectly suited the taste and spirit of the contemporary woman."*
*For further details, please refer to David Bennet and Daniela Mascetti's book "Understanding Jewellery," Antique Collector's Club, Revised edition 2003, page 453, for an example of the continued appreciation of nature in jewels and jewelry.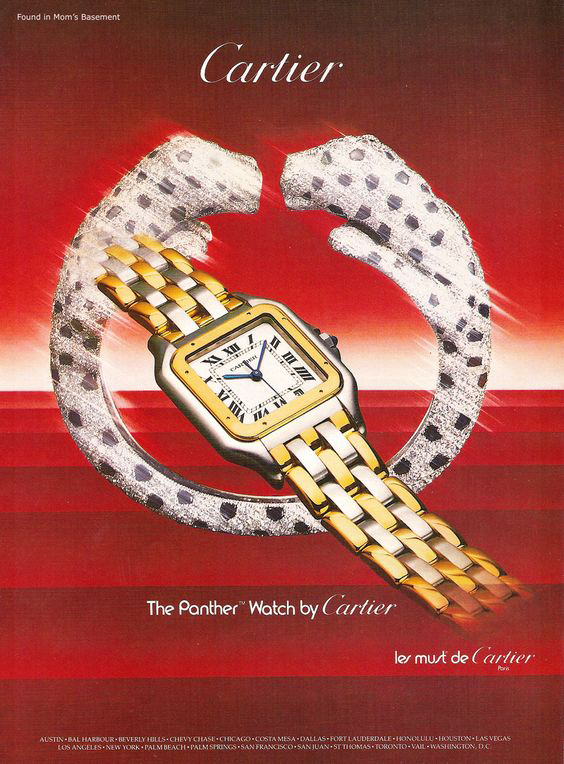 There are several reasons to consider adding pieces with a robust design in vintage jewels like those in the Cartier collection. First, buying vintage jewels is a beautiful way to honor the preservation of the environment. Mining, cutting, refining, and manufacturing new precious metals and gemstones have an environmental impact while giving legacy pieces a new spot in your collection limits your carbon footprint. Ideally, vintage jewelry will live on in that state forever without further environmental repercussions.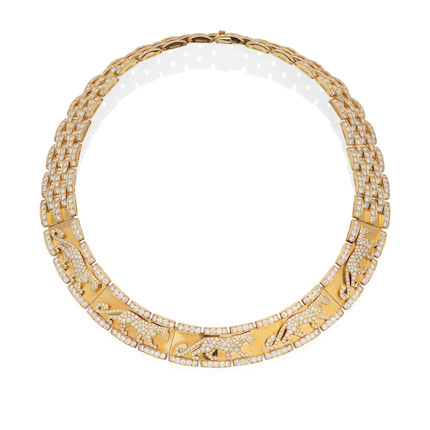 Additionally, the potential long-term financial viability of evergreen pieces in fashion offers a reasonable way to potentially "park" wealth by associating the value to a living, breathing piece in a market that continues to be cyclical.
Included in this article is our "Stalking Panthers" example of two similar suites (otherwise known as a "parure" to some collectors) that sold approximately 15 years apart. We can see how values have changed as the desire for this piece has increased interest with a renewed appreciation for the 1980s/1990s design aesthetics from Cartier, Tiffany, Bulgari, and Marina B. Certainly a market worth watching in 2023!
NFT ART MARKET UPDATE
BY GREG ADAMS
The NFT market has shown signs of life in 2023 after a bleak end to 2022, with open editions becoming the latest driver in a market that has seen a rise in trading volume and NFTs sold. Open editions are drops where collectors can mint as many tokens as they'd like, and most are a relatively low cost, $10-$100.
The art market has usually focused on limited editions, which have been seen as more exclusive and worthy of collecting. Still, they ultimately cap the artist's earning potential for a piece. A paradigm shift, especially with digital work, may be happening towards an open edition business model that would not reduce return if an artwork is popular.
Outside of the Bored Ape Yacht Club's Sewer Pass, Jack Butcher's Checks has been the biggest mover in recent weeks. Over 16,000 NFTs were minted during the drop for around $8 each. Currently, they are selling at 1 ETH, around $1,600. After the initial drop was complete, more details were released about how the collection would be gamified with mechanics that allow a collector to burn (destroy) tokens to claim rare pieces in the future, driving total sales of the collection to $38 million.
In January 2023, a rare alien CryptoPunk sold for $1.2 million; it was headline news. Shortly after, Alex Ness dropped M0N3Y PR1NT3R G0 BRRRRRR as an open edition, selling over 20,000 copies at .069 Eth each (~$110), bringing in around $2.2 million. It's the most significant, successful, single-image drop in the NFT space but didn't get nearly as much press as the CryptoPunk. Both are positive signs for the NFT market and show there is no right or wrong way to market art in Web3.
There is some debate over open editions in the NFT community. Supporters say it's a great way to onboard new collectors with a low-cost entry point while getting an up-and-coming artist more recognition. There are critics, however. The strategy's recent success has led to a flurry of open editions on the market. Some avid collectors have raised concerns about oversupply and dilution of the market, similar to the young contemporary painting market mentioned earlier in The Scoop. For those reasons, many established artists have shied away from the tactic; they want to maintain their price point and prefer a more balanced approach. Only time will tell how well they age.
NFT ARTIST SPOTLIGHT
FVCKRENDER (Frederic Duquette)
Born in 1991, this Vancouver-based artist has been creating digital art for quite some time. After a 2016 bike accident left him with no sensation in his left side, he started exercising his brain by working with rendering software. Since then, he has blossomed into a leading digital artist collaborating with Lil Nas X, LeBron James, and luxury brand Dior.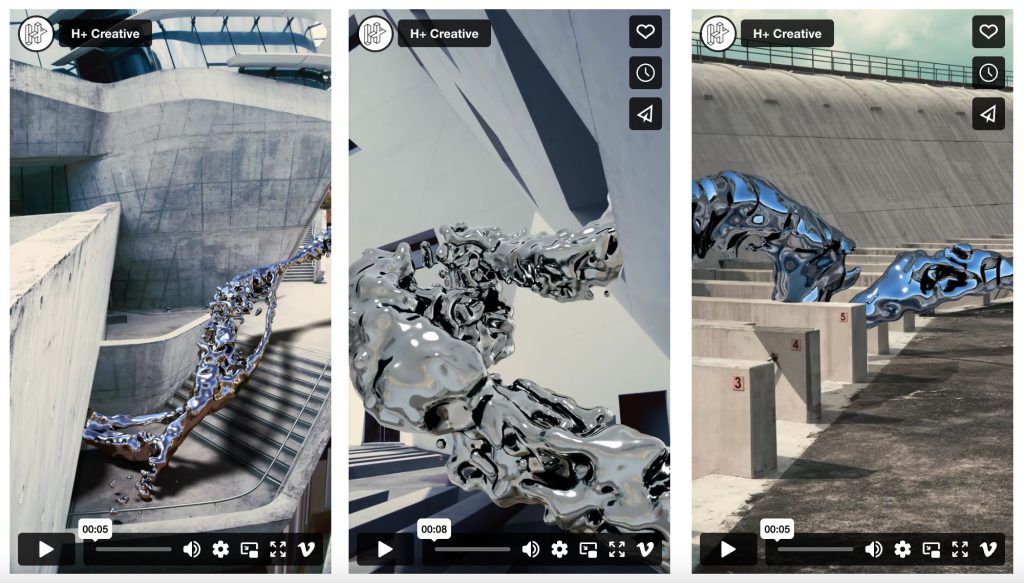 FVCKRENDER is one of the highest-selling on-chain artists in the digital assets world and a strong supporter of new technology. He doesn't hide his confidence in the future of NFTs, saying, "NFTs allow for the value we (digital artists) have created on culture to be returned to us financially. For that, I am eternally grateful. Another concept I enjoy is the ease at which one can track the provenance and ownership of NFTs. I love the transparency of the blockchain just as I love being transparent emotionally with each of my works."
Not only has he had successful personal releases, but he has the attention of bidders at traditional auction houses with his most recent piece, SHIFT//, selling for $107,100. His next step is working with physical art, creating custom 3D-printed pieces to go hand in hand with his digital art. We've seen classic collections showing interest in pairing digital tokens with their physical counterparts. For a piece in 3rd party storage, it would be easy to sell the token without moving the original work. This pairing of an NFT with a physical artwork or collectible may become more common since the digital token is easy to track regarding provenance and ownership. The use cases for this technology continue to expand, and FVCKRENDER is leading the way.
READ PAST ISSUES OF THE SCOOP
OUR SERVICES
From the strategic insight and clear guidance of our advisors to our market-leading art finance and sales agency services, we help our clients build their collection, secure their investments and appraise their assets to realize their true value.
Disclaimer
Information in this report is compiled from a number of sources; The Fine Art Group does not make any representation or warranty, express or implied, as to its accuracy or completeness. The Fine Art Group shall not be liable for any errors or inaccuracies in this report or for any actions taken in reliance on information or opinion contained in this report. The Fine Art Group are under no obligation to update or keep current the information provided herein. Information in this report is provided solely for information and marketing purposes and is not to be construed as investment advice or a personal recommendation, nor as legal, tax, regulatory, accounting or any other specialist technical advice. Capital is at risk when buying or selling the types of assets discussed in the report, and any decision to do so is solely at the risk of the buyer or seller. Prior performance is not indicative of future results. Neither The Fine Art Group nor any of its directors, officers, employees, or agents accepts any liability for any loss or damage arising out of the use of all or any part of this document or reliance upon any information contained herein.
The report contains hyperlinks or references to third-party advertising and websites other than The Fine Art Group website. Any such hyperlinks or references are provided for your convenience only. We have no control over third-party advertising or websites and accept no legal responsibility for any content, material or information contained in them. The display of any hyperlink and reference to any third-party advertising or website does not mean that we endorse that third-party's website, products, or services. Your use of a third-party site may be governed by the terms and conditions of that third-party site and is at your own risk.