The Scoop: A Bi-Weekly NFT & Digital Art Newsletter 6
THE SCOOP #6 – July 27th, 2022
In this edition of The Scoop, we cover the latest 3AC default news, consolidation in the NFT market, and dive into DAOs.
CRYPTO MARKETS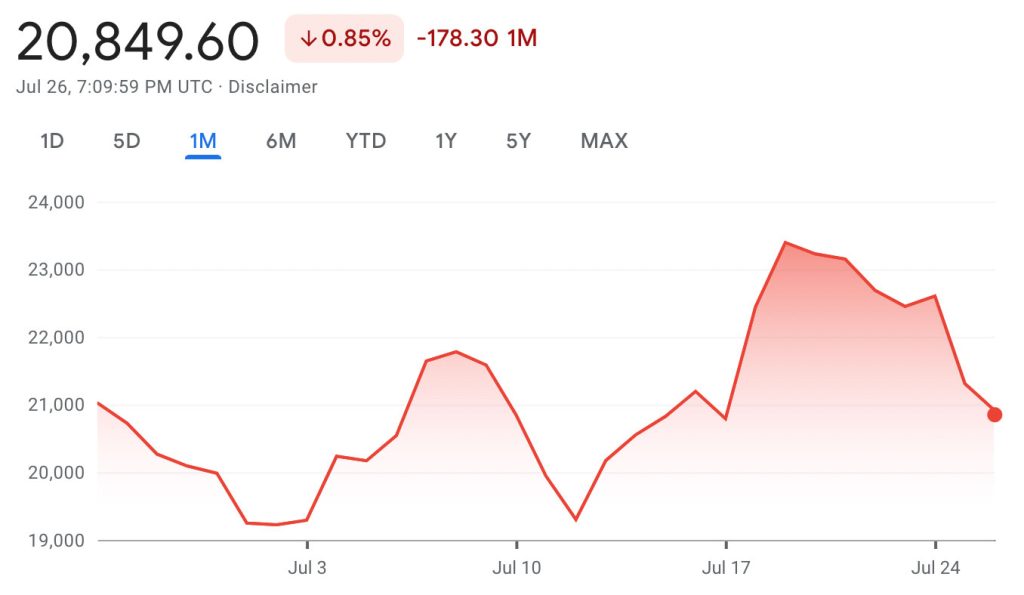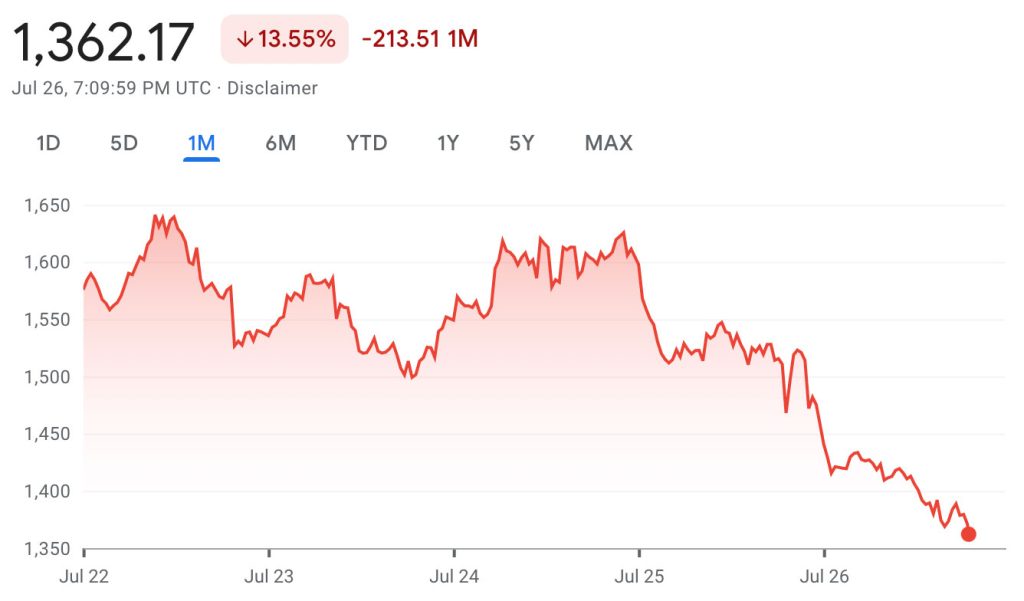 CRYPTO COMMENTARY
After bank earnings have been reported there is a cautious sense of optimism in the markets with some green in the charts for a change. Many investors are waiting for the next CPI (consumer price index) numbers to come out before making any moves. The restless indecision has created some expected choppiness while JP Morgan warns we may not have seen the bottom yet. The cost to mine a single Bitcoin has dropped dramatically from $24,000 to $13,000 and it could lead to a further decline in the crypto's value. The price to mine Bitcoin has fluctuated over time since it is so energy-dependent. At the peak in February 2022 it cost $33,500 to mine a single Bitcoin while the cost is now $18,900, a 43% decrease.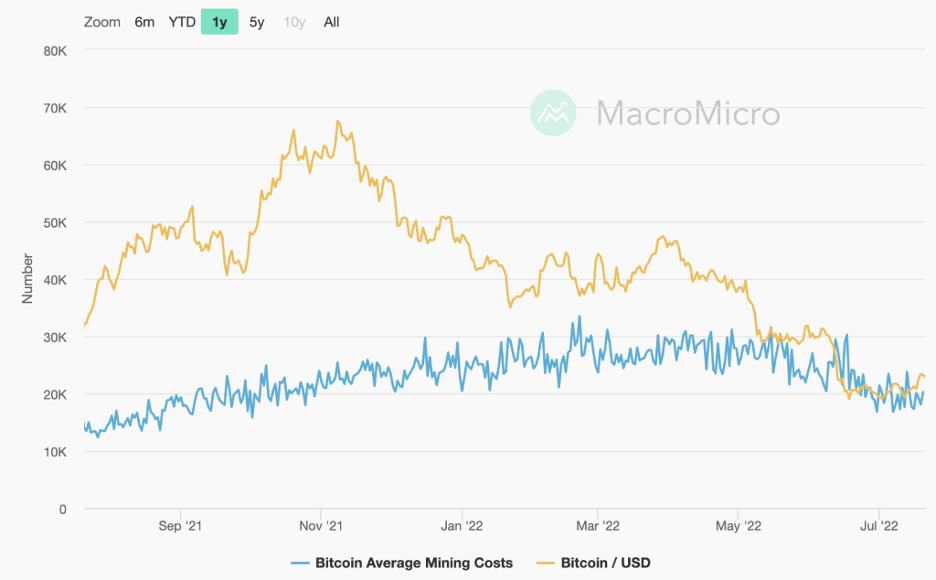 The drama continued in the lending space as bankruptcy filings for 3AC, the crypto hedge fund, revealed that the founders made a down payment on a yacht while ignoring their debts. They owe $3.5 billion to insolvent crypto lenders like Celsius and Voyager. The courts fear that 3ACs assets already may have been liquidated and transferred out of the fund with founders Su Zhu and Kyle Davies off the grid and not responsive.
Many believe this event will lead to more cautious investors, slower adoption and more stringent rules from the government. The coming regulation could create more accountability for the malicious actors and build protections for retail investors similar to the traditional securities markets. It feels like we're moving away from decentralization and more Wall Street, which is a bit of a paradox since that's what crypto was built to avoid, the traditional banking system.
WHAT'S THE BUZZ?
With so many new communities popping up in Web3, we're seeing a new form of management in those communities in the form of DAOs. It's like a corporate structure for decentralized entities.
DAO
DAO stands for Decentralized Autonomous Organization.
It is a structure where token holders take part in the decision making and management of the group.
With no central authority, the power is distributed across the token holders who cast votes on initiatives proposed by the community.
Many organizations place their votes on blockchain where the results can be publicly viewed
Security is crucial for DAOs as any exploit could drain them of their holdings, the most notable being The DAO Hack of 2016 resulting in a $50 million loss.
A great application of this concept is LinksDAO, a group of golf enthusiasts who are building a community around the game with the goal of owning a golf course. Their token release will be helping fund the purchase and members will be voting on where the course will be along with other initiatives to grow their footprint.
NFT BLUE-CHIP COLLECTIONS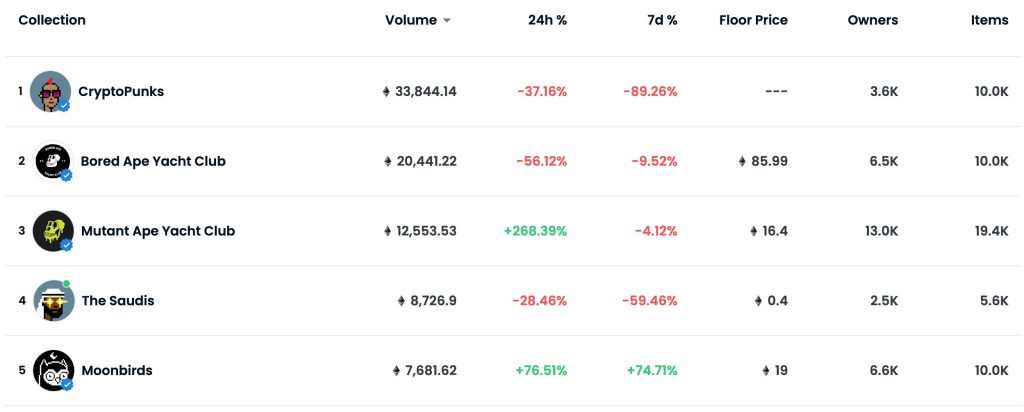 NFT COMMENTARY
With green in the crypto markets comes an uptick in the NFT markets. The speed of the consolidation into blue chip projects has increased with Bored Apes, CryptoPunks, and Art Blocks increasing in both value and volume. Many other projects have been stuck in neutral, with either modest gains or slight declines despite a lift in the cryptocurrency value.
The recent dip has given everyone a renewed perspective on what value is. Some projects didn't survive, and maybe that's a good thing. Collectors are getting pickier with NFTs they're putting money into, and the two biggest drivers are history and utility. If a project doesn't have any cultural significance or doesn't grant access to any meaningful perks, collectors are passing on it.
In a meeting recently, we were asked what we thought about the recent market pullback. We think it was bound to happen after an explosive first year and necessary to bring sky-rocketing expectations back to earth. The amount of building in this space by both artists and other industries is increasing during this market lull, and the technology cannot be ignored at this point. Christie's has launched a new enterprise named Christie's Ventures to engage with early-stage companies in Web3.0 innovation, art-related financial products, and solutions and technologies that enable seamless consumption of art. This is a positive sign and possibly an indicator of more players entering the space.
NFT ARTIST SPOTLIGHT
Tyler Hobbs
The Austin, Texas-based artist behind the iconic Art Blocks Fidenza collection has had creating in his blood from a very young age. He took up painting when he was little with inspiration from Van Gogh and other landscape artists he had seen with the goal of becoming an artist. For pragmatic reasons, Hobbs was persuaded by his dad to study computer programming and got a programming job in his 20s while still creating on the side.
One day he had an idea: "What if I wrote a program that created a painting?" Hobbs went to work on combining his two passions and developed algorithms that would do just that. Tyler was sharing his work on social media and eventually he was getting messages on Twitter about NFTs. The rest is history.

The above chart shows all the volume (vertical bars) this collection has seen in July with the price (blue line) gradually going up. They have seen a recent resurgence in secondary sales as the rest of the Art Blocks collection continues to grow. Fidenzas have become a grail item for many in the collecting space with only 999 of them in existence. Many have placed historical value in this collection since it was one of the first formal Art Blocks releases.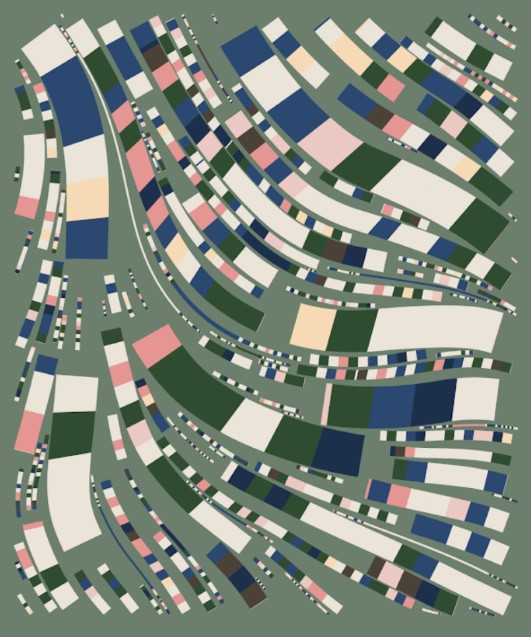 NFT & CRYPTO NEWS
READ PAST ISSUES OF THE SCOOP
Disclaimer
Information in this report is compiled from a number of sources; The Fine Art Group does not make any representation or warranty, express or implied, as to its accuracy or completeness. The Fine Art Group shall not be liable for any errors or inaccuracies in this report or for any actions taken in reliance on information or opinion contained in this report. The Fine Art Group are under no obligation to update or keep current the information provided herein. Information in this report is provided solely for information and marketing purposes and is not to be construed as investment advice or a personal recommendation, nor as legal, tax, regulatory, accounting or any other specialist technical advice. Capital is at risk when buying or selling the types of assets discussed in the report, and any decision to do so is solely at the risk of the buyer or seller. Prior performance is not indicative of future results. Neither The Fine Art Group nor any of its directors, officers, employees, or agents accepts any liability for any loss or damage arising out of the use of all or any part of this document or reliance upon any information contained herein.
The report contains hyperlinks or references to third-party advertising and websites other than The Fine Art Group website. Any such hyperlinks or references are provided for your convenience only. We have no control over third-party advertising or websites and accept no legal responsibility for any content, material or information contained in them. The display of any hyperlink and reference to any third-party advertising or website does not mean that we endorse that third-party's website, products, or services. Your use of a third-party site may be governed by the terms and conditions of that third-party site and is at your own risk.