The Scoop: A Bi-Weekly NFT & Digital Art Newsletter 7
THE SCOOP #7 – August 15th, 2022
In our 7th edition of The Scoop, we cover the stabilizing markets, Blackrock partnering with Coinbase, airdrops, and the conclusion to Damien Hirst's The Currency experiment.
CRYPTO MARKETS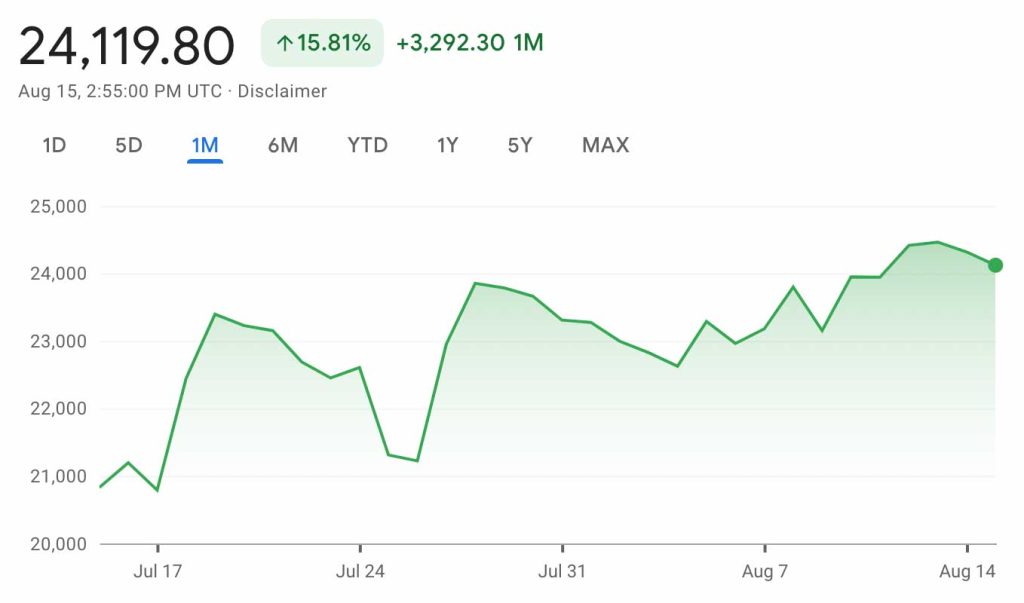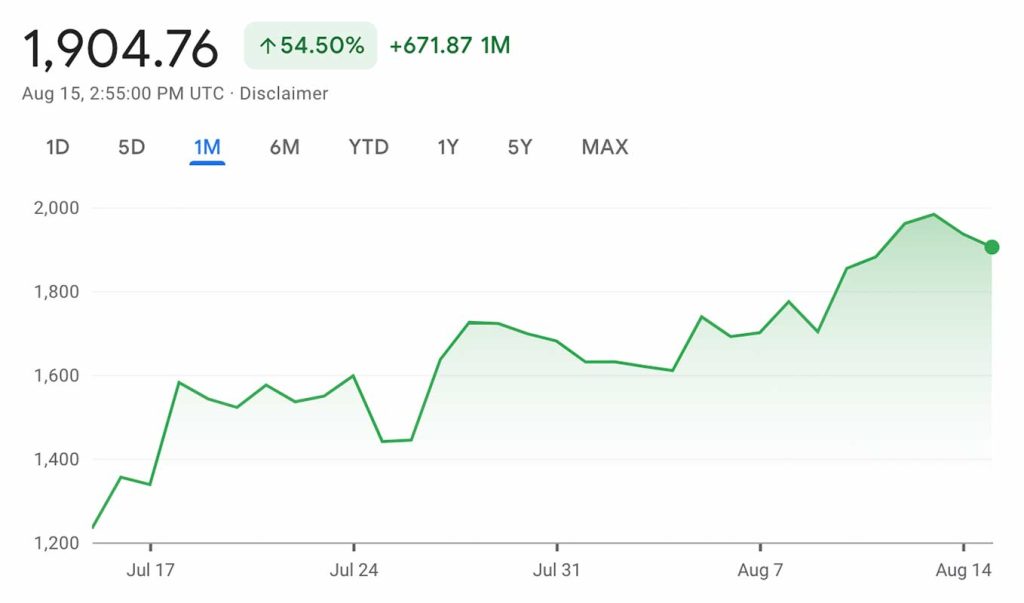 CRYPTO COMMENTARY
With the bounceback in traditional equity markets over the last couple of weeks, Bitcoin and the broader crypto markets have seen some stability while the crowd seems split as to whether the worst is behind us. The flow of bad news and lender defaults has slowed to a trickle, but many seem to have a bad taste in their mouth from the recent market washout.
There is some good news though, as Blackrock and Coinbase have agreed to a partnership that would allow crossover for Blackrock clients to trade and manage crypto in-house. The agreement combines Blackrock's Aladdin service with Coinbase Prime so institutions will have full control of their holdings in one place. The scale that Blackrock brings to this partnership sent Coinbase shares up 44% intraday but closing the day only 10% up.
Amid rising interest rates, geopolitical tension, recession fears and a broader market selloff, this news is a breath of fresh air for a market that was slipping underwater. What this does on a larger scale is show that Wall Street's appetite for crypto adoption is growing. More institutional adoption may be just what crypto needs to grow in price, maturity, and stability. Now that the biggest fund manager in the world is on board, who will be next?
WHAT'S THE BUZZ?
Imagine looking in your wallet one day and finding a new piece of art from one of your favorite creators. How did it get there? An airdrop.
AIRDROP
Airdrops are distributions of NFTs, tokens or cryptocurrency to a Web3 wallet address
Use cases include marketing, additional perks for collectors, or showing proof of attendance
They are often viewed as "dividends" for owning certain NFTs
In many scenarios, creators use this tool to connect with their collectors. For example, devoted collectors of Daniel Arsham's Eroding and Reforming collection on Nifty Gateway will be airdropped an exclusive 11th NFT if they collect all 10 that were released
NFT BLUE-CHIP COLLECTIONS


NFT COMMENTARY
The recent rise in the value of Ethereum has led to a stabilization in floor prices, but we're still seeing slower volume on OpenSea and other major marketplaces. In the next month or so we'll be able to see if this was just everyone on summer break or if this is the new normal.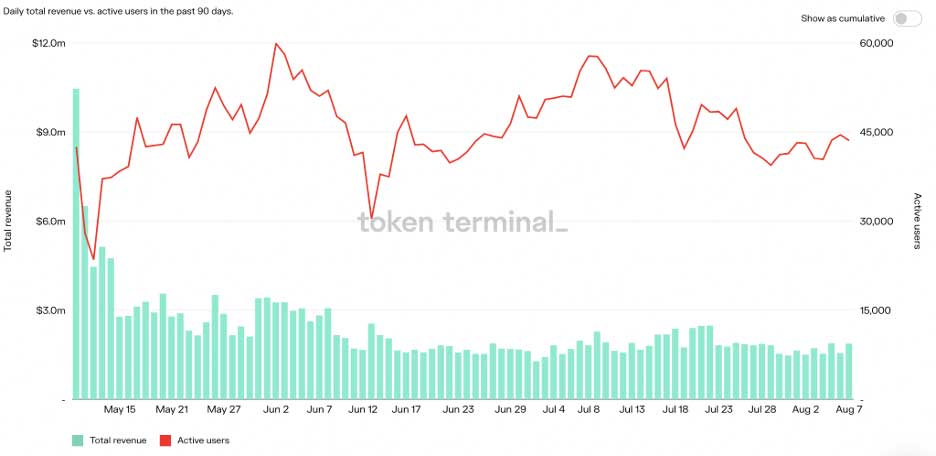 While volumes and values have been treading water not all the metrics have done the same and we are still seeing growth in adoption. The total number of active users was up 2.2% over the last 90 days in a promising sign that this platform is still onboarding new collectors.
In the bigger picture, there have been some conspicuous entries to the NFT market. In the social media world, Meta is working its way towards integrating NFTs into its popular Instagram platform so collectors can show off their pieces and creators can market their work. Major League Baseball is now giving away digital collectibles at their games; ticketholders can claim their NFTs with creative group Candy, introducing a vast audience to Web3. And last but not least, high fashion has jumped into NFT trends with Tiffany's releasing NFTiffs, which are NFTs valued at $50,000 but paired with custom CryptoPunk avatar pendants. There are some differing opinions which Tiffany's will have to contend with, but it doesn't seem like they're planning on backpedaling. Brands will have to watch how they manage their image in a whole new way moving forward.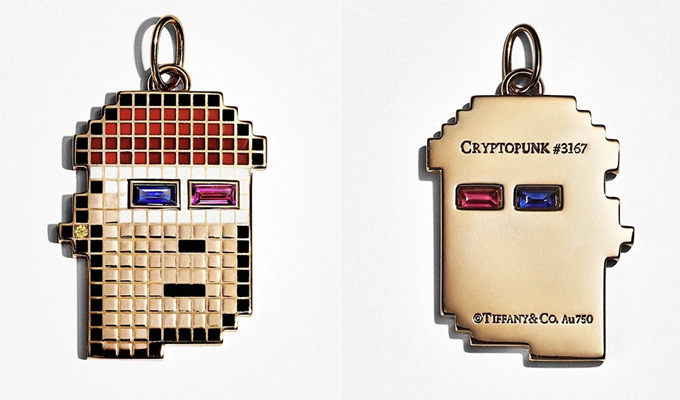 NFT ARTIST SPOTLIGHT
Damien Hirst
He is no stranger to the art world, but he was an early adopter in the NFT world. Damien's experiment has literally caught fire. About a year ago when he released his collection, The Currency, he gave collectors an ultimatum about how they would ultimately get to keep their art. Each NFT was matched to a physical piece and at the end of the first year they had to decide which they would keep: the physical piece or the NFT. The one not chosen would be burned.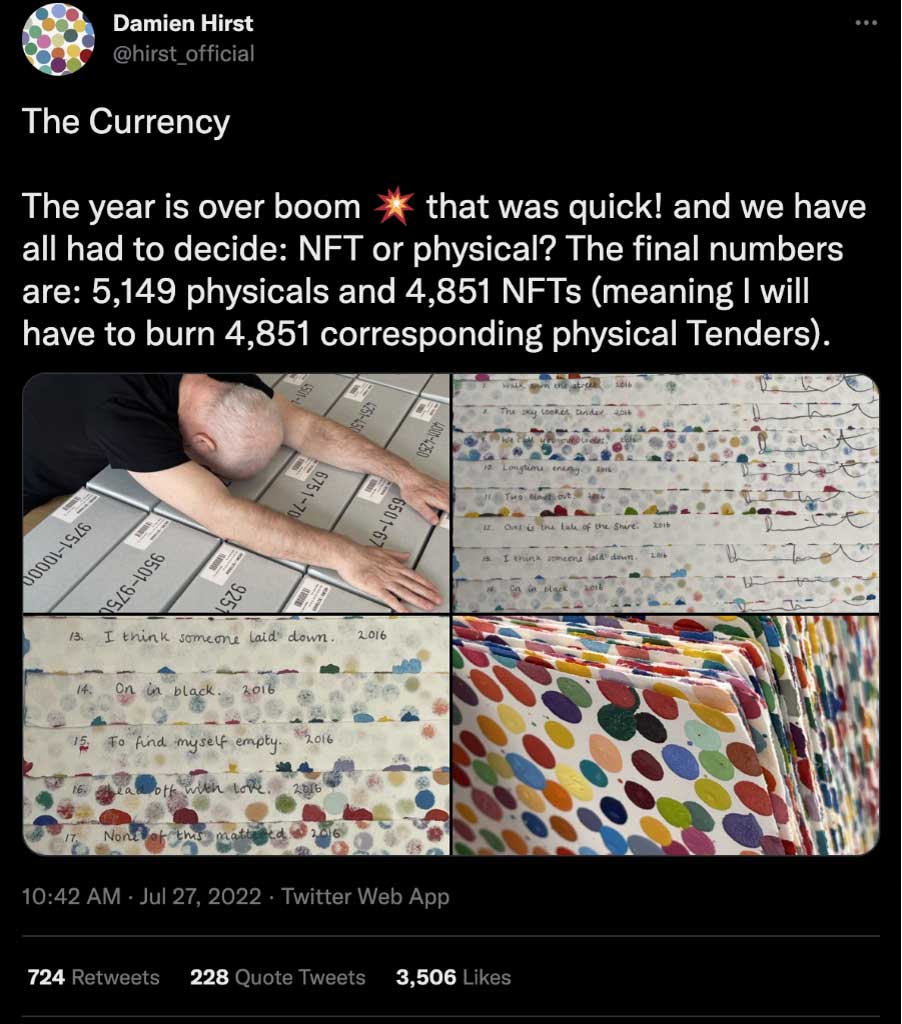 It was not a surprise to the art world that the physical pieces were preferred, but what did raise an eyebrow was how slim the margin was. It wasn't as lopsided as many expected — 51% chose the physical pieces and 49% picked the NFTs. Perhaps the most difficult decision was for the artist himself. He had to make a choice on his 1,000 pieces and opted for the NFTs on all of them. He churned on the decision for quite some time but laid it all out in a Twitter thread on how keeping them as NFTs would be the next logical step, saying he has "no idea what the future holds, whether the NFTs or physicals are going to be more valuable or less. But that is art! the fun, part of the journey and maybe the point of the whole project. Even after one year, I feel the journey is just beginning." We're with you Damien.

NFT & CRYPTO NEWS
READ PAST ISSUES OF THE SCOOP
Disclaimer
Information in this report is compiled from a number of sources; The Fine Art Group does not make any representation or warranty, express or implied, as to its accuracy or completeness. The Fine Art Group shall not be liable for any errors or inaccuracies in this report or for any actions taken in reliance on information or opinion contained in this report. The Fine Art Group are under no obligation to update or keep current the information provided herein. Information in this report is provided solely for information and marketing purposes and is not to be construed as investment advice or a personal recommendation, nor as legal, tax, regulatory, accounting or any other specialist technical advice. Capital is at risk when buying or selling the types of assets discussed in the report, and any decision to do so is solely at the risk of the buyer or seller. Prior performance is not indicative of future results. Neither The Fine Art Group nor any of its directors, officers, employees, or agents accepts any liability for any loss or damage arising out of the use of all or any part of this document or reliance upon any information contained herein.
The report contains hyperlinks or references to third-party advertising and websites other than The Fine Art Group website. Any such hyperlinks or references are provided for your convenience only. We have no control over third-party advertising or websites and accept no legal responsibility for any content, material or information contained in them. The display of any hyperlink and reference to any third-party advertising or website does not mean that we endorse that third-party's website, products, or services. Your use of a third-party site may be governed by the terms and conditions of that third-party site and is at your own risk.