The Scoop: The Next Generation Collector #14
Written by Zhanna Ter-Zakaryan, Associate, Art Advisory; Luke Jacobs, Collections & Inventory Services Associate; Charles Curtis, Wine Specialist & Advisor; Greg Adams, Digital Assets Consultant
---
THE SCOOP: #14 – June 29th, 2023
Our experts delve into the allure of the collectible whiskey market and its appeal to the next generation of collectors. We then focus on highlighting rising LGBTQIA+ artists and exploring their contributions to the art world. Finally, we provide an update on the exciting NBA NFT collectibles market, where traditional sports card collectors are venturing into the digital asset marketplace.

Whether working with a first-time buyer or an experienced collector, we support our clients across all aspects of the acquisition process. If you are seeking assistance with your collections, please contact our Advisory team.
COLLECTIBLE WHISK(E)Y
BY CHARLES CURTIS
Distilled spirits are among the hottest categories of collectibles, and whisky (or whiskey) leads the pack. To clear up the matter of spelling, it is generally the case that Scottish producers will spell their spirit 'whisky,' and American and Irish distillers will usually spell it 'whiskey.' However, this is not universally the case. With the proliferation of high-end labels, collectors interested in exposure to this market are spoiled for choice. However, a bit of background is in order since not all whiskey is created equal.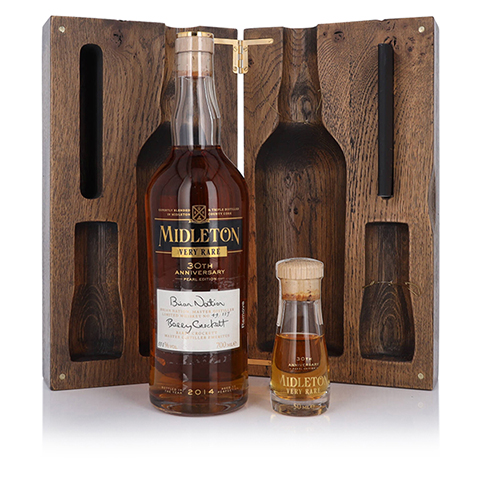 WHAT MAKES A WHISKEY WORTH COLLECTING?
Whisky is commonly purchased for consumption. To be considered collectible, a whiskey must have a viable secondary market. This presents a difficulty for U.S.-based collectors since alcohol is tightly regulated in the United States, distilled spirits even more so than wine. Despite this inconvenience, the collectible market continues to boom. On May 11th, Sotheby's New York presented 'The Legacy Collection', a single-owner sale of 142 lots that is expected to garner between $1.4 and $1.9 million. The results suggest that collectors will pay up for the bottles they need, while there will be room for new collectors to get in at a reasonable price point. While the 53-year-old Macallan distilled in 1948 and a 40-year-old distilled in 1939 made $40,000 per bottle with premium or more, other similar whiskies did not sell. Sotheby's regularly auctions spirits, as does independent wine and spirits specialist Acker, whose recent 'Distilled' sale was on May 31st. Most U.S.-based collectors still try to assemble a collection by buying bottles on release. To succeed at this strategy, knowing which bottles are most sought-after is necessary.
The largest share of the collectible market goes to Scotch whisky. Although there are today 143 distilleries operating in Scotland, not all of these produce collectible spirits. The Scotch whisky with the most brand visibility is certainly Macallan. The world record for the most expensive bottle ever sold is for the 1926 Macallan, sold at auction by Sotheby's London in October of 2019 for £1.5 million. Other collectible Scotch whisky brands include Port Ellen, Brora, Ardbeg, Bowmore, and Springbank. Quality is a factor, but in the world of whisky, scarcity drives prices even greater than in other categories. The 1926 Macallan was one of 40 bottles produced, while Port Ellen and Brora are examples of distilleries that have closed, known as 'silent stills.'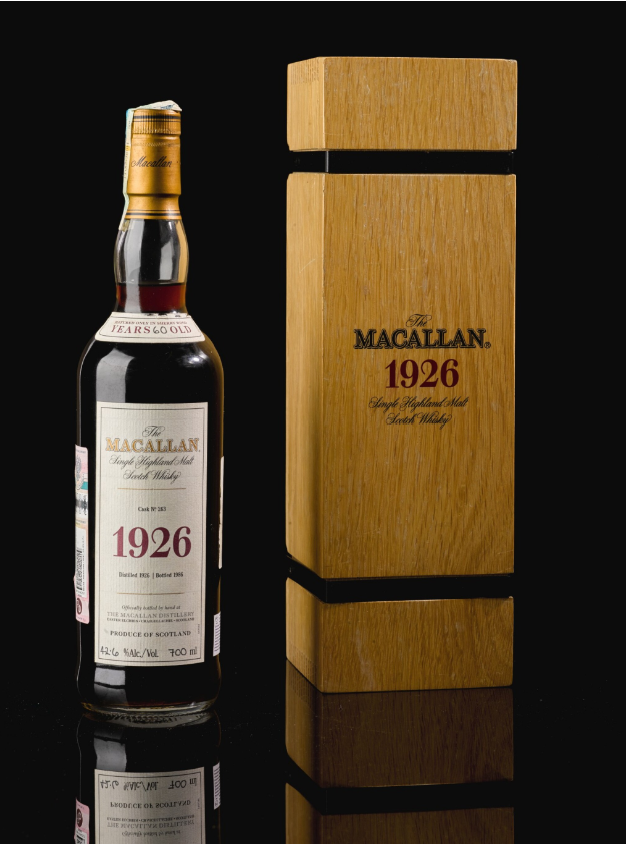 According to the Scotch Whisky Association, exports totaled £6.2bn in 2022 and reached 180 countries worldwide. However, the combined impact of Brexit and global economic and political instability have disrupted the secondary market for rare whisky, occasioning a correction of nearly 20% across all types in the past twelve months, according to Whiskystats.com. This website was established by Johannes Moosbrugger in the Netherlands, whose index demonstrated an increase of +191.27% since inception (January 2013) after considering the recent market correction.
The Scots sell more whisky than the American and Japanese distillers combined, but these categories are also very collectible. Worldwide, Japanese whisky is also a dominant force. Brands like Karuizawa, Yamakazi, and Hanyu are the stuff of dreams for initiates of collectible whisky. The most expensive bottle of Japanese whisky is the Yamakazi 55-year-old, which sold for HK$ 6.2 million ($795,000) in August 2020.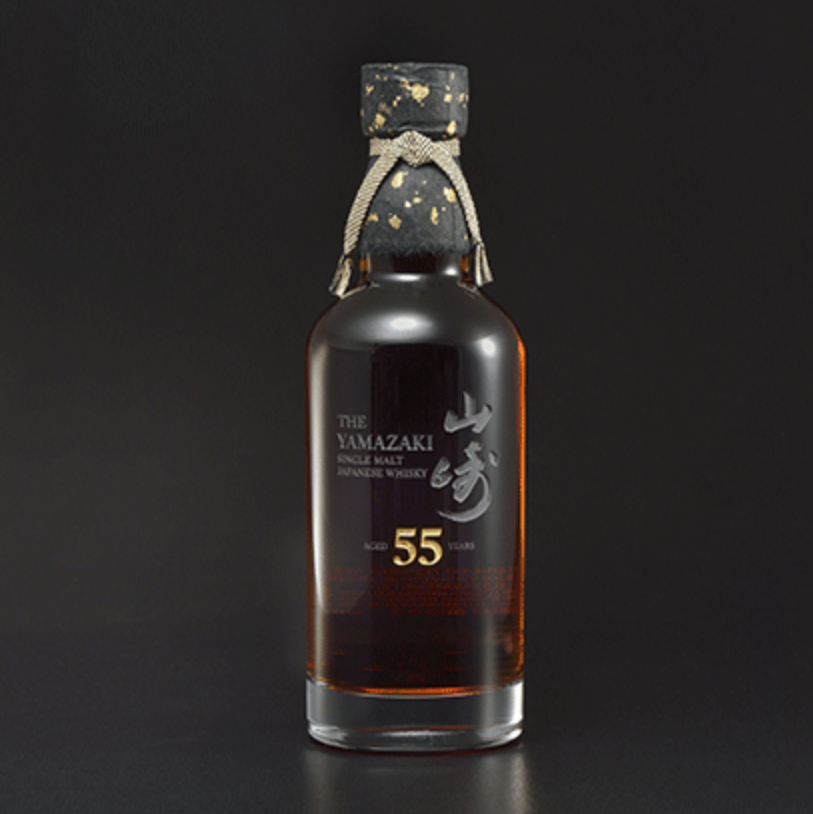 AMERICAN WHISKEY & YOUNG COLLECTORS
American whiskey also has its admirers. Perhaps the most sought-after brand is Pappy Van Winkle. Sotheby's New York sold a bottle in December 2022 for $52,000, an astonishing 17 times more than its presale estimate. In March of 2022, the house conducted a sale exclusively dedicated to American whiskey, which sold for a combined $1.6 million. Sotheby's noted that the category appeals to a youthful demographic, with more than 40% of the buyers under 40 years of age. Other brands of collectible American whiskey include Colonel E.H. Taylor, Michters, Eagle Rare, A.H. Hirsch, and Willett Family. Of particular note is the annually-released Buffalo Trace Antique Collection, which includes George T. Stagg, Sazerac 18 Rye, William Larue Weller, Eagle Rare 17, and Thomas H. Handy.
The database Whiskystats.com was established by Johannes Moosbrugger in the Netherlands. This index demonstrated an increase of +191.27% since inception (January 2013) after taking into account the market correction of -18.03% in the past twelve months.
---
CELEBRATING PRIDE: 5 YOUNG CONTEMPORARY LGBTQIA+ ARTISTS
BY ZHANNA TER-ZAKARYAN AND LUKE JACOBS
As our world and culture continue to evolve, artists in the LGBTQIA+ community are finding more acceptance than ever within the art world when it comes to expressing their identities and cultures. In celebration of Pride Month, below we spotlight five young LGBTQIA+ artists pushing the contemporary art world forward. By exploring their practices, this edition of The Scoop aims to highlight these artists' professional achievements and their art historical contributions, both in the LGBTQIA+ community and the art world as a whole.
DORON LANGBERG
Radiant in color and quite often monumental in scale, Doron Langberg's (b. 1985) paintings explore serenity, intimacy, and closeness. The portraits of his friends and lovers, their bodies often intertwined amongst themselves and with the surrounding landscapes, are conceived directly from life and are often painted en plein air. For the artist, the sense of a 'living person' and a lived experience in his paintings is essential. In a way, Langberg consistently blurs the line between abstraction and figuration, as his portraits are dissolved within their surroundings, evoking a sense of closeness and queer sensuality. As the artist puts it, "Queerness for me is not just a sexual experience, but a way of being in the world which affects every aspect of my life. Using intense colors and different paint textures and marks to create these everyday scenes, I want to connect with a viewer by speaking to our most basic commonalities – our bodies, our relationships, our interiority – rather than the social categories that may separate us."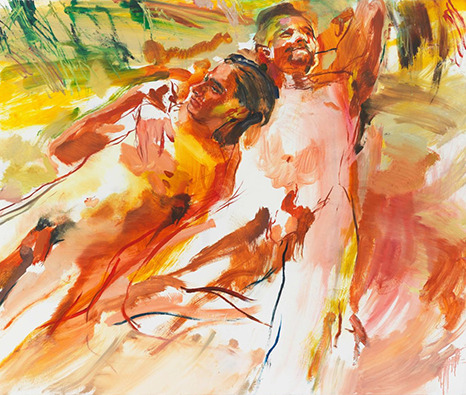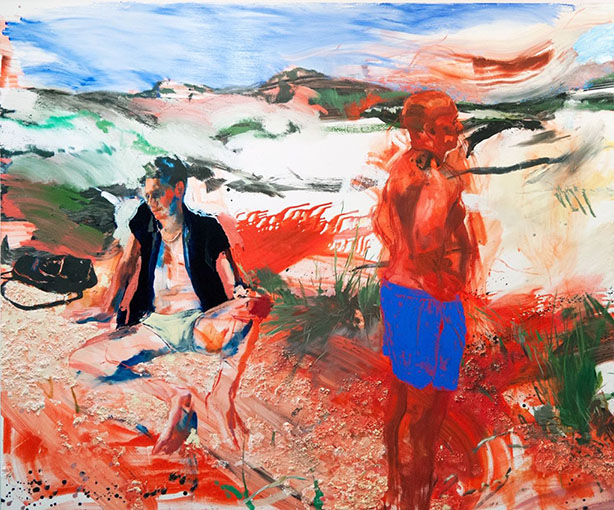 Doron Langberg currently works and lives in Brooklyn and was born in Yokneam Moshava, Israel, in 1985. The artist received his MFA from the Yale University School of Art and his BFA from the University of Pennsylvania. His works are currently on view at Rubell Museum in Miami (through November 2023), and previous group exhibitions included the Institute of Contemporary Art in Boston, the Institute of Contemporary Art, Miami, and RISD Museum, Rhode Island, among others. Langberg held his first solo exhibition at Victoria Miro in London in 2021 and is represented by the gallery.
SALMAN TOOR
Langberg's contemporary and friend Salman Toor (b. 1983) focuses on the representation of day-to-day moments of queer men within cosmopolitan and domestic settings. The artist's subjects, often engaged in routine activities, are fictional in nature but are meant to be versions of himself, his friends, and loved ones. As Toor places them in these mundane environments, he deals with the complex, multi-layered idea of what it means to be queer in society while also playing on how relatable these depictions might seem to the viewer. The rich brushstrokes pay homage to the Dutch masters, and the vibrant color palettes evoke a sense of ambiguity, vulnerability, and even anxiety, as the environments depicted by Toor may or may not be welcoming.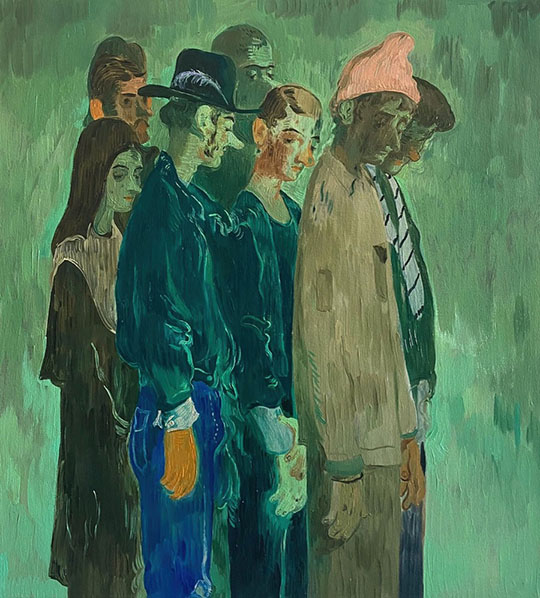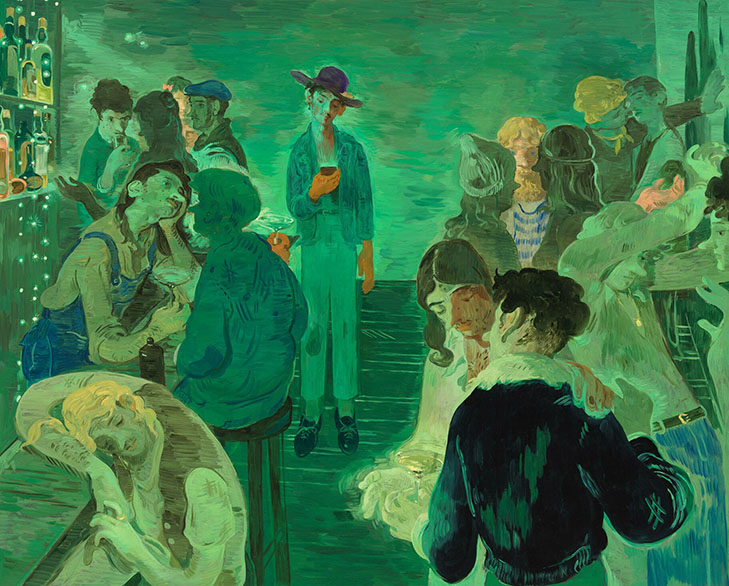 Born in Lahore, Pakistan, in 1983, Toor lives and works in Brooklyn. He studied painting and drawing at Ohio Wesleyan University and received his MFA from Pratt Institute in New York. Toor's solo exhibition, originally on view at the Baltimore Museum of Art in 2022, is currently at the Tampa Museum of Art in Florida (through June 2023). Other solo exhibitions include the Whitney Museum of American Art, New York (2020-1), and at Luhring Augustine Gallery, New York (2021), which also represents the artist. Toor's works have appeared in various public collections, including the Frick Madison, New York, and the Hayward Gallery, London.
RF. ALVAREZ
The notion of home is ever-changing, and for RF. Alvarez (b. 1988), this includes the physical environments, people, memories, and experiences through which this concept of belonging is perceived. Alvarez's paintings depict safe and intimate spaces the artist has created with his husband and loved ones — environments that allow one's identity and sexuality to be celebrated and fluid. Often placed in nocturnal and enigmatic settings, the figures are captured in fleeting moments, be it an intimate embrace at a large dinner party or a glimpse of the artist's husband waking in the morning. The concept of home and belonging not being tied to a physical place goes beyond these shared moments as the artist explores his experience as a queer man of Mexican and Texan heritage. As Alvarez puts it, "A lot of my work is about the fallacy of the cowboy figure and its paper-thin vulnerability."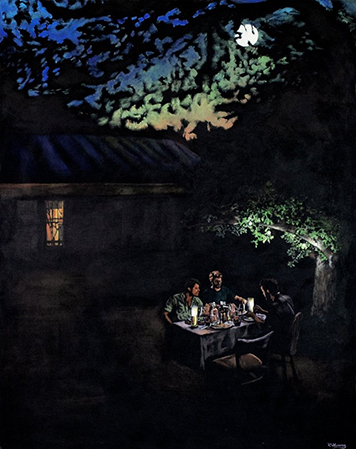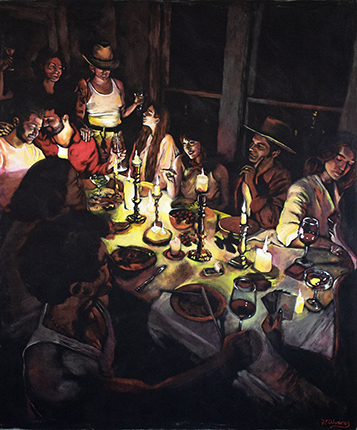 RF. Alvarez was born in San Antonio, Texas, and currently lives and works in Austin, Texas. He received his BA from Wesleyan University in Connecticut and has held exhibitions at Alanna Miller Gallery, New York, Taymour Grahne Projects, London, and Ruiz Healy Gallery, San Antonio. Alvarez is represented by Alanna Miller Gallery in New York.
MICHAELA YEARWOOD-DAN
The work of Michaela Yearwood-Dan (b. 1994) aims to build spaces for the queer community, creating a sense of bliss and abundance. Community building and access are crucial components in her work: last year, she made a public mural installation for Queercircle, London, an LGBTQIA+-led charity, working at the intersection of arts, culture, and social action. Her lush paintings, works on paper, and ceramics build on her own personal narrative and reflect on the multitude of her influences, including Blackness, queerness, femininity, poetry, and Carnival culture in the context of her West-Indian heritage. Yearwood-Dan's monumental paintings with abstract forms, heavy brushstrokes, and lyrical texts that blend with the thick paint go beyond clichés of representation, often giving an inviting feeling of home. The artist's rich color palette has both personal and symbolic associations, as the bright hues echo the lesbian and bisexual pride flags, while her lyrical inscriptions on the thick brushes of paint create a sense of meditation, familiarity, and closeness with the viewer.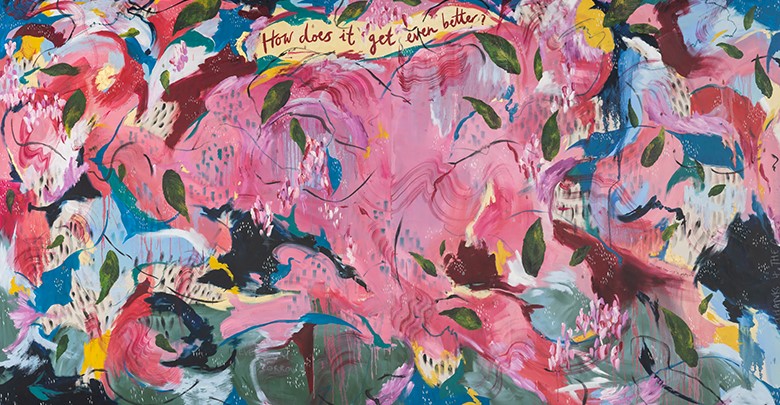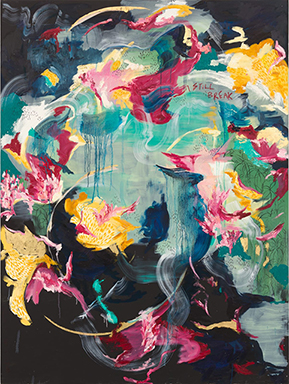 Yearwood-Dan attended the University of Brighton, where she received a BFA in painting in 2016. She recently closed a show at the Green Family Art Foundation in Dallas called Considering Female Abstractions, now on view at the Contemporary Arts Center in Cincinnati (through August 6th, 2023). Her work is in the permanent collections of the Hirshhorn Museum and Sculpture Garden, Washington, D.C., Institute of Contemporary Art Miami, and the Jorge M. Perez Collection, Miami, among others. She recently held a solo exhibition at Marianne Boesky Gallery in New York and is represented by the gallery.
KYLE DUNN
In his sensuous, intimate, and psychologically dense paintings, Kyle Dunn (b. 1990) reflects on queerness from an inward perspective as well as on its outward projection. Drawing inspiration from his own life and sources such as vintage gay photography, Greek antiquity, and film stills, the artist explores the dynamics of gay relationships not often represented in visual culture, along with gender roles and social expectations. Dunn's figures include sculpted elements: made with plaster and foam, these relief paintings carry autobiographical and, at the same time, fictional accounts as they respond to social and even private expectations of masculinity. These sculptural elements, as well as Dunn's intentional placement of his subjects often facing away from the viewer, create a sense of ambiguity: these intimate environments may evoke both peace and claustrophobia.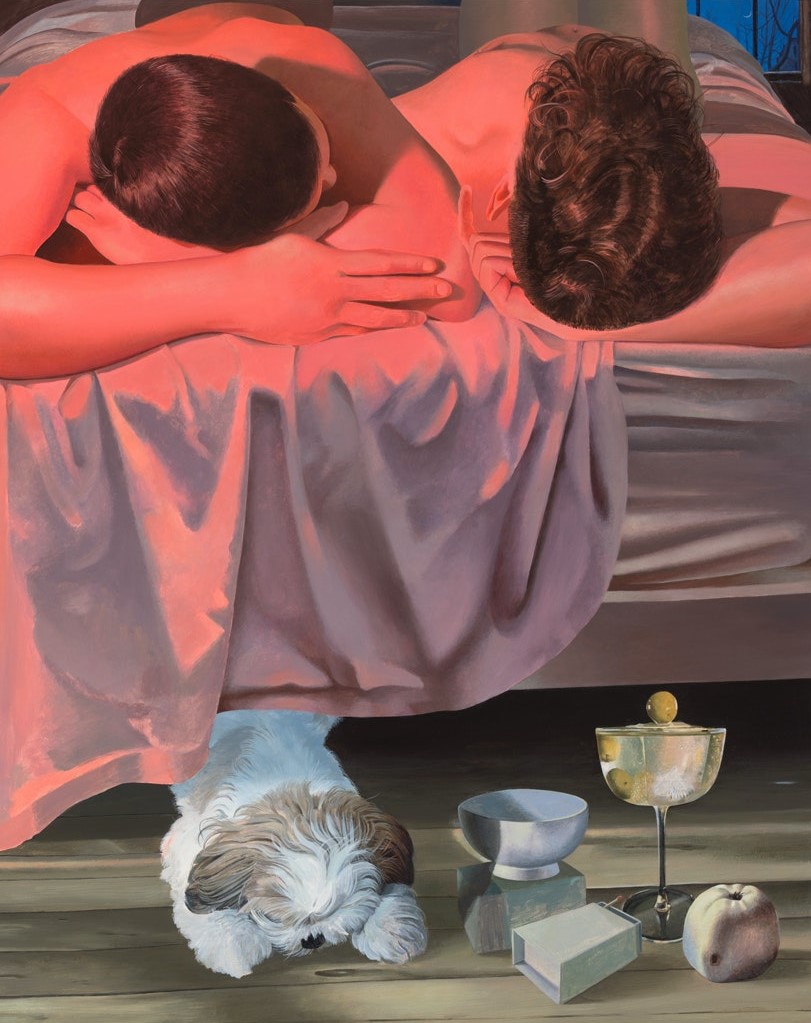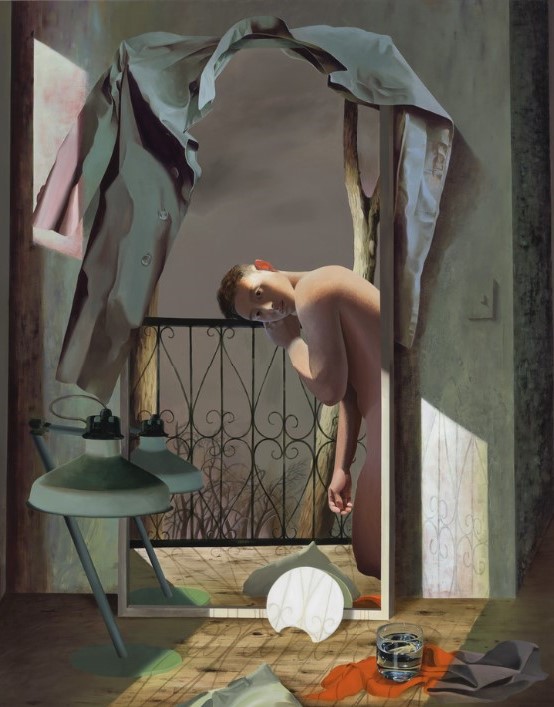 The sculptural elements of Dunn's paintings reflect the artist's study of Interdisciplinary Sculpture during his 2012 BFA at the Maryland Institute College of Art, Baltimore. He recently had a solo exhibition at P·P·O·W, New York, and is represented by the gallery. His work is in the collections of the Institute of Contemporary Art, Miami, the Sunpride Foundation, Hong Kong, and X Museum, Beijing.
---
NFT MARKET UPDATE
BY GREG ADAMS
NBA COLLECTIBLES MEETS NFTS
The world of NBA collectibles has expanded into the digital realm with the emergence of Non-Fungible Tokens (NFTs). These unique digital assets have revolutionized the way fans engage with and collect basketball memorabilia. After the recent 2023 NBA playoffs, we want to take a look at the new wave of NBA collectors. NBA Top Shot is an NFT platform that allows users to collect, trade, and showcase digital NBA collectibles as NFTs. NBA Top Shot NFTs are unique digital assets representing a specific moment in time during an NBA game, such as a game-winning shot or a memorable dunk. Each NFT is licensed by the NBA and the NBA Player's Association and verified on the FLOW blockchain, ensuring its authenticity and scarcity.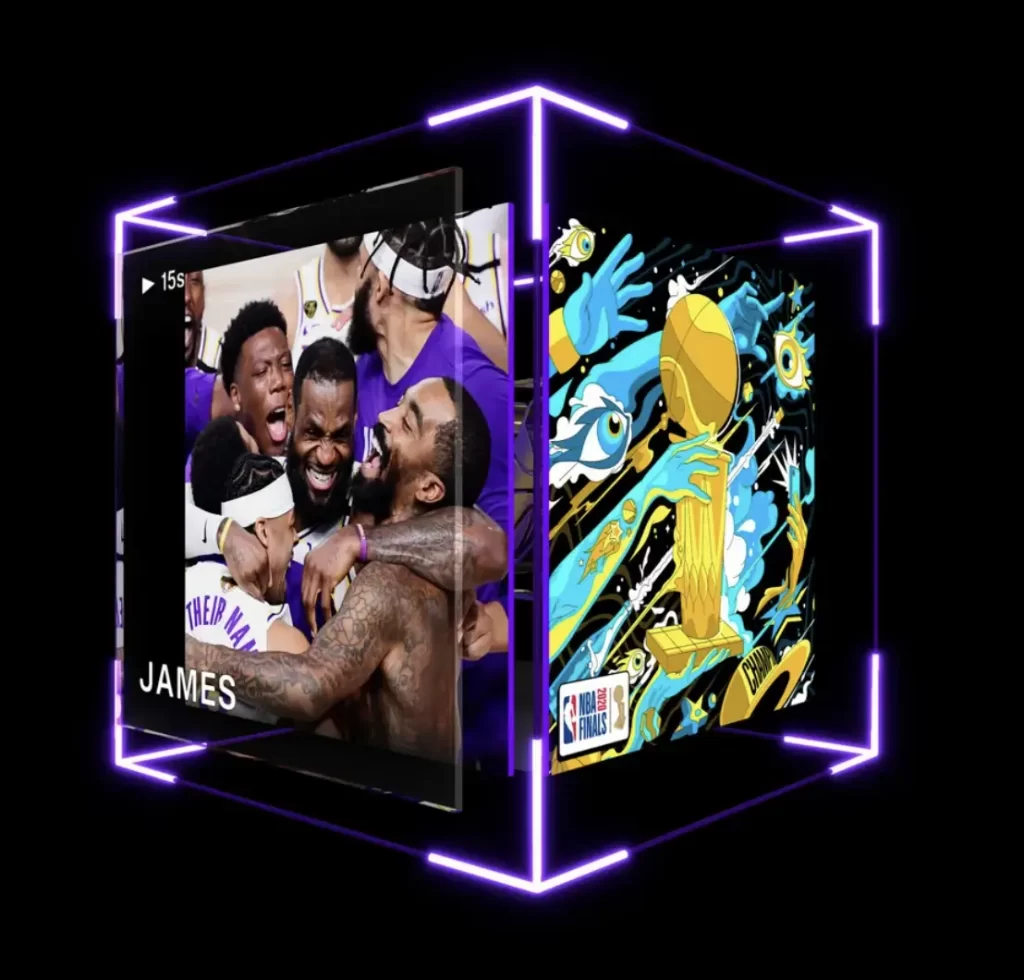 The popularity of NBA Top Shot has multiplied since its launch in October 2020, with some NFTs selling for hundreds of thousands of dollars. The platform has attracted a wide range of collectors, including NBA fans, crypto enthusiasts, and investors. Many are former basketball card collectors and have transitioned to the new technology. NBA players have also shown interest in the platform, with some creating their own NFTs and partnering with NBA Top Shot to release exclusive collections.
NBA Top Shot has created a new type of collecting culture, where ownership and scarcity of digital assets have become highly valuable. The platform has also sparked discussions about the future of NFTs and their potential to disrupt traditional forms of art and collectibles. While the market for NBA Top Shot NFTs remains volatile, it has become a significant player in the growing NFT ecosystem.
NFT NYC 2023
The event this year was seemingly subdued as crypto winter kept a cold grip on the market. No Radio City Music Hall, no long lines, no huge sales, and far fewer community get togethers that seemed to be the highlight of 2022. It was a different mood for many that were in attendance, less celebratory but far more resilient.
Nonetheless, the culture was still very much alive. LTD.INC showcased a new way to use NFT technology as Wrangler teamed up with artist Jeremy Booth to create a custom "Western Art Dept" black denim jacket. The jacket had Jeremy's art and an NFC (near field communication) chip that let anyone the artist met during the week scan his sleeve to receive a "proof of friendship" POAP with his art on it. The jacket was also paired with a token that verified ownership and authenticity. This particular practice may become more commonplace with luxury brands in the future as well for ease of tracking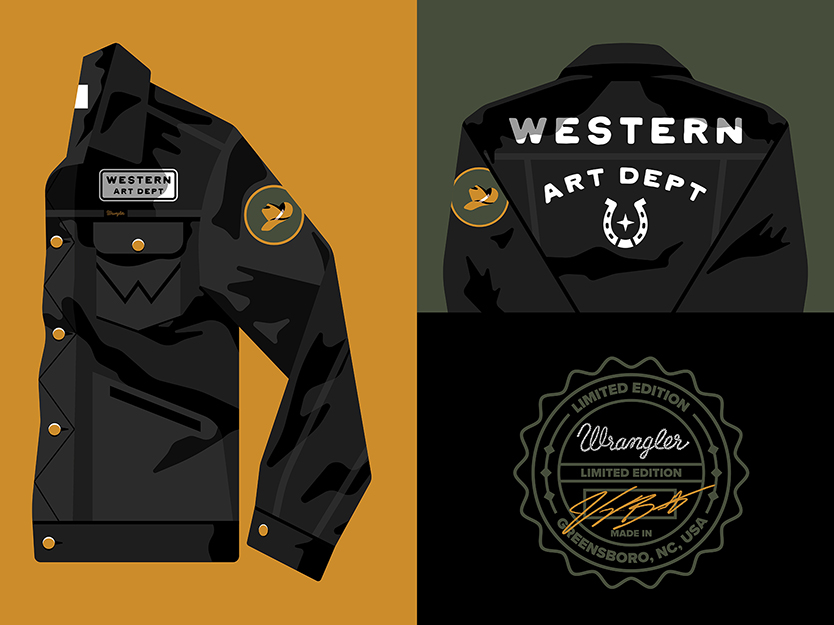 Another highlight was a scavenger hunt around the city hosted by collector and influencer G Money and his Web3 company, 9dcc. Over three days, participants had to hit places around New York City to collect POAPs (Proof of attendance protocols) to complete the challenge. At the first stop, they were treated to baseball caps, which became ubiquitous with the event, and for those that finished, there was a chance at winning a Chromie Squiggle as a prize. Overall a unique way to provide a social and marketable event using the core NFT technology.
Christie's hosted the Next Wave: New York Edit auction on their Christie's 3.0 platform, ending with selling 16 lots. It was a mixed batch as far as meeting price expectations, with a total of 135.5311 Eth (~$253,000) spent on the sale.
While it was hard to compare to last year, this year's conference was nothing to scoff at. Enthusiasts, collectors, and builders are pushing this technology further, and the applications continue growing.
*All images courtesy the artists and the respective galleries.
READ PAST ISSUES OF THE SCOOP
OUR SERVICES
From our advisors' strategic insight and clear guidance to our market-leading art finance and sales agency services, we help our clients build their collection, secure their investments and appraise their assets to realize their true value.
Disclaimer
Information in this report is compiled from a number of sources; The Fine Art Group does not make any representation or warranty, express or implied, as to its accuracy or completeness. The Fine Art Group shall not be liable for any errors or inaccuracies in this report or for any actions taken in reliance on information or opinion contained in this report. The Fine Art Group are under no obligation to update or keep current the information provided herein. Information in this report is provided solely for information and marketing purposes and is not to be construed as investment advice or a personal recommendation, nor as legal, tax, regulatory, accounting or any other specialist technical advice. Capital is at risk when buying or selling the types of assets discussed in the report, and any decision to do so is solely at the risk of the buyer or seller. Prior performance is not indicative of future results. Neither The Fine Art Group nor any of its directors, officers, employees, or agents accepts any liability for any loss or damage arising out of the use of all or any part of this document or reliance upon any information contained herein.
The report contains hyperlinks or references to third-party advertising and websites other than The Fine Art Group website. Any such hyperlinks or references are provided for your convenience only. We have no control over third-party advertising or websites and accept no legal responsibility for any content, material or information contained in them. The display of any hyperlink and reference to any third-party advertising or website does not mean that we endorse that third-party's website, products, or services. Your use of a third-party site may be governed by the terms and conditions of that third-party site and is at your own risk.