Originally published on Tiger21.com, September 2, 2022
---
Market Insights for Fine Art Investment
Spring Art Market Recap: Top Sellers, Auction Records and Trends for the Future
While you might expect that Covid's impact and an increase in inflation would deter art buyers at auction, Spring 2022 auctions in New York City demonstrated just the opposite.
With around $2.5 billion worth of art sold in the span of two weeks, the widely anticipated New York May Marquee Sales wrapped up the spring season, achieving new auction records and concluding the first half of 2022 at their highest level ever. Of the total sales, Post-War and Contemporary art accounted for 48.8%, while Impressionist and Modern art comprised 51.2%.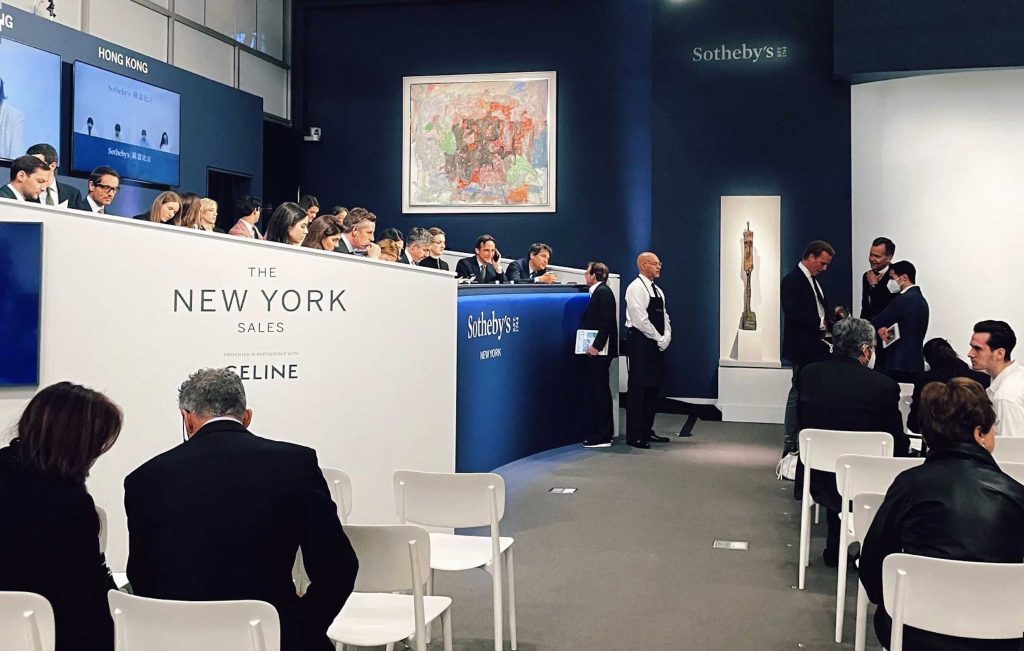 The Boost of the Season: Single-Owner Collections
The sales included major single-owner collections, which accounted for 38.5% of the total evening Marquee Sales, and raised a total of $795.3 million. Included were The Ammann Collection with landmark Post-War and Contemporary pieces; the Bass Collection of leading 19th– and 20th-century artworks by Claude Monet, Edgar Degas, and Mark Rothko, among others; and the Macklowe Collection, which became the most valuable single-owner collection ever sold at auction. The collection of Rosalind Gersten Jacobs and Melvin Jacobs showcased works from Dada and Surrealist movements.
New York Art Auction Records
Despite a backdrop of economic and political uncertainties, the evening sales set new auction records and strong sell-through rates. The headlining work from the Ammann Collection, Andy Warhol's Shot Sage Blue Marilyn (1964), sold for $195 million with buyer's premium[1], becoming the most expensive 20th-century artwork ever sold at auction, while Man Ray's Le Violon d'Ingres (1924) achieved $12.4 million with premium, setting a record for the most expensive photograph sold.
Phillips had the most successful sale in its history. The sale was mainly driven by the 1982 Untitled by Jean-Michel Basquiat, which reached $85 million with premium, becoming the most expensive artwork ever sold at Phillips. The Marquee Sales set numerous artist records and saw a continuous rise in prices for artworks by young contemporary artists. Separate evening sales were dedicated to 21st-century art with works by female artists making up more than half of the lots.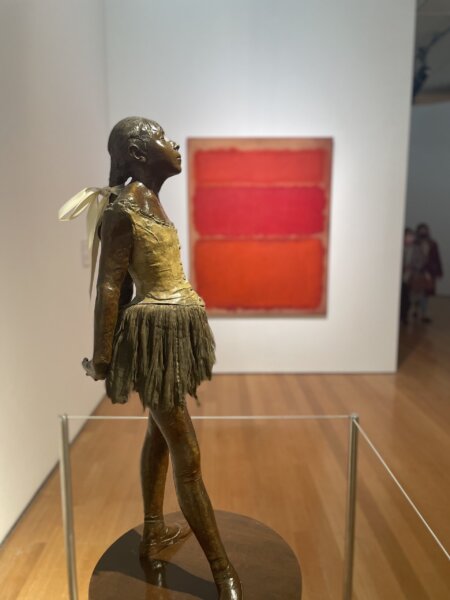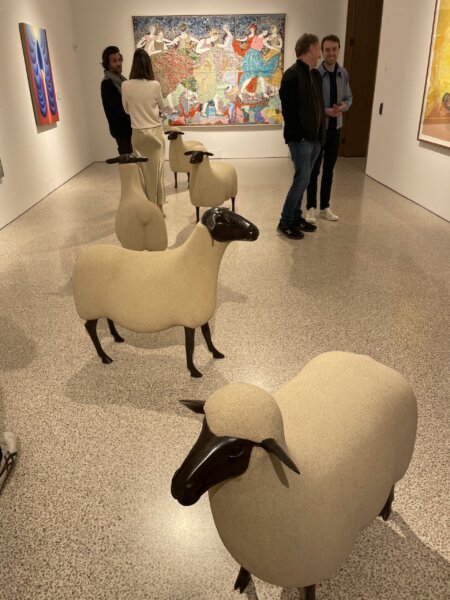 Fine Art Investment: Looking Ahead
With a strong start in the first half of 2022, the auction market is preparing for the upcoming fall months. There will be a number of important single-owner collections available, including the Paul G. Allen Collection and the Ann & Gordon Getty Collection at Christie's. Together with Frieze London in October and Art Basel Miami in December, the art market is expected to see a busy fall season.
As advisors to many collectors who are looking to invest in fine arts and acquire art as an asset, we feel that continuing to collect during periods of uncertainty may present advantages. With a potential recession in the coming months and various economic and political factors currently strengthening the U.S. dollar across Europe and the UK, an increased focus on asset acquisition might be expected, particularly in the art world.
FURTHER READING
[1]In addition to the winning bid for a lot at auction, known as the hammer price, auction houses charge buyers an additional fee known as a buyer's premium, which is calculated as a percentage of the hammer price. Source
2022 Jewelry Market Report to Date
​​The two sale seasons at auction for significant jewels occur in the May/June time frame and in December, selling across sale rooms in Geneva, Hong Kong, and New York. Several important stones sold at auction in the first half of 2022, the most valuable of which was the "De Beers Blue" which sold for $57.4 million at Sotheby's, Hong Kong. It was the largest vivid blue diamond to sell at auction and one of the highest prices ever paid for a diamond at auction.
An analysis of the significant jewelry sales at auction so far this year show three areas of strength: colored diamonds, pieces by established luxury makers such as Harry Winston and Cartier, and strong value appreciation of specimen stones such as the paraiba tourmaline and spinel.
SOME KEY TAKEAWAYS
The global jewelry market has an upwards trend, with an anticipated CAGR of 15.39% by 2026, with 29% of growth within North America.​.
Unusual specimen stones such as paraiba tourmalines and spinels have seen increased interest and appreciation on the market due to demand from Asia.
TOP FIVE SOLD​ JEWELRY PIECES IN 2022 TO DATE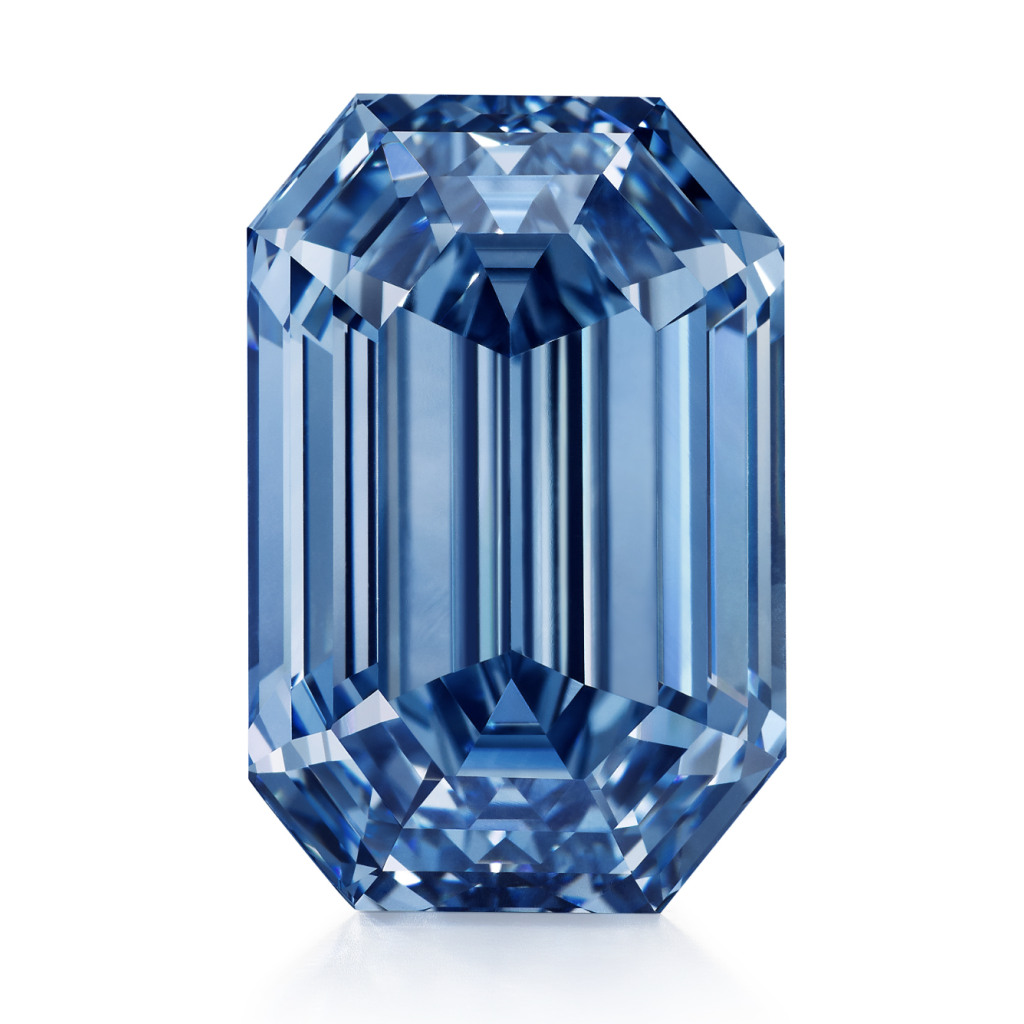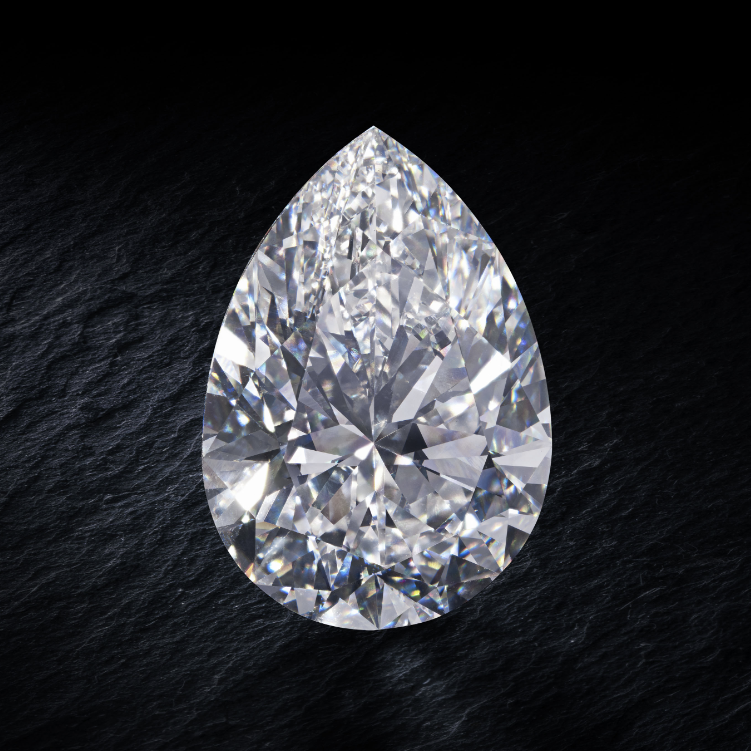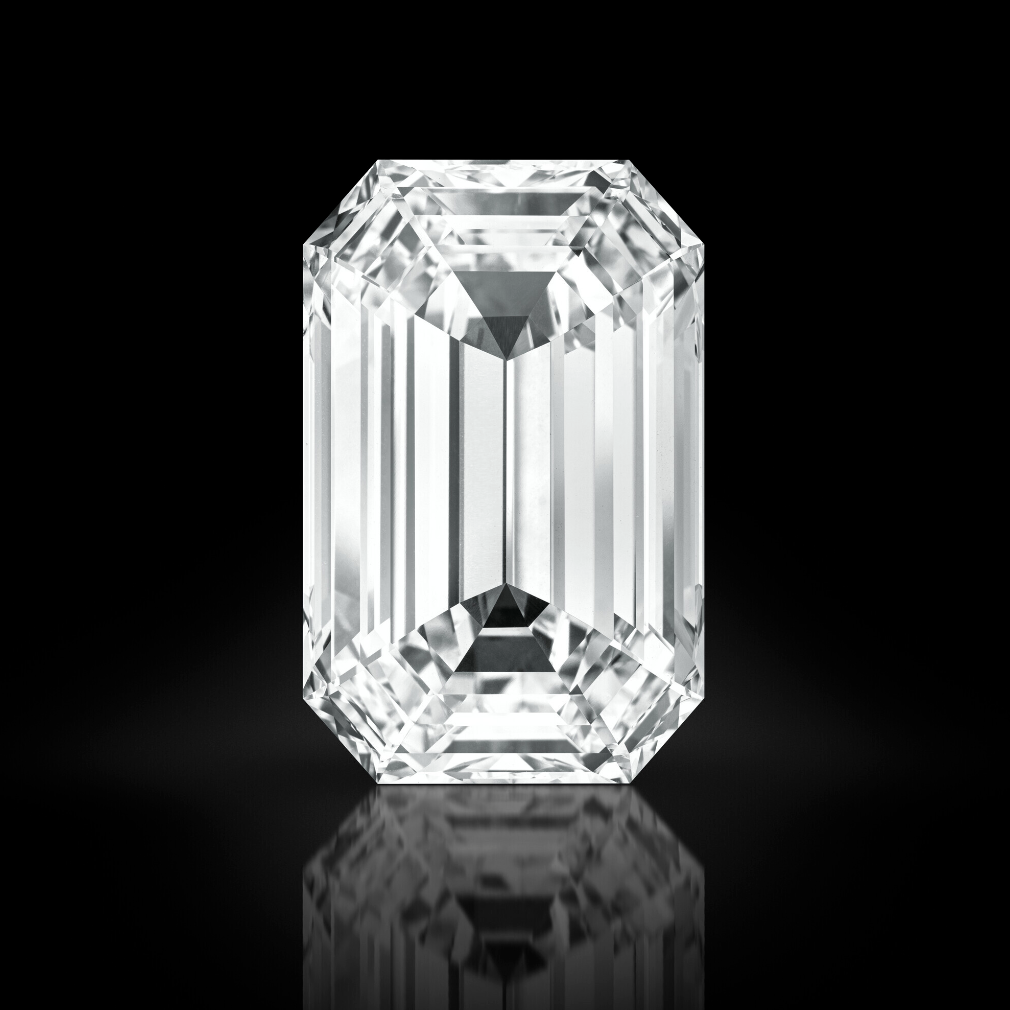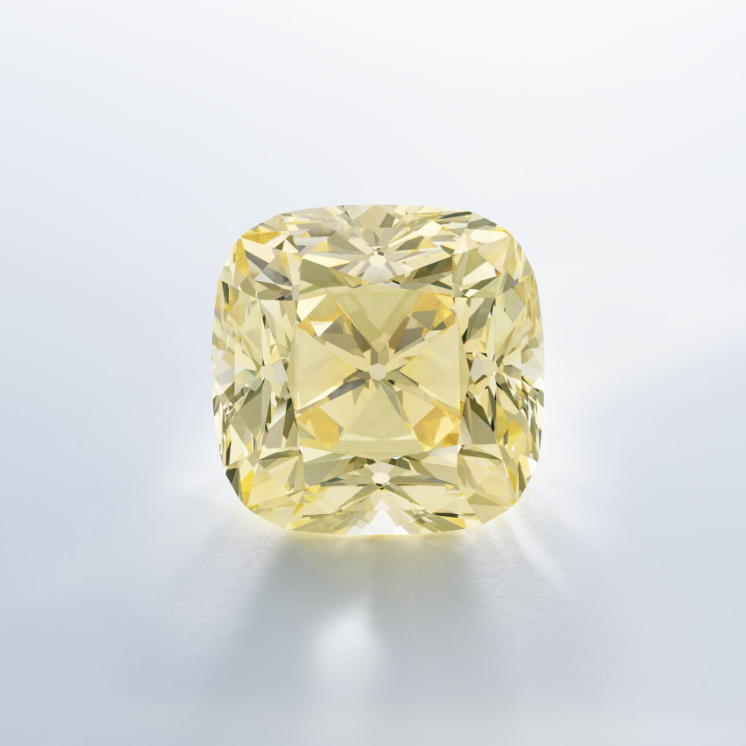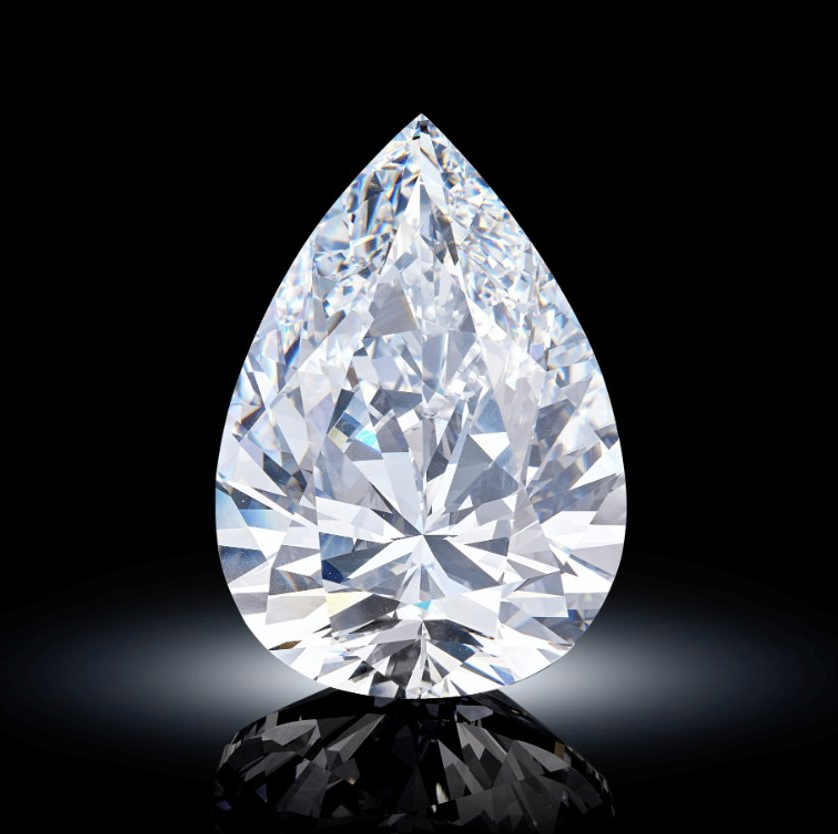 COLORED DIAMONDS
According to the Fancy Color Diamond Index (FCDI), which tracks and analyzes wholesale prices of colored diamonds, the market value of fancy-colored diamonds has typically increased 9-12% annually in recent years. Though not all colored diamonds are created and valued equally, even lower quality colors have appreciated in value. For example, fancy pink diamonds, a lower grade, gained 325.6% in price from the start of 2005 through the first quarter of this year, while fancy vivid pink diamonds, a high grade, achieved 427.8% growth. In comparison, the price of gold gained 300% over that period, and the S&P was up 384%.
​MAGNIFICENT JEWELS SALES
The success of colored diamonds is made evident by their performance at the 10 Magnificent Jewels sales held by Christie's and Sotheby's in the first half of this year. Two of the top five pieces sold in 2022 were colored diamonds, with the overall highest-grossing piece being the Fancy Vivid Blue Diamond from Sotheby's De Beers Blue sale. Further, the other top-grossing colored diamond, the Red Cross Diamond from Christie's Magnificent Jewels sale in Geneva, exemplifies the popularity and desire for yellow diamonds, which accounted for most colored diamonds in the Magnificent Jewels sales. Of the top 12 colored diamonds sold in Magnificent Jewels auctions in the first two quarters of 2022, all but one performed above estimate range.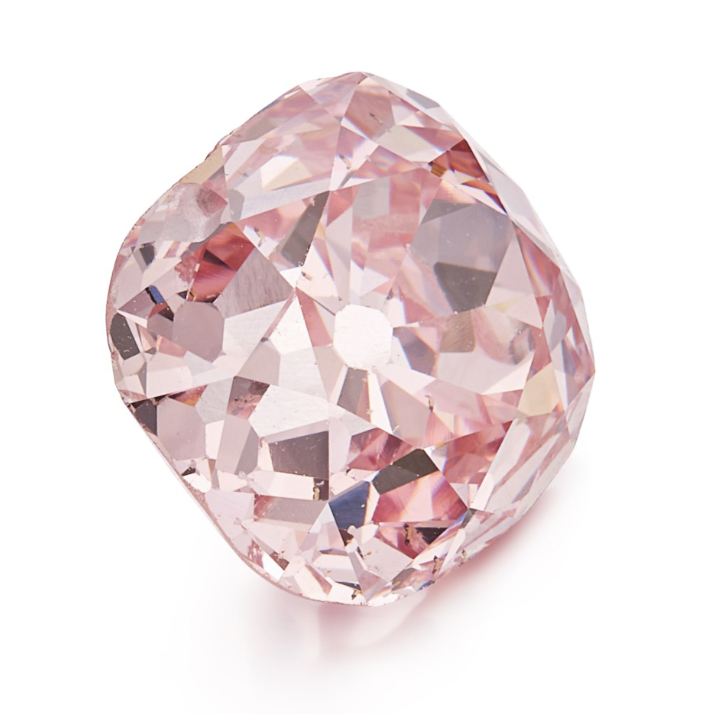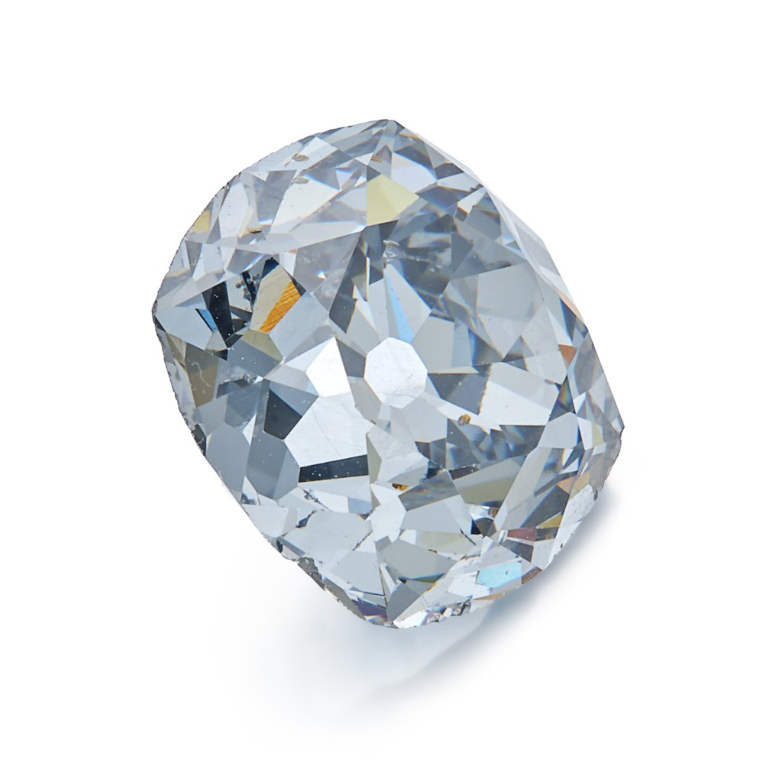 WHAT IS IN A JEWELRY BRAND NAME?
JEWELRY BY IMPORTANT MAKERS​
HARRY WINSTON​
CARTIER​
VAN CLEEF & ARPELS​
JAR​
BULGARI
Highly esteemed and established makers including Harry Winston, Cartier, Van Cleef & Arpels, JAR and Bulgari, were present across Magnificent Jewels auctions in New York, Hong Kong, and Geneva. Sales highlighted the continued confidence and trust in these major names, as exhibited by the sale of a Harry Winston Diamond Necklace from Christie's New York, which performed 323.4% above its conservative estimate of $300,000-500,000, grossing $970,200. Similarly, a Harry Winston Diamond Ring at Christie's Geneva scored 129.66% over its low estimate, further illustrating the brand's prestige and reputation. Other makers such as JAR continue to have soaring prices on the secondary market due to a strong demand and limited supply.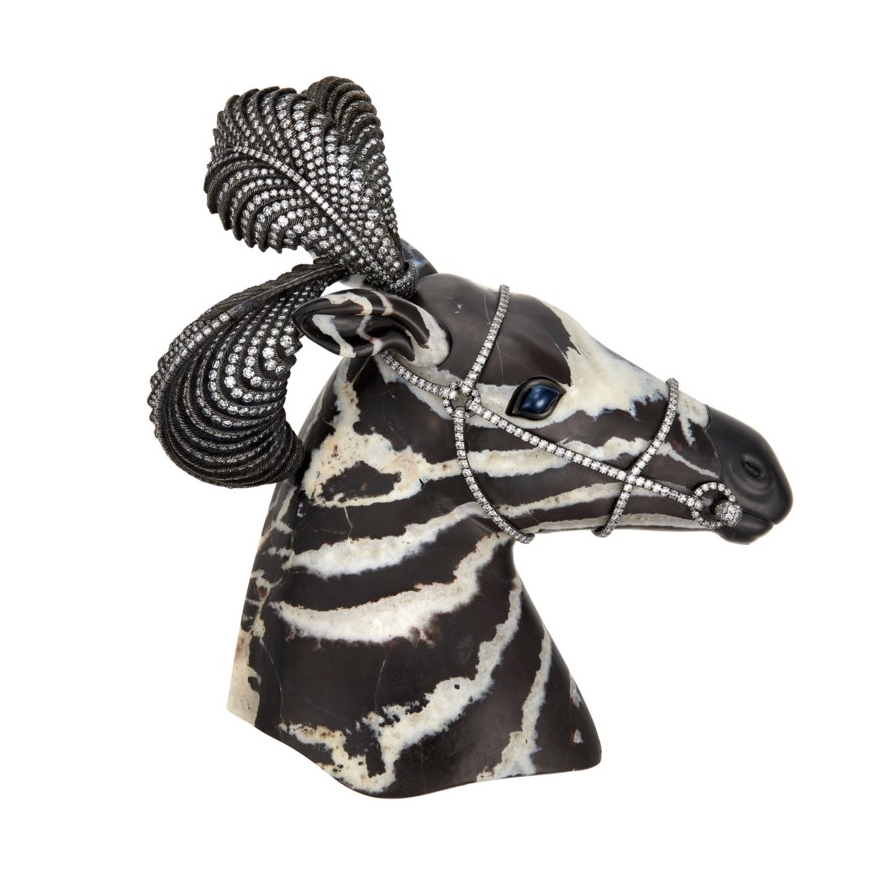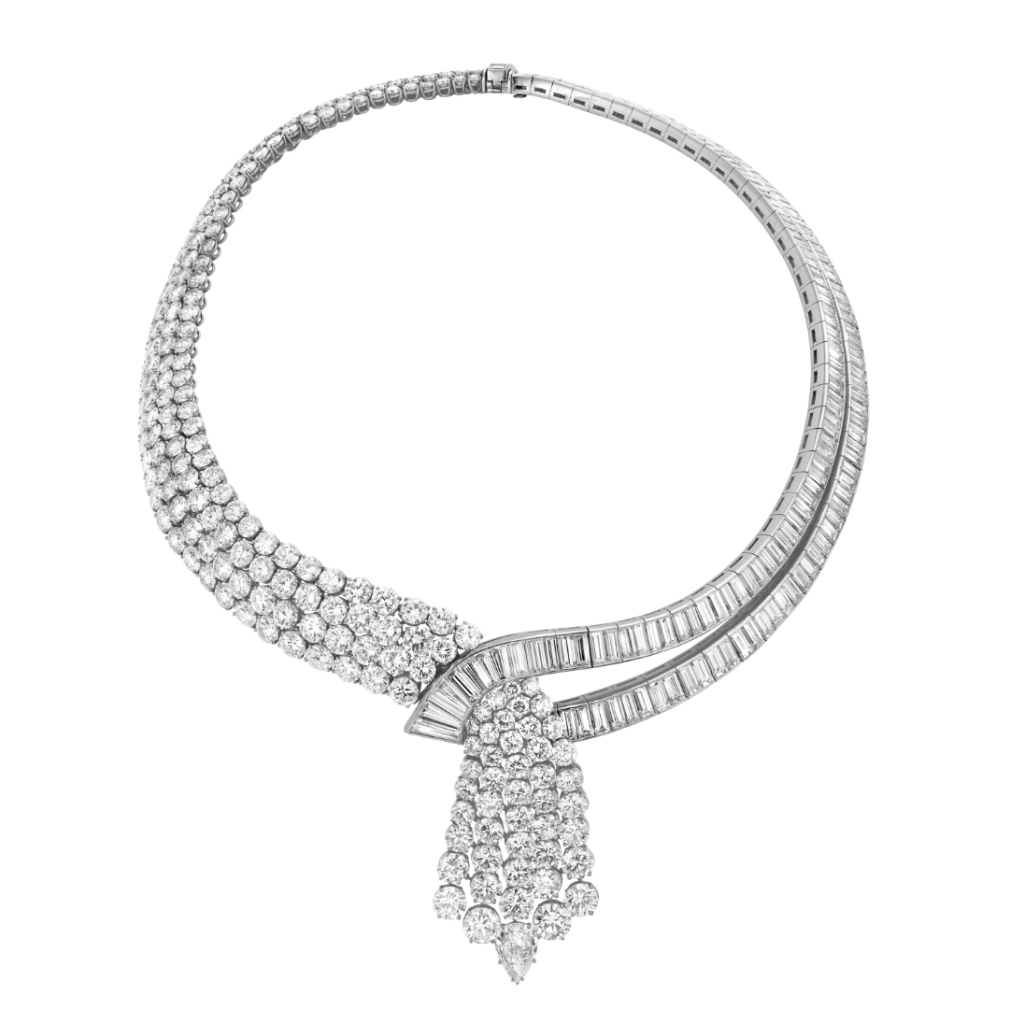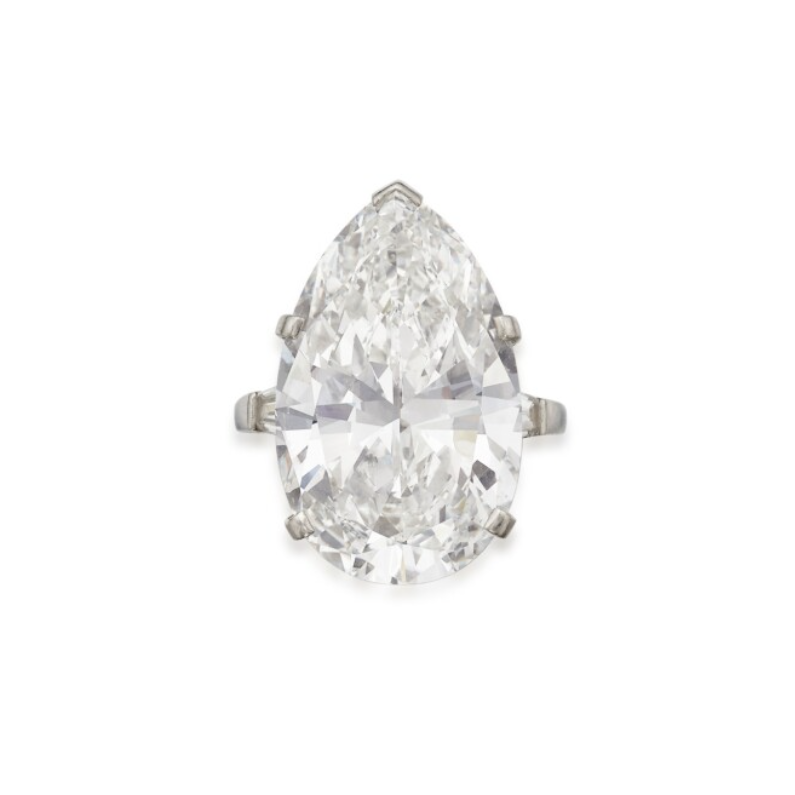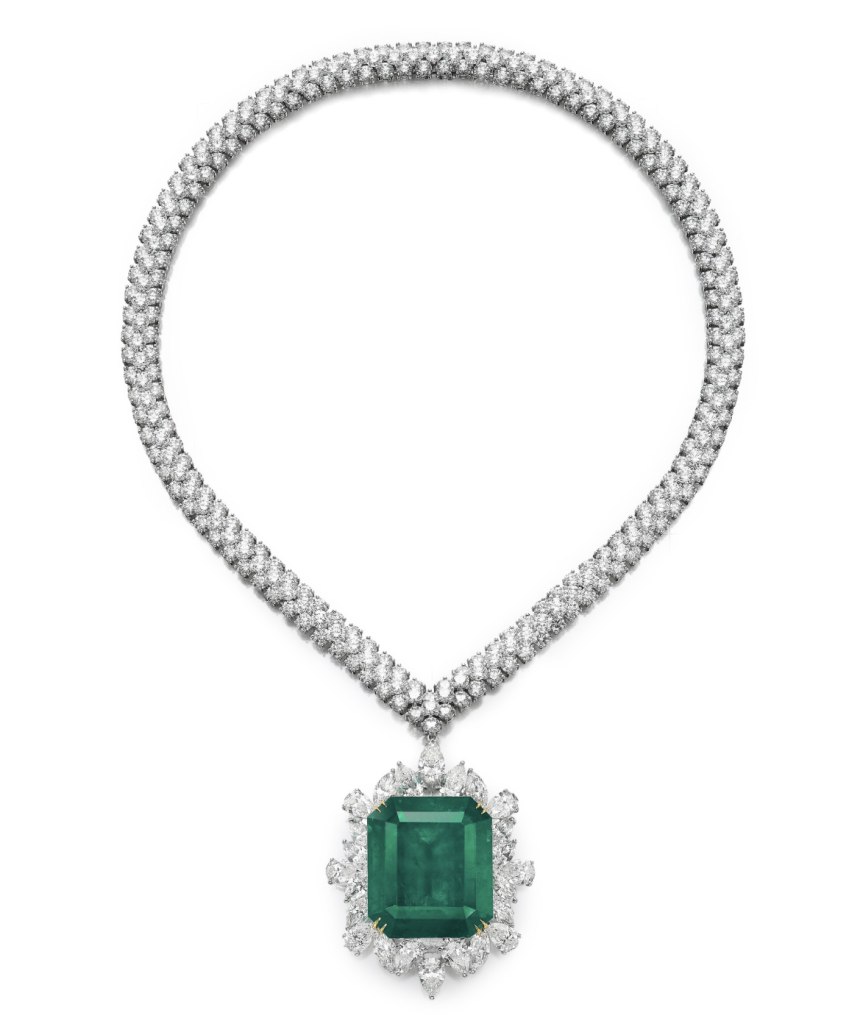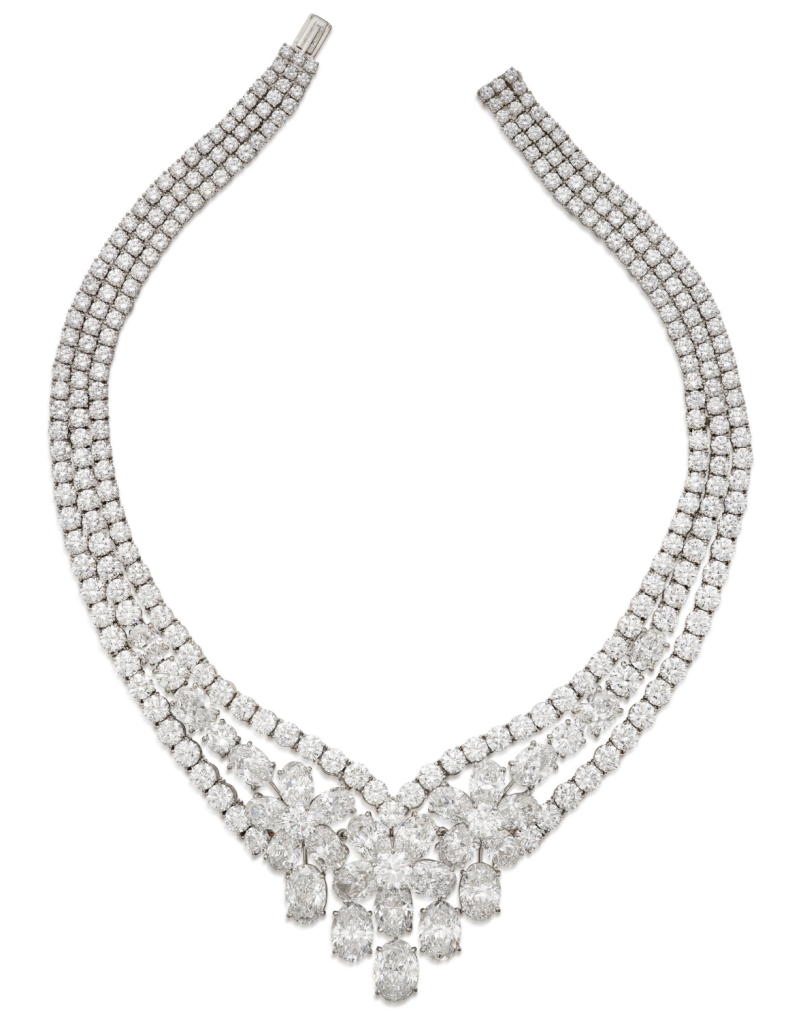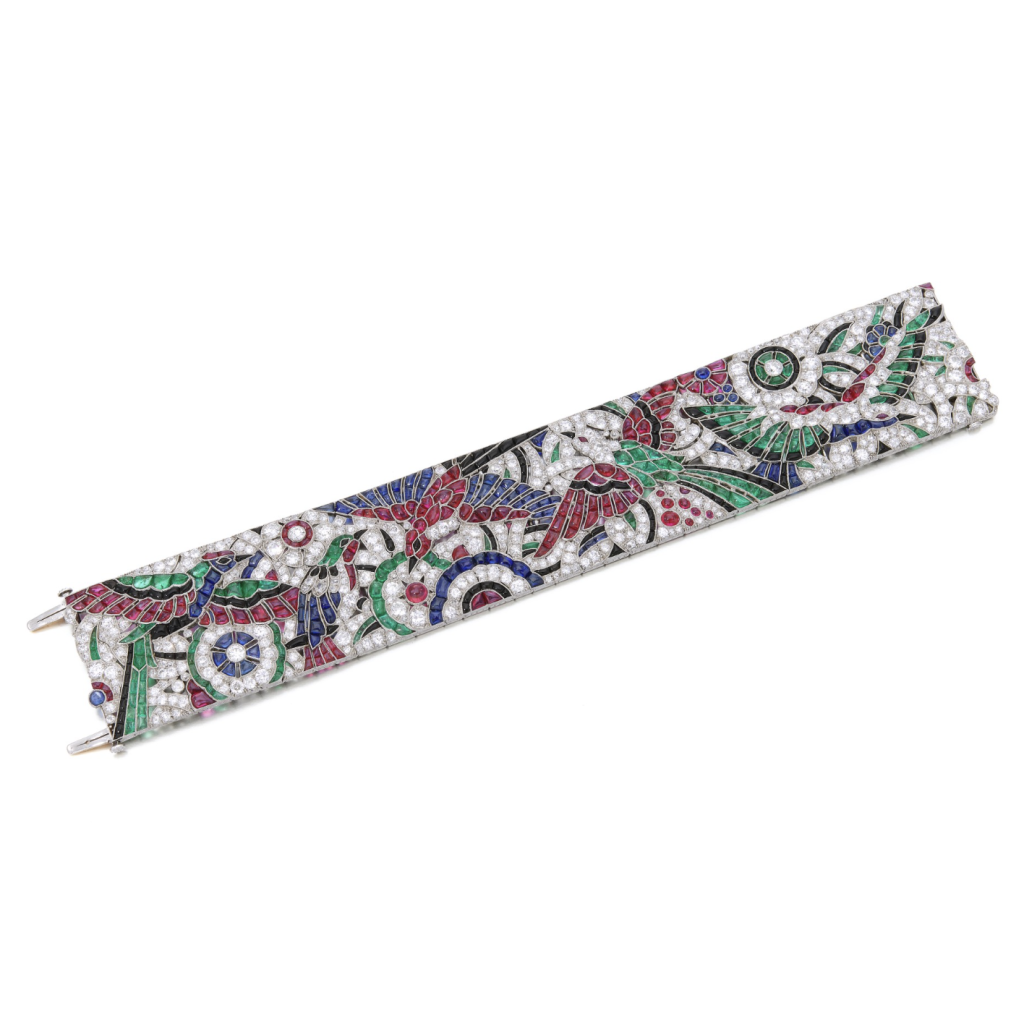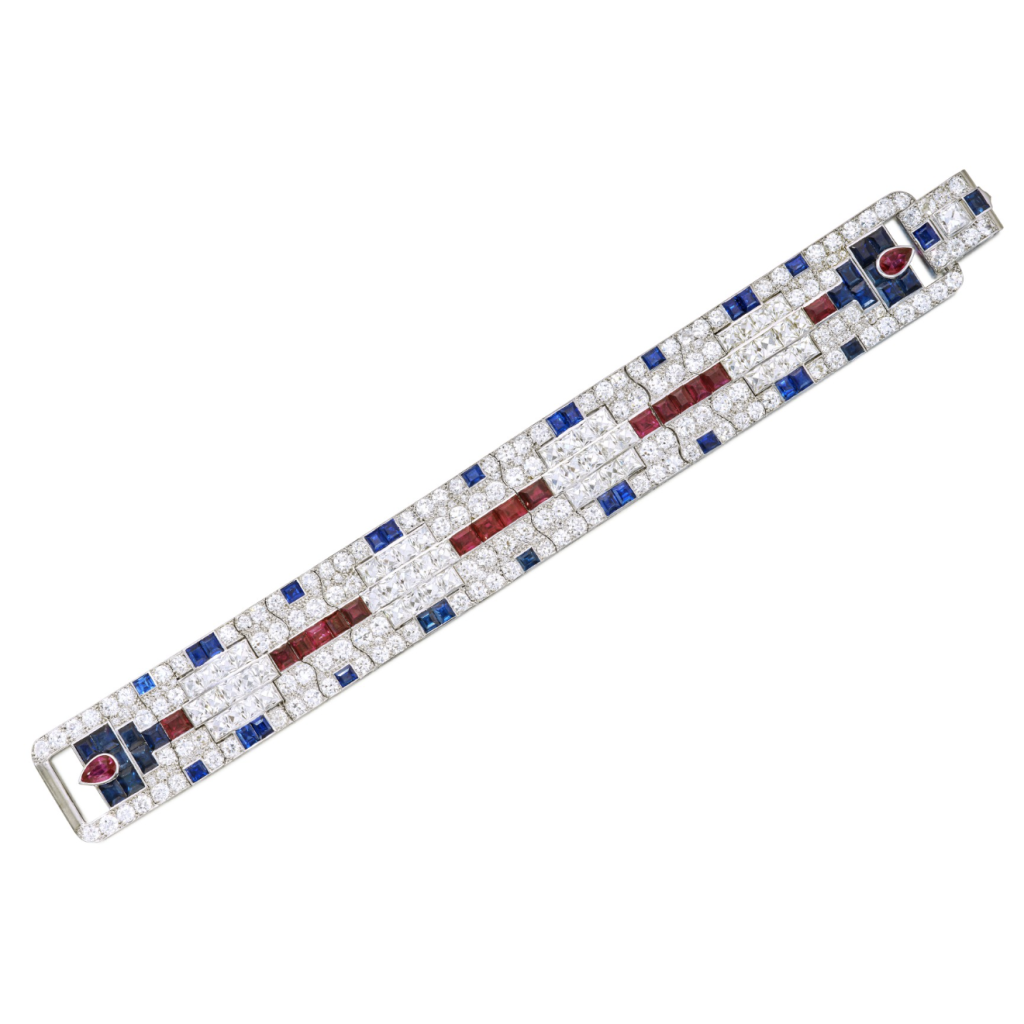 RARE AND UNUSUAL STONES
2022 has seen increased interest and appreciation in value for unusual specimen stones such as paraiba tourmalines and spinels.
PARAIBA TOURMALINES
The Fine Art Group was pleased to assist a client in selling its exceptional Paraiba Tourmaline and Diamond Pendant-Necklace. The result was the second highest amount secured for a Paraiba at auction and shows the strength of the market for outstanding specimen stones of rarity. Other paraiba tourmaline pieces also saw prices soar above estimate. One pair of Boodles paraiba tourmaline and diamond earrings from Sotheby's Magnificent Jewels & Nobel Jewels sale in Geneva performed 705.6% above the conservative estimate of $50,000-70,000, selling for just over $360,180. In parallel, a superb paraiba tourmaline and diamond ring from the same maker also sold for $540,270, 264.5% higher than the conservative estimate of $200,000-300,000. Stewart Young, Head of Jewelry for Asia at Bonhams, notes that the market price of Paraiba has soared in recent years as it has become a desired stone by many Asian collectors.
SPINELS
Another area of strong results are spinels. These rare stones were often mistaken for rubies. In 2022, exceptional examples have seen results soar past auction estimates. A significant 54 carat specimen example sold at Christies, Geneva for $504,000 against an estimate of $200,000-300,000.
For both paraiba tourmalines and spinels, color saturation and size play an important role in determining the examples of significant value.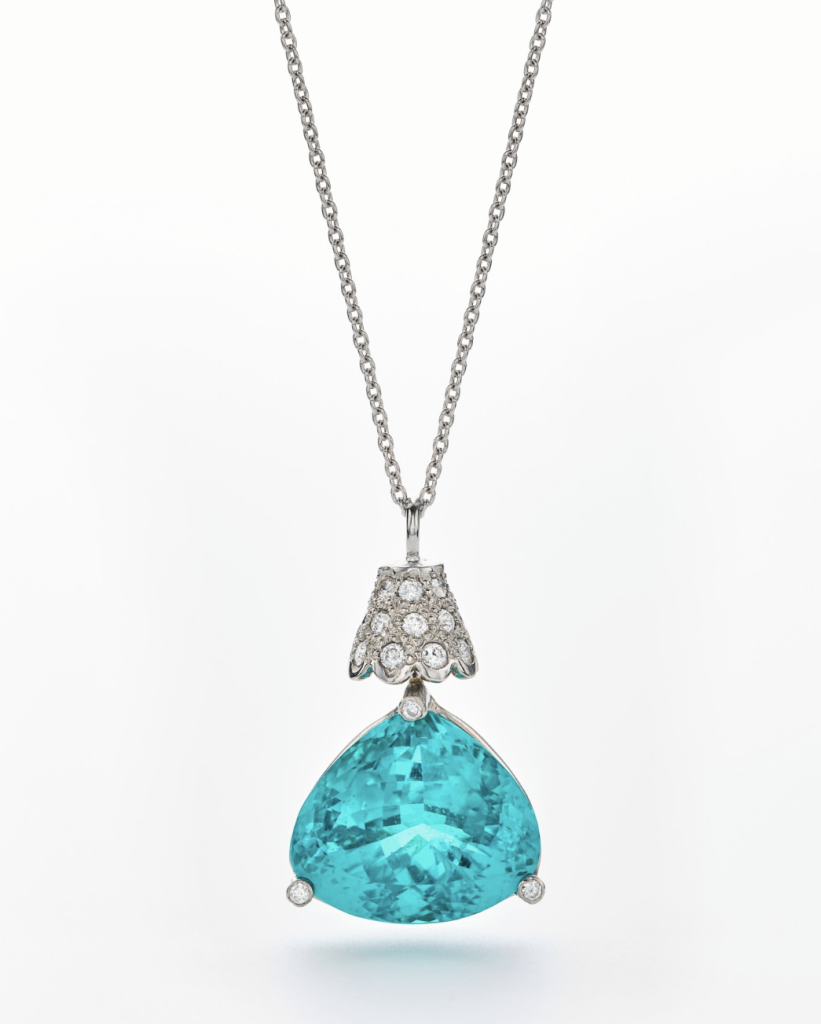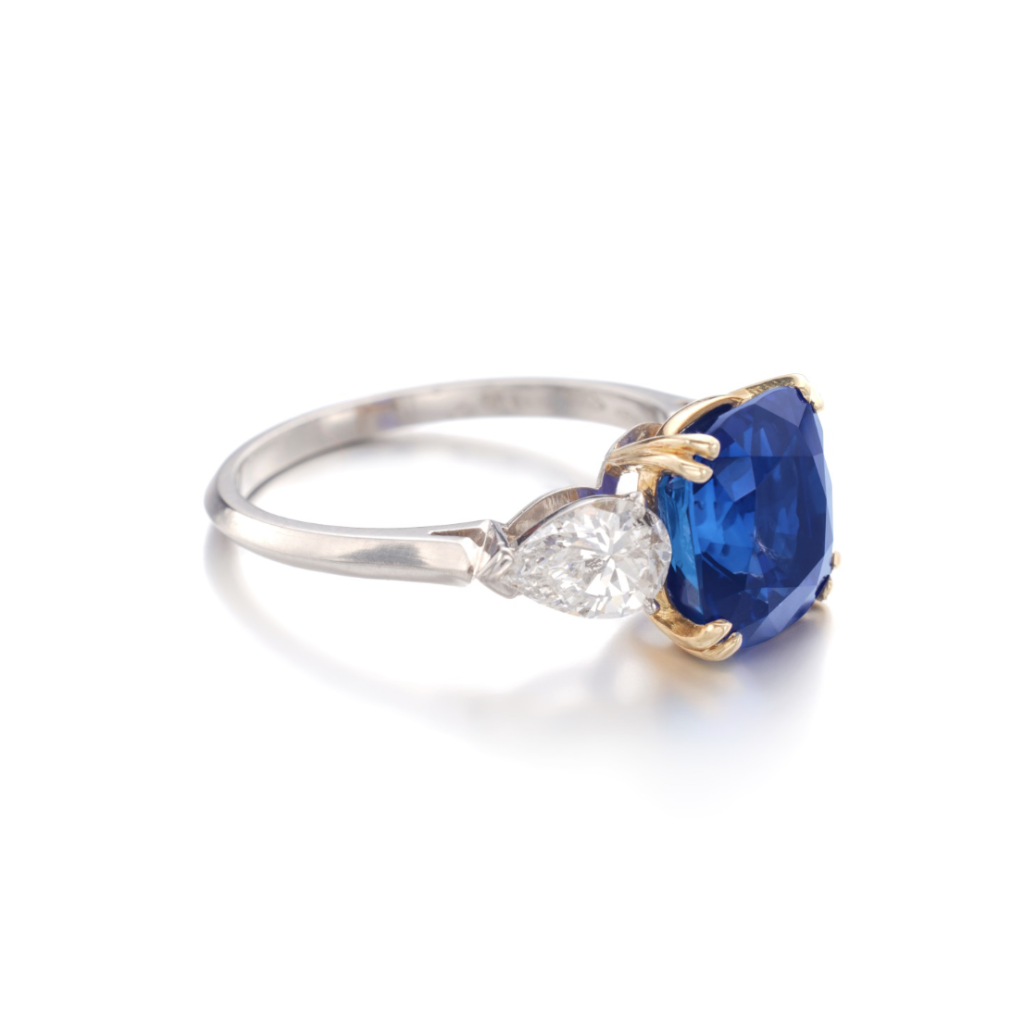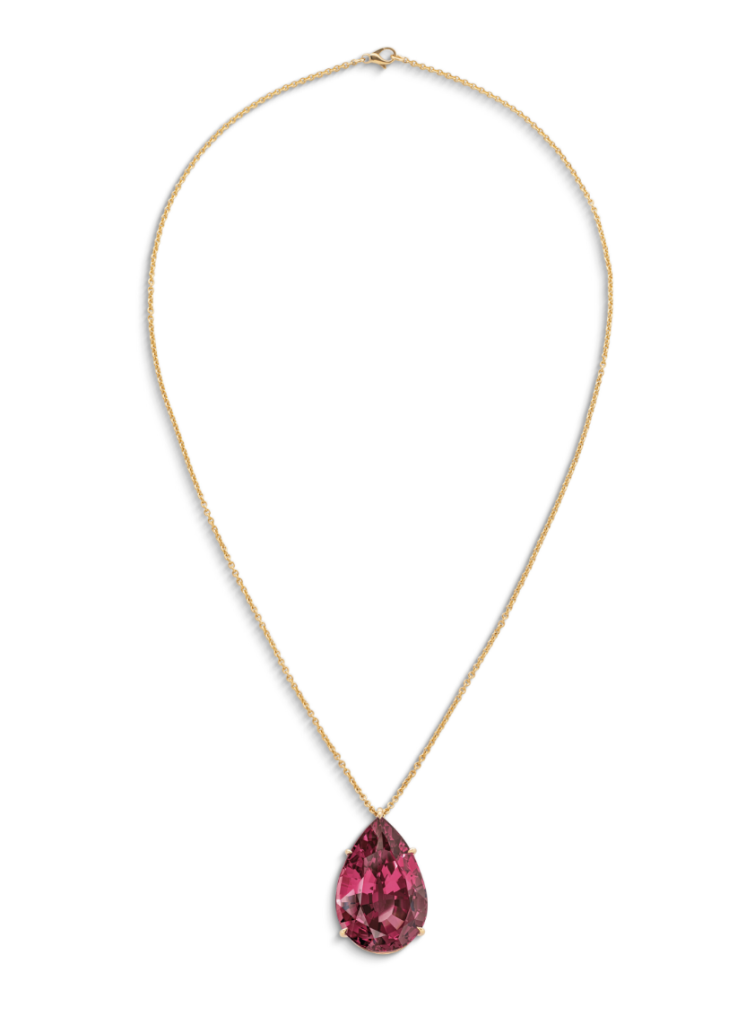 RELATED CONTENT
OUR SERVICES
Offering expert Advisory across sectors, our dedicated Jewelry Advisory Team combine strategic insight with transparent advice to guide our clients seamlessly through the market. We always welcome the opportunity to discuss our strategies and services in depth.
---
Images: All images courtesy of associated auction houses
June of this year finally saw the return of Art Basel to its familiar slot, swiftly followed by TEFAF in Maastricht and Masterpiece in London. With the June auctions concluding a busy month of fairs, there was some anticipation as to their performance against a backdrop of potential buyer fatigue and economic uncertainty.
Christie's, Sotheby's and Phillips all distinctively strategized to compete with those challenges facing the June auctions. Christie's began their five hour marathon of sales with a group of Chagall works sold directly from the estate, where a number of buyers fiercely competed for fresh to market pieces (90% of lots sold above the high estimate); this was followed by a relay sale from London to Paris, enhancing their European outreach. Sotheby's contrastingly opted to begin their auction with a mixed category 'Jubilee Sale' which included British artists spanning Gainsborough and Millais through to Hirst and Hockney. Targeting the growing cross-collecting market, this tactic felt very much in the spirit of Masterpiece fair concurrently running that week. Phillips' sale was strategically weighted towards the Ultra-Contemporary category, which has been the strongest market segment over the last two years, and seemingly a sure-fire way to ensure a strong sell through rate and robust sales total against pre-sale estimates.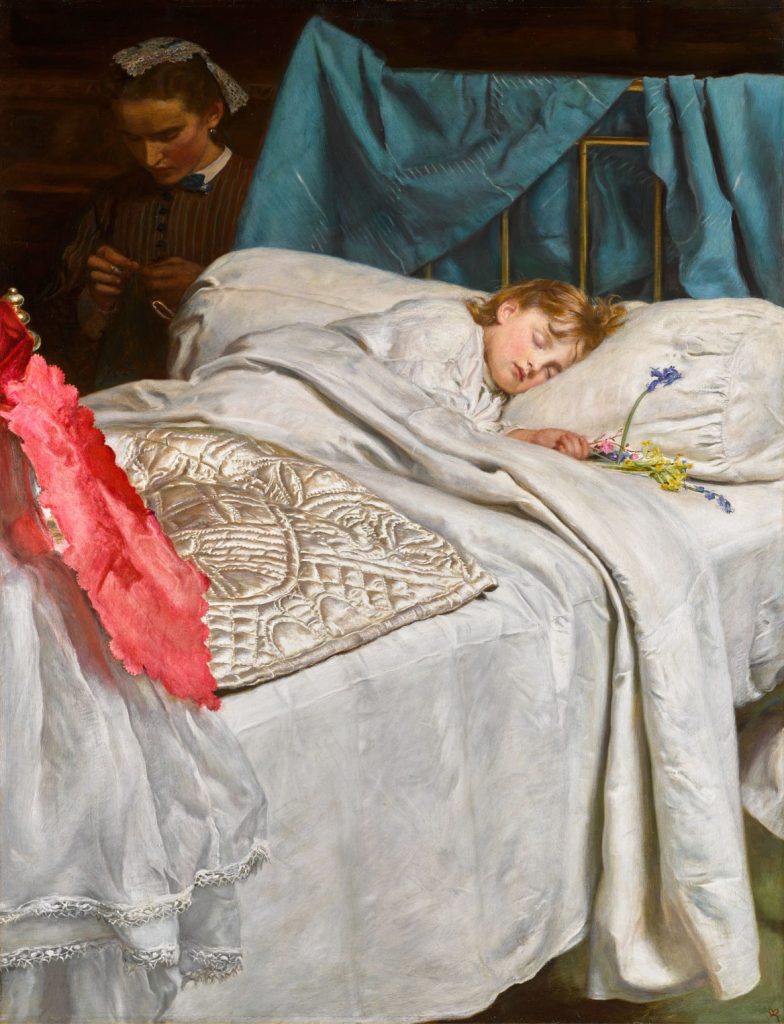 These strategies largely paid off with all the houses successfully reaching sales totals within expectations and realizing healthy sell-through rates. Phillips' raked in £17.5 million (premium), close to the high end of its presale estimate range of £13.6-18.4 million, with a 94% sell-through rate. Sotheby's totaled £149.2 million (premium) across both sales, against the pre-sale estimate of £143-201 million, with a 79% sell-through rate. Christie's had the highest total of the week, bringing in £203.8 million (premium), within the presale estimate of £145-220 million, up from last year's £153.6 million (premium) total. It had an average sell-through rate of 93% across its three sales, largely due to the white glove Chagall sale.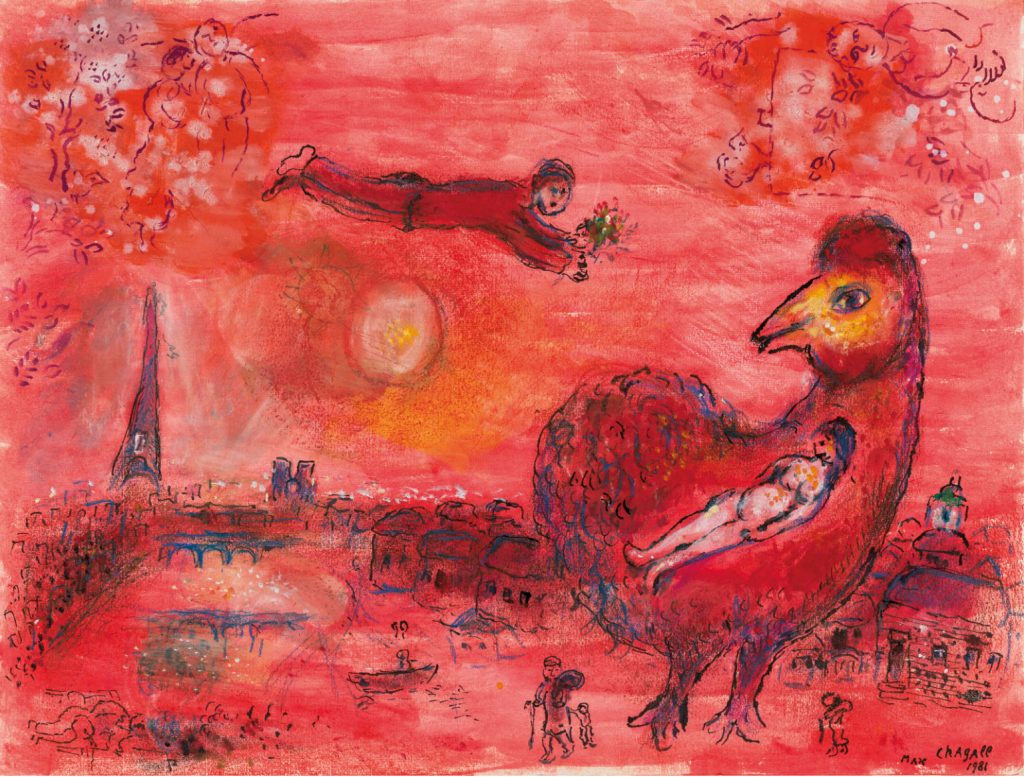 Despite the healthy results, there was a sense of a cooling market compared to the strength of the New York May sales, and a marked difference to the frenzy witnessed in New York in November 2021. Stock market volatility, rising interest rates, rampant inflation and crypto-currency crashes have no doubt had an impact on the confidence and buying power of collectors.
This growing conservatism felt most apparent in the Ultra-Contemporary category which has previously seen lengthy bidding wars and works consistently hammering in excess of £1 million against very low estimates. Flora Yukhnovich was one artist who continued to receive frantic bids. Both paintings that sold during the week hammered far in excess of £1 million, with globally competitive bidding. However, several other works by recent auction stars such as Shara Hughes, Anna Weyant, Cristina Quarles and Amoako Boafo attracted muted bidding selling within estimates rather than far exceeding them. While wider economic concerns are having an impact, these results should also be seen as a wider price correction for these artists and the category overall. The previous heat and competition at those price levels was unsustainable, and a much needed selectivity among collectors is becoming apparent.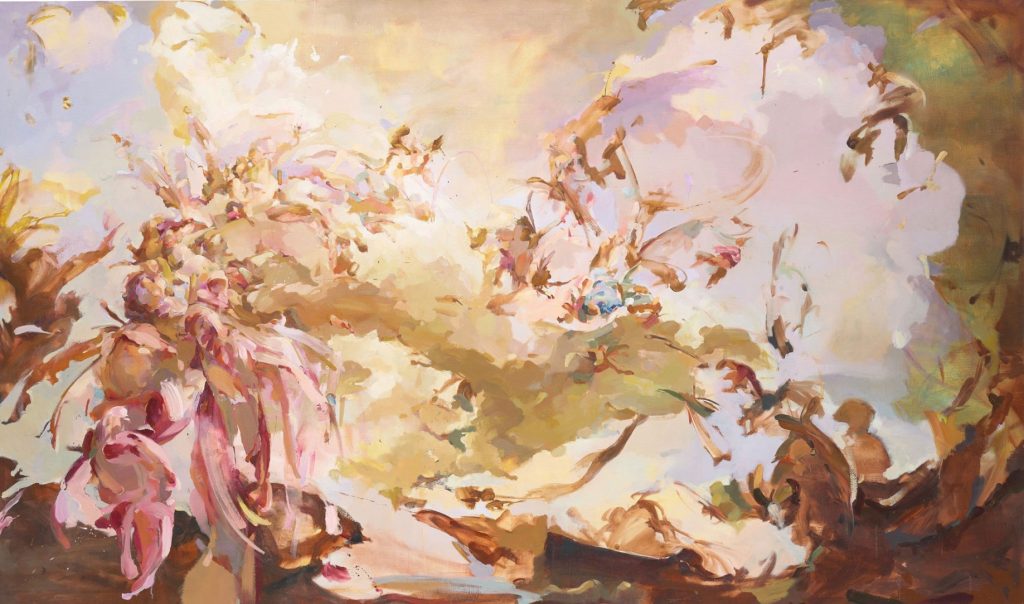 Generally, at the top of the market, bidding felt thin. The much lauded fresh-to-market portrait of Lucian Freud by Francis Bacon sold for one bid above the guarantee at £35.5 million hammer against a reported £35 million guarantee. Several works were withdrawn by each house, including works by Cy Twombly, Sigmar Polke, Georg Baselitz and Dana Schutz, presumably due to lack of interest.
However, there were several strong results for blue-chip category works which served to reinforce that the art market is still very much afloat. Christie's, despite a glut of top tier Monet paintings coming to market recently, achieved very solid results for both of their Monet paintings, which sold to the same buyer. Waterloo Bridge, effet de brume (1899–1904) sold for £30 million (premium), just reaching its presale high estimate. Nymphéas, temps gris (1907) achieved £30.1 million (premium), just under its £32 million high estimate. Following a huge new auction record in May, a battle also broke out for Ernie Barnes's 1978 painting Main Street Pool Hall, from the collection of the late film producer Danny Arnold. The painting sold for £1.5 million (premium), more than ten times expectations, to an in-room bidder. There was also an exceptional result for a small-scale René Magritte apple painting, selling for £16.1 million (premium) against an estimate of £5-7 million, which is now the third highest price for a work by the artist at auction.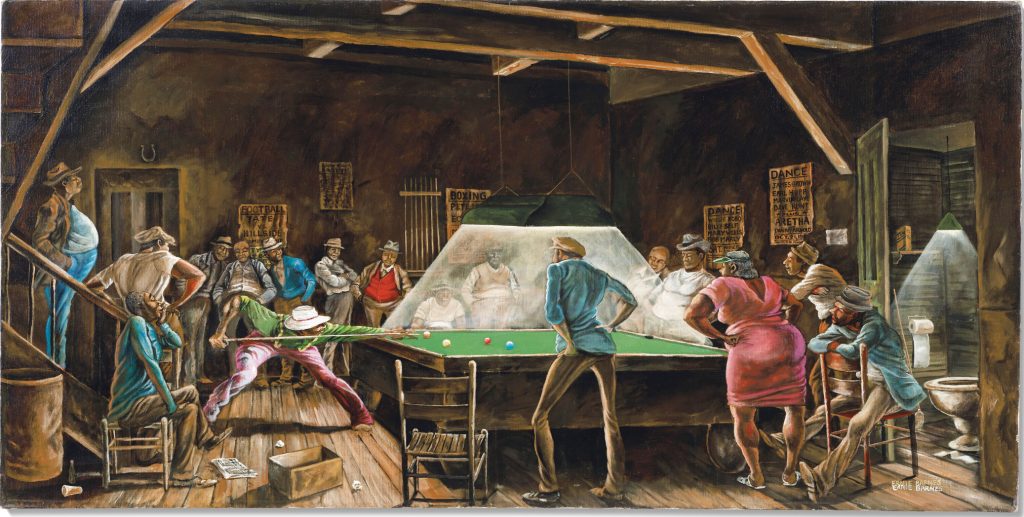 Sotheby's reached a top price for an unusual work by August Strindberg, selling for £6.8 million (premium) against a £3 million high estimate, it was a new record for any Swedish work of art. Gerhard Richter's Study for Clouds (1970) also received healthy room bidding by Francis Outred and Gabriela Palmieri before it eventually sold to Lisa Dennison's phone client for £11.2 million (premium) against an estimate of £6-8 million.
Several new auction records occurred over the week. Christie's reached a record with Barbara Hepworth, the sculpture Hollow Form with White Interior (1963) sold for £5.8 million (premium). Frank Auerbach's Portrait of Gerda Boehm, previously acquired at the David Bowie sale, also made a new record at Sotheby's at £4.1 million (premium), as well as rare-to-market work by the British Pop artist Pauline Boty at £1.16 million (premium).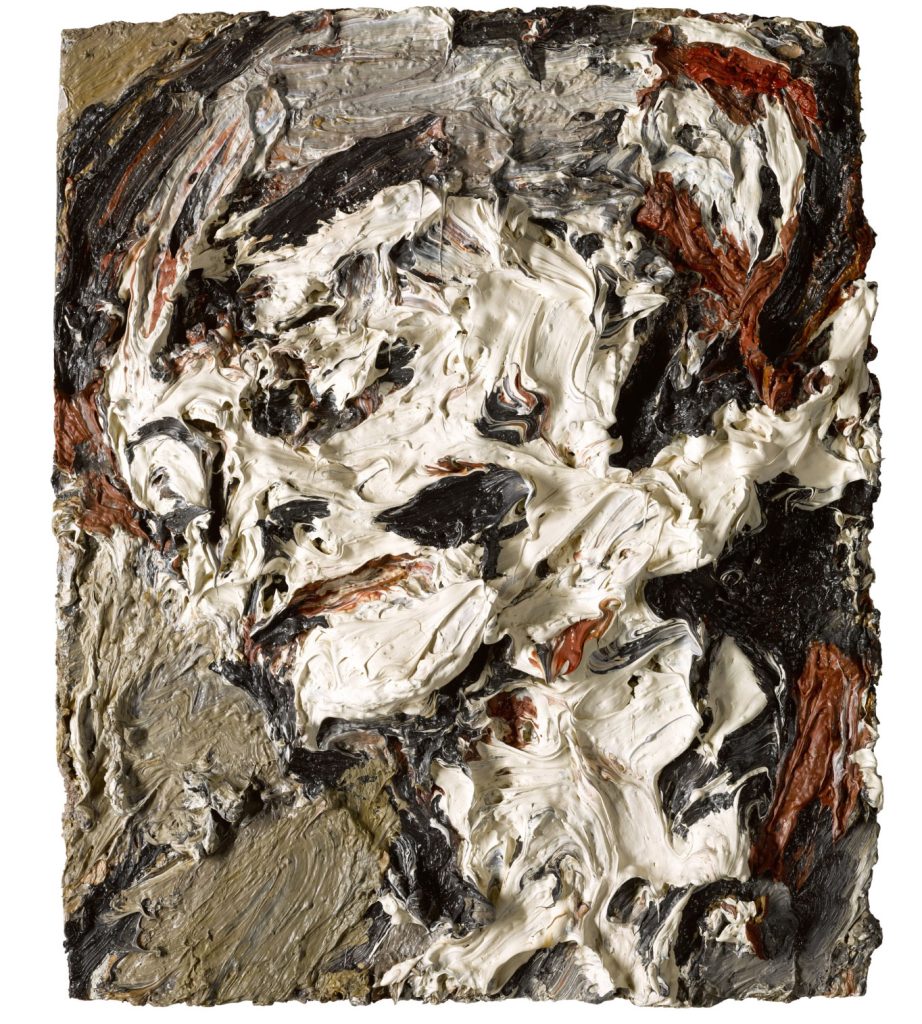 These results prove there is still resilience in the market. Numerous repeat bidders, including the Monet buyer at Christie's and a persistent online bidder from Lebanon at Phillips, significantly helped further push results. However, buyers are approaching the sales with more caution and this sense of sobriety will likely continue in the next round of October sales in London. A total of 74% of one Christie's sale was guaranteed by value; likewise, half of Sotheby's sales were also guaranteed. This will continue to be a crucial tool to help ensure stability in the coming months. With such strong results for young artists over the past two years, the economic uncertainties might encourage a return in interest to previous art market stalwarts whose works have received less attention in previous sale cycles.
FURTHER READING
The New York May Marquee sales concluded with around $2.5 billion worth of art sold across two weeks. With streams of new auction records and robust sell through rates, the market remains healthy against the backdrop of growing global economic and political uncertainties. There was, however, a sense of restraint compared to the frenzied bidding witnessed in the New York November 2021 sales. Moreover, four major single owner sales accounted for more than a third of these auction totals, proving they remain crucial to boosting volume.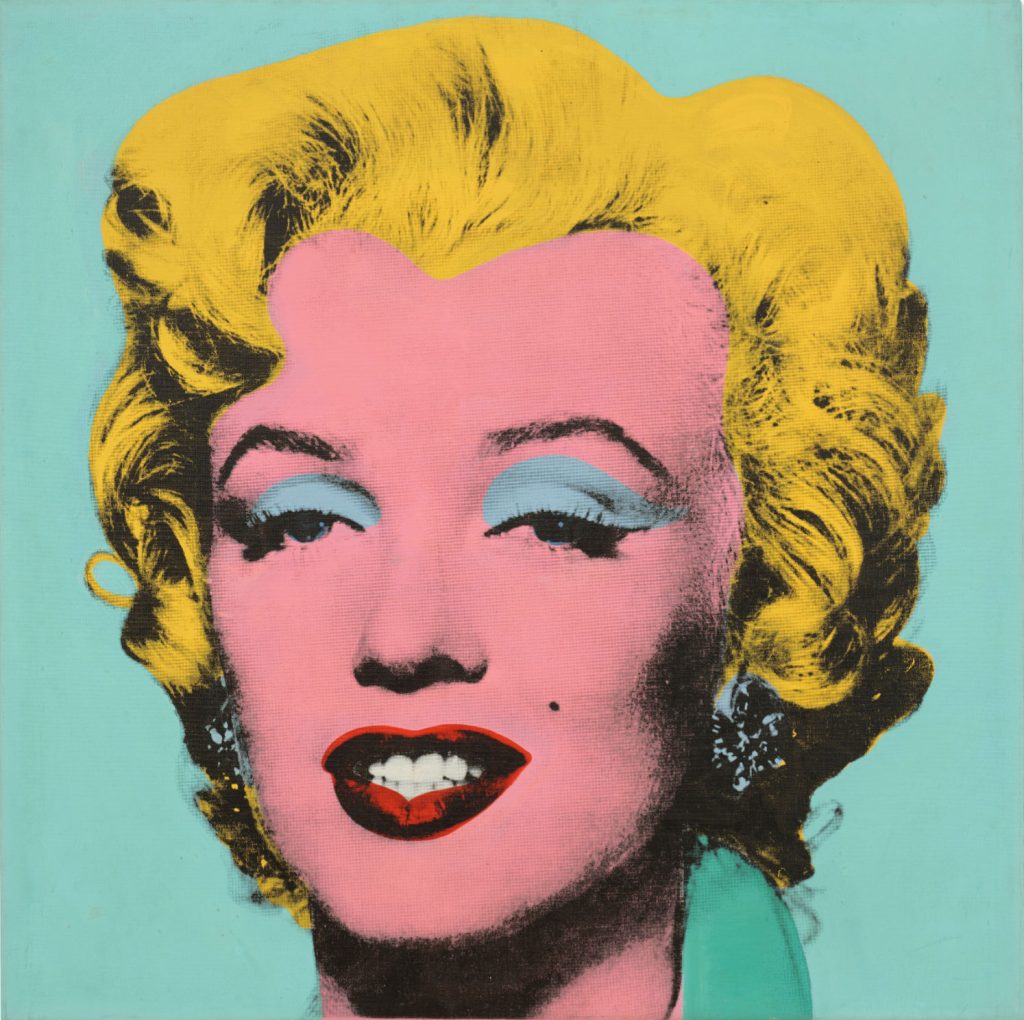 The first of these came at Christie's with the Ammann Collection, the star lot of which was the Warhol Shot Sage Blue Marilyn (1964). Hammering at $170 million to Larry Gagosian, the work fell short of its unpublished $200 million estimate. With fees, however, it is now the second most expensive artwork sold at auction behind the Salvator Mundi attributed to Leonardo da Vinci. Gagosian further went on to buy two paintings by Cy Twombly for $16.9 million (premium) and $21 million (premium), and a pink Franz West sculpture for $592,200 (premium). Trade bidding was heavy throughout the sale with Iwan Wirth also competing on several lots, as expected for a dealer's collection. Regardless, the sell through rate of 94% felt particularly strong with no works in the sale guaranteed. It became the second highest single owner sale for Christie's at $317.8 million.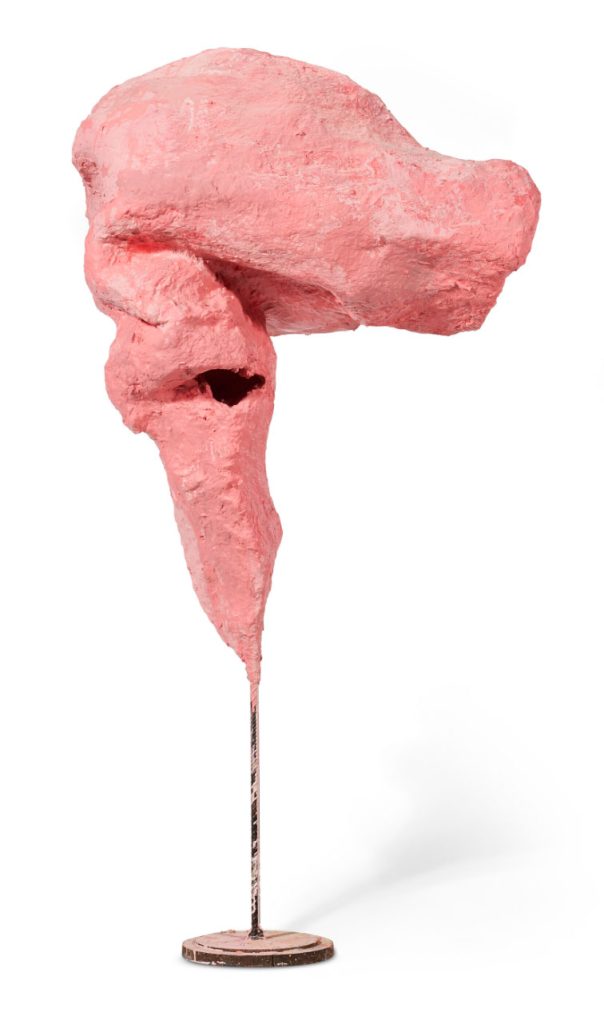 The second part of the Macklowe Collection at Sotheby's was also a major contributor for the May sales totals, at $246.1 million (premium). Combined with the results from part one in November 2021, the $922 million (premium) total has become the most expensive single owner sale in auction history, surpassing the Christie's 2018 Rockefeller sale. Whilst bidding and results were less strong than the first part, this is largely reflective of the content rather than signalling a dramatic market shift, although there was a sense of waning demand compared to the heat of November.
Two more single owner sales at Christie's from the Impressionist & Modern genres punctuated the fortnight of auctions, including the collection of Fashion retailers Rosalind Gersten Jacobs and Melvin Jacobs. As a primary theme of this year's Venice Biennale, the sale of this group of remarkable Surrealist works was exceptionally well timed, totalling $42 million (premium) against a pre-sale estimate of $19 – 30 million. The standout result was Man Ray's Le Violon d'Ingres (1924) which sold for $12.4 million (premium) against an estimate of $5 – 7 million, making a new record for the most expensive photograph sold.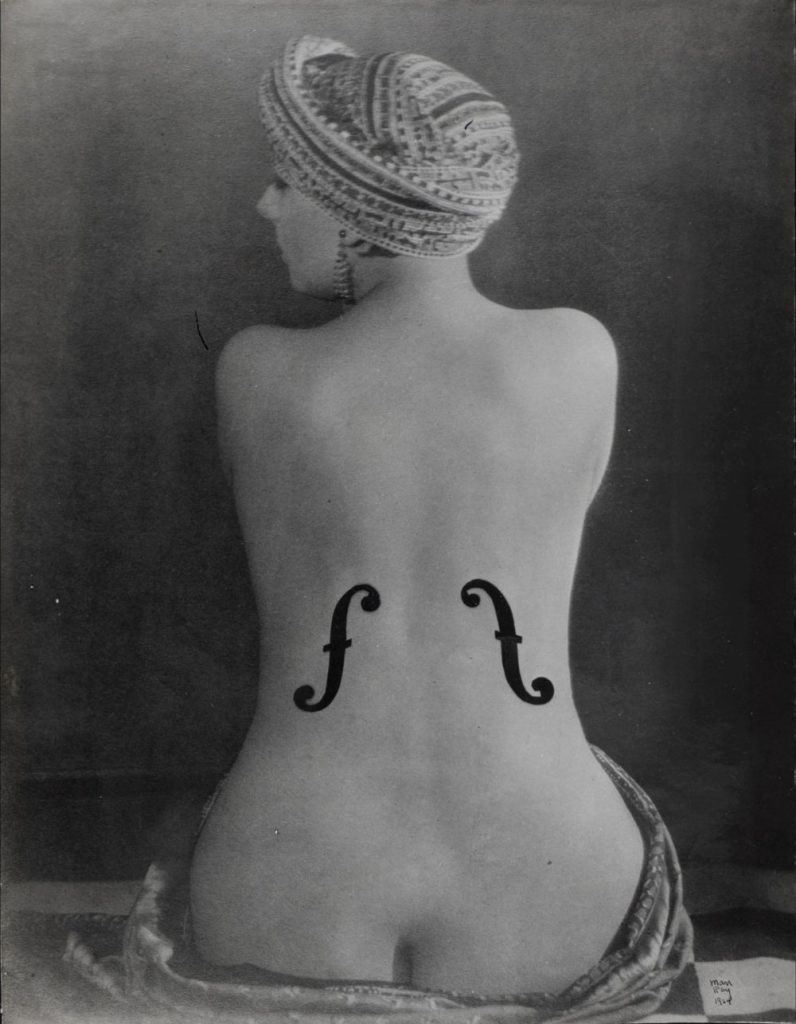 A group works from the Impressionist & Modern Collection of Anne H. Bass, also at Christie's, saw healthy bidding for major paintings by Monet and Degas, whilst the two Rothko paintings both sold to the guarantor. The mood felt calmer compared to the hyperactivity during the recent Cox Collection auction, however, this is more reflective of the high price point of the lots, totalling $363 million (premium) across just twelve pieces.
The other sales of the week were broadly broken down into what has recently become the three main categories of the market, Impressionist & Modern, 20th Century and then 21st Century or 'Ultra-Contemporary'. With intensity of bidding scaling up towards the latter genre, which has seen the largest market growth over the last two years. More than half of the lots in these sales were made up of female artists and several records were achieved across all three houses for artists including newly signed Gagosian artist Anna Weyant, Avery Singer, Yayoi Kusama, Simone Leigh, Christina Quarles, Howardina Pindell, Robin F. Williams and Lynne Drexler amongst others.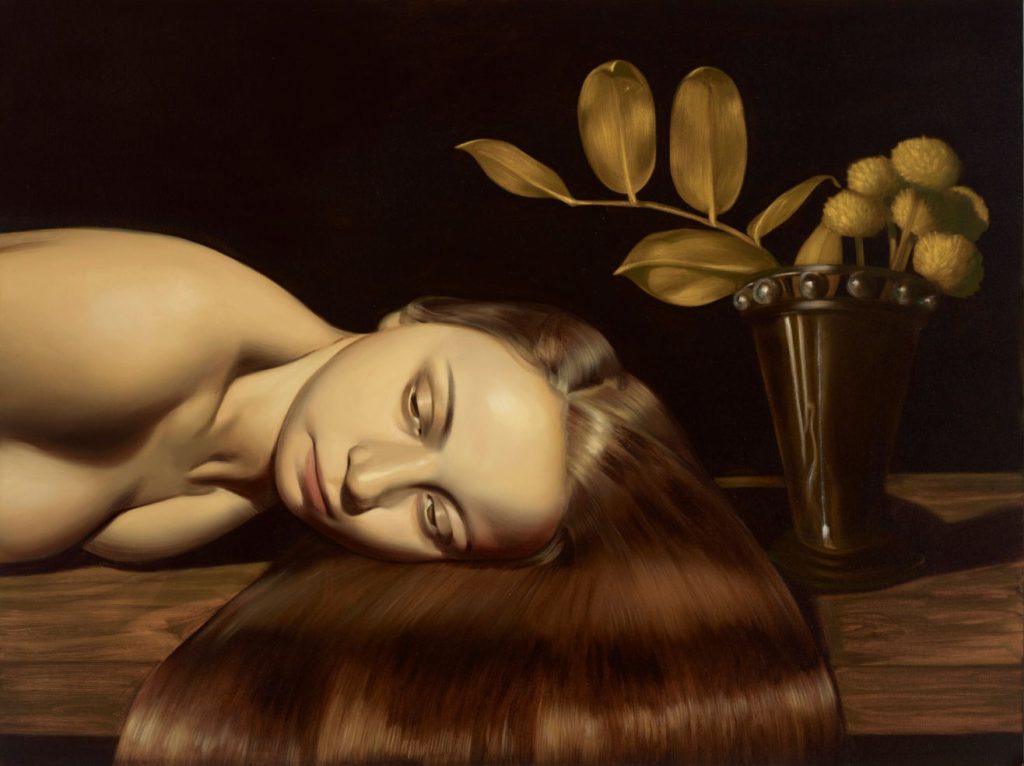 Encouragingly there were also strong results for historically underrepresented artists including a major auction record for Ernie Barnes's 1976 painting The Sugar Shack. The work performed well over its $150,000 low estimate at Christie's in New York, selling for $15.3 million (premium) to Bill Perkins. A well-timed statement shortly followed this result, announcing that the estate of Barnes is now represented by two major New York galleries, Andrew Kreps and Ortuzar Projects.
Asian bidding continues to be a key factor which is helping to propel strong sale results, but the latest round of auctions demonstrated that this activity remains most zealous in the 21st Century category, with less attention on more traditional lots.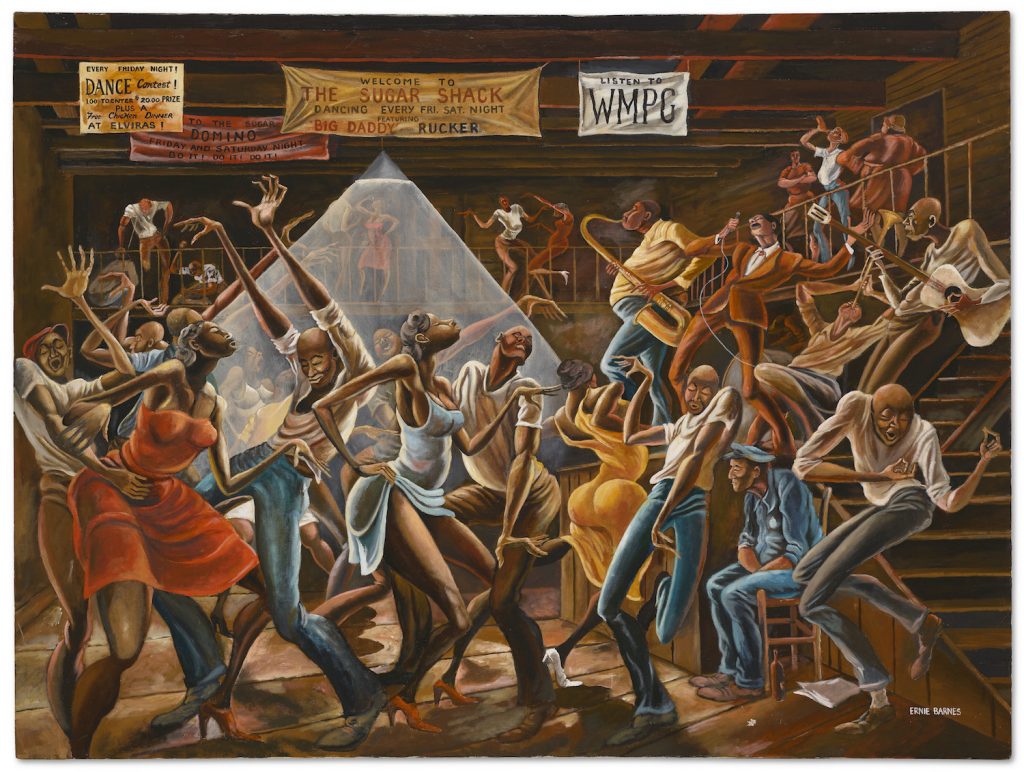 Phillips, who have pioneered sales in this genre, reached a landmark moment with their highest sale total to date at $225 million (premium). This number was primarily driven by the sale of Yusaku Maezawa's 1982 Basquiat. Acquired just six years ago from Christie's for $57.3 million (premium), it sold for $85 million (premium), and is the most expensive work that Phillips has ever sold. The work likely sold to the guarantor as did a number of the top lots this season which were accompanied by bold estimates. This is a distinguishing trait which became apparent throughout the sales; bidding activity is thinning at the trophy level of the market in the current climate.
Regardless, with two fairs, TEFAF and Frieze, also opening during the same fortnight, the robust sell through rates and totals speak to a healthy market able to absorb the significant volume on offer. These were of course hugely supported by the substantial number of single owner sales, which will be vital in achieving similar levels of sales totals during future auction cycles.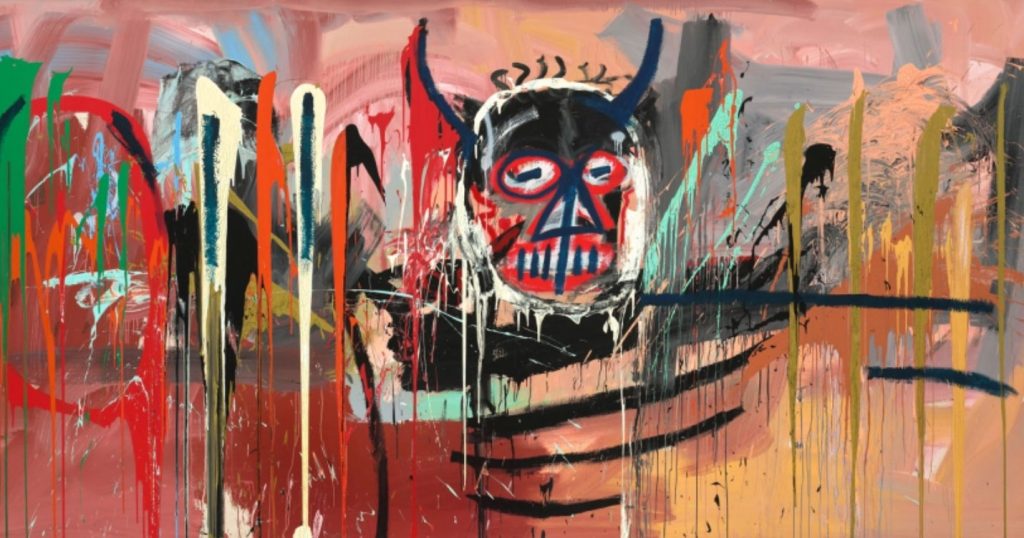 The first round of 2022's marquee evening sales took place in London last week with significant results. Sales totals from all three houses reached just over £400 million ($525 million), above 2019 pre-pandemic levels for the same period.
The ongoing crisis in Ukraine created an understandably strained atmosphere for all houses but the auctions continued with consummate professionalism. Phillips, owned by the Russian company The Mercury Group, especially came under fire, despite having no financial links to any of the sanctions imposed on Russian businesses. In response, Phillips donated all vendor's commissions and buyer's premium from their evening sale, totalling £5.8 million ($7.7 million), to the Ukrainian Red Cross Society. Christie's made an announcement later in the week that they too would make a significant donation to the Red Cross efforts in Ukraine.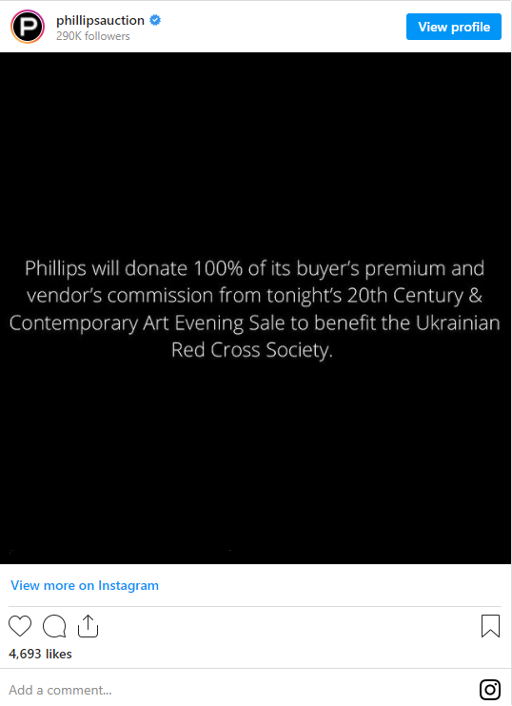 The top prices of the week were for Franz Marc's recently restituted painting The Foxes (Die Füchse) (1913) which sold for a record £42.6 million ($56.8 million) premium. There was also a new record for René Magritte at Sotheby's; L'empire des lumières (1961) sold for £59.4 million ($79.4 million) premium, almost tripling the artist's previous record. Both works carried a guarantee, as did most top priced lots in the sales, including Francis Bacon's Triptych (1986-87), which sold at Christie's to the guarantor for £38.5 million ($51.2 million) premium. Guarantees accounted for about 64% of the overall sales total across the houses, with the total low estimates of guaranteed lots around £257 million ($337 million). This resulted in £249 million ($327 million) in guaranteed actual sales, signalling how crucial guarantees are in the current business, in terms of winning consignments as well as ensuring a high sell through rates for the overall sales figures.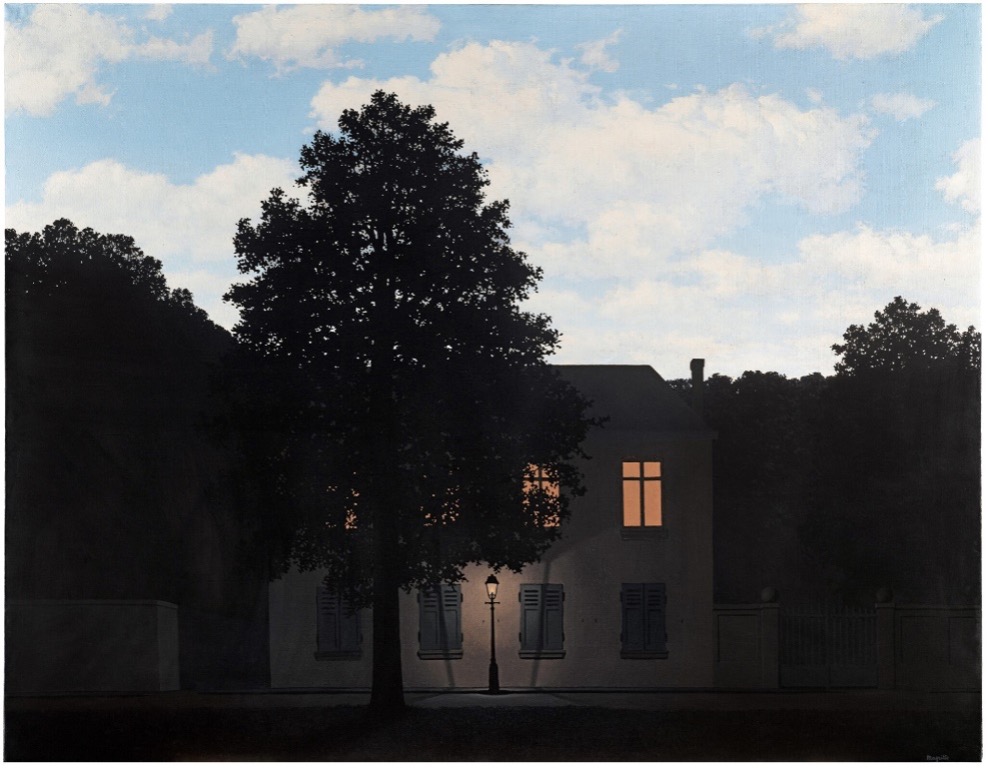 A slew of auction records were achieved for works from the newly coined 'ultra-contemporary' category, with new record prices set for Issy Wood, Shara Hughes, Flora Yukhnovich and Hilary Pecis, among others. This became the fastest growing auction category of 2021 and looks set to continue a strong trajectory for 2022. Two sales predominantly offered works from this category: Christie's Shanghai Evening sale and Sotheby's New Now Evening sale. 70% and 55% of their lots respectively sold above estimate, compared to around 25-30% in the Modern and Contemporary sales. The result for Rachel Jones who had her debut at Sotheby's, selling for £617,400 ($828,600) premium against an estimate of just £50,000 – 70,000, felt particularly illustrative of the momentum in this area of the market.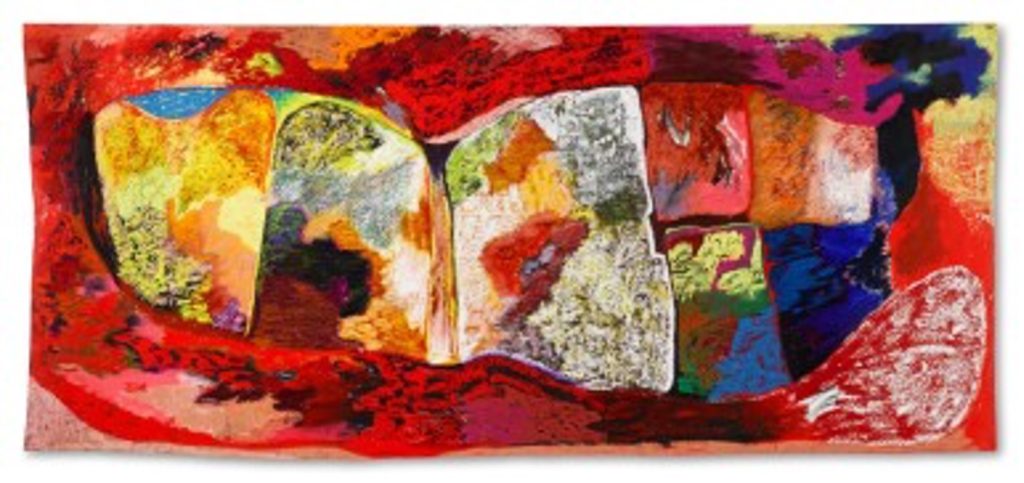 Despite some very strong performances, a few disappointing results indicated that with secondary market supply increasing for some of these 'hot' artists, buyers are becoming somewhat selective about the lots they chase, as well as perhaps a waning appetite for the new price levels of these popular names. Amoako Boafo had four works at auction during the week, two of which sold on or below their low estimate. A work by one of the breakout stars of 2021, Salman Toor, was withdrawn from the Christie's day sale, another in the Phillips day sale sold for one bid above the low estimate. While in no way does this indicate a slowing down of these artist's markets (the works by Boafo that did sell well are now the second and third highest prices at auction) it suggests increasing selectivity as well as a possible plateau in terms of price points for these names that have on many occasions in the past twelve months far exceeded their estimates.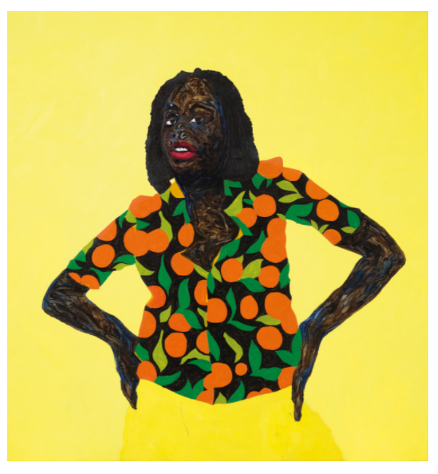 Another noticeable shift was a softening in demand for works by Banksy. With a total of ten works on offer across Phillips, Sotheby's and Christie's, at various price points, buyers could be discerning with the works they bid on. Together the works had a presale estimate of £14 – 21 million ($18 – 26 million) and the hammer total was just £7.5 million ($9.8 million). Four top priced pieces either went unsold or were withdrawn, significantly affecting the artist's sales total for the week.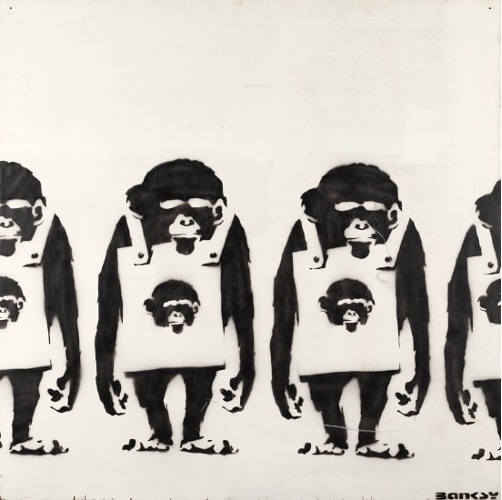 Despite the noticeable contrast in bidding between the ultra-contemporary and post-war and modern categories, this is not reflective of the latter's slowing market. Their estimates represent very different price points, and, in some instances, several the highly priced lots were accompanied by estimates at the mid to top end of the artist's market, which accordingly limits the amount of action and live bidding in the room. A number of these lots sold on one or two bids. Works that the market felt were under-priced, for example Peter Doig's Some Houses on Iron Hill (1992), estimated at £600,000 – 800,000, were chased by buyers, with the work selling for £2.4 million ($3.3 million) premium.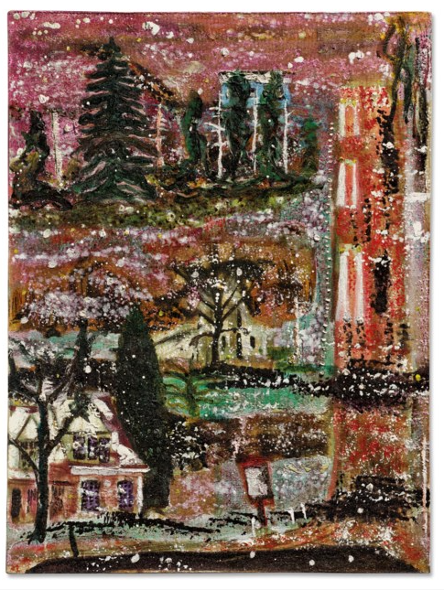 Ultimately, despite the various categories performing at different levels, major auction records were achieved in both the modern and next generation contemporary segments. The exceptional sell through rates of all the auctions, ranging from 88% to 95%, is further testament to the overall strength of the market which proved resilient during a difficult week.
FURTHER READING
The New York November 2021 auctions saw a staggering $2.3 billion in sales, across two weeks of seven Evening sales and five Day sales, in a triumphant return to market heights not seen since before the pandemic.
Both Christie's and Sotheby's offerings were boosted by major single owner sales, The Cox Collection and The Macklowe Collection. Both sales were entirely guaranteed, and indeed irrevocable bids were omnipresent throughout all auctions, accounting for eighty-three percent of the total value of the evening sales, with reportedly stiff competition by third parties to buy out the house guarantees ahead of the sales. Taiwanese collector Pierre Chen, the seller of Peter Doig's Swamped which set a new record for the artist at Christie's, was supposedly a major backer of several of the top Macklowe lots, including the Rothko, De Kooning and Richter.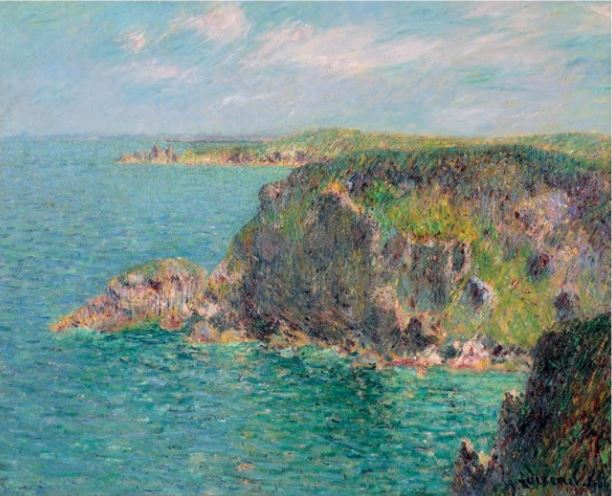 Christie's, perhaps anticipating potential fatigue from the magnitude of the Macklowe Collection, opted to hold their sales a week earlier. Following their extraordinary results, it appears the strategy paid off. The Cox Collection, a group of twenty-five Impressionist and Post-Impressionist pictures from Texan collector Edwin Lochridge Cox, was a hundred percent sold with their sale total more than doubling the high end of the pre-sale estimate. Bidding was extraordinarily competitive on nearly every work, spanning customers in the room, online, and via specialists in Hong Kong and London. The sale ultimately proved incredibly important in restoring some much-needed confidence to the Impressionist and Modern market. Moreover, the success of low value lots that would traditionally be placed in a day sale, such as those by Gustave Loiseau, spoke to the benefits of marketing objects as part of a single owner sale.
The Macklowe Collection, by contrast, consisted of thirty-five major Post-War and Contemporary works brought about by court order, as part of a bitter divorce between real-estate developer Harry Macklowe and his museum trustee ex-wife Linda. The remainder of the collection will be offered in May but the results of the first half were incredibly strong. The white glove sale, far exceeding the presale low estimate, totalled $676 million (premium) and was the highest total for a single collection in Sotheby's history. The auction saw new records for Jackson Pollock and Agnes Martin, as well as the result for the highest priced artwork of the November sales. Rothko's No. 7 (1951), sold for $82.5 million (premium) to an Asian client, the second highest price for the artist at auction. Vincent van Gogh's, Cabanes de bois parmi les oliviers et cyprès (1889), from the Cox collection, was the second highest price paid over the two weeks, at $71.4 million (premium).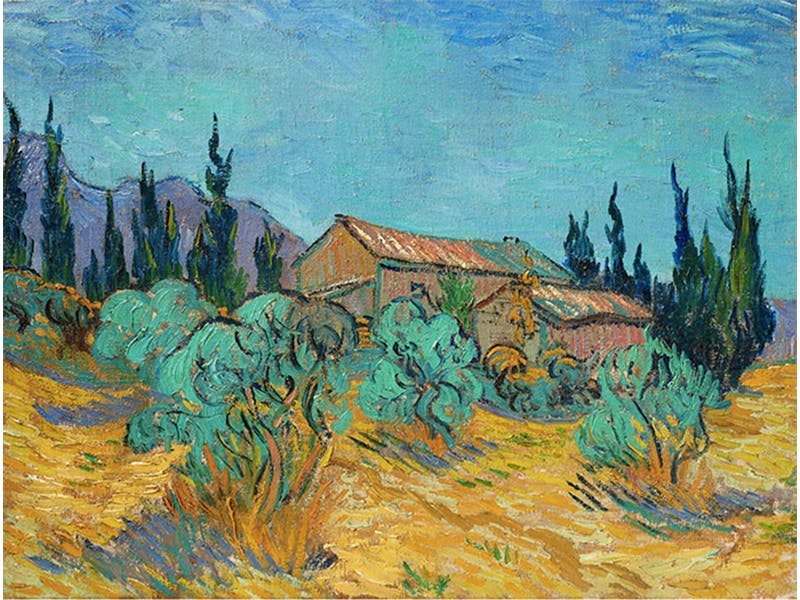 Another key headline from the Macklowe sale was the unexpected buyer of Giacometti's Le Nez, unveiled as Justin Sun, the Chinese-born, thirty-one-year-old tech billionaire behind Web3 infrastructure company TRON. He plans to donate the sculpture (and two other recent auction acquisitions) to his APENFT Foundation, where it will be tokenized on the blockchain.
Cryptocurrencies and NFTs continued to be a major presence in this round of sales. The NFT recording setting artist Beeple (in a move not seen since Damien Hirst's primary market sale with Sotheby's in 2008), created HUMAN ONE specifically for Christie's, the artist's first physical artwork (accompanied by a NFT). Christie's paid the artist a house guarantee for the right to consign the work. Nearly doubling its $15 million estimate, the work sold for $29 million (premium) to crypto Swiss financier Ryan Zurrer.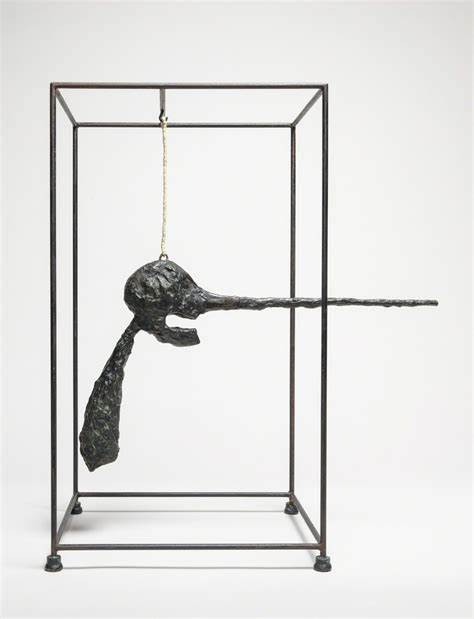 As part of the ever-shifting sales categories, Sotheby's offered an additional evening sale entitled 'The Now' which focussed on art executed in the last twenty years. This sale marked the first time the auction house accepted bids in cryptocurrency for a live auction, with auctioneer Oliver Barker, navigating between bids in the millions of U.S. dollars (USD) and in thousands of Ether (ETH). That sale saw eleven records for primarily 'wet paintings' by artists including Lisa Brice, Maria Nerrio, Toyin Ojih Odutola, Hernan Bas, Stanley Whitney, Christina Quarles, Jordan Casteel, and Lukas Duwenhögger. The feel of 'The Now' sale was very much in brand alignment with Phillips who have traditionally shown strength in this area, with Sotheby's clearly looking to compete for further market share in a category proving increasingly lucrative.
The Phillips evening sale, with similarly hot ultra-contemporary works which have come to define their auctions, saw consistent bidding wars, affording the house their highest evening sale total ever at $139 million (premium). It was perhaps this sale which most accurately encapsulated the character of the art market over the last six months: frothy bidding for young figurative painters and more muted demand for the traditional auction stalwarts. Shara Hughes broke her previous auction record of $1.2 million, made just last month in London, with the sale of Inside Outside (2018) for $1.5 million (premium). Other records were made for Jadé Fadojutimi and Ewa Juszkiewicz. With the only two unsold lots by Willem de Kooning and Wassily Kandinsky. The underwhelming result for their top lot, a Francis Bacon which hammered at $33 million on a single bid, below its $35 million low estimate, appeared to further illustrate the divide.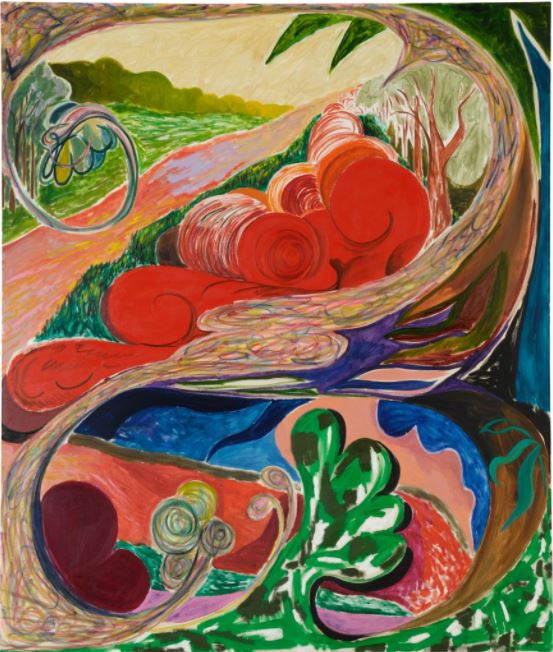 Other disappointments during the sales included Basquiat's Made in Japan II which went unsold at Sotheby's against an estimate of $12 – 18 million. Christie's also offered a major Basquiat in their 21st Century evening sale: The Guilt of Gold Teeth sold on just one bid to the guarantor for $37 million hammer, below the low estimate of $40 million. Both signs that the Basquiat market is perhaps top heavy following several high-profile results. However, the successful results of the Macklowe and Cox sales served to highlight that the global market is not currently making a choice about genres, it's simply becoming more selective about traditional artists and the price levels they typically command. When the best examples hit the auction block appetite remains strong, as illustrated by artist records outside the major single owner sales, with new top prices for Pierre Soulages and Frida Kahlo, both from Sotheby's Modern Evening sale. In conclusion, the November sales marked a very strong end to a year that started off shaky, but these results were deservedly achieved for exceptionally strong material. Had it not been bolstered by two historic single owner collections the week would have likely felt calmer.
---
Image 1: Courtesy of Christie's; Image 2: Courtesy of Sotheby's; Image 3: Courtesy of Sotheby's; Image 4: Courtesy of Phillips
FURTHER READING
This October, Frieze week in London marked the city's first in person art fair and auctions since 2019, returning some sense of normality to the long-disrupted art world calendar. The week was bolstered by a flurry of exhibition openings, both institutional and commercial, including Frieze's new exhibition space on Cork Street, the widely lauded flora Anderson show at Thomas Dane and Tate Modern's turbine hall commission by Anicka-Yi, which further energised the week.

Frieze fair itself, providing the back drop to the week, had a notably more global feel compared to the recent instalment of Basel. A number of high-profile Indian, Bangladeshi and Latin clients were spotted as well as some high-level American collectors, including Jimmy Iovine and Rosa and Carlos de la Cruz. Sales reports were positive and several prominent seven figure sales were reported by dealers and galleries for works by Günther Förg, Kerry James Marshall and Alex Katz, among others.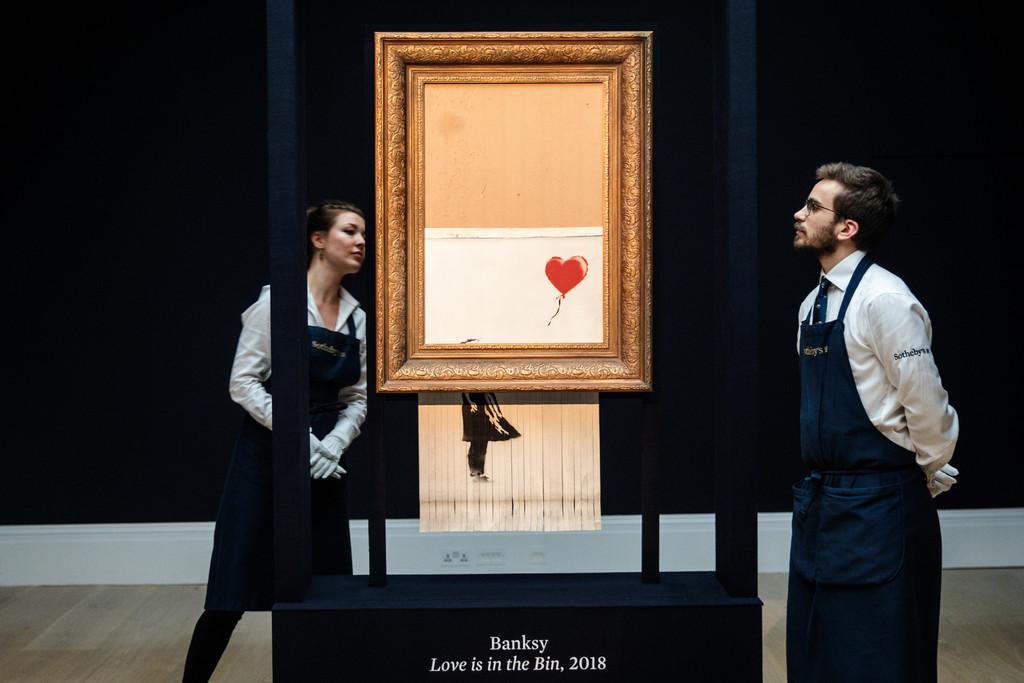 Punctuating Frieze week were the evening sales, kickstarted by Sotheby's totalling £55.3 million (hammer) against a presale estimate of £39.1 – 54.2 million, followed by consecutive sales with Christie's and Phillips held in the afternoon to capture Asian and American bids. Christie's totalled £54 million (hammer) against a presale estimate of £44.8 – 64.2 million and Phillips totalled £20.5 million (hammer) against the £16.2 – 23.3 million estimate.
The main auction headline of the week was the Banksy record for the previously shredded painting, newly titled Love is in the Bin, for which Sotheby's were accepting cryptocurrency. Hammering at £16 million (£18.6m premium) to an Asian buyer, it surprisingly did little to help the robustly estimated Balloon Girl diptych at Christie's the next day which sold on one bid to the guarantor at £2.5 million (hammer).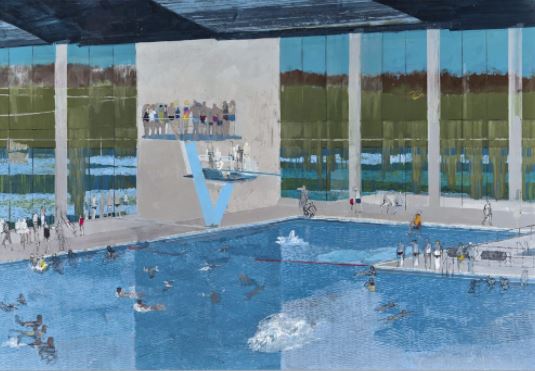 Also of note was a new auction record for Hurvin Anderson whose works rarely come to market. The work sold at Christie's for £6.2 million (hammer) to New York based specialist Jennifer Wright after more than ten minutes of bidding. Christie's also offered their first NFT in a European sale: a collection of three works, one Bored Ape Yacht Club edition and two Mutant Ape Yacht Clubs, which carried an estimate of £800,000 – 1.2 million. The lot hammered on its low estimate selling to Kosta Kantchev, a cofounder of the cryptobank Nexo Finance which has an NFT fund.

Aside from Anderson, the other auction records achieved during the week were primarily reserved for young rising artists whose primary markets remain inaccessible, forcing collectors to the secondary market to compete for access, in turn driving these higher prices. Works by Cinga Samson, Shara Hughes, Serge Attukwei Clottey, Hilary Pecis, Jadé Fadojutimi, Issy Wood, Tunji Adeniyi-Jones, were among those selling significantly in excess of their estimates. Yet with only a handful of works by these artists previously sold at auction, it is easy for new price levels to be achieved. The most talked about in this category was young artist Flora Yukhnovich, graduating from her MA just four years ago, she achieved a new artist record of £1.84 million hammer (£2.3 million with premium), which put her on a similar price level to stalwart artists such as Cy Twombly also in the same sale. Christie's and Phillips also had works by Yukhnovich which sold for exceptionally high prices, both in excess of £500,000.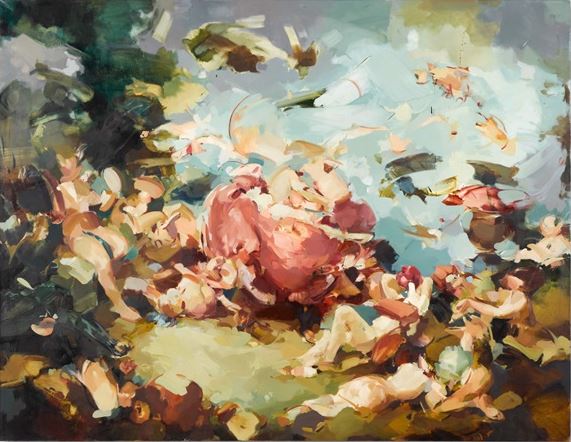 Phillips' evening sale was particularly populated by said artists which no doubt contributed to the success of their sale total against the pre-sale estimate, with works by Polke, Warhol and Milton Avery receiving more measured bidding compared to the frenzy for other artists. In support of this activity throughout the evening sales, another key conclusion from the week was the remarkable success of the day sales, all totalling in excess of their pre-sale estimates, across all auction houses. It continues to indicate the price points at which collectors have the deepest appetite currently, possibly a characteristic of an increasingly younger collector base entering the market, with Sotheby's noting over a quarter of their evening sale bidders being under forty. Despite bidders predominantly chasing younger artists across the auctions, the main value of the sales remained with artists like Gerhard Richter, Jean-Michel Basquiat, David Hockney, Lucio Fontana and Alexander Calder, whose works have significantly higher price points, just with fewer bidders competing for the lots.
---
Image 1: Photo by Jack Taylor/Getty Images Image 2: Courtesy of Artnet Image 3: Courtesy of Artnet
FURTHER READING
Dislocated from the more familiar June spot, Art Basel opened the autumn season in September 2021. After a long period of forced abstinence from art fairs, commercial galleries, collectors and advisers alike are buoyed by the return of such significant large-scale events in person. While the pandemic has hastened a rationalization of the annual fair calendar, with numerous casualties, the Basel Fair brand is set to retain its position at the apex of the art market.
Within the wider context of the past eighteen months, that Art Basel successfully opened at all in September 2021 is a cause to celebrate and a clear milestone along the progression to a post-pandemic art world. As much as attendees might rush to embrace normality and each other once again, there were clear signs we're not quite back to business as usual. Fair attendance was strong, given the circumstances, with 60,000 attendees, compared to 93,000 in 2019.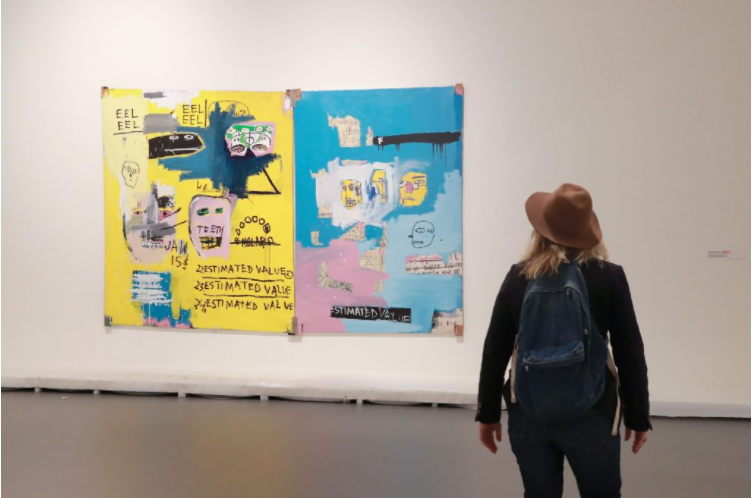 Most notable of the absences were American and Asian buyers, a trend likely to continue for some time, with collectors and the associated trade less enthusiastic about crossing continents for fairs, but very happy to travel regionally. Indeed, European and American collectors could only look on jealously in May 2021 when Art Basel, Hong Kong opened, the brand's first since 2019. In mainland China, fairs had opened as early as November 2020 with Art021 and West Bund in Shanghai, albeit with strict quarantine measures in place. Americans may similarly look forward to Art Basel, Miami Beach, slated to take place in December 2021. This is likely to retain the usual Latin American inflection, but likewise to be thinner on European and Asian collectors.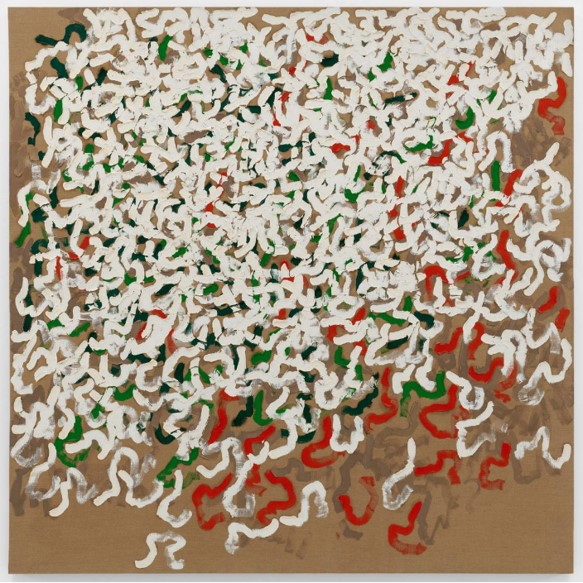 Despite a decrease in footfall, and a raft of enhanced safety protocols in place, galleries appeared to chalk up a steady stream of transactions. While the more expensive works at the fair – a 40 million USD Basquiat with Van de Weghe and a 26 million USD Robert Ryman with David Zwirner – appeared to go unsold, numerous seven figure works found new homes but the vast majority of sales were under 1 million USD. The highest reported sale being a 1939 Kandinsky, Voisinage, sold by Helly Nahmad for 7 million USD.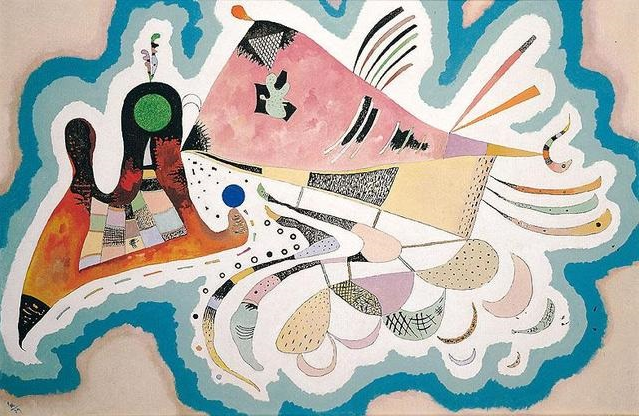 Pre-selling, already commonplace before the pandemic, is now vital to a successful fair for galleries. Online Viewing Rooms (OVRs) seem destined to accompany real world events for some time to come (if not indefinitely), as they significantly expand the fair's reach beyond those known clients who get privileged early access to booth previews or those who can attend in person. Competition remains fiercest for a relatively small number of artists whose markets currently burn white hot. For galleries this can create the decidedly high-quality (but nonetheless highly fraught) problem of deciding which longstanding client or esteemed museum trustee will be allowed to buy new work by such fought over artists as Michael Armitage, Lisa Brice, Lynette Yiadom-Boakye, Cecily Brown, Kerry James-Marshall, Laura Owens or Nicolas Party.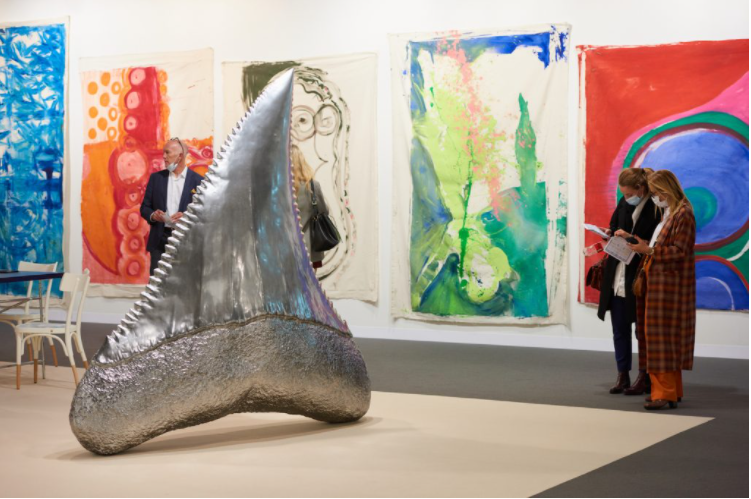 Around town the usual cluster of satellite events took place, with Liste – the fair for bleeding edge contemporary art – among the most important. The scrappy but revered Liste acts as a crucial feeder come proving ground for galleries aspiring to participate in Art Basel's Statements section which spotlights emerging artists. Since inception twenty-five years ago, Liste has historically taken place at Werkraum Warteck pp, a former brewery roughly fifteen minutes' walk from the main fair. A labyrinthine post-industrial location, with booths spread across intersecting floors, long, narrow corridors and tight spaces, the pandemic forced a historic and first-time relocation to the Messe Basel Hall 1.1, the same complex as Art Basel. While lacking the innate hipster chic of the fair's usual location, this relocation into a more typical art fair context – wide open space, high ceilings, white cube booths in a regular layout – was hugely beneficial for visitors. The intentionally 'rough' finish of the Werkraum Warteck pp can be unkind to newer art, which is often willfully anti-commercial or 'provisional' (unfinished looking). The uniformity of white booths, while perhaps seen by some exhibitors as limited, had the contrary effect (in our view) of formalizing and professionalizing the presentations. Although this move may be temporary, we can't help but hope it outlasts the pandemic.
---
Image 1: Courtesy of Jacques Demarthon/AFP via Getty Images; Image 2: Courtesy of David Zwirner; Image 3: Courtesy of Art Basel Karma International 2021; Image 4: Courtesy of Artnet
FURTHER READING
At the most recent installment of summer sales, traditionally held in London in June, Phillips instead started the cycle in New York, as part of the now common shifting of auction locations and dates.
Held at their newly opened headquarters, the Phillips sale generated an above estimate $98 million hammer, more than double their 2020 total and up nearly 20% from its May 2019 sale. That being said, it's important to note Phillips opted not to hold a London sale, pushing their 'May sale' to June which no doubt assisted volume. Strong evidence of this was the unusual inclusion of a Winston Churchill painting, which surely was destined for a London summer sale but was moved into their hybrid New York lot list, likely impacting the result, selling on just one bid.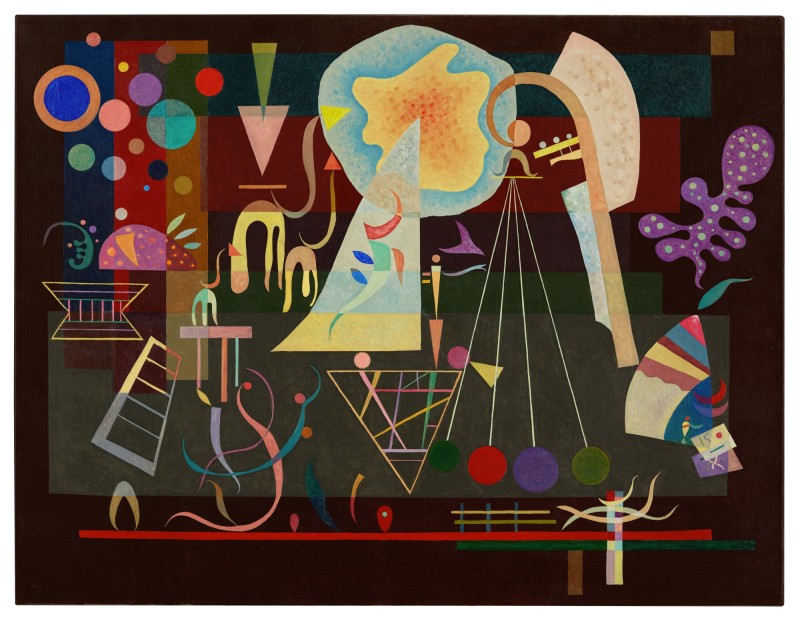 The following week Sotheby's and Christie's presented their multitude of cross category evening sales, although in fact held in the afternoon so as to allow for global bids from New York and Hong Kong. Sotheby's staged a British Art Evening sale, then followed by a Modern & Contemporary Art Evening sale which traversed art history with works by Degas and Monet to Mark Bradford and Julie Curtiss. The top lot of the evening being the 1937 Kandinsky estimated at £18 – 25 million, it sold for £18.3 million hammer (£21.2 million premium). Their eighty-three lot sale totalled a hammer of £130.3 million against a presale estimate of £119.7 – 170.3 million. Twelves lots, however, were withdrawn, some well before the sale and whose presence is now unknown to all but Sotheby's as the auction house rapidly removed them from their online catalogue where possible. These works totaled well over £10 million in low estimates, which technically results in a below target sale total.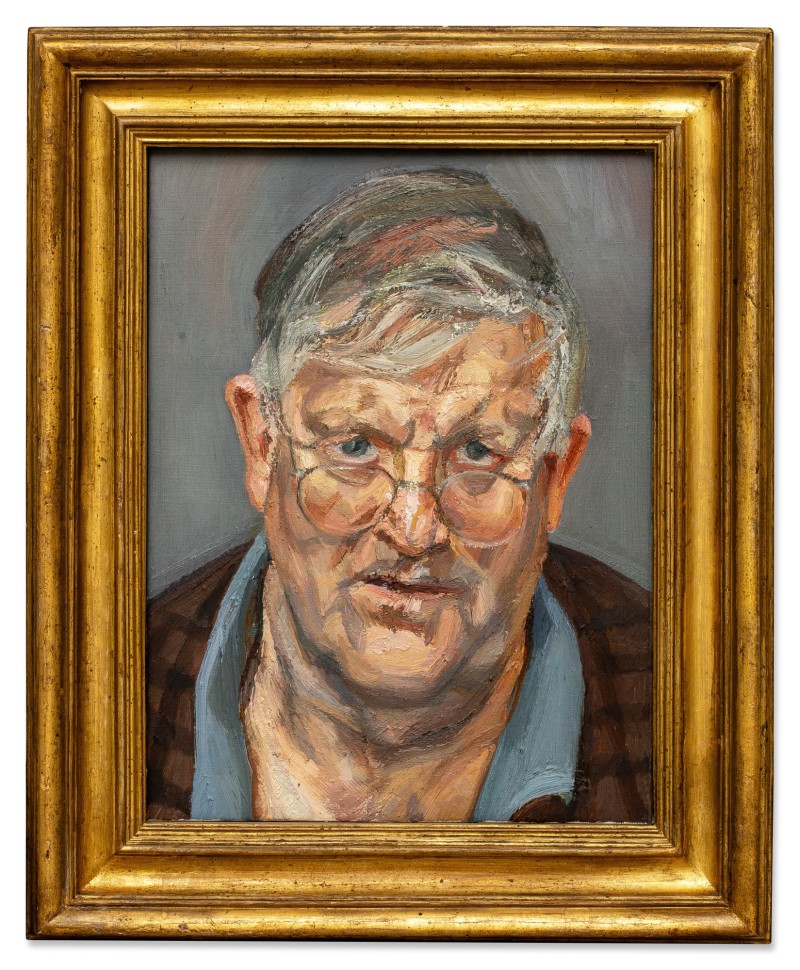 There was strength in the early part of both Sothebys' evening sales, with deserving lots including Hockney's Gladioli painting and Freud's Portrait of David Hockney performing well. The latter for a hammer price of £12.8 million (£14.9 million premium) selling to James Sevier's client after being chased by more than six bidders through to the top end of the bidding. Towards the second half of both sales, however, bidding began to feel thin with many lots selling on a single bid around or often below the low estimate. Over half of their sale was guaranteed and the lack of deep bidding proved this was required to help ensure their 93% sell through rate.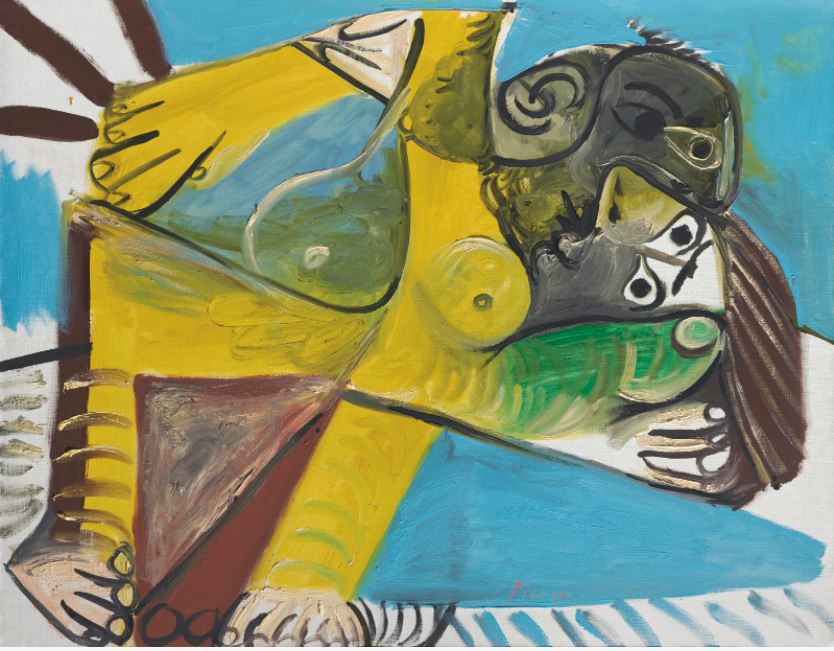 Christie's opted to combine the 20th and 21st centuries into one sale with the collection of Francis Gross and a Paris evening sale following on, in the now normal relay fashion. With a total of ninety-four lots across the three sales, and a presale estimate around £114 – 167 million, (not including the four lots that were withdrawn, comprising just over £5 million in low estimate) the sales brought in a total of £119 million hammer. Considering the withdrawn lots, the three sales achieved within the low end of their presale expectations and similarly to Sotheby's, apart from some key works by Picasso, James Ensor and Bridget Riley, several works sold on just one or two bids. Interestingly none of the Paris lots were guaranteed, compared to over half of the London auction, which resulted in an 87% sell through rate across all three sales. Top lots by value included Picasso's L'Étreinte (1969) selling for £14.7 million (premium) and a René Magritte, La Vengeance (1936) which sold well above its €6 – 10 million estimate for €14.6 million (premium).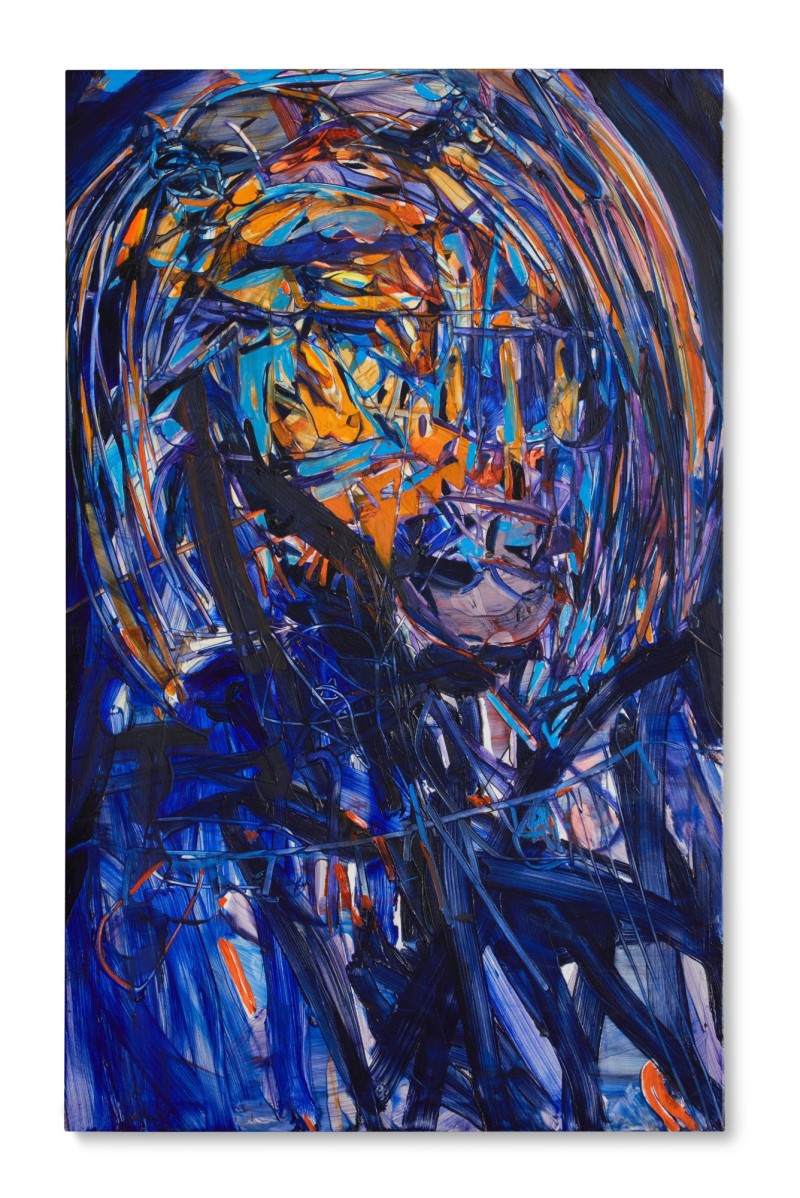 The strength of the Asian market continued to help propel these auctions. Phillips saw strong Hong Kong bidding on several lots, primarily for younger artists. Lot one at Sotheby's, Jadé Fadojutimi, was chased by almost exclusively Hong Kong bidders and several clients of Patti Wong bid significantly on the higher end lots, notably Degas and Picasso. And similarly at Christie's, artworks by Condo, Degas, Kusama, Chagall, Miro, Leger, Klee and Stanley Whitney all went to Hong Kong phones, with Asian bidding on over a third of lots in the London segment.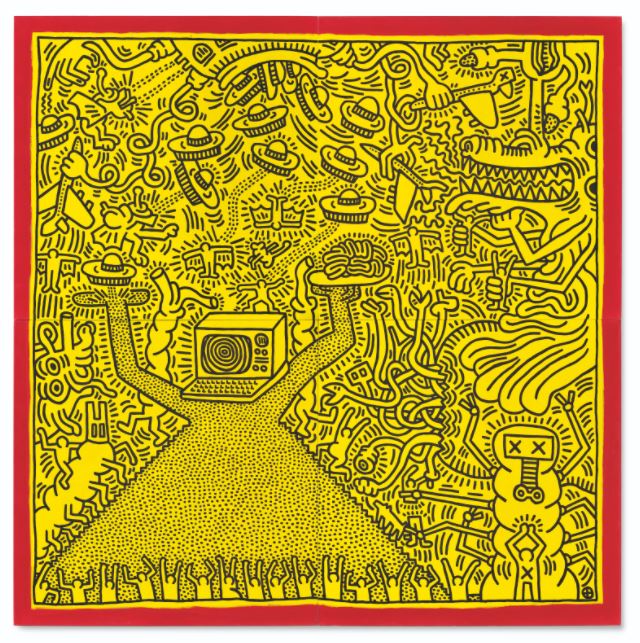 Also of note is the increasing number of lots for which the auction houses are accepting cryptocurrencies. Sotheby's notionally accepted Ether or Bitcoin for their Banksy Laugh Now painting estimated at £2.5 – 3.5 million, it sold for a single bid at £2 million hammer. Christies also offered this for their 1984 Keith Haring painting estimated at £3.9 – 4.5 million, again selling on just one bid for £3.9 million to the third-party guarantor. Whilst the houses are clearly trying to tailor the works they select for this to a specific clientele, it certainly didn't have the effect the consignors and houses alike were hoping for and will be interesting to see how this develops in future sales.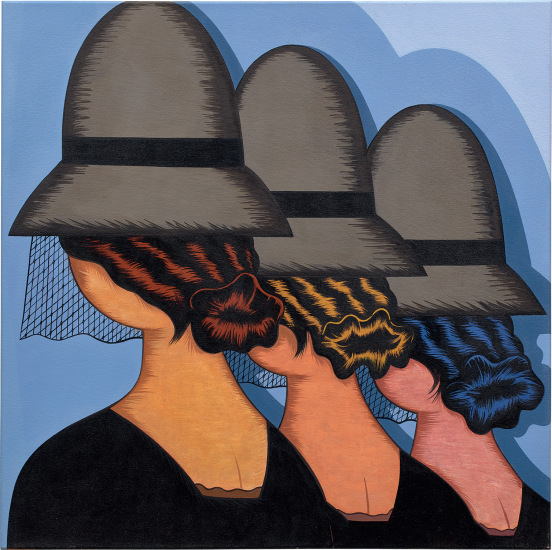 As has been the case over the last several sale cycles, emerging and historically under-represented artists continue to see the bulk of interest. Phillips set a new record for Avery Singer at $4.1 million (premium); Singer's previous auction high, $3.1 million, was set just a month ago at Christie's Hong Kong. Records were also set for Julie Curtiss, whose painting Three Widows (2016) sold for $466,200, more than double the $150,000 high estimate, and Titus Kaphar, whose portrait sold for just over $1 million, well above its $400,000 high estimate.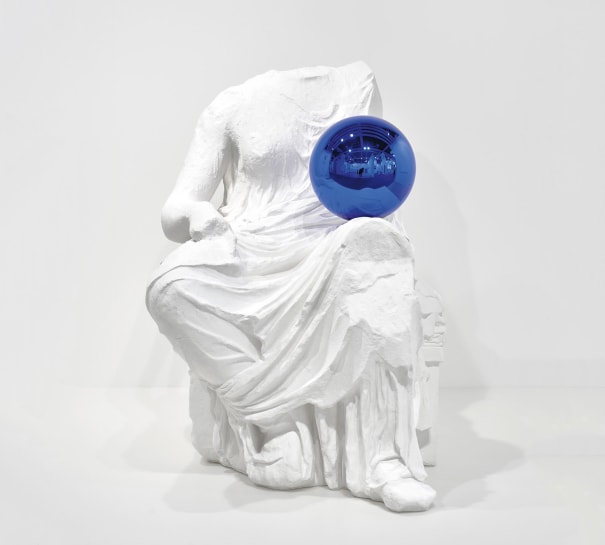 The reduced estimate for Phillips' top lot, further demonstrated where heat in the market still lies. David Hockney's A Neat Lawn (1967), was reduced from a low estimate of $12 to $9.5 million, accompanying a last minute third party guarantee, to whom it sold. Also of note in the Phillips sale was Jeff Koons' Gazing Ball sculpture, surprisingly offered with no reserve, selling for $800,000 hammer ($998,000 premium).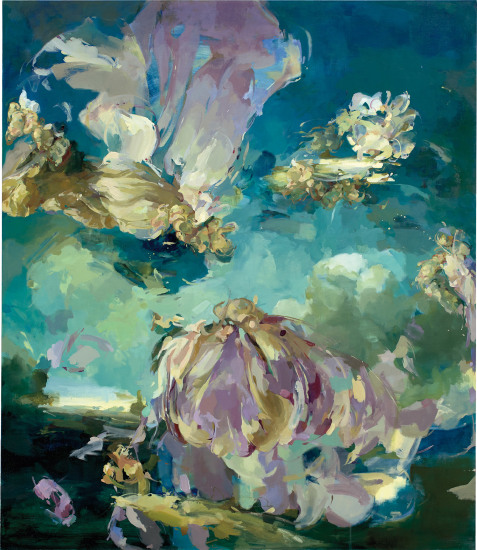 In the current auction climate prices for young, figurative painters are exceeding that of some of the most historically expensive artists at auction, including Koons and Picasso. The auction debut for Flora Yukhnovich, estimated at $60,000 – 80,000 in the Phillips day sale, being a prime example, selling for an astonishing $950,000 hammer ($1.2 million premium). With only five solo shows to date and the artist having never received an institutional exhibition, the level of speculative buying has reached new heights.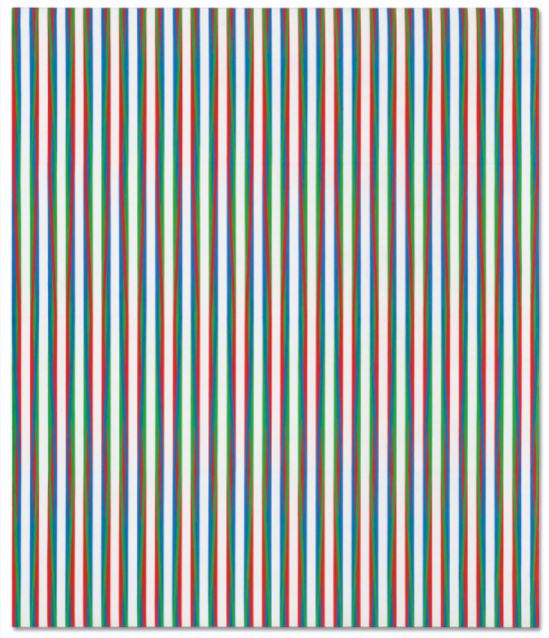 During the London sales the situation was similar but less aggrandized due to the material, instead emphasizing the limited demand for the more traditional areas of the Impressionist & Modern market. At Christie's, an exceptional work by Kirchner, Pantomime Reimann: Die Rache der Tänzerin (1912) sold on just one bid for £6 million hammer, whereas works by George Condo, Elizabeth Peyton and Bridget Riley experienced much more global and spirited bidding. Riley's Zing 2 (1971) successfully sold for £3.3 million (premium), clearing the high estimate of £2.2 million and marking the second-highest auction price for Riley to date.
The next marquee sale cycles in October are again traditionally held in London and then Paris, adding to the pressure for the houses to swiftly gather more material. Brexit and Covid restrictions seem to have weakened Europe's auction positioning but perhaps some of the stronger consignments have been pushed towards the 'Frieze slot', typically the most major calendar moment for the London art scene. The results of October will help inform how some of the trends seen during these sales will develop. What is in no doubt, however, is the strength of the Asian auction market. Compared to a 43% drop in New York and 38% decline in London, Asia's sales fell just 3% in 2020. With almost $900 million worth of art sold to date, 2021 is poised to be another record for the region.
---
Image 1: Image courtesy Sotheby's; Image 2: Image courtesy Sotheby's; Image 3: Image courtesy Christie's; Image 4: Image courtesy Sotheby's; Image 5: Image courtesy Christie's; Image 6: Image courtesy Phillips; Image 7: Image courtesy Phillips; Image 8: Image courtesy Phillips; Image 9: Image courtesy Christie's
FURTHER READING
A welcome return to the regular auction schedule saw Christie's and Sotheby's execute five major evening sales across three nights totalling $1.29 billion, with Phillips opting instead to hold their New York sales in June at their new headquarters. Despite Christie's merging their Post-War & Contemporary and Impressionist departments, previously holding just one evening sale, the auction house held two 21st and 20th Century evening sales, proving that the sale categories continue to be malleable depending on the material the houses bring in. Despite heavy investment in their live streaming technologies from both sides, Sotheby's format still triumphs in terms of streamlining global bids from multiple desks. Most refreshing, however, was room bidding on several lots during the Sotheby's sale, fielded by auxiliary auctioneer Quig Bruning. Diego Rivera's Retrato de Columba Dominguez de Fernandez (1950) even sold to a woman in the room for $7.4 million (premium) and marking a promising step forward for the next round of sales.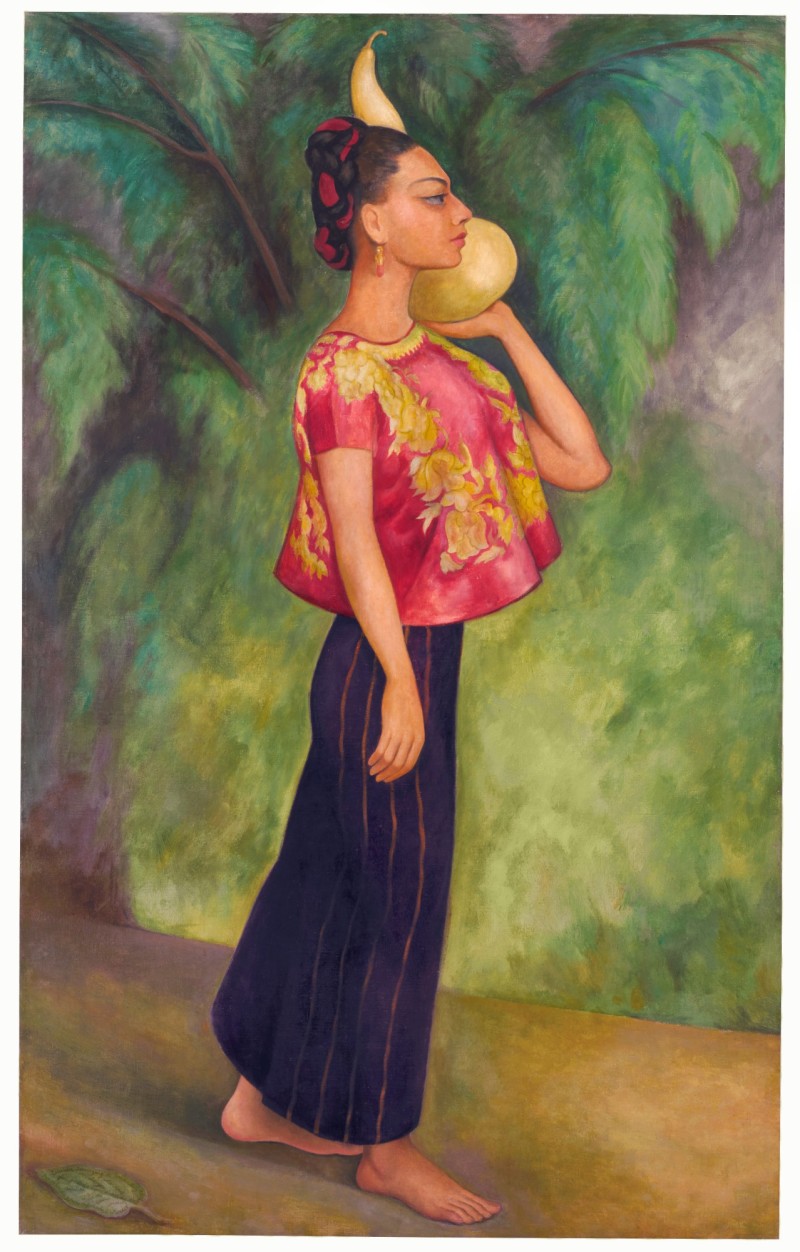 Despite Christie's achieving an overall higher turnover with $691.6 million (premium) versus $597 million (premium) for Sotheby's, in terms of material it felt as if Sotheby's had the lead for the week. This was largely due to the stand alone Marion Collection sale which achieved $157.2 million (premium). Despite totalling towards the lower end of the presale estimate due to four unsold works, the sale saw new auction records achieved for Kenneth Noland, Larry Rivers and Richard Diebenkorn and impressive bidding on the major Warhol, Elvis 2 Times (1963), whose market has been somewhat subdued in recent years. Estimated at $20 – 30 million, the double portrait sold for $32 million hammer ($37 million premium). Christie's also had comparatively healthy Warhol results in their 20th Century sale later in the week, with both lots reaching around their high estimates.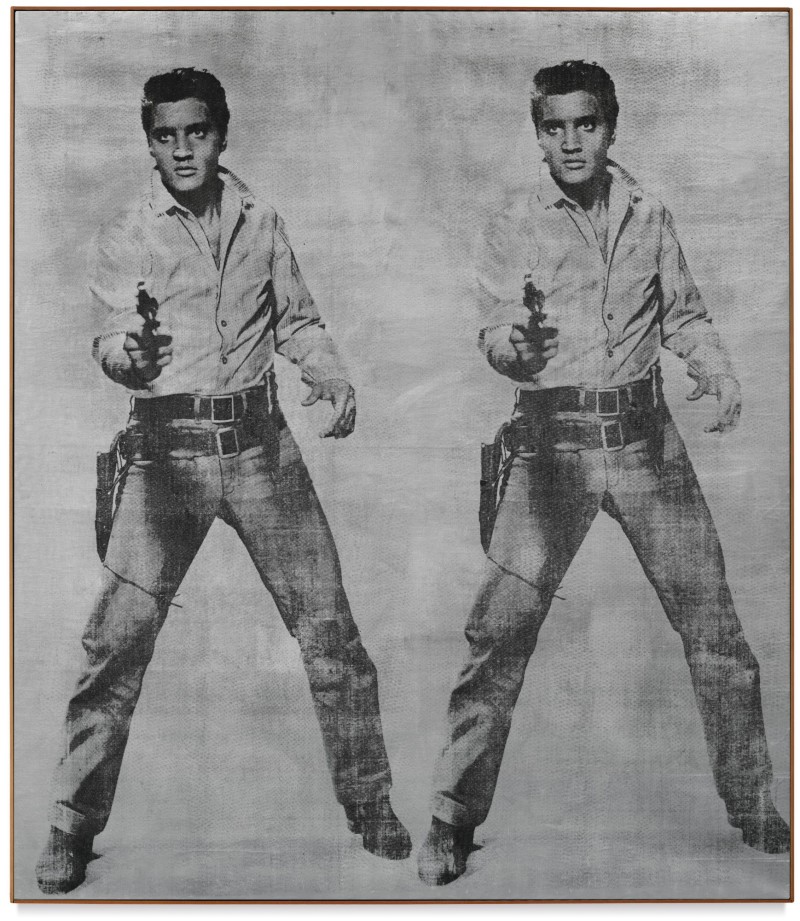 On the completely opposite end of the art historical timeline, following the recent headline grabbing Beeple price, Christie's unsurprisingly opted to include an NFT artwork in their 21st Century evening sale which no doubt boosted their bottom line as 9 Cryptopunks sold for $16.9 million (premium), estimated at $7 – 9 million. A few weeks before Phillips and Sotheby's had both followed suit, holding their own standalone NFT auctions selling for several million dollars. While their value is currently the subject of much speculation, with the new evening sale status NFTs seem to be gathering staying power, at least for the short term.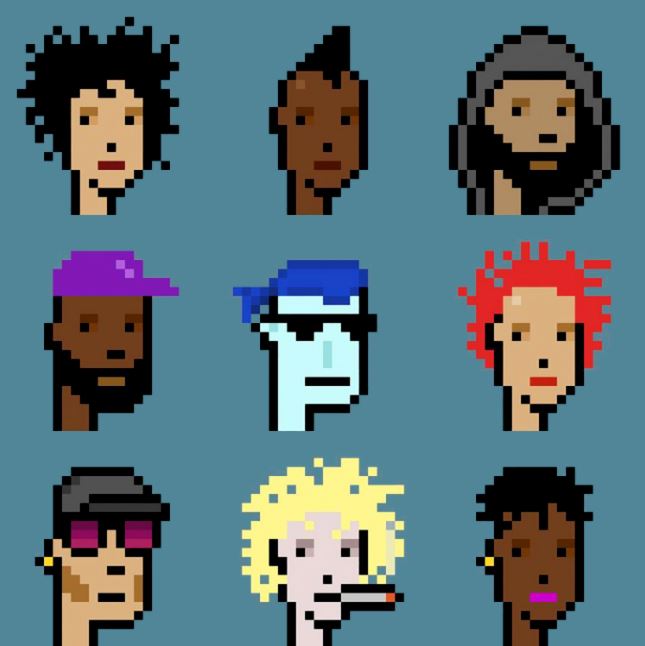 In the spirit of technological shifts, the consignor and Sotheby's opted to allow their Banksy Flower Thrower painting to be paid for in cryptocurrency which undoubtedly boosted the extraordinary result hammering at $11 million ($12.9 million with premium) to a west coast collector, against an estimate of $3-5 million. Notably Sotheby's required their buyer's premium to be paid in US dollars.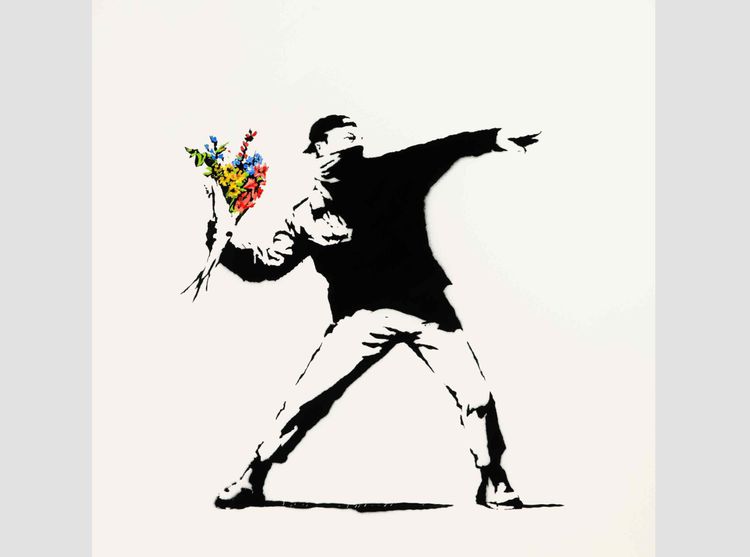 Strength of the Asian market continued and in terms of bidding roughly a third of lots across all the sales saw bidding from Asia. Christie's reported that the Asia-Pacific area represented 25% of buyers from their 21st Evening sale and 20% in their 20th Century evening sale. Key lots by George Condo, Leonor Fini, Picasso's Femme assise en costume vert and a Monet still life, among others, were all sold to phone bidders from Sotheby's and Christie's Hong Kong desks.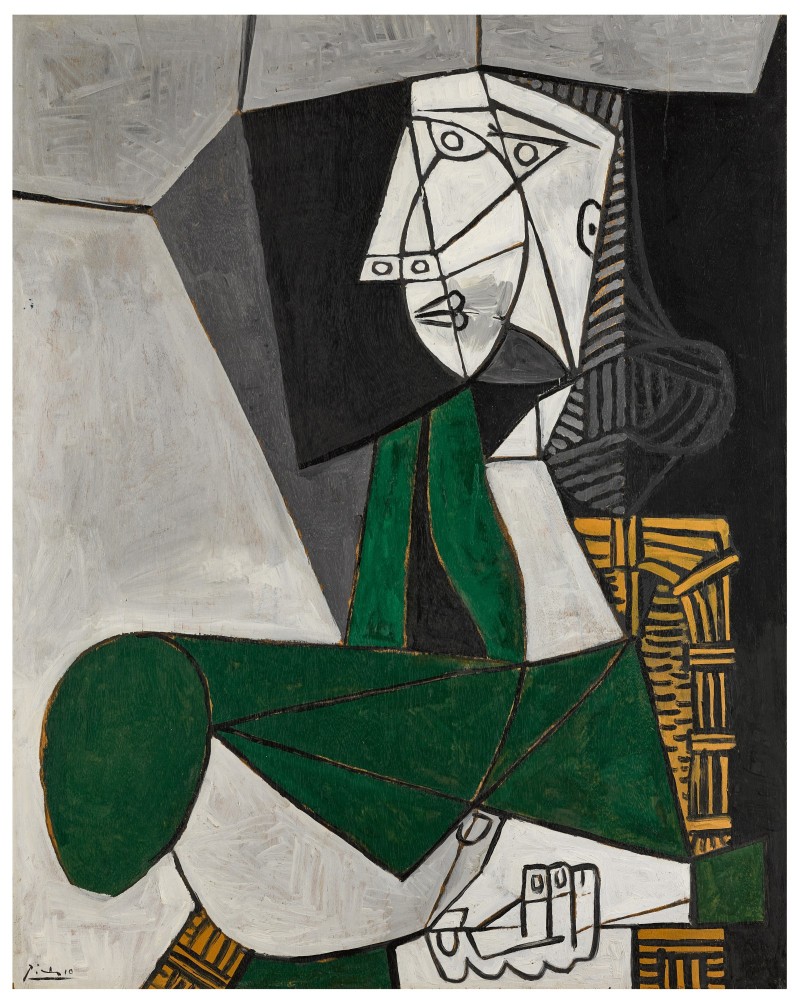 The major turnover generator of the week for both houses was Jean-Michel Basquiat. Christie's lot, In this Case (1983) sold by Valentino co-founder Giancarlo Giammetti, went beyond its unpublished pre-sale estimate of around $50 million to a New York phone bidder for $81 million hammer ($93.1m with premium). Sotheby's likely expected their top lot Versus Medici (1982) to do better but it sold to Lisa Dennison's client Steve Wynn for $44 million hammer ($50.8 million with premium).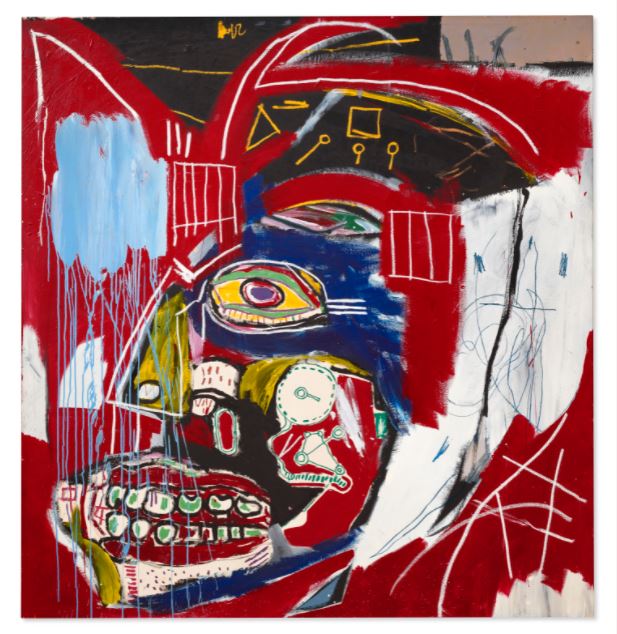 The result for Picasso's Femme assise près d'une fenêtre (Marie-Thérèse) (1932) also showed the continued strength in long term value for the artist. Previously selling for $44.8 million in 2013, this time it went to Vanesso Fusco's client on the phone for $90 million hammer ($103.4 million premium), the only lot of the week to sell in excess of $100 million including fees.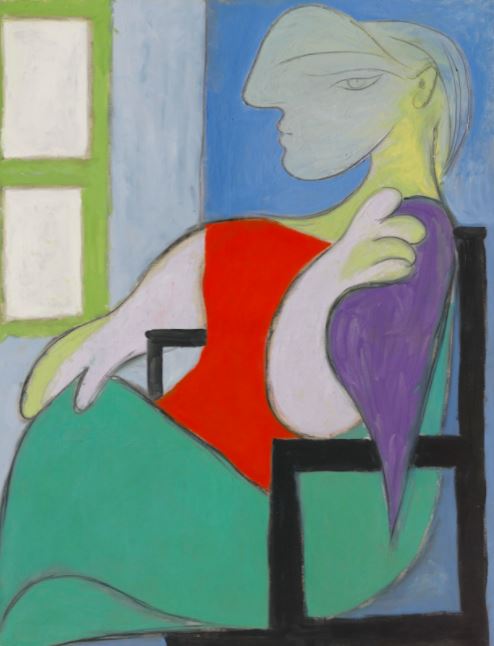 Despite some healthy bidding for Basquiat, Picasso and the major Monet waterlilies at Sotheby's, these solid results were for deservedly A-grade material. Whereas works by other auction stalwarts including Gerhard Richter, Christopher Wool and Cy Twombly, among others, primarily sold on one or two bids. This is both a reflection of the continued selectiveness of the market as well as a shift in taste to the new generation of art stars, albeit at lower price points, where lots saw the most competitive bidding. Five artists under the age of forty-five set new auction records, notably Nina Chanel Abney ($990,000 premium), Lynette Yiadom-Boakye ($1.95 million premium) and Salman Toor ($867,000 premium) to name a few. Another noteworthy price from the week included a spectacular and deserved new auction record for Robert Colescott's George Washington Carver Crossing the Delaware: Page from an American History Textbook (1975), selling for $15.3 million (premium) above the $12 million high estimate. The result was over sixteen times higher than the previous record of $912,500. The work sold to the Lucas Museum of Narrative Art in Los Angeles.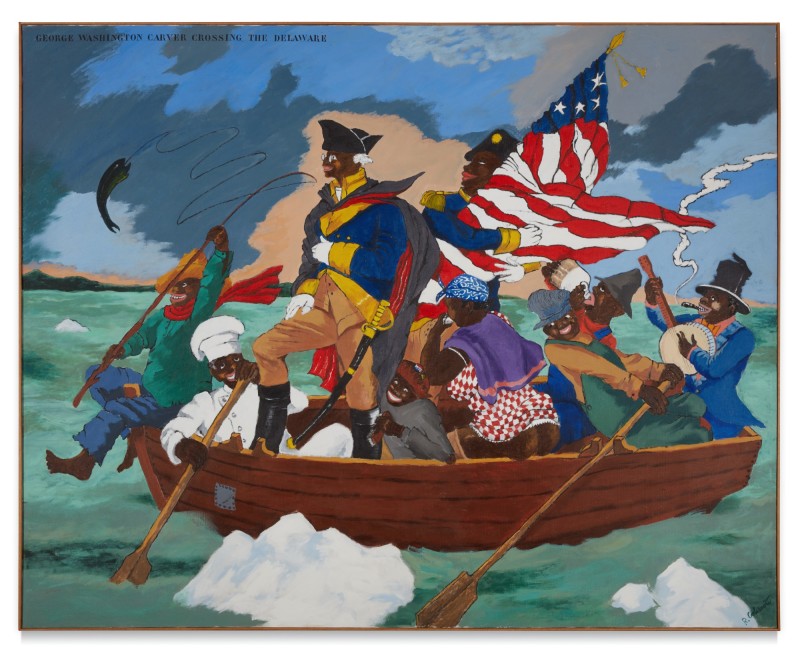 Overall, the results proved a healthy, recuperative global art market, following the past twelve turbulent months. Phillip's delay to June may have assisted in slightly curbing supply but the successive slew of auction records and excellent sell through rates speak for themselves. The auction houses continue to show excellent adaptability to help ensure this, whether it be last minute lowering of reserves, withdrawals or the securing of guarantees. With 78% of works guaranteed by value in both Christie's evening sales and 48% and 57% respectively in Sotheby's Contemporary and Impressionist & Modern sales, these remain essential tools for the sustained stability of the auction market.
---
Image 1: Image courtesy Sotheby's; Image 2: Image courtesy Sotheby's; Image 3: Image courtesy Christie's; Image 4: Image courtesy Sotheby's; Image 5: Image courtesy Sotheby's; Image 6: Image courtesy Christie's; Image 7: Image courtesy Christie's; Image 8: Image courtesy Sotheby's
FURTHER READING